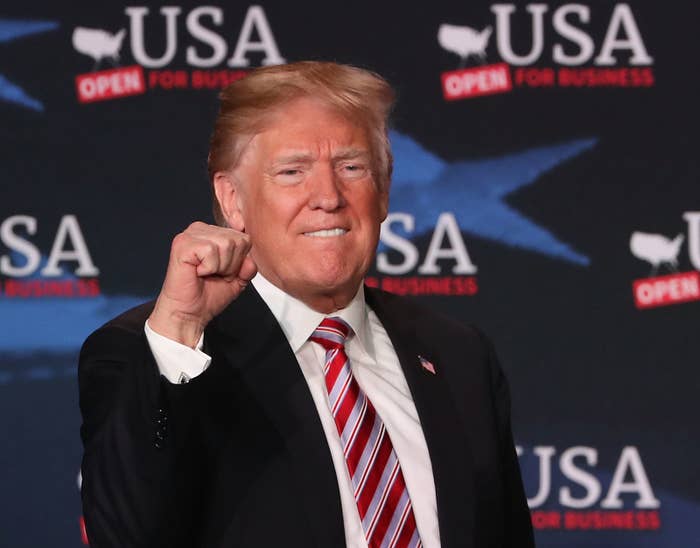 President Donald Trump offered skeptical LGBT Americans an olive branch when he took office in January 2017. The White House promised to safeguard a 2014 executive order that protects workers, announcing former President Obama's ban on anti-LGBT discrimination by federal contractors "will remain intact."
But on Aug. 10 of this year, the Department of Labor's Office of Federal Contract Compliance Programs (OFCCP) quietly issued Directive 2018-03, which broadly expanded the rights of businesses with federal contracts to raise a "religious exemption" if they're accused of discrimination.
Sharon McGowan, a former lawyer in the Justice Department's Civil Rights Division, and now the legal director of the LGBT group Lambda Legal, said the new directive attempts to "immunize" federal contractors who discriminate.
"This Administration apparently recognizes — correctly, in our view — that rescinding [Obama's 2014] executive order outright would cause a huge public outcry," she told BuzzFeed News. "So instead, this Administration is trying to accomplish the same end through different means."
"The damage that could be done here cannot be overstated," added McGowan, who said one-fifth of the federal workforce is employed through contractors.
The new directive cites three Supreme Court cases and two Trump policies in instructing federal investigators to give contractors a pass if they claim a religious justification in certain cases — which, critics say, betrays Trump's promise last year.
"The new directive tells federal contractors they are free, in the Trump administration's view, to use taxpayer dollars to discriminate," Ria Tabacco Mar, a lawyer for the American Civil Liberties Union, told BuzzFeed News.
For example, she said, "a federal contractor could point to this directive to justify firing someone because they are gay or transgender — while continuing to accept federal funds. That's a big deal because federal contractors employ millions of people."
Department of Labor and White House officials stressed that the text of Obama's anti-LGBT discrimination order remains intact. However, they refused to answer numerous questions from BuzzFeed News about the sort of situations where this "religious exemption" directive could get federal contractors off the hook.
"The purpose of Directive 2018-03 is to ensure [the Office of Federal Contract Compliance Programs] guidance on the religious exemption is consistent with federal law related to religious freedom and religious accommodation, including recent U.S. Supreme Court precedents and Executive Orders, which OFCCP is obligated to follow," an official for the Labor Department said by email.
The official noted that an underlying executive order — originally enacted in 1965 by former president Lyndon B. Johnson — contains an exemption clause that "permits religious organizations to make employment decisions on the basis of religion." However, that exemption is narrow. It applies to religious corporations, allowing, for instance, a Catholic organization with a federal contract to hire only fellow Catholics.
But the latest memo is broader and more ambiguous — and it targets LGBT protections directly.
The Aug. 10 directive specifically says it "supersedes" the Department of Labor's "Frequently Asked Questions" memo that explains that anti-LGBT discrimination by contractors is illegal.
"The previous FAQ did not reflect recent Supreme Court decisions regarding religious freedoms," the Department of Labor official said in response to a BuzzFeed News question about why the LGBT memo was the only policy explicitly overridden by the new directive.
The official did not answer follow-up questions about how Supreme Court rulings negated the LGBT policy or what sort of "religious exemption" will be permissible under the directive going forward.
The directive does not confer any new rights, but rather directs federal officials on how to handle discrimination complaints.
The Department of Labor shares jurisdiction over contractor discrimination with another, semi-autonomous federal agency, the Equal Employment Opportunity Commission (EEOC). Many workers could instead file complaints with the EEOC, which holds a decidedly pro-LGBT view. The agency won a court ruling in March that religious recusals do not protect a business trying to evade anti-transgender discrimination complaints under the Civil Rights Act of 1964.
But the EEOC lacks the ability to revoke multimillion-dollar federal contracts.
"The Department of Labor has a pretty big stick," said Tobacco Mar.
More than anything, she said, the Labor Department is signaling it will tolerate anti-LGBT discrimination in some cases. That reflects the Trump administration's position that workers can be fired simply for their sexual orientation or gender identity, and that religious exemptions allow businesses to turn away gay couples.
"This administration is clearly signaling it thinks LGBTQ people don't get the same protections as everyone else," she said.
The Supreme Court cases cited by the directive all involved the Christian legal group Alliance Defending Freedom.

One portion of the policy says that federal officials who oversee discrimination complaints "must permit" contractors to "participate in the government program 'without having to disavow [their] religious character,'" citing Trinity Lutheran Church of Columbia, Inc. v. Comer. In that 2017 case, the Supreme Court allowed a church to receive a government grant to refurbish its playground. Though the ruling may seem parochial, Christian conservatives have touted it as proof the government must fund religious organizations in some circumstances.
Another portion of the order says investigators cannot deem a person's religious convictions "illegitimate," citing this year's ruling in Masterpiece Cakeshop v. Colorado Civil Rights Commission, which held that state officials had been hostile to a baker's religion when considering a complaint that he refused to serve a gay couple.
The directive also cites the 2014 case of Burwell v. Hobby Lobby Stores (which was combined with two other cases). The court limited regulations permissible under the Religious Freedom Restoration Act — in that case, a for-profit, closely held corporation with religious ownership could not be required to cover contraception for its workers.
Matt Sharp, senior counsel for Alliance Defending Freedom, called the new Labor Department directive a "much needed correction" to the Obama administration by helping "ensure that an organization's religious beliefs are not used to disqualify it from receiving a contract or grant that it is otherwise qualified to receive."
Sharp said the directive would protect groups like a Catholic foster care organization that lost its contract with the City of Philadelphia because it had a policy of rejecting gay couples — a federal judge ruled last month to uphold the city's decision. Sharp said the organization was punished for living out its "beliefs regarding the best environment to raise a child. The directive would prevent such scenarios from occurring when the federal government awards contracts or grants to faith-based agencies that provide much needed social services."
The directive also cites two executive orders from Trump. A May order, according to the directive, says Department of Labor staff "must permit 'faith-based and community organizations, to the fullest opportunity permitted by law, to compete on a level playing field for … [federal] contracts." The memo, citing an executive order from 2017, says staff "must respect" the right of "religious people and institutions...to practice their faith without fear of discrimination or retaliation by the Federal Government."
White House officials did not answer questions from BuzzFeed News about whether they believe religious defenses allow contractors to fire LGBT workers.
"President Trump and his Administration are working diligently to improve the lives of all Americans, including faith-based and LGBT communities," Deputy Press Secretary Lindsay Walters told BuzzFeed News by email. "We will continue to ensure anti-discrimination protections are in place for all Americans."