The same hour Jeff Sessions was sworn in as the nation's 84th US attorney general in Washington, DC, Mike Farris was at a strip mall in Scottsdale, Arizona, bowing his head over a sizzling platter of fajitas.
"Father, thank you so much for this beautiful day and providing for our needs," he said above the chicken-and-steak lunch special. "Jesus Lord, amen."
It was a hot February afternoon, and Farris, wearing a slightly-too-large gray suit, had been named CEO of Alliance Defending Freedom four weeks earlier. Taking reins of the 24-year-old group, which now has a staff of 250 and a $59 million budget, is the opportunity of his lifetime, said Farris, a constitutional lawyer with a hairdo befitting a 1970s newscaster.
ADF has spent years cultivating high-profile religious freedom bills in statehouses while slogging through courts, particularly defending Christian shopkeepers who refused service for same-sex weddings. Millions of Americans have heard of ADF's biggest case: a dispute over a wedding cake that will go before the Supreme Court on Tuesday. But through this, ADF itself has held a low profile, even being an occasional outsider in the evangelical political movement.
So, as Farris started his new job, he wondered how the group could stand out.
"I think the biggest misconception about ADF is that we don't exist," Farris said, cutting into his chicken. "The question is, how do you get recognized without screaming?"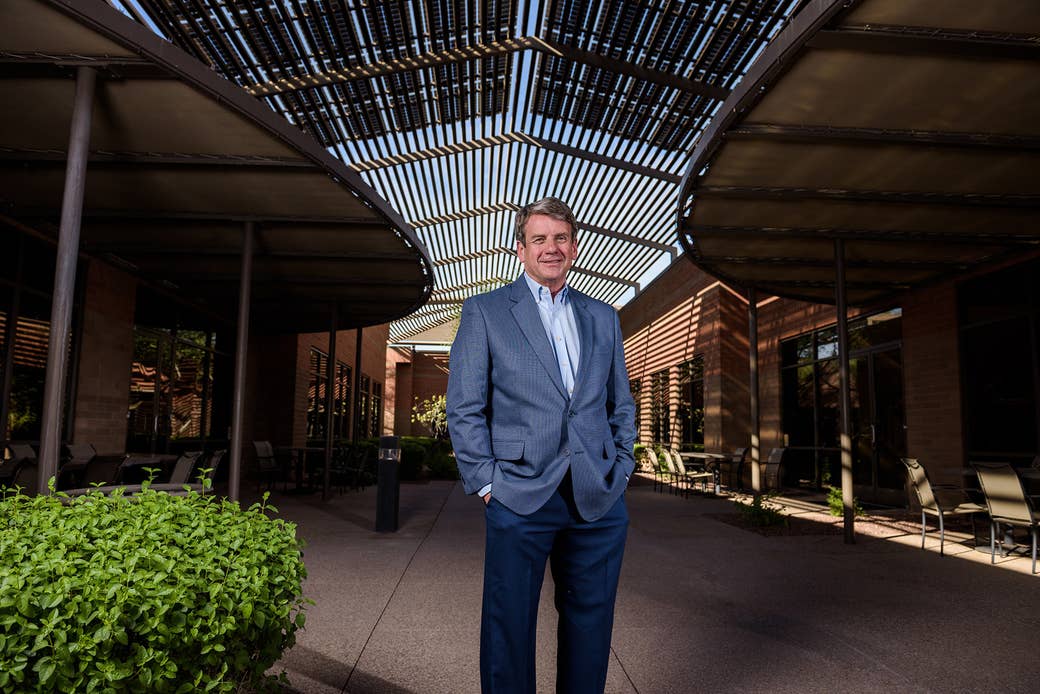 In the 10 months since Farris took over, he has shepherded the group from relative obscurity to arguably become the most influential — and increasingly prominent — conservative law group in the United States. And Farris has gone from antagonizing President Donald Trump, and his evangelical allies, to biting his tongue as his agenda flourishes under the Trump administration.
ADF isn't the only conservative legal powerhouse, but it is closing a key segment of the judicial loop. The Federalist Society, the Heritage Foundation, and Judicial Crisis Network have pushed Trump to nominate dozens of conservative federal judges — including Supreme Court Justice Neil Gorsuch — while ADF is proving deft at getting its cases before those judges, with the Justice Department ready to come in as backup.
"ADF's influence has been building, and I think Mike Farris has helped them move forward."
"They've chalked up a whole lot of victories in free speech and academic freedom under his leadership," Republican Sen. Mike Lee of Utah said of Farris in an interview with BuzzFeed News. "ADF's influence has been building, and I think Mike Farris has helped them move forward."
Lee, like other congressional Republicans, has a close relationship with ADF and he has sponsored bills that ADF supports — such as one that would protect people with a religious objection to same-sex marriage.
But the relationship between Farris and the White House is far more complicated. Before taking the reins at ADF, he was an outspoken critic of Trump during the 2016 election. He accused Trump of "arrogance," saying he was unreliable in the fight to stymie transgender rights and defend religious expression. Yet Farris, who during the election was running a Christian college and a homeschooling defense group in Virginia, had significant ties to the Trump team. On election night, that meant sending congratulatory texts to his friend Vice President-elect Mike Pence.
"I was really grateful that my friend was going to be vice president of the United States," he recounted in February.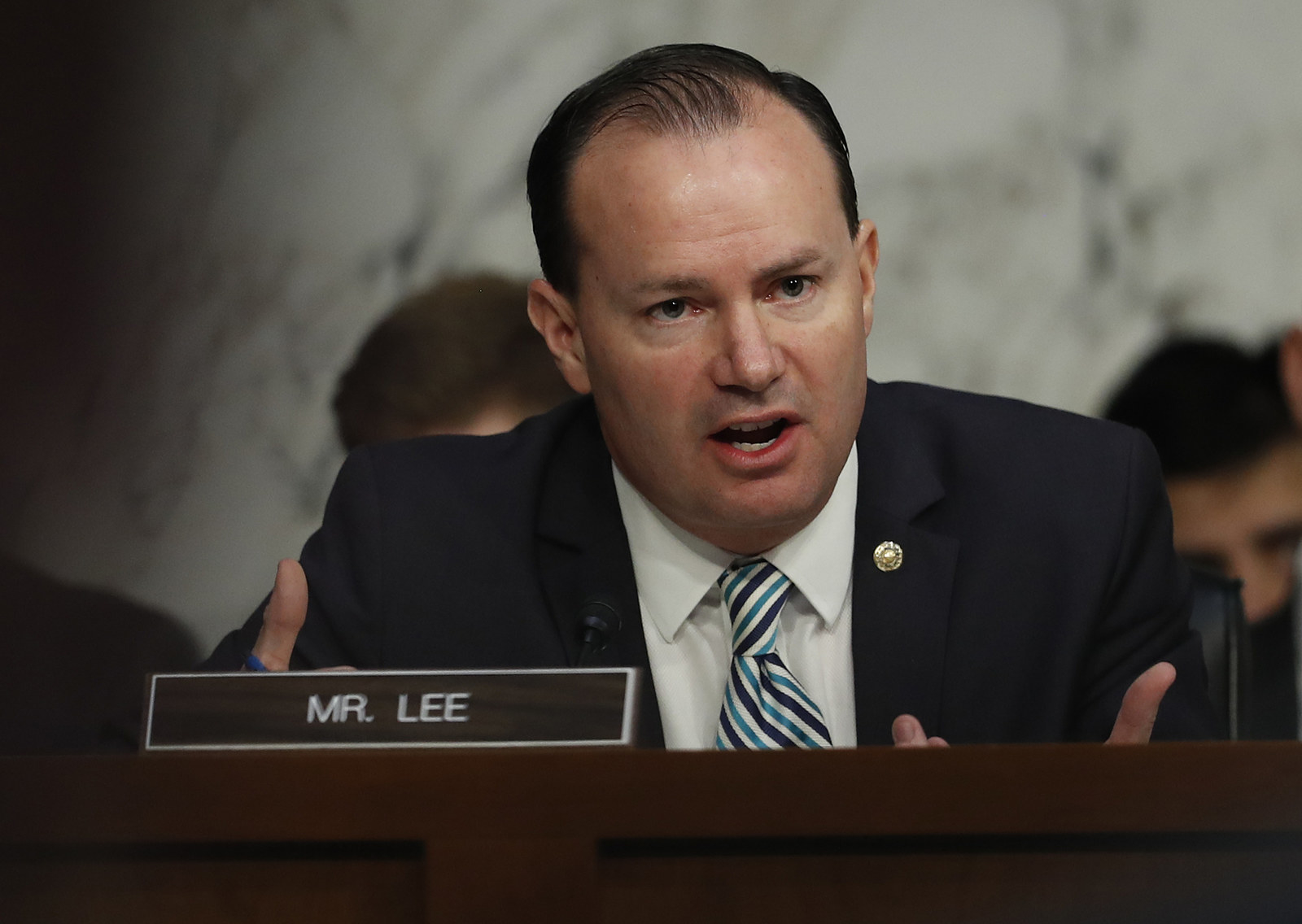 Farris's pedigree — and baggage — made him a surprising pick for some staffers inside ADF's headquarters in suburban Phoenix. Many expected a younger face, for one. Farris came with battle scars as the former Washington state director of Jerry Falwell's Moral Majority in the 1980s and a former sidekick to Phyllis Schlafly, who fought to stop the Equal Rights Amendment in the 1970s. In 2003, Farris coauthored a brief to the Supreme Court arguing gay sodomy should remain a jailable offense in Texas, writing, "The history of this country reflects a deep conviction that sodomy is criminally punishable conduct and not a constitutionally protected activity."
Farris said he thinks none of his 18 grandchildren, including infants, would grow up to be gay. "So far they're all walking in a Christian life," he explained. Farris said he loves his one gay friend — they met online playing bridge — but he also fears the spread of gay-rights laws.
Farris bucked fears he'd be a dinosaur, and pleasantly surprised some staff. He chose Kristen Waggoner, the fast-talking, always-smiling head of the group's legal affairs in the US, to argue the baker's case before the Supreme Court. Many had expected him to pick one of the staid, older male litigators the group traditionally relies on for big cases. He quickly took a more hands-on approach in lawsuits than his predecessor, Alan Sears, according to staffers. Sears founded the group and played the role of spiritual guide, embedding the organization with his ethos of a humble attitude and crushing court briefs.
But while Sears shied from the limelight, Farris said he wants to publicize not just the "colorful stories" of his clients, but also himself.
"I am willing to be more visible publicly, and so I think visibility partly is a CEO duty, and I plan to have a fairly substantial Washington presence," he said. Yet he wanted to maintain the group's style of avoiding being abrasive. "We want to do it in a way that is eloquent and pleasing to people who are different."
ADF set the stage for its newfound influence before Farris arrived, but the organization's growing profile is owed in large part to the serendipity of Sessions becoming the federal government's top lawyer.
Farris and Sessions have come together — in an unofficial public-private partnership — on a wide range of cases and situations. When the Supreme Court hears oral arguments in the baker's case this week, the US solicitor general will take one-third of the argument time to help ADF, even though the federal government isn't party to the case. Meanwhile, the Justice Department is supporting an ADF case for a Christian proselytizer on a college campus, Sessions personally joined ADF's annual private strategy event in California this summer, and federal lawyers have solicited advice from Farris's staff on at least three occasions. The two men have done their work together quietly, mostly below the daily news churn.
Top civil rights lawyers, though, worry the ambitions of ADF and the Justice Department could do more than just regulate cake and flowers. They believe Farris and Sessions' crusades in court may unravel civil rights laws broadly — creating new loopholes for businesses and employers to skirt decades-old laws that protect other religious faiths and people of color.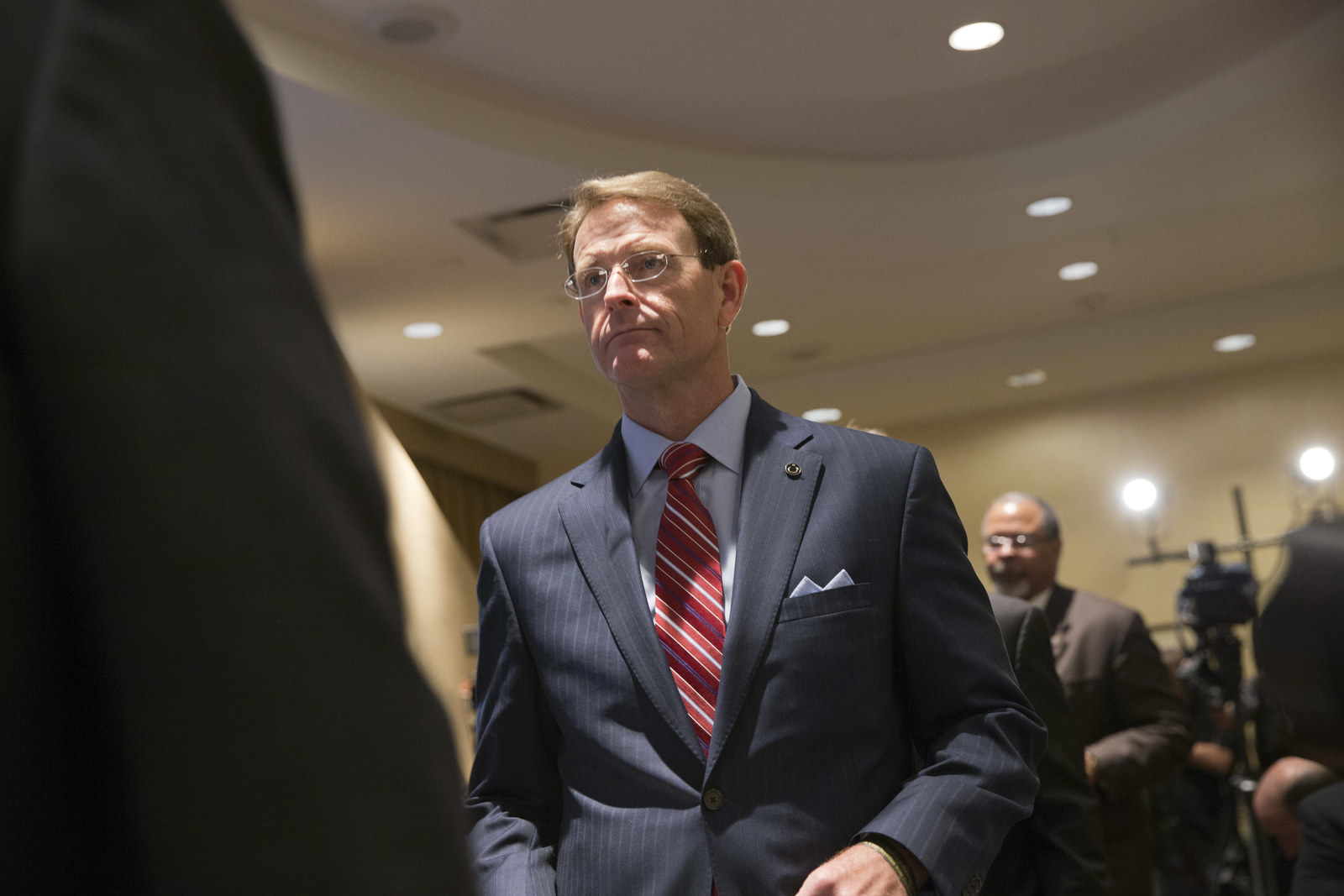 J.P. Duffy, a spokesman for the Family Research Council, can still quickly identify the spots in the group's Washington, DC, lobby where bullets once ripped through wood paneling and drywall. A gunman brought a 9 mm Sig Sauer pistol into building on Aug. 15, 2012, and said, "I don't like your politics," as he shot the building manager in the arm, according to an FBI affidavit filed in federal court. Prosecutors said the man had seen the organization listed as a "hate group" by the Southern Poverty Law Center for its anti-gay positions and wanted to kill as many people as possible. He was sentenced to 25 years in prison.
Tony Perkins, the group's president, says the "hate group" designation is a misnomer that foments violence.
"You just have to have a biblical view of marriage, and be unyielding on that, to be called a hate group."
"The American spirit is a confrontational spirit," Perkins said in his office, decorated with a sword and a sculpture of an eagle. But he said his group isn't actually confrontational. "You just have to have a biblical view of marriage, and be unyielding on that, to be called a hate group."
The same week that Perkins and Farris met with BuzzFeed News, the Southern Poverty Law Center designated ADF as a hate group for the first time in its history.
Lee balked at the label, saying in a phone call, "It's preposterous to compare the conduct of neo-Nazis, of the KKK — of actual hate groups — to the conduct of ADF."
Heidi Beirich, director of SPLC's Intelligence Project, told BuzzFeed News they'd been on the fence about whether to put ADF on the list. "What really pushed us over the top," she said, was an ADF lawyer cheering India's top court criminalizing gay sex. "I mean, if you are supporting the idea that gay people should be thrown in jail for consensual sex you are clearly a hate group."
Staffers at ADF worry the designation actually nurtures the very hatred that it claims to identify, and ADF's offices in Scottsdale and DC are now both patrolled by security guards. "We have increased security measures due to SPLC's recent reckless designation," an ADF spokesperson said this November.
"We are not surprised that groups like ADF and FRC don't agree with our listing them as hate groups," Beirich responded. "Groups like ADF and FRC are even more dangerous than some other hate groups because they feign legitimacy, and they have access to the halls of power. These groups might have friends in high places, but make no mistake, what they do is pollute the mainstream with hate."
She noted that ADF has supported criminalizing sodomy in the US, and has backed extreme efforts in Europe with its international program. ADF has argued nations should be allowed to enforce their own rules for legal gender changes, such as first requiring genital surgery.
The vast majority of ADF's work is the result of largely low-key, methodical strategy behind the closed doors of state legislatures and inside ADF's headquarters off a desert highway.
A dozen Mickey and Minnie Mouses decked the walls and shelves of Waggoner's Scottsdale office, and she wore a jewel-encrusted, silver-and-gold Mickey watch when pointing out two glass urns of Peanut M&M's next to her desk. "Sometimes when you come in here, it's not always the best of circumstances, and you need something to lift your mood," she said, offering some candy.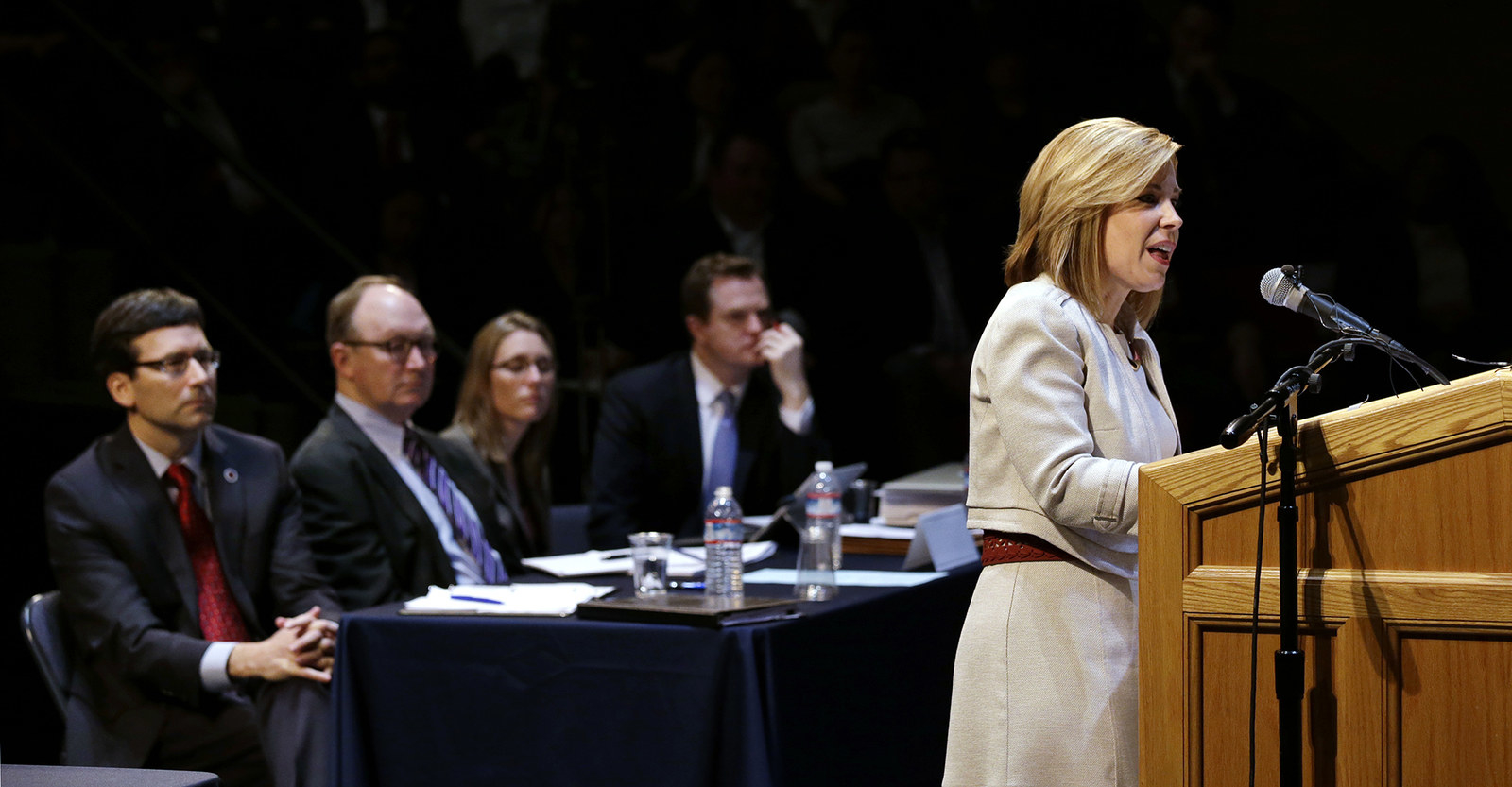 Waggoner, like Farris, cut her teeth as a lawyer in Washington state, and she believes in tailoring her language to her political adversaries. In 2006, when she was opposing eight gay couples suing to obtain marriage licenses, Waggoner joined a local gay and lesbian group that met regularly in Seattle, she said. "I mean, they knew who I was, and I knew they were advocating for the other side. I hope it helped me when I talk about it, so I'm not coming across as mean-spirited or that I lack understanding."
Waggoner won the case.
ADF has particularly long arms into state legislatures, producing three types of model laws: bills protecting religious people in general, bills protecting those opposed to same-sex marriage and transgender people specifically, and legislation restricting transgender people's access to bathrooms.
Some of them become law. Most notably, Mississippi passed an act in 2016 that protects people and businesses that refuse service based on religious beliefs about gender and marriage. It was the most sweeping, specific statute of its kind in the nation. Key swaths are verbatim mirrors of ADF's model for a so-called government nondiscrimination act. Both the law and ADF model bill protect people and businesses who take an action — or refuse to act — based on a "sincerely held religious belief or moral conviction...that marriage is or should be recognized as the union of one man and one woman" and the belief that a "male (man) or female (woman) refer to an individual's immutable biological sex as objectively determined by anatomy and genetics by time of birth."
ADF also has a model "Physical Privacy Act" to restrict transgender people from certain restrooms. An analysis by Media Matters for America, a liberal group, found eight states filed bills with substantial likenesses to the ADF model in 2017 alone.
Waggoner said ADF was also in touch with Texas officials over a bill this year — which did not become law — to limit restroom access for transgender people.
The number of religious freedom bills and transgender bathroom bills slowed in 2017, Waggoner said, but she was "confident" that was because lawmakers were waiting to see what would happen to Mississippi's law (which was put on hold by a court) and a Virginia bathroom case. Waggoner reasoned that more states will follow if courts allowed the Mississippi law to take effect, and in the fall, a court did. ADF represented the state of Mississippi in court.
ADF has won seven US Supreme Court cases in the past four years, but one victory is arguably the most crucial to understanding the group's overall approach — and, ironically, it's a ruling that few people associate with ADF.
In 2014, the group was representing a woodworking company in the case of Conestoga Wood Specialities Corporation v. Sebelius, in which the family-run business claimed the Affordable Care Act's contraception mandate violated its right to free exercise of religion and the Religious Freedom Restoration Act (a 1993 federal law known as RFRA). However, the Supreme Court consolidated the woodworker case with another case that would become widely recognized — Burwell v. Hobby Lobby Stores, Inc. — and ruled in favor of the businesses.
"This is a kinder, gentler strategy that the religious right has been developing for a while."
ADF didn't get much credit, but the court's 2014 decision was nonetheless consequential for ADF's future, particularly its approach to LGBT rights. The court had ruled closely held corporations could opt out from the health care law's requirement if adhering to it would violate a sincerely held belief, per RFRA. The upshot was that ADF helped expand the scope of RFRA — and they could, possibly, do it again.
By spring 2015, the nation was consumed with debate over state versions of religious freedom bills in state legislatures. LGBT groups insisted the bills were designed to create a loophole in LGBT nondiscrimination laws by letting anti-LGBT business owners claim a religious recusal; conservatives said the bills would merely protect religious beliefs. It's hard to say how RFRA can be interpreted by a court. But when there's a dispute, ADF has stood ready to make its case.
"They're not foaming-at-the-mouth gay bashers," said John Corvino, a professor of philosophy at Wayne State University in Michigan who specializes in LGBT issues. Corvino recently published a book debating religious liberty with Ryan T. Anderson — who does policy work at the conservative Heritage Foundation. "ADF is doing a pretty good job of saying they just want to live and let live."
"This is a kinder, gentler strategy that the religious right has been developing for a while," he added.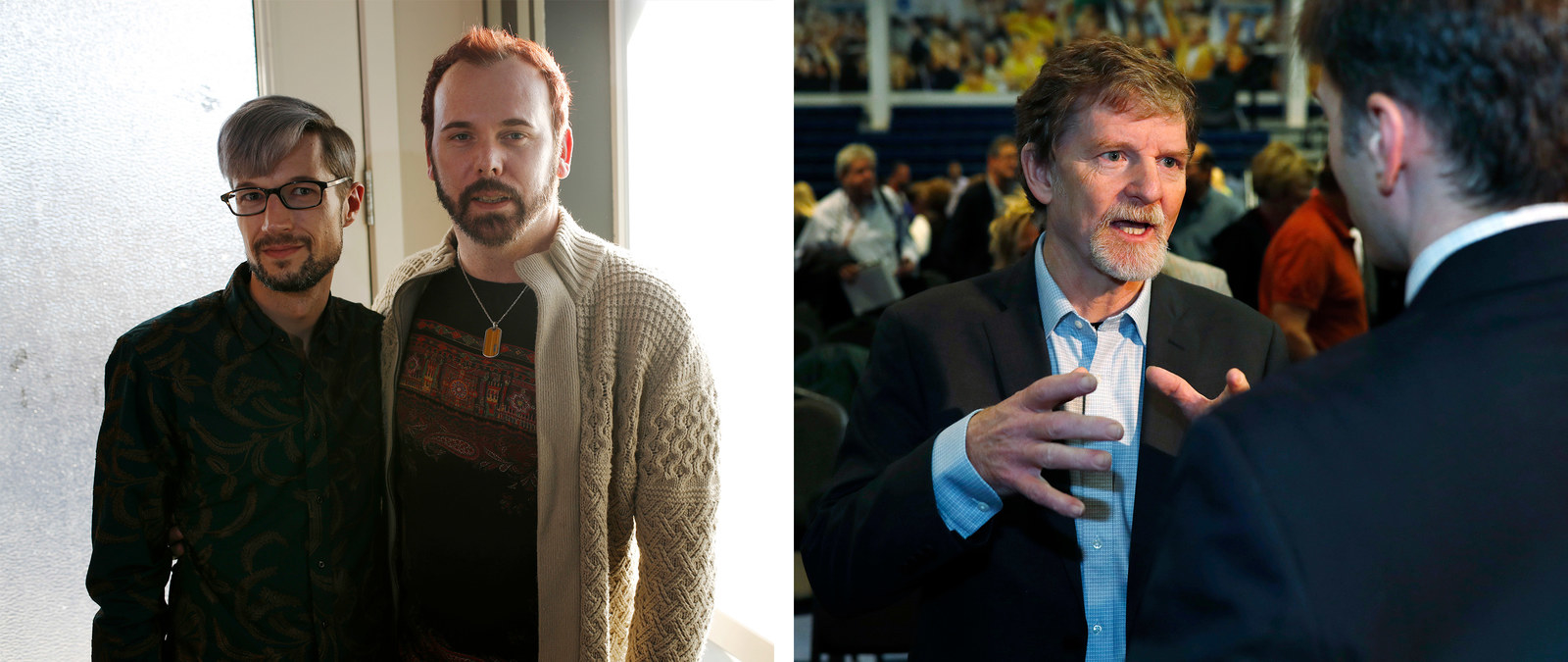 That kinder, gentler strategy has even included a gay couple. In a video on ADF's Facebook page, two men, T.J. and Matt, stand outside the bakery in Colorado — where the Supreme Court's gay wedding cake case began. T.J. says, "We're gay, and we're here to say we're here to support [shop owner] Jack Phillips." The video underscores that Phillips is willing to sell noncustomized products to gay people for nonwedding purposes, and in that vein, Matt adds, "We're here to buy stuff from him and support him because we don't think any artist should be forced to create for something that violates their beliefs."
ADF allies have also tried to weaken claims that the group opposes civil rights. On Oct. 23, ADF promoted a press conference by the Frederick Douglass Foundation. "I am an ex-lesbian," Janet Boynes said alongside a group of black activists outside the Supreme Court. "I can change my sexual behavior, but I cannot change my skin color. I am very concerned that the gay-rights movement has hijacked the civil rights movement from African-Americans."
While ADF associates with groups that embrace a range of extreme views, Farris argues that his group is fundamentally different from groups like the Westboro Baptist Church, which among other things, chants the message "God hates fags."
"We are not anywhere near those people," Farris said.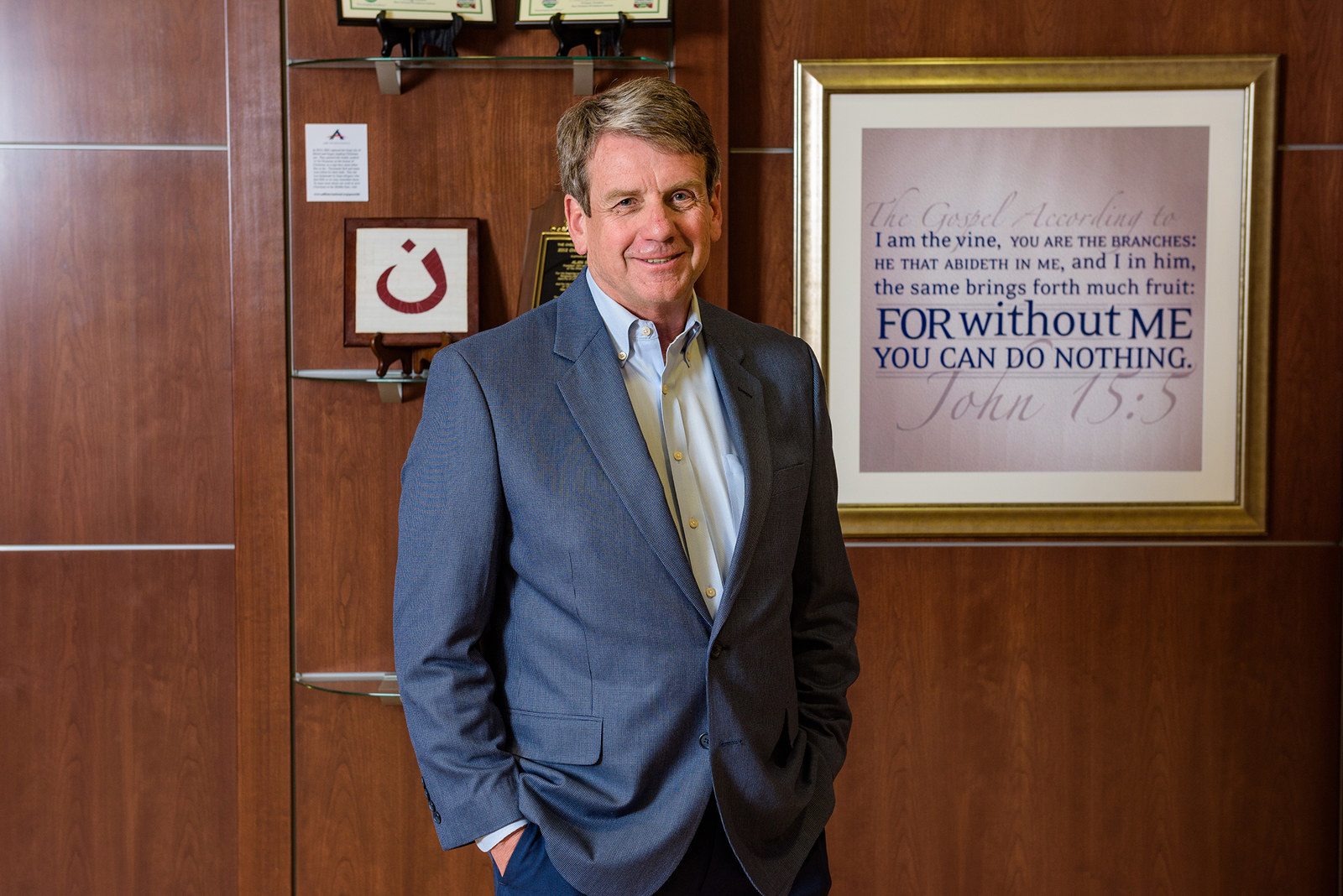 If Farris needed to prove he can build bridges into the Trump administration, he succeeded on July 11, when Sessions arrived for a closed-door speech at ADF's Summit on Religious Liberty at the Ritz-Carlton Laguna Niguel in Dana Point, California. The event was a big oceanside strategy session for the coming year, featuring hundreds of ADF's lawyers and allied attorneys, who basked in Sessions' praise.
"While your clients vary from pastors to nuns to geologists, all of us benefit from your good work," Sessions said.
Sessions has piggybacked his social agenda on the work of those lawyers. The Justice Department filed in federal court to support an ADF client in Georgia who'd been seeking the right to evangelize on campus, and brought ADF and a number of other groups — on the left and right — to give advice on developing religious freedom guidance.
And most significantly, the Justice Department filed a brief at the Supreme Court supporting ADF in the baker case, and Solicitor General Noel Francisco will stand shoulder to shoulder with Waggoner to argue before the court on Tuesday.
Farris is new to the Trump fold. Evangelical leaders made a pilgrimage to Trump Tower without him during the campaign in 2016. "I've opposed Trump, and wasn't invited," Farris wrote in an op-ed in the Washington Post. "But even if I had been, I wouldn't have gone." He called Trump a brazen, arrogant, unrepentant man who lacked principle, saying his "views on the sanctity of life, the definition of marriage, policies related to transgender individuals, limited government and religious freedom appear to have been written on an Etch A Sketch."
Farris publicly rebuked Jerry Falwell Jr., whose father founded the Moral Majority in 1980, for getting too cozy with Trump. Farris wrote on Facebook, "Comparing [Trump] to Jesus was as close to heresy as I ever wish to witness."
ADF itself has sometimes been an outsider among prominent Evangelical organizations. In June 2016, when other Christian right groups feted Trump in a New York City ballroom, for instance, ADF wasn't invited to cosponsor the event. And while leaders from the Heritage Foundation and Family Research Council studded Trump's transition team, ADF's top operatives — by design — were in the Arizona desert.
The turnaround to get the Trump Justice Department's support wasn't easy for ADF. Waggoner, while saying she was "pleased that the Justice Department weighed in" on the baker's case, noted that federal officials still hadn't settled cases over the Obamacare contraception mandate. When BuzzFeed News asked about the extent of ADF's dealings with Sessions, Waggoner chafed, saying a meeting with Justice Department lawyers was not a cakewalk, but an interrogation.
"The way you are trying to suggest there is some connection, it's just not accurate," she said. "The ACLU had that same open line with the Obama administration."
"What I would say is that ADF's work is getting noticed and supported by this Justice Department."
But Waggoner's point underscores a truth about ADF's enormous influence: It has, one case at a time, positioned itself as the ACLU of the religious right — a go-to powerhouse nonprofit law shop with expertise in a wide range of disciplines that frequently sets the legal agenda for the US government.
"What I would say is that ADF's work is getting noticed and supported by this Justice Department," Waggoner said.
A spokesperson for the Justice Department declined to comment on how else it has collaborated with ADF. But on the baker's case, the official said by email, "It is standard practice for the Solicitor General's office and relevant Department attorneys to meet with counsel for parties with pending cases before the Supreme Court."
Justice Department lawyers also held meetings with lawyers representing other parties in the case, including the ACLU and the office of the Colorado solicitor general — but Sessions chose to oppose them in court.
But even with ADF and the Justice Department working in tandem, they'll face challenges at the Supreme Court — as a mock trial in November demonstrated.
At the Newseum in Washington, DC, reporters played the part of justices, and they were stuck on a key part of ADF's case — the idea that cake and other wedding products are a form of speech. ADF contends workers have a First Amendment right to not create a "message" that endorses a same-sex wedding — even though Colorado law says anti-gay discrimination is illegal. David Cortman, a top litigator for ADF, insisted this case is about free speech, not anti-gay bias, stressing the case doesn't implicate rights of mixed-race couples.
But Ria Tabacco Mar, a lawyer for the ACLU, countered that a ruling for the baker could open the door for discrimination against people of color and other minorities. "If the baker's claim were accepted," she said, "any business could claim an exemption from our nation's antidiscrimination laws simply by characterizing its products as expressive."
Waggoner has bristled at the idea that winning the cake case could have implications beyond same-sex marriage. "To suggest to say there is a comparison to interracial marriage is designed to shut down debate," she said in a phone call. "It's a red herring," she added. "The suggestion that there is a slippery slope is absurd in light of case law. This case is about marriage; this is not about sexual orientation."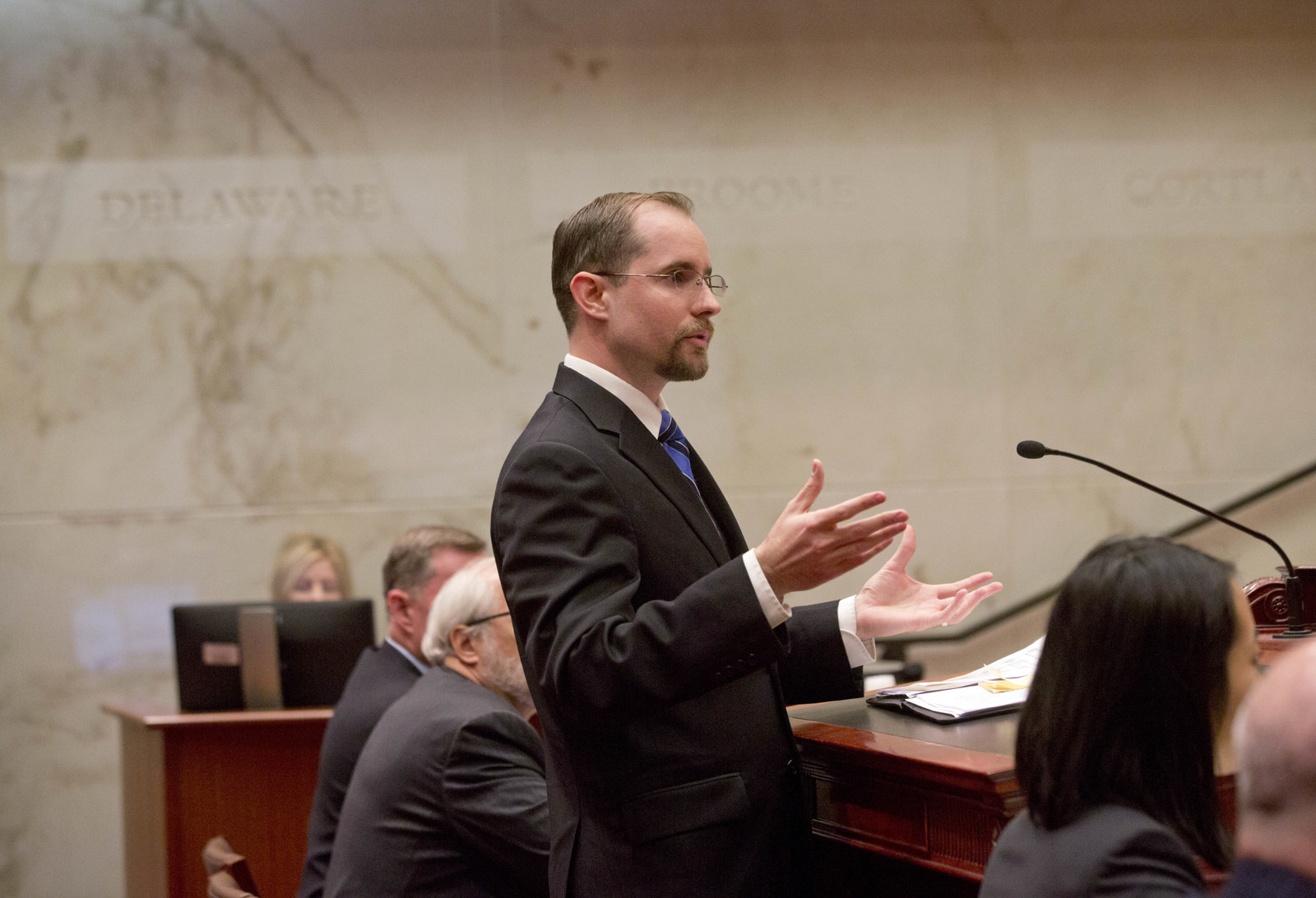 Farris doesn't drink, but on a chilly November night at the Pierre, a luxury 1930s hotel on Manhattan's Upper East Side, he chatted with chardonnay-sipping guests. Servers swanned by carrying silver platters of filet mignon on crustless brioche for an ADF reception about ways to stop gay marriage abroad.
The guest of honor was Tony Abbott, Australia's former prime minister, who'd come to condemn the upcoming plebiscite on same-sex marriage (Abbott's side would lose 14 days later), and the event served as reminder that ADF appears willing fight against gay rights on whatever playing field a country presents.
Farris, who stood next to a three-tiered table, like a massive wedding cake topped with canapés, said he'd been busy all week: He'd been holding moot court practice hearings with Waggoner, trying to prepare her for the Supreme Court. He wanted to make sure there'd be no question she would face at oral arguments she hasn't heard before.
"In arguments, the chances of you losing the case are greater than the chances of winning the case," he told BuzzFeed News, adding that he was grateful the Justice Department was taking 10 minutes of argument time. "The solicitor general is considered to be the 10th justice, and having that kind of endorsement of your position is good. They can't lose it for us."
Farris also stressed that the baker isn't opposed to the customer's sexual orientation. "We wouldn't be defending this if it was somebody saying, 'I will never serve gay people,'" Farris said, trying to thread the needle between turning someone away because they're gay and refusing to convey what he called "a particular message."
"My greatest desire is for people to understand what the path to civility is," he went on, "and I believe the path to civility is allowing freedom from coercion. We don't want to open up a broad door for discrimination for people as people."
So will Farris get in touch with his friend Mike Pence as he plots out his next moves? "He changed his cell phone number," Farris said. "So that ended."
Not that Farris necessarily needs Pence these days. The group has helped propagate ambiguous legislation in legislatures and Congress, and it's proven it can get its cases up to the Supreme Court to hash out broader readings of the law. And now, when they do, Sessions will have their back.
Farris is still evasive though on just how he thinks homosexuality should be treated in the US in 2017. Farris paused for several seconds before answering when BuzzFeed News asked him if he believes same-sex sodomy should be legal. "It is legal," he said. That is true, but that's because Farris and other lawyers on Farris's side lost their argument that criminalizing gay sex was "grounded on a moral judgment."
ADF maintains blurry lines between what it truly wants and how it's willing to compromise, because, it seems, its goals shift based on what's possible at any given time.
Does the group merely want to protect religious creative professionals from sending messages they dislike — or does it actually want shopkeepers to legally discriminate because someone is gay? Is it also interested in the wholesale criminalization of gay people, or would it like to erode civil rights laws more broadly?
On stage with Abbott at the Pierre Hotel, Farris, who had a lot of sun after returning from Scottsdale, said the baker "represents millions of other Americans, more than the creative professionals, who maintain a traditional belief in man-woman marriage." Nonetheless, with the piecemeal precision ADF has employed throughout its recent work, he focused on what was still feasible in the US, given the "seismic event" of the Supreme Court's 2015 marriage equality ruling.
"I don't expect the most broad victory," he said of the baker's case. "I'll take a victory of any sort." ●