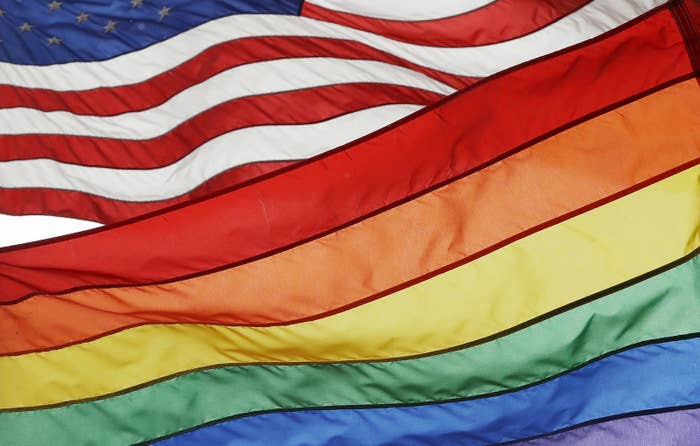 A federal appeals court on Wednesday ruled that a Michigan funeral home broke federal law when it fired a transgender woman, while tossing out the employer's claim that a religious objection created a legal loophole to terminate her.
The decision builds on a tide of federal court rulings that have found workers are protected from anti-LGBT discrimination, even though there is no federal law explicitly barring discrimination on the basis of sexual orientation or gender identity.
It is the first time in such a case that a federal appellate court considered an employer's claim for a religious recusal under the Religious Freedom Restoration Act, a 1993 federal law known as RFRA — siding here with the transgender worker.
"The significance of this decision is hard to overstate," Sharon McGowan, a lawyer for Lambda Legal, which filed a brief supporting the woman's claim, told BuzzFeed News.
The decision builds on "the overwhelming consensus" emerging from the judiciary, which contrasts with Trump administration's efforts to narrow the meaning to Title VII to omit LGBT people, she said.
In ruling for Aimee Stephens and the Equal Employment Opportunity Commission, a federal agency that brought the case, the US Court of Appeals for the 6th Circuit found anti-transgender discrimination is prohibited by Title VII of the Civil Rights Act of 1964, which bans discrimination on the basis of sex, and that employing a transgender person posed no substantial burden on the employer's religious exercise.
"Discrimination against employees, either because of their failure to conform to sex stereotypes or their transgender and transitioning status, is illegal under Title VII," said a 49-page opinion led by Judge Karen Nelson Moore.
"RFRA provides the Funeral Home with no relief because continuing to employ Stephens would not, as a matter of law, substantially burden Rost's religious exercise."
Stephens had presented as a man when she started for the company in 2007, working her way up to funeral director at R.G. & G.R. Harris Funeral Homes, Inc. However, six years later, after Stephens announced plans to transition to a woman, the owner, Thomas Rost, fired her.

"The unrefuted facts show that the Funeral Home fired Stephens because she refused to abide by her employer's stereotypical conception of her sex," the opinion continues. "RFRA provides the Funeral Home with no relief because continuing to employ Stephens would not, as a matter of law, substantially burden Rost's religious exercise, and even if it did, the EEOC has shown that enforcing Title VII here is the least restrictive means of furthering its compelling interest in combating and eradicating sex discrimination."
The funeral home had claimed allowing Stephens to work while she dressed and represented herself as a woman would be an unjustified substantial burden upon the owner's sincerely held religious beliefs. But the court noted, "The Funeral Home itself, however, is not affiliated with a church; it does not claim to have a religious purpose in its articles of incorporation; it is open every day, including Christian holidays; and it serves clients of all faiths."
The court reversed a lower district court decisions, which had ruled in the funeral home's favor, and sent the case back to reconsider the arguments in light of the appellate court's reading of the laws.
"At a time when the Trump / Pence administration is trying to create safe havens for those who want to discriminate against LGBT people, this decision makes clear that there is a compelling government interest in ending anti-LGBT discrimination," McGowan said in an email. "Employers and businesses do not get a free pass to discriminate simply by asserting a religious objection to the existence of transgender people."
Alliance Defending Freedom, which represented the funeral home, told BuzzFeed News it was considering whether to appeal the decision.

Gary McCaleb, senior counsel for the Christian legal group, said in a statement that the ruling "misreads court precedents that have long protected businesses which properly differentiate between men and women in their dress and grooming policies." Courts should consider the "plain meaning" of laws at the time they were passed by Congress, he said, arguing that Wednesday's decision "instead re-writes federal law."

The American Civil Liberties Union, which represented Stephens, said the ruling set "important precedent" and "ensures that employers will not be able to use their religious beliefs against trans employees, ruling that there is no 'right to discriminate' in the workplace."
The EEOC did not immediately respond to requests for comment.