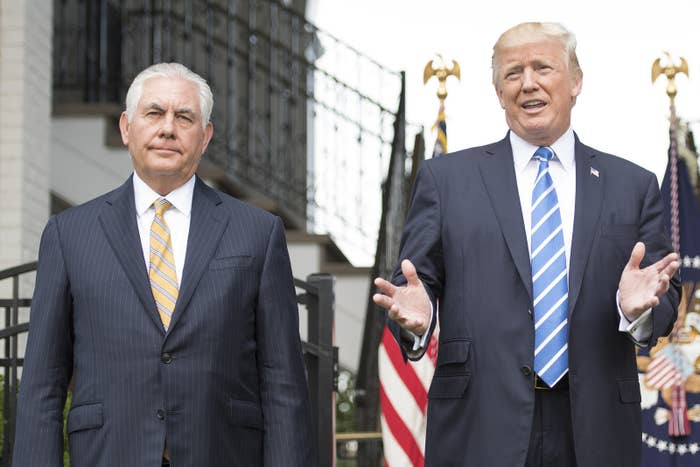 President Donald Trump lashed out at his former secretary of state, calling Rex Tillerson stupid and lazy after the former top diplomat said the commander-in-chief was "undisciplined" and prone to ideas that were against the law.
"Mike Pompeo is doing a great job, I am very proud of him," Trump tweeted Friday of the current secretary of state. "His predecessor, Rex Tillerson, didn't have the mental capacity needed. He was dumb as a rock and I couldn't get rid of him fast enough. He was lazy as hell. Now it is a whole new ballgame, great spirit at State!"
The tweet came after Tillerson spoke with CBS journalist Bob Schieffer in Houston on Thursday, saying that working for Trump proved very different from his experience in the oil industry.
"What was challenging for me coming from the disciplined, highly process-oriented ExxonMobil corporation," Tillerson said, was "to go to work for a man who is pretty undisciplined, doesn't like to read, doesn't read briefing reports, doesn't like to get into the details of a lot of things, but rather just kind of says, 'This is what I believe.'"
Tillerson also said Trump acted on his instincts, which can come across as impulsiveness.

The pair never met in person until the day Trump asked him to be secretary of state.
According to the Houston Chronicle, Tillerson also said he had to advise Trump against taking actions that would be illegal.
"So often, the president would say, 'Here's what I want to do and here's how I want to do it,' and I would have to say to him, 'Mr. President, I understand what you want to do but you can't do it that way. It violates the law,'" Tillerson said.
Speaking more broadly of the political culture in the US, Tillerson bemoaned the reliance on Twitter, one of the president's favorite mediums.
"I will be honest with you, it troubles me that the American people seem to want to know so little about issues, that they are satisfied with 128 characters," Tillerson said.
In October 2017, NBC News reported that Tillerson had called the president a "moron" behind his back. Tillerson gave a press conference in which he didn't deny the claim, but said, "I'm not going to deal with petty stuff like that, this is what I do not understand about Washington."
After a troubled tenure at the State Department, Tillerson was fired by the president in March with little notice via a tweet.
"This can be a very mean-spirited town," Tillerson later said.
Trump sent his Friday tweet from Air Force One after speaking in Kansas City, Missouri, at the 2018 Project Safe Neighborhoods National Conference.
It was a remarkable turnaround from the tweet Trump sent when Tillerson was confirmed by the Senate as secretary of state in February 2017: