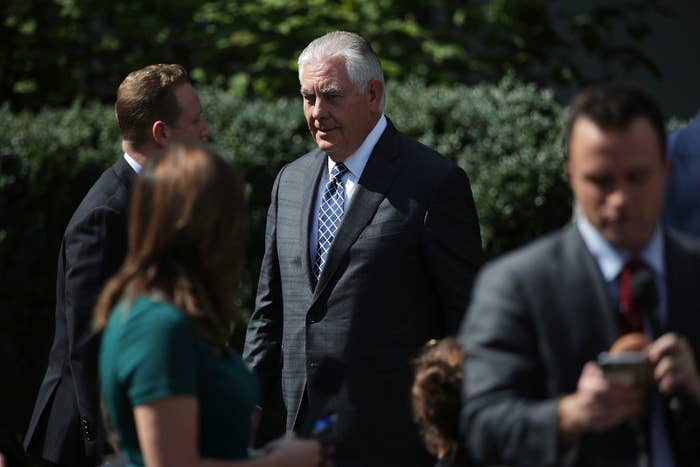 President Donald Trump announced he had fired Secretary of State Rex Tillerson on Tuesday, ending one of the shortest and most tumultuous tenures of a secretary of state in recent history.
"Thank you to Rex Tillerson for his service!" Trump said in a morning tweet.
A State Department official indicated on Monday — and other outlets seemed to confirm — that Trump took the extraordinary measure of firing one of the highest-ranking members of the US government with little notice, if any.

That tweet was reportedly news to Tillerson. White House Chief of Staff John Kelly called Tillerson on Friday, the Associated Press reported Tuesday, and told him to expect a presidential tweet about him. But Kelly did not explicitly say the tweet would announce he was out of a job. Undersecretary of State Steve Goldstein told CNN that Tillerson learned he was officially fired from the president's morning tweet.
Goldstein, in a statement to reporters, said Tillerson was not aware of the specific reason for his ouster, and suggested the decision was a surprise.

"The Secretary had every intention of remaining because of the tangible progress made on critical national security issues," Goldstein said, adding that Tillerson "will miss his colleagues." Tillerson, Goldstein said, "did not speak to the President this morning and is unaware of the reason, but he is grateful for the opportunity to serve, and still believes strongly that public service is a noble calling and not to be regretted."
Goldstein followed-up that statement with another just a few hours later: he will be leaving the State Department. "I wish everyone well," he said. "I look forward to getting more rest and perhaps winning an indoor rowing competition."
He was reportedly fired.
Tillerson delivered comments to reporters at the State Department Tuesday afternoon, laying out what he believed were his successes during his short tenure. He said Trump called him "a little after noontime from Air Force One," hours after the president's morning tweet, and that he had spoken with Kelly. Tillerson said his last day on the job will be March 31, and that he would delegate his responsibilities to his deputy effective at the end of Tuesday.
"All of us, we know, want to leave this place as a better place for the next generation. I'll now return to private life as a private citizen, as a private American, proud of the opportunity I've had to serve my country," he said. He did not take questions.
A senior White House official said Trump made the move to replace Tillerson in order to have a new team in place ahead of talks with North Korea and over trade.

"I think Rex will be much happier now," Trump told reporters at the White House Tuesday morning.
"Rex and I have been talking about this for a long time," the president said before leaving for a trip to California. "We got along actually quite well but we disagreed on things. When you look at the Iran deal. I think it was terrible, I guess he thought it was OK. I wanted to either break it or do something, and he felt a little bit differently. So we were not really thinking the same."
Tillerson returned early to Washington on Monday, cutting short his first trip to Africa as secretary. The State Department on Saturday said the cancellation of a last day on the continent was due to food poisoning he'd contracted in Ethiopia. As he flew back, he described himself as exhausted from lack of sleep and illness.
He also used the flight to issue the administration's harshest condemnation of Russia's alleged involvement in the poisoning of a former spy in the United Kingdom.

The poisoning, he told reporters, "clearly came from Russia" and "certainly will trigger a response."
Sen. Tammy Duckworth, an Illinois Democrat, directly connected Tillerson's comments about Russia to Trump's decision. "Donald Trump's reaction to Tillerson's support of a close American ally facing threats from Russia was to fire him," she said in a statement.
Tillerson enjoyed a brief moment of goodwill upon entering the seventh floor of the State Department as diplomats assumed his experience running a large bureaucracy at ExxonMobil would bring order to Foggy Bottom's creaky and non-hierarchical management structure.

But that goodwill evaporated almost immediately due to series of unforced errors by a man who came in with zero government experience; bad advice from his small circle of isolated confidantes; a White House that forced him to defend a draconian budget plan that signaled open contempt for the work of diplomats, and a career foreign service that resisted his ambitious aims to "redesign" the department despite a widespread understanding than overhaul was long overdue.
A senior diplomat from a major European country told BuzzFeed News that their government wasn't surprised by Tillerson's firing. "We kind of knew it was going to happen since December," the diplomat said.
The same official explained that they had sensed important changes were taking place in the US administration, and that these will continue. The diplomat added that they'd even compiled a list of names they think will be leaving their respective positions in the near future. The diplomat, however, declined to provide any of these names.

Trump intends to replace Tillerson with CIA Director Mike Pompeo, and to replace Pompeo with Gina Haspel, the agency's current deputy director.
"With Mike Pompeo, we have a very similar thought process," Trump told reporters Tuesday. "I think it's going to go very well."
Pompeo previously served as a member of Congress from Kansas before Trump nominated him to head the CIA. A graduate of West Point and Harvard Law School, Pompeo joined the House of Representatives in 2010 and served on the House Intelligence Committee and the House Select Committee on Benghazi.
He was a vocal critic of the Obama administration's nuclear deal with Iran and had previously defended the CIA after a report in 2014 detailed some of the agency's interrogation practices saying, "These men and women are not torturers, they are patriots."
Trump has been unusually critical of the CIA and US intelligence agencies, at times suggesting they comprise a "deep state" determined to leak unflattering and false information about him. Pompeo, though, has been an ally, which has reportedly raised some eyebrows at the CIA. "People have to watch him," a U.S. official told The Washington Post last year. "It's almost as if he can't resist the impulse to be political."
Haspel oversaw the torture of two terrorism suspects at a secret prison in Thailand in 2002 and later helped destroy video of the interrogations, the New York Times reported last year.

Haspel, the Times said, has also taken part in the US's "extraordinary rendition program," in which captured operatives were held for long periods of time at secret facilities, interrogated harshly, and delivered to foreign governments.
When Haspel was promoted to deputy director of the CIA last year, Christopher Anders, deputy director of the American Civil Liberties Union's office in Washington, said Pompeo "must explain to the American people how his promotion of someone allegedly involved in running a torture site squares with his own sworn promises to Congress that he will reject all forms of torture and abuse."
Haspel is also well-respected within the CIA, according to reports, and spent much of her career working undercover for the agency.
Pompeo and Haspel will need Senate confirmation for their positions. That could get dramatic, even if they'll likely be able to get through with just Republican support.
Democrats in Congress are already lashing out at Trump over his decision.
Senate Minority Leader Chuck Schumer said in a statement that "The instability of this administration in just about every area weakens America. If he's confirmed, we hope that Mr. Pompeo will turn over a new leaf and will start toughening up our policies towards Russia and Putin."
"Secretary Tillerson's firing sets a profoundly disturbing precedent in which standing up for our allies against Russian aggression is grounds for a humiliating dismissal," House Minority Leader Nancy Pelosi said in a statement. "President Trump's actions show that every official in his Administration is at the mercy of his personal whims and his worship of Putin."
Sen. Bob Corker, the Republican chairman of the Senate Foreign Relations Committee, said in a statement his committee will consider Pompeo's nomination "as expeditiously as possible." Corker later said on CNN that he hasn't spoken with Tillerson yet since Trump's move, but that he "enjoyed" working with him. Sen. Richard Burr, the chairman of the Senate Intelligence Committee, praised Haspel, saying "I know Gina personally and she has the right skill set, experience, and judgment to lead one of our nation's most critical agencies."
Sen. John Barrasso, a Wyoming Republican, told reporters Tuesday afternoon that confirmation hearings for Pompeo would occur in April. "Any delay would just be additional obstruction by Democrats," he said.

Senate Majority Leader Mitch McConnell, who praised Tillerson in a statement earlier Tuesday, told reports that both Pompeo and Haspel "seem perfectly well qualified" and echoed Barrasso's concerns about delaying hearings on both nominees. "This administration has been treated much more harshly than any previous administration in memory," McConnell said.

Sen. Lindsey Graham, a Republican sometimes-critic of Trump, was also pleased with Trump's decision to elevate Pompeo. "No one has a stronger relationship with President Trump than Mike Pompeo," he said in a statement. "This relationship will empower him throughout his tenure as Secretary of State."

Tillerson did not hide his disagreements with the White House. He clashed repeatedly over who to appoint for the many vacancies across the department and on key policy issues. Tillerson opposed Trump's decision to withdraw from the Paris Climate accords and supported certifying Iran's compliance with the 2015 international nuclear agreement, also knowns as the JCPOA, a determination made by his State Department that Trump resisted.

"He and I have differences of views on things like JCPOA, and how we should use it," Tillerson said at a State Department briefing in early August.
On the Paris climate agreement, Tillerson also made clear that he remained opposed to Trump's decision to withdrawal although he respected the deliberative manner Trump went about making the decision.

"My view didn't change," Tillerson told lawmakers in June. "My views were heard out. I respect that the president heard my views, but I respect the decision he's taken."
Trump personally wanted to tear up the Obama-era agreement, which had a called the "worst deal ever negotiated" — a claim he also made about NAFTA. But key advisers warned that walking away from the deal.
The internal clashes between Trump and Tillerson were highlighted in an October NBC News story that first reported a meeting at the Pentagon where Tillerson referred to Trump as a "moron." The fallout from that report led Tillerson to hold an impromptu press conference in which he failed to fully distance himself from the comment, reportedly further infuriating the president.

Publicly, Trump declared that he had "total confidence in Rex" soon after. White House Press Secretary Sarah Huckabee Sanders then backed that up, saying that hadn't changed "despite what you may read in the media or watch on TV. I would certainly trust the president's and my comments far above those of other reporters."
But Trump also lashed back in an interview with Forbes, challenging Tillerson to an intelligence test. "I think it's fake news, but if he did that, I guess we'll have to compare IQ tests. And I can tell you who is going to win," he said in October.
Tillerson was out the door just a few months later.
Tillerson was close to Secretary of Defense Jim Mattis, and both he and Mattis were thought to have worked in tandem to dampen the president's more hawkish impulses. The two reportedly worked together to caution the president against a "bloody nose" strike on North Korea, and together bore the brunt of Trump's anger when they urged him to recertify the Iran deal last summer.
In January, Mattis explained his relationship with the secretary of state as he discussed his work life.
"So it starts with me having breakfast every week with Secretary of State Tillerson," he said. "And we talk two, three times a day, sometimes. We settle all of our issues between he and I, and then we walk together into the White House meetings. That way, State and Defense are together. "
Mattis' relationship with Pompeo is not well known. The two men have been reported over the past year to agree with the current prohibitions on torture of terrorism suspects, and both men are believed to have opposed Trump's decision to recognize Jerusalem as Israel's capital. Mattis was visiting US troops and meeting with Afghan officials in Kabul when the news about Tillerson broke on Tuesday.
One of Tillerson's key mistakes was failing to reassure career diplomats that his changes would be good for the department and its mission. In advance of his redesign, Tillerson halted lateral promotions, imposed a hiring freeze, and ended an array of programs designed to bring new talent and fellows to the State Department. Those moves hobbled operations at some US missions and damaged morale as civil servants felt trapped in positions with no opportunity for a new assignment or promotion.

He relied on an insular inner-circle that included his chief of staff, Margaret Peterlin, director of policy planning, Brian Hook, and communications guru, R.C. Hammond, who engaged in limited outreach with the rest of the building.
His desire to promote certain career diplomats to key positions were blocked by a White House suspicious of DC bureaucrats — which exacerbated Tillerson's isolation from permanent staff.

On the world stage, his diplomatic efforts were occasionally undermined by the president's tweets. Tillerson's botched campaign to pressure Saudi Arabia to end its blockade against Qatar, for instance, failed to intimidate Riyadh as top Saudi officials took comfort in Trump's tweets defending the kingdom.
When Moscow called for the expulsion of hundreds of US officials from Russia, Tilleson expressed disappointment in the decision. Trump, meanwhile, thanked the Kremlin for saving the US money on diplomats — a comment the White House later said was sarcastic.
Additional reporting from Cora Lewis, Mary Ann Georgantopoulos, Vera Bergengruen, Thomas Frank, and Alberto Nardelli.