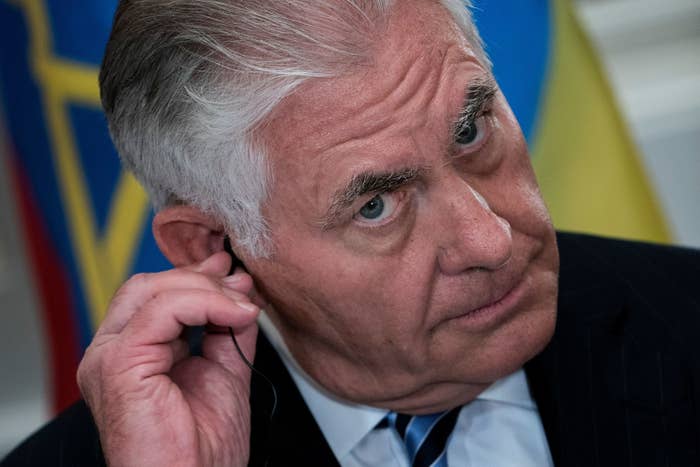 WASHINGTON, DC — Secretary of State Rex Tillerson sought to lay to rest longstanding speculation about his impending departure from the State Department on Wednesday in an impromptu address that derided recent media coverage as "erroneous."
"I have never considered leaving this post," Tillerson said from the State Department's lavish Treaty Room. "While I'm new to Washington, I have learned that there are some who try to sow dissension by tearing others apart in an effort to undermine President Trump's own agenda."
The statement followed a report by NBC News that Tillerson openly mocked the president, calling him a "moron" following a July 20 meeting at the Pentagon with top Trump officials. The story claimed that Tillerson was on the brink of resigning this summer over a range of policy disputes regarding Qatar and Iran.
In recent weeks, Tillerson's top aides have expressed increasing exasperation over questions about the secretary's fate. Their view is that, yes, Tillerson has been frustrated by the president's tweets and fights over staffing decisions, but has no intention of leaving his job.
One US official expressed confidence in Tillerson's status due to a so-called "suicide pact" forged between Defense Secretary James Mattis, Treasury Secretary Steven Mnuchin, and Tillerson, whereby all three cabinet secretaries vow to leave in the event that the president makes moves against one of them.
Other Trump insiders point to the potentially hefty tax bill Tillerson would have to pay if he resigns before serving a year in government.
Still others said the Beltway crowd misinterpreted Tillerson's relationship with the White House and made too much of the secretary's reluctance to do media appearances. Tillerson regularly appears on the president's public schedule for White House meetings and his lack of media interviews reflects his preference for secrecy, a byproduct of his upbringing in the opaque corporate culture of ExxonMobil.
During his remarks to reporters, Tillerson disputed some claims in the NBC article, including that he had to be persuaded by Vice President Mike Pence this summer to stay in his job.
"The vice president has never had to persuade me to remain as secretary of state because I have never considered leaving this post," Tillerson said.

When asked directly if he had ever described the president as a "moron," Tillerson said, "I'm not going to deal with petty stuff like that. This is what I do not understand about Washington."
Later, State Department spokeswoman Heather Nauert denied the remark on his behalf. "The secretary did not use that type of language to speak about the president of the United States," she said. "He does not use that language to speak about anyone." When pressed again, she said, "He did not say that."
During his remarks to reporters, Tillerson said he did not talk to Trump about the article. But after Tillerson delivered his remarks, Nauert said the two men spoke and had a "good conversation."

Besides attempting to set the record straight, Tillerson on Wednesday delivered a full-throated defense of Trump and his foreign policies, saying, "We're finding new ways to govern that deliver new victories."
Tillerson took particular pride in US efforts to build a "peaceful pressure campaign against North Korea," rally support for fighting terrorism in the Middle East, and encourage NATO allies to contribute more to the alliance's collective security goals.
However, Pyongyang continues to develop its nuclear weapons program, infighting between America's Gulf allies has not abated, and no new NATO countries have begun spending the recommended 2% of GDP on defense.
Tillerson also cited recent military victories against ISIS in Iraq and Syria, which are beyond dispute.
Following his remarks, the president said he has "total confidence in Rex."
"I'm very honored by his comments," Trump told reporters. "It was fake news. It was a totally phony story. Thank you very much. It was made-up."