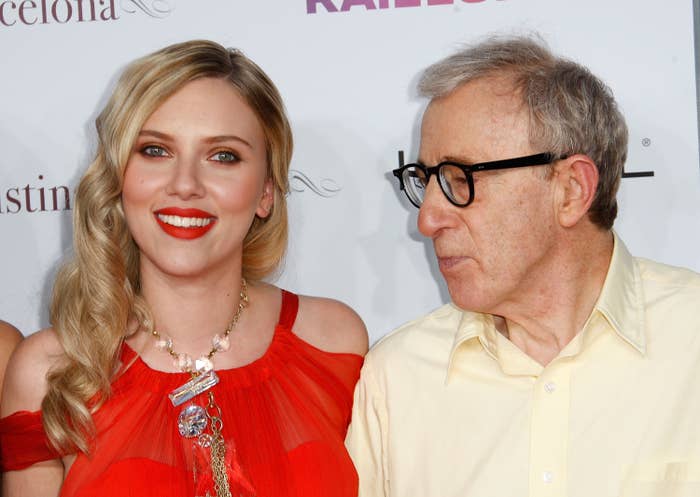 Since the #MeToo movement began, a number of actors have come forward to say they regret working with Woody Allen, but one prominent star is standing by the director: Scarlett Johansson.
"I love Woody," Johansson told the Hollywood Reporter in an interview published Wednesday. "I believe him, and I would work with him anytime."

Allen has long been accused of molesting his daughter, Dylan Farrow, when she was a child — a claim he has always vehemently denied. At the height of the #MeToo movement in December 2017, Farrow wrote a piece for the Los Angeles Times in which she called on stars supporting the movement to explain their associations with Allen. The piece prompted a number of Hollywood figures — including Colin Firth, Marion Cotillard, Timothée Chalamet, and Ellen Page — said they wouldn't work with him again.
But Johansson — who starred in Allen's Vicky Cristina Barcelona (2008), Scoop (2006), and Match Point (2005), for which she was nominated for a Golden Globe — said she would have no qualms about working with him again.
"I see Woody whenever I can, and I have had a lot of conversations with him about it," she said. "I have been very direct with him, and he's very direct with me. He maintains his innocence, and I believe him."
In May 2018, Johansson was criticized after she was spotted dining with Allen. Just months earlier, she had given a speech at the 2018 Women's March in which she criticized James Franco for "privately preying on people who have no power" following allegations of sexual misconduct against him.
When asked by the Hollywood Reporter if she found it difficult to defend Allen when the #MeToo movement places an emphasis on believing women's allegations, Johansson replied, "It's hard because it's a time where people are very fired up, and understandably. Things needed to be stirred up, and so people have a lot of passion and a lot of strong feelings and are angry, and rightfully so."
"It's an intense time," she said.
Johansson is not the only prominent actor to have worked with Allen and subsequently defended him.

In January 2018, Alec Baldwin said it was "unfair and sad" that stars were renouncing Allen.