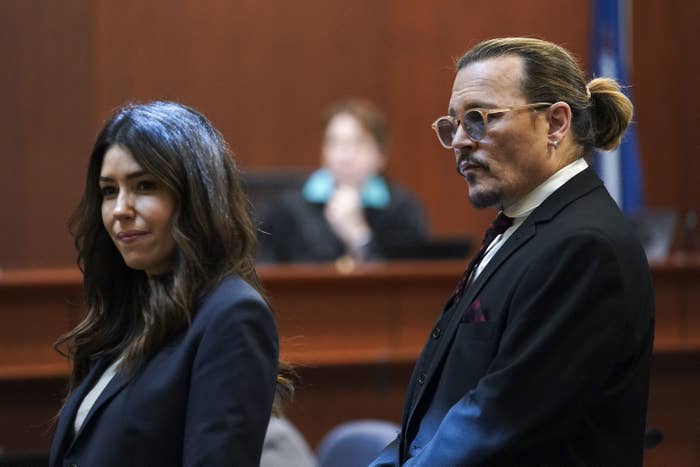 Johnny Depp's lawyers have hit back at claims that jurors in his successful defamation trial against Amber Heard were swayed by social media — as well as allegations that the tidal wave of online support for him was orchestrated.
In Wednesday morning interviews on NBC's Today show and ABC's Good Morning America, Ben Chew and Camille Vasquez said they believed the jurors reached their verdicts on facts alone and not because they were influenced by things they'd seen online.
"My view is that social media played no role whatsoever," Chew said on GMA. "This was a decision made by the jury on the evidence presented by both sides."

Vasquez said that even though jurors weren't sequestered in the weekslong trial, the judge had warned them each day to not pay attention to any coverage of the high-profile case.

"It is everywhere, but at the same time, they were admonished every single night," Vasquez said on Today. "They had a tremendous amount of respect for the court and the process, and they were doing the best that they could."
The lawyers vehemently asserted that neither Depp nor any of his representatives had paid for manufactured online support.
"That is utterly baseless," Chew said.
"Categorically false," Vasquez said.
Heard lawyer Elaine Bredehoft said last week she believed there was no way that the jury could have avoided the "lopsided" social media support for Depp.
"How can you not?" she said on Today. "They went home every night. They have families. The families are on social media."
"It's like the Roman Colosseum how they view this whole case," Bredehoft said. "I was against cameras in the courtroom, and I went on record with that and had argued against it because of the sensitive nature of this, but it made it a zoo."
With millions around the world watching footage of the trial each day, the lawyers for both sides became celebrities in their own right — something Vasquez told NBC had been "overwhelming and surreal."
Vasquez's name was trending on Twitter on Tuesday after her firm announced she had been promoted to partner owing to her "performance during the Johnny Depp trial."
"Congratulations Camille," read countless tweets.

Prior to the pair's appearances on Wednesday morning, Heard's representatives sent out a statement to press blasting the Depp lawyers.
"It is as unseemly as it is unprofessional that Johnny Depp's legal team has chosen to do a victory lap for setting back decades of how women can be treated in the courtroom," a spokesperson for Amber Heard said. "What's next? A movie deal and merchandising?"
Heard's team has said she is likely to appeal and that she cannot afford to pay the more than $10 million in damages the jury awarded Depp.
Asked on GMA whether Depp would agree to waiving damages in exchange for Heard dropping any appeal, Chew said they couldn't disclose discussions with their client, but he reiterated that the primary motivation for the actor was not financial.
"This was about Mr. Depp's reputation," Chew said.