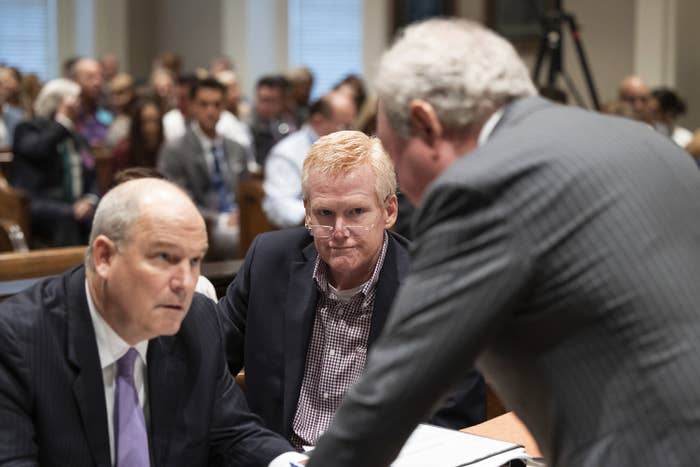 The murder trial of Alex Murdaugh on Tuesday saw arguments over what pronoun the former South Carolina lawyer used during an interview with investigators just days after his wife and son were shot dead, with prosecutors contending he made a Freudian slip and admitted to murder.
Whether Alex said "I' or "they" in the June 10, 2021 interview is ultimately a matter for the 12 jury members to decide, but people listening to a recording of the interview that was played in court seemed split. The audio was played multiple times on Tuesday, even slowed down to one-third speed.
"It's become 'Is the dress gold or blue?' It's the big debate," GiGi McKelvey, a reporter for the Law & Crime network, told viewers on the outlet's livestream, referring to the viral 2015 BuzzFeed post where people saw the color of a dress differently.
The confusion began on Monday with shocking testimony from Jeff Croft, a senior special agent with the South Carolina Law Enforcement Division, or SLED. Croft and another investigator spoke with Alex, 54, and his attorney inside a vehicle three days after he said he found the bodies of wife Maggie, 52, and son Paul, 22.
Croft testified that when he brought up a "traumatic" photo Alex had seen of the pair's extensive wounds, Alex had replied, "It's just so bad. I did him so bad," referring to Paul.
In court on Monday, Alex had shaken his head in disagreement at Croft's description of his words, but Alex's defense team was only able to question the SLED agent about the moment when court resumed on Tuesday.
"Are you 100% confident that Alex said 'I did him so bad,' rather than 'They did him so bad'?" attorney Jim Griffin asked Croft.
"I am 100% confident in what I heard and interpreted him as saying," Croft responded.
While both Griffin and Croft agreed it would ultimately be up to the jury to discern for themselves what Alex actually said in the recording, Griffin did seek to grill Croft as to what, if anything, the SLED agent had done when he heard Alex's supposed admission.
"I made a mental note of it," Croft said. "Again, we were still in the early stages of investigation. It was more of an information gathering [exercise] from Mr. Alex, and we did not have information at that point, in my opinion, to challenge Mr. Alex on any of his statements."
But Croft could not say whether he wrote the words down in his physical notes despite, as Griffin highlighted, Alex was the sole person alive who investigators knew had been at the crime scene.
Croft also did not seek to clarify with Alex what he meant when he said the words in question, telling Griffin in court that doing so would lead to challenging him as to the veracity of his statement — something Croft said he was not yet prepared to do.
When the audio was played back for the court at the slower speed, Croft maintained he could still hear "I" and not "they."
Alex has pleaded not guilty to murdering his wife and son. He is also facing dozens of other charges for alleged financial crimes, as well as a supposed scheme to have himself killed after his family's deaths so that his surviving son could receive an insurance payout.
Throughout the murder trial, which formally opened once a jury was selected on Wednesday last week, Alex's defense team has repeatedly sought to question the manner in which agents processed evidence collected at the crime scene and to suggest the investigation had been sloppy.
On Tuesday, they noted during their cross-examination of Croft that the house of Alex's mother, which Alex visited on the night of the June 7 killings, was not searched until September of that year.
They also noted that Paul and Maggie's cellphones — the latter of which was found a quarter mile from the crime scene using the Find My iPhone app — were not placed in special bags that are designed to protect them from remote interference, although South Carolina investigation procedure does not require such bags be used.
And while Croft testified extensively about the different weapons and ammunition types that were found at the rural hunting lodge property where the killings took place, Alex's defense team noted that prosecutors have so far not pinpointed any as a murder weapon.
"Have you ever found the murder weapons to your knowledge?" Griffin asked.
"Not that I'm aware of," Croft replied.