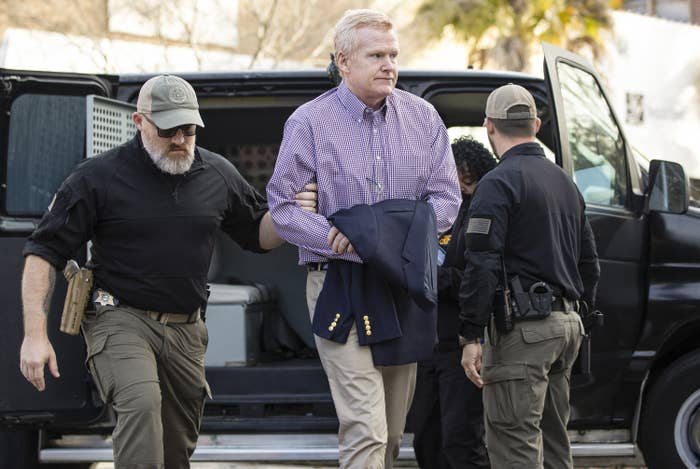 A bomb threat was called in to the South Carolina courthouse playing host to Alex Murdaugh's murder trial on Wednesday, prompting officials to evacuate the judge, jury, lawyers, and the defendant himself.
Shortly after the day's fourth witness took the stand, Judge Clifton Newman interrupted proceedings to ask the jury to leave before informing others in the courtroom they too would need to leave. "Ladies and gentlemen, we have to evacuate the building at this time, so we'll be in recess until we discover what's going on," the judge said.
According to the South Carolina Law Enforcement Division (SLED), the threat was received by courthouse staff, who subsequently alerted officials. SLED and local sheriff's deputies subsequently launched an investigation and began a search of the building. The trial was paused for over two and a half hours before things resumed.
While fears over the bomb threat soon abated on Wednesday, the most seismic event to hit the trial this week occurred two days prior, when Judge Newman made a pivotal decision that would allow the jury to hear explosive evidence about Murdaugh's alleged financial crimes.
Following days of testimony from witnesses in a separate hearing without the jury present, Newman announced Monday that he would permit prosecutors to raise this evidence during the actual murder trial because he agreed it could be seen as a possible motive. (Such evidence would not typically be permitted in a trial if it were being used merely to show Murdaugh had a bad character or propensity for crime.)
Murdaugh has pleaded not guilty to killing wife Maggie and son Paul at their rural hunting lodge on the night of June 7, 2021, but prosecutors contend he shot the pair dead in a harried attempt to deflect attention from himself and gain sympathy amid a looming series of legal and financial disasters that were all coalescing around that time.
As a result of the judge's decision, several witnesses have since been called back to testify again in front of the jury, including Jeanne Seckinger, the chief financial officer at the law firm where Murdaugh had worked before he was fired in September 2021 after partners there said they discovered he'd been stealing funds.
While defense attorneys have repeatedly tried to cast Murdaugh as a loving husband and father who had no reason to kill his family, Seckinger's testimony on Tuesday made clear to the jury for the first time the dark secrets that prosecutors say Murdaugh was harboring.
Repeating testimony she gave last week, but this time for the benefit of the jury, Seckinger described how she'd confronted Murdaugh on the morning of the murders about $792,000 in missing fees. Months later, she discovered how he had arranged to have these funds made out in a check to himself despite his denials to the contrary.
She also discovered other extensive evidence of Murdaugh having stolen more than $5 million in funds from clients and the firm going back a decade — revelations that prompted his firing when they were discovered.
"Did you really know Alex Murdaugh?" prosecutor Creighton Waters asked Seckinger.
"I don't think I ever really knew him," Seckinger replied. "I don't think anybody knows him."
Appearing Wednesday morning before the bomb threat interrupted proceedings, Murdaugh's paralegal of nine years, Annette Griswold, also described for the jury how she'd discovered evidence of his alleged thefts.
"I was hurt, I was angry. I just was beside myself," Griswold testified, describing how in September 2021 she'd found a check related to the missing $792,000 that Murdaugh had sworn to her for months didn't exist. "I was a bit enraged too because I asked him so many times."
Both Griswold and Seckinger said that their initial suspicions that Murdaugh may have been hiding money were essentially forgotten for months as a result of the June 7 murders and their sympathy for their colleague — something prosecutors have alleged was exactly Murdaugh's plan. "That was the furthest thing on my mind," Griswold said.
In the immediate weeks after the murders, Griswold described how the law firm staff feared someone was targeting the Murdaughs, a family of influential and powerful attorneys in the low-country region of South Carolina for generations. Staff even began watching out for strange cars that they saw driving by the law firm, fearing that Murdaugh, his surviving son Buster, or other members of his extended family may be targets. "We were in complete Mama Bear mode," she said.
But when she found that check last fall, she said she went straight to Seckinger. "That feeling in the back of my mind was correct," Griswold said. "Unfortunately, he did take these funds."
When the full extent of Murdaugh's alleged years of thefts were discovered in a subsequent audit, Griswold said law firm staff were "in awe of how much was happening … [that they] had no idea about it."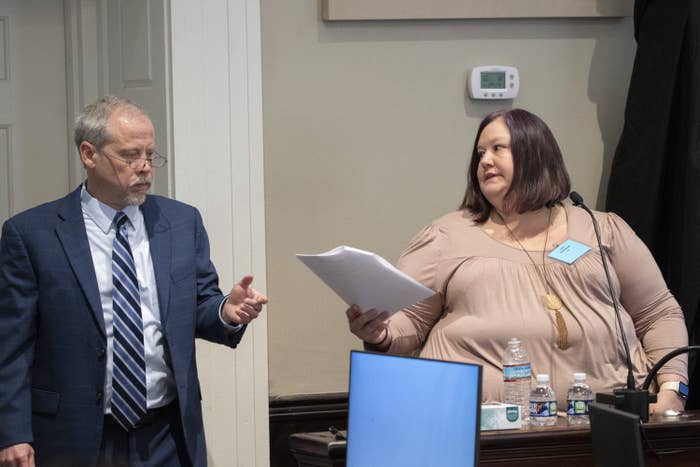 The day after Murdaugh's dismissal from the law firm, authorities say he hired someone to shoot him in the head so Buster could receive an insurance payout. But the plan went awry and Murdaugh was only injured slightly. Authorities later charged Murdaugh, who checked himself into rehab for what he said was a yearslong painkiller addiction, and his alleged accomplice in that scheme.
Prosecutors also introduced evidence in court on Wednesday of a text message Murdaugh sent to Griswold and another law firm staffer from rehab, which Griswold said she assumed was part of his trying to make amends during his recovery. In the lengthy message, Murdaugh apologized to the pair and said, "The better I get, the more guilt I have."
"The worst part is knowing I did the most damage to those I loved the most," Murdaugh wrote in one section of the message that prosecutors made a point of emphasizing.
For their part, Murdaugh's defense team seemed to acknowledge the difficult situation in which they had found themselves as a result of this testimony. After unsuccessfully trying to have the judge exclude the financial allegations from the trial, they said they wanted the jury to hear about Murdaugh's drug addiction and rehabilitation as it helped to explain his behavior in those alleged thefts.
"It is part and parcel of the financial crimes and it explains why he did what he did," said defense attorney Jim Griffin, before telling the judge that all this evidence was likely to tarnish the jury's perception of his client. "It does in a way pile on and make it even more prejudicial."
The jury is still yet to hear damaging evidence related to how Murdaugh cheated $4.3 million away from the family of his dead housekeeper or how, at the time of the murders, he was just days away from a court hearing in a lawsuit over a boat crash involving his son that could have required him to open up his finances for review.
Murdaugh's defense team has done a more effective job in raising questions about individual items of forensic evidence collected by state investigators, whether they be footprints at the crime scene or cellphone data.
This success continued on Wednesday when they pushed a forensic expert to acknowledge that small particles of gunshot residue found on Murdaugh's hands and clothes after the murders could have come from a shotgun he said he had retrieved from his home for protection while calling 911 to report he'd discovered the pair's bodies.
They were also able to establish considerable confusion regarding a large blue rain jacket recovered from Murdaugh's mother's home, on the inside of which forensic experts found considerable gunshot residue, suggesting someone had fired a weapon while wearing the clothing inside out or had wrapped the coat around a recently fired gun.
The mother's caretaker testified on Monday that she saw Murdaugh bring something blue to the house a few days after the murders, but said she believed it was a blue tarp. The coat was discovered near a tarp, which officials did not test for gunshot residue.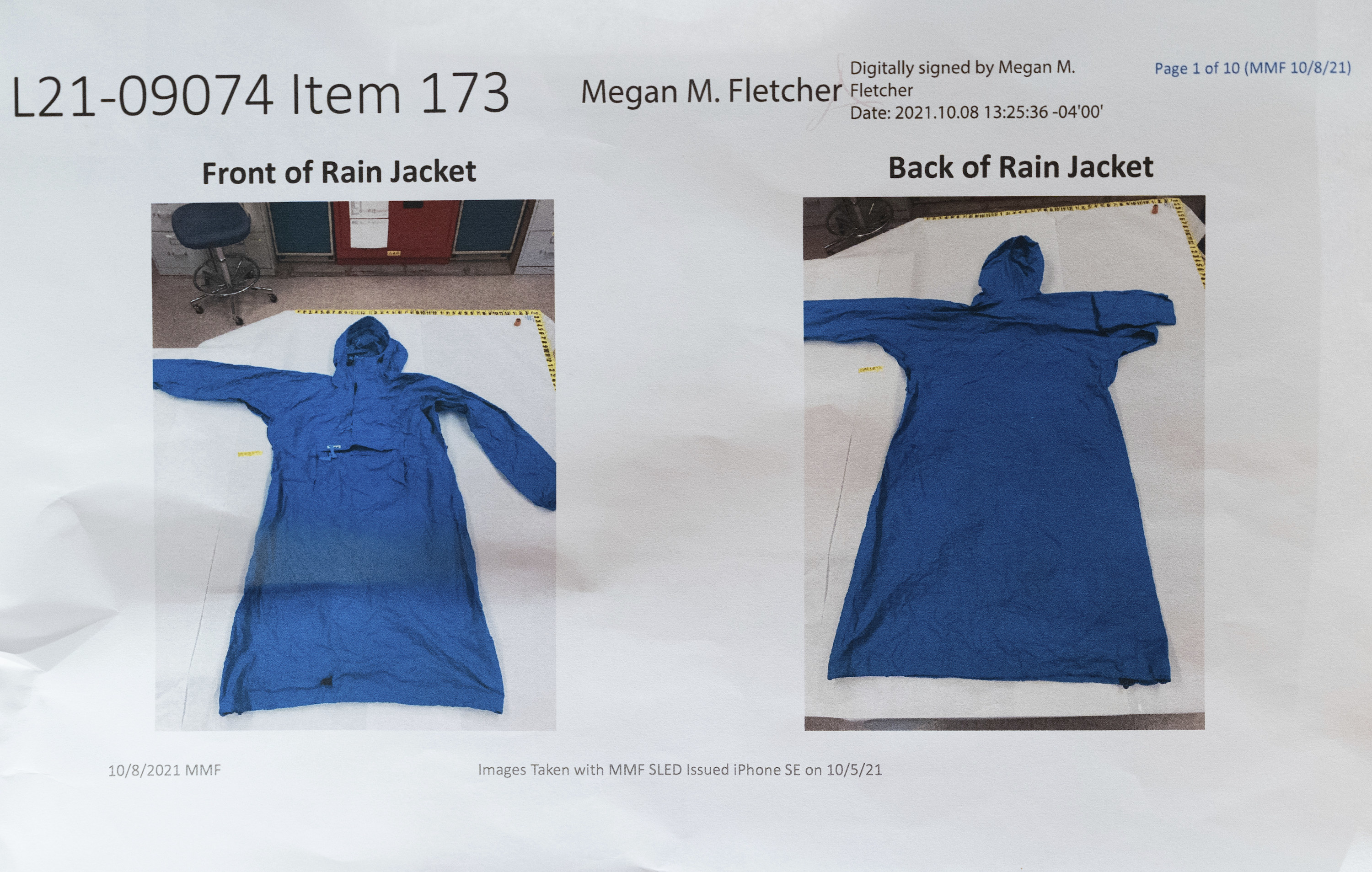 Still, the sheer preponderance of circumstantial evidence may ultimately be too much for defense officials to successfully undercut for the jury.
The most damaging piece shown to the jury so far has arguably been a video recovered from Paul Murdaugh's phone that indicated his father was with him and his mother just a few minutes prior to when prosecutors say they were killed. Alex Murdaugh had repeatedly told law enforcement that he was not with his wife and son for an extended period before they were killed.
No people can be seen in the video, but three distinct voices can be heard. So far in the trial, four people who have long known the Murdaughs — including Griswold and law firm partner Ronnie Crosby — have told the jury that the voices belong to Paul, Maggie, and Alex Murdaugh.
"How sure are you?" prosecutor Waters asked Crosby on Tuesday.
"I'm 100% sure," he responded.
Crosby said that when he arrived at the hunting lodge that night to comfort his friend, Murdaugh had expressly denied being near the site of the eventual murders that evening.
"Did he say whether or not he went down to the kennels before leaving for [his mother's place in] Almeda?" Waters asked.
"That came up in one of the conversations, and he specifically said that he did not," Crosby testified.