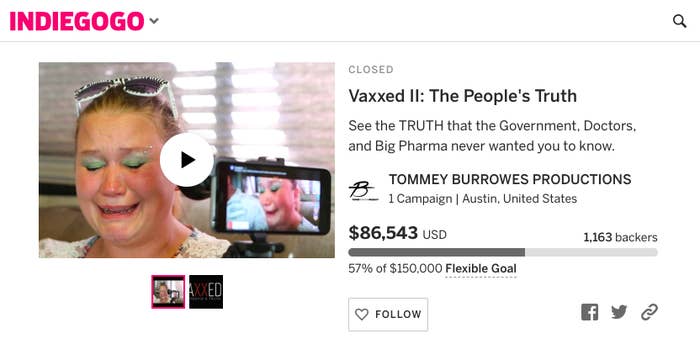 Crowdfunding site Indiegogo will no longer allow anti-vaccine fundraisers or any projects making health claims that do not have a scientific backing, the company said Friday.
The move comes after anti-vaccine advocates raised $86,543 for a documentary based on the false claim that vaccines cause autism. The prospective makers of Vaxxed II: The People's Truth will still get their cash, minus the site's 5% fee, but Indiegogo is working on a new policy that would keep similar anti-vaccine projects off the platform in the future, a company spokesperson told BuzzFeed News Friday.
The policy has not yet been finalized, and the spokesperson did not say when it was expected to take effect.
The move comes as the US records its worst year for measles since the disease was declared eradicated in 2000. Vaccination rates across the country as a whole have remained high, the CDC has said, but in some communities, parents have refused to vaccinate their children largely because of misinformation claiming vaccines are dangerous. Exposure to the measles virus — often from a person who has traveled overseas — can quickly turn into an outbreak when members of the public are unvaccinated.
Public health officials are struggling to control the outbreaks, which experts believe will become a new normal. Measles is one of the most contagious infectious diseases, and it can cause severe complications or even death.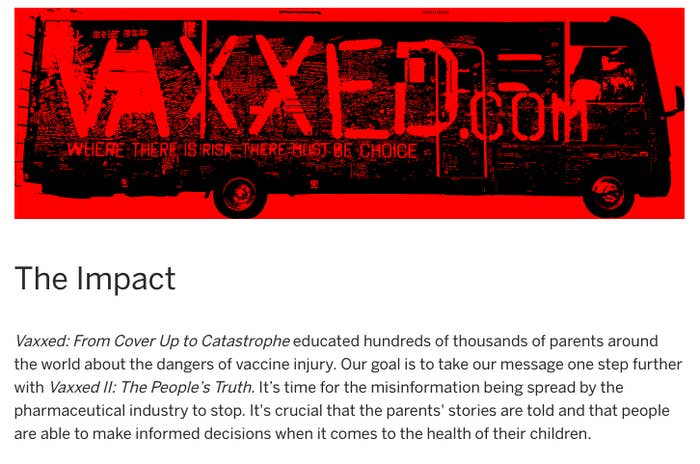 And though vaccines have repeatedly been found to be safe and effective, parents' fears about risks continue to be stoked by anti-vaccine advocates and bogus science via books, videos, and social media. GoFundMe last month announced it was banning fundraisers for anti-vaccine misinformation campaigns, and Facebook and YouTube have taken steps against promoting anti-vaccine content to users.
The documentary Vaxxed, directed by discredited British doctor Andrew Wakefield, was removed from Amazon Prime Video as well as library media streaming service Hoopla.
Two producers of the 2016 film have been working to create its follow-up, featuring testimonials from parents who said their children were irreparably harmed by vaccines.
"See the TRUTH that the Government, Doctors, and Big Pharma never wanted you to know," the Indiegogo fundraising page said.
While the fundraiser did not violate existing policies on untruthful campaigns, which focus on campaigns that mislead and defraud donors, Indiegogo never promoted it on its site, the company spokesperson said.
In the Vaxxed II fundraiser, executive directors Polly Tommey and Brian Burrowes are clear about the pushback the original documentary received and its ban from platforms and screenings, including the Tribeca Film Festival, which they derided as censorship by powerful interests.
"You can't silence the truth, the parents like myself who vaccinated and now have brain damaged adults to look after for life because we DID vaccinate will never be silenced," Tommey told BuzzFeed News in an email. "Vaxxed 2 is even more powerful than the first film, The People's Truth. Censorship has a horrid way of backfiring on those implementing."