A conservative writer on Thursday shared a creepshot of Congresswoman-elect Alexandria Ocasio-Cortez, noting that "that jacket and coat don't look like a girl who struggles."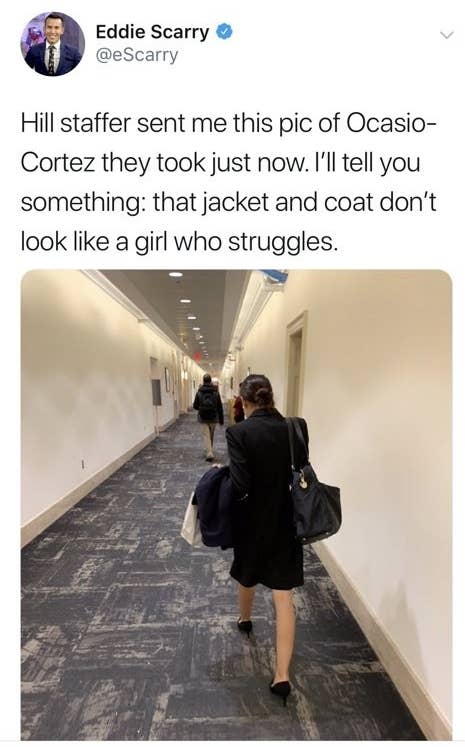 Ocasio-Cortez was at the Capitol on Thursday for new member orientation and a Democratic caucus meeting.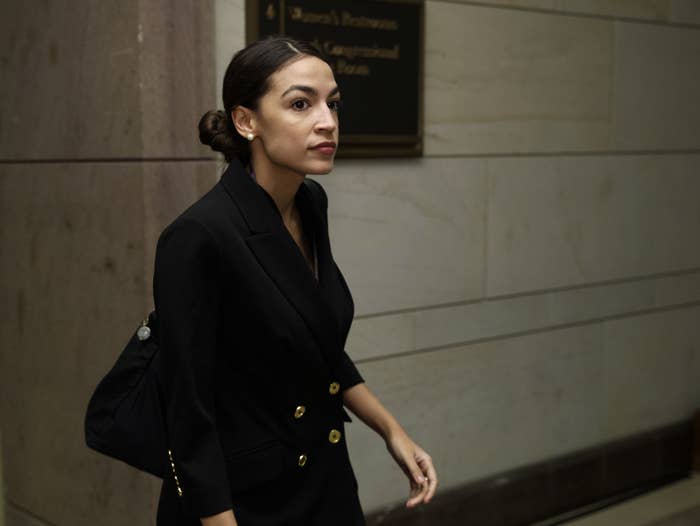 She won't be sworn in as a New York representative until January, so during the transition period between winning the election and taking office, she's not drawing a salary. But as on Thursday, she's still required to be in Washington, DC, to get ready for her term.
Ocasio-Cortez, 29, previously worked at a restaurant and said she's had to be careful about the financial hit she'll take.
"I have three months without a salary before I'm a member of Congress," she told the New York Times. "So, how do I get an apartment? Those little things are very real."
So it seemed like when Scarry said she didn't look like she struggles, he meant Ocasio-Cortez didn't look poor enough. And Twitter had a field day.
People also spoofed a Fox News report that displayed shock that Americans who owned appliances or cellphones could be considered poor.
And they considered some ~truly~ newsworthy jackets from pop culture.
Needless to say, Scarry experienced a legendary ratio: more than 20,000 replies to his almost 400 retweets and roughly 1,500 likes.
Even Scarry's colleague from the Washington Examiner said this was "not a proud moment" for the conservative outlet.
People were also quick to point out it's not the first time Scarry has posted a creepshot in which he's critical of a woman's appearance.
Women, in particular, were over the double standards on professional work attire.
After a few hours, Scarry deleted the tweet and said it was actually meant to compliment Ocasio-Cortez on her outfit.
"ATTN! I posted a tweet earlier suggesting the incoming congresswoman looked well put together — ELEGANT even — despite suggestions she's struggled. The tweet was taken as something else, so I've deleted it!" he wrote.
Let's just say that didn't go well either.

Ocasio-Cortez responded that her clothes were purchased on sale, and added that she's tuning out the haters.
"If I walked into Congress wearing a sack, they would laugh & take a picture of my backside. If I walk in with my best sale-rack clothes, they laugh & take a picture of my backside. Dark hates light — that's why you tune it out. Shine bright & keep it pushing. ✨" she wrote.
And despite Scarry's tweet being deleted, Ocasio-Cortez added that it was misogynist and called for him to apologize.