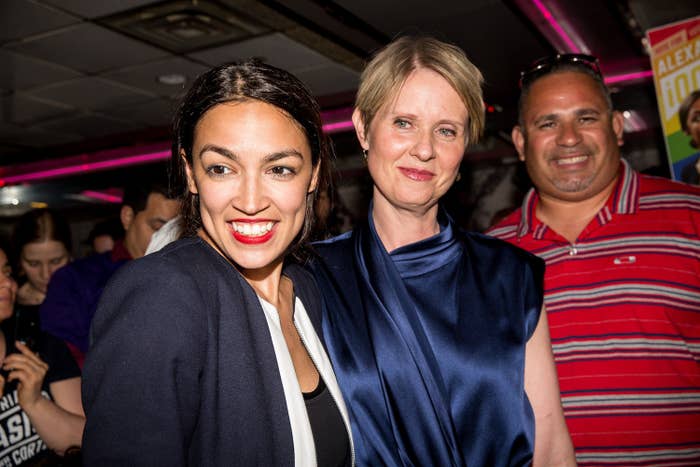 Alexandria Ocasio-Cortez, a 28-year-old progressive, won a shocking election night upset Tuesday against Rep. Joe Crowley, one of the most powerful Democrats in the House of Representatives.
Crowley, who has been in Congress since 1999, hadn't even faced a primary challenger since 2004.
Ocasio-Cortez in her campaign became one of the dominant voices of the left's anti-establishment movement. She ran on a slate of issues now popular on the left — Medicare for All, abolishing Immigration and Customs Enforcement, and stripping corporate money out of politics. She's backed by the Democratic Socialists of America and by Our Revolution, the group affiliated with Bernie Sanders. She spent the last weekend of the campaign in Texas, protesting President Donald Trump's border policy.
"When it comes to power, we can't just be tempted by power and money alone," Ocasio-Cortez recently told BuzzFeed News. "What we need to do is be bold enough and courageous enough to choose leadership that takes no corporate money and advances health care, education, and housing for all."
"Holy cow, we're elated, and simultaneously and honestly shocked," Corbin Trent, Ocasio-Cortez's communications director, told BuzzFeed News in a brief phone call following the win in New York's 14th District, which includes parts of Queens and the Bronx. "I think this says Joe was wrong — he doesn't represent the people of the 14th District."

"Shell-shocked" was the phrase an aide who works closely with Democratic House leadership used in a text to describe the night. "I don't know what else to say. We joked about it today. I can't believe this is real life."

Ocasio-Cortez was given virtually no chance of winning the race by New York political observers but was just one of a slate of young, diverse progressives challenging major New York establishment figures this year.
And in a year when women candidates have succeeded in wild numbers, and at a time when the voices of people of color matter, and amid the rise of a stronger progressive left, she carried the vote in big numbers in Queens and the Bronx.
"The only way to counter a machine is with a movement," Ocasio-Cortez said Monday night as she and Cynthia Nixon — another insurgent Democratic candidate in New York — jointly endorsed each other's campaigns in Jackson Heights, Queens.
Ocasio-Cortez had pushed for the Democratic Party to adopt positions further to the left to advance housing, education, and justice for all throughout her campaign that Nixon has similarly advocated. "It doesn't happen with one seat — it happens with all of the seats," Ocasio-Cortez said.
Nixon, who is running against Gov. Andrew Cuomo to be the state's governor, said in a Tuesday night statement, "This is what happens when you give people a choice. They show up and they reject the status quo."

"Any old shade of blue just won't do, I mean progressive blue," Nina Turner, the president of Our Revolution, told BuzzFeed News Tuesday night. "You had all of these really progressive organizations working with her, and this is a big win for the people of the 14th Congressional District. This is a huge upset for the establishment and the machine, not only in New York but around the country."

EMILY's List, the preeminent fundraising group for Democratic women, did not back Ocasio-Cortez in Tuesday's race. "As a female progressive candidate of color, I mean, I didn't even feel like I was welcome to EMILY's List," Ocasio-Cortez told BuzzFeed News of the snub in April.
Crowley is a high-ranking member of party leadership in the House, serving as the chair of the Democratic caucus. His name was often floated as a potential successor to Nancy Pelosi — and his political power was absolutely real in New York politics.
"It has been the honor of a lifetime to represent Queens and the Bronx," Crowley said in a statement Tuesday night. He went on to congratulate Ocasio-Cortez, and said that he looks forward to backing her in November.
"Chairman Joe Crowley has been an unwavering champion for America's working families for almost two decades," Pelosi said in a statement after the results Tuesday. She added, "I salute Chairman Crowley for a formidable legacy of achievement for the people of New York. I congratulate Alexandria Ocasio-Cortez on her victory."
A House Democrat told BuzzFeed News Tuesday night that "Democrats are going to be clamoring" for leadership positions. "The narrow way to read this is that this is a very progressive district in a progressive state, and she was to the left of him," the Democrat said. "But a broader reading of it is that it's a strike against these longstanding politicians who have been hanging on for years."
And while the Democrat said House Democratic Whip Steny Hoyer, a possible future speaker should the Democrats win back the House, will be "the biggest beneficiary" of Crowley's loss in the tussle for leadership posts, the results could also "swallow him up."

"Everyone talks about the Queens machine — that's supposed to be his thing," one New York Democratic operative told BuzzFeed News. "The fact that it let him down or he didn't pull the trigger is shocking to me."
"It's shocking in a really good way, I think it's fantastic," said New York Democratic strategist Jon Reinish. "New leadership and new blood is a very positive message. I didn't think Joe Crowley would have a problem, I thought the race was impenetrable but obviously he had some very weak spots that she was able to fill."