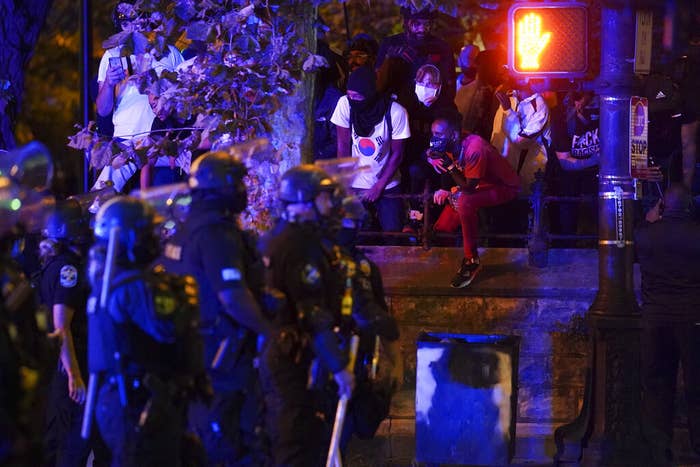 State Rep. Attica Scott, a Kentucky lawmaker who sponsored "Breonna's Law," was arrested alongside 25 others at a protest in Louisville, Kentucky, on Thursday night. She was charged with rioting in the first degree, Louisville Metro Department of Corrections records show.
Scott was arrested with her daughter, Ashanti Scott, 19, and prominent local activist Shameka Parrish-Wright on the second night of protests following a grand jury's announcement that no police officers would face charges for killing Breonna Taylor. Former police officer Brett Hankison, one of three who entered Taylor's apartment in March and killed her, was charged with wanton endangerment for firing into her neighbor's apartment.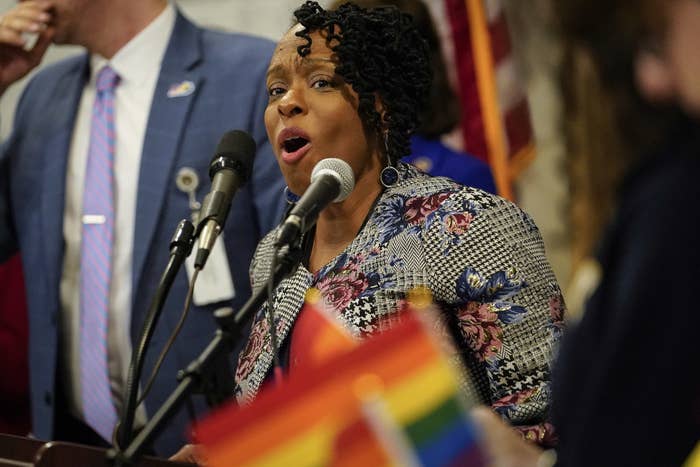 Protesters gathered at First Unitarian Church after 9 p.m. — curfew laws don't apply to the house of worship — as law enforcement surrounded the building. The Louisville Metro Police Department later said there were no arrests made on church property.
Police said protesters were damaging property before curfew began, including breaking building windows and defacing buses. The windows of the Louisville Free Public Library (LFPL) were also broken and a flare was tossed inside in an attempt to start a fire, according to the department.
The president and vice president of the LFPL union, however, said there was no major damage done to the library, and expressed support for Scott and protesters demanding justice for Taylor.

"We have seen no proof that the flare thrown into the library has done any major damage, nor that Representative Scott had anything to do with it, and find these accusations inconsistent with her character and the constant support we have received from her," union leaders said.
Scott, the only Black woman lawmaker in Kentucky's statehouse, is the sponsor of "Breonna's Law" to ban no-knock raids and increase police accountability in the wake of Taylor's death.
She, her daughter, and 12 others were charged with rioting in the first degree, unlawful assembly, and failure to disperse. Others were charged with curfew violation.
The first-degree rioting charge is a Class D felony — the same class as Hankison's first-degree wanton endangerment charge — and can result in one to five years in prison.
Scott was released from police custody Friday morning, her campaign manager, T Gonzales, told BuzzFeed News.
Protests erupted in Louisville and cities across the country following the grand jury's decision on Wednesday.
The other two officers, Jon Mattingly and Myles Cosgrove, were not charged. Kentucky Attorney General Daniel Cameron said the state investigation found they were justified in their actions because Taylor's boyfriend fired at them first in what Taylor's family has said was an act of self-defense.
To date, no one has been charged for killing Taylor, who was asleep in bed when officers entered her apartment and fired 20 rounds, hitting Taylor at least six times.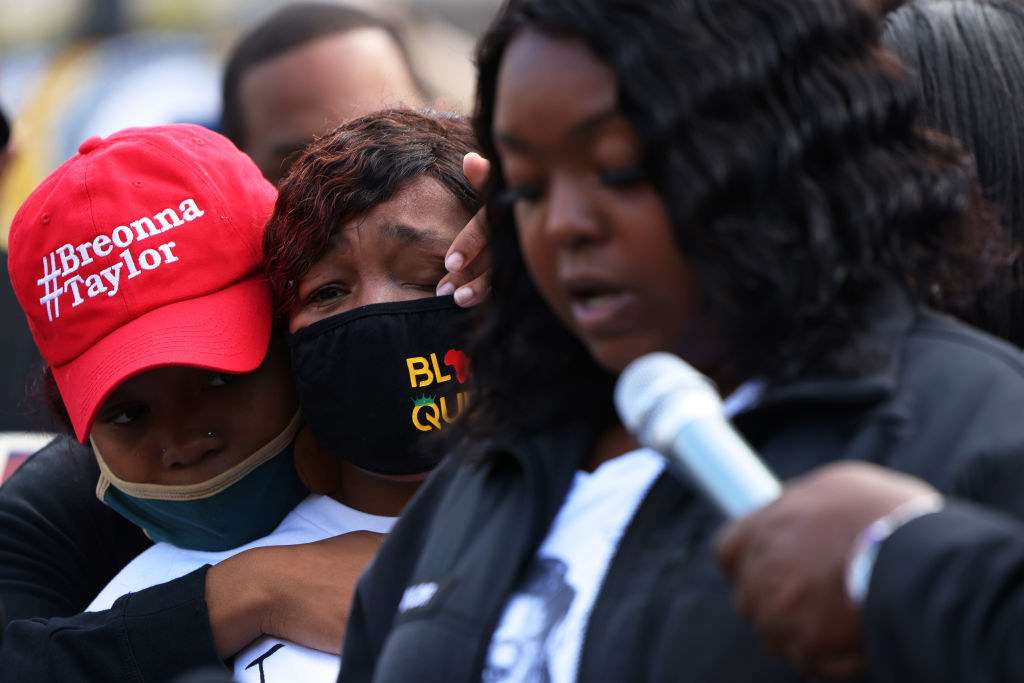 In a press conference Friday, Taylor's mother, Tamika Palmer, said the entire justice system failed her daughter.
"I was reassured Wednesday of why I have no faith in the legal system, in the police, in the law," Palmer said, via a statement that was read by her sister Bianca Austin. "They are not made to protect us Black and brown people."
In the statement, she specifically called out the attorney general for his handling of Taylor's case.
"What I had hoped is that he knew he had the power to do the right thing, that he had the power to start the healing of this city, that he had the power to help mend over 400 years of oppression," Austin said as Palmer stood next to her crying. "What he helped me realize is that it will always be us against them, that we are never safe when it comes to them."
"When I speak on it, I'm considered an angry Black woman," Palmer said in her statement. "But know this: I am an angry Black woman. I am not angry for the reasons that you would like me to be — but angry because our Black women keep dying at the hands of police officers. And Black men."
"You didn't just rob me and my family, you robbed the world of a queen ... a queen who was starting to pave her path."
Correction: Ashanti Scott's name was misstated in an earlier version of this story.