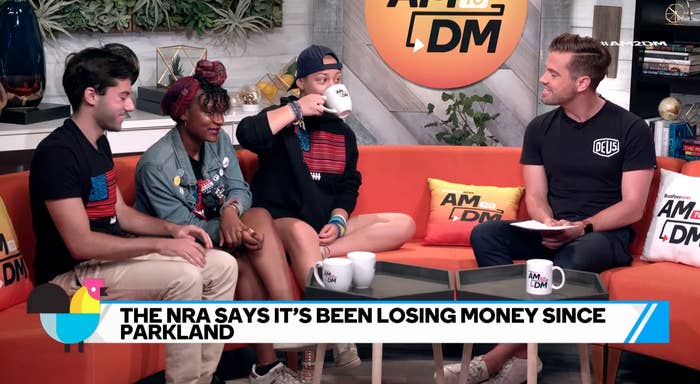 Parkland shooting survivor and March for Our Lives leader Emma González coughed deliberately and sipped her tea when asked about the National Rifle Association saying that it's lost money since the teen activists start protesting gun violence.
The NRA claimed last week in court filings that the organization has suffered "tens of millions of dollars" in harm because of actions taken by the New York state government specifically in response to the Parkland shooting.
"They are, and I'm happy about that," said González in an appearance with March for Our Lives activists Bria Smith and Matt Post on BuzzFeed News' morning show, AM to DM.

"Because the National Rifle Association used to stand for safety," González said. "And now it's like, 'We're going to take money from the gun companies, the companies that manufacture weapons of this caliber, and when there is mass shootings, we're going to make more money, so we going to encourage politicians to say what we want them to say, so that we will continue to get more money in the long run and not be the company that people used to think we are.'"
The trio appeared on the show in advance of their New York leg of the Road to Change, a national tour with over 70 stops and 90 events to register young voters and discuss ways to end gun violence.
"We get a lot of protesters at our events, even though our events are set up to communicate with protesters," explained the 18-year-old, noting that in her experience, after conversations with other March for Our Lives leaders, most protesters ending up agreeing with 90% of what they stand for.

The final stop for the tour is in Newtown, Connecticut, on Sunday, where the Sandy Hook massacre took place. Families of that massacre have been painted as crisis actors by conspiracy theorists including Alex Jones. This also happened to González and her friends after a shooter killed 17 people at their high school.
González was asked what she'd want to tell Jack Dorsey, the founder of Twitter, about what it's like to be on the receiving end of those sorts of online threats.

"He already knows. I've had a conversation with him before," said González. "Everybody sees the abuse that people face online."
She pointed out that YouTube hosts videos of people making pipe bombs but often removes videos about people discussing coming out as LGBT.
"There's an extreme problem in this country with censorship, that leans more to 'Nazis should have freedom of speech' and people who are living their life in a safe and comfortable way every day, their rights are being infringed because other people feel uncomfortable seeing love," said González.
During the March for Our Lives protest in Washington, DC, in March, González addressed the crowd and stood powerfully in silence for several minutes.
"It was a low place for everybody," she said. "The whole point of that silence was to create an environment where people could be upset because it was a rough time period. And I'm getting emotional talking about it now because I'm remembering that mindset. But it was important to do."