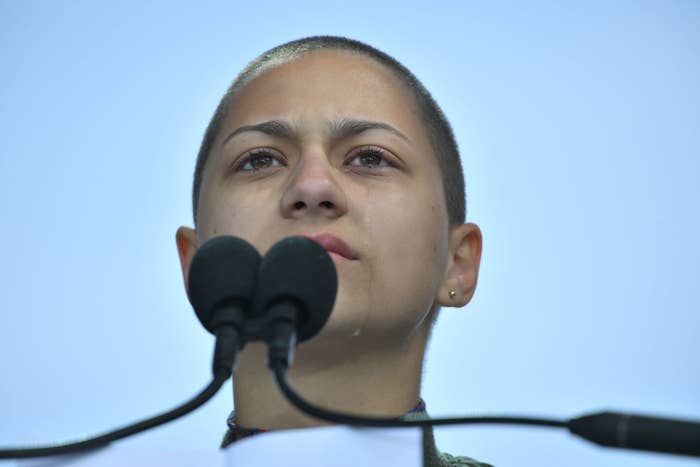 Emma González, one of the leaders of the #NeverAgain movement, stood in silence for minutes onstage at the March for Our Lives protest in Washington, DC, tears streaming down her face.
González, who has been one of the most public faces of the movement that grew out of the Parkland massacre and was an organizer of Saturday's march, first read the names of the 17 people killed at Marjory Stoneman Douglas High School on Feb. 14.
"Six minutes and 20 seconds with an AR-15 and my friend, Carmen, would never complain to me about piano practice. Aaron Feis would never call Kyra 'Miss Sunshine.' Alex Schachter would never walk into school with his brother, Ryan. Scott Beigel would never joke around with Cameron at camp. Helena Ramsay would never hang out after school with Max. Gina Montalto would never wave to her friend Liam at lunch. Joaquin Oliver would never play basketball with Sam or Dylan. Alaina Petty would never. Cara Loughran would never. Chris Hixon would never. Luke Hoyer would never. Martin Duque Anguiano would never. Peter Wang would never. Alyssa Alhadeff would never. Jamie Guttenberg would never. Meadow Pollack would never," read González.
She then stared straight ahead and didn't speak for four minutes.
Tears fell down her face. The crowd occasionally clapped and chanted "Emma."
Finally, a timer sounded.
"Since the time that I came out here, it has been 6 minutes and 20 seconds," said González.
The shooting in Parkland lasted that period of time.
"The shooter has ceased shooting and will soon abandon his rifle, blend in with the students as they escape and walk free for an hour before arrest. Fight for your lives before it's someone else's job," declared González, before walking offstage to huge cheers.