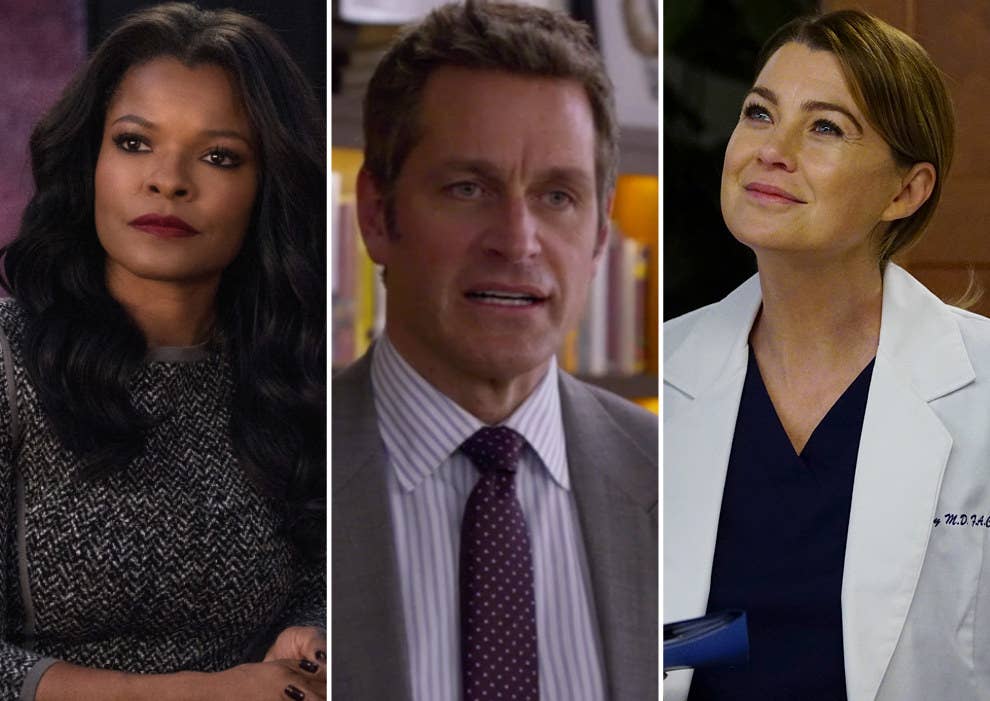 During the most recent season of Grey's Anatomy on ABC, the towering patriarch behind a renowned medical foundation was revealed to have harassed dozens of women, years of allegations buried under massive legal settlements and gag agreements carried out by others in attempts to keep the company afloat. On CBS All Access's The Good Fight, a main character was forced to grapple with his own actions as a professor decades earlier. Had he favored students he wanted to sleep with, while neglecting and discouraging those he was attracted to but who didn't show interest? In an episode of Netflix's BoJack Horseman, several major characters scrambled to figure out what to do with a Hollywood figure seeking forgiveness after years of hate speech and misconduct. And on the season opener for Younger on TV Land, a lecherous fantasy author was left literally suspended in midair during a presentation of his work, his book series canceled because of the lewd comments he made to women through the years.
Since October 2017, the public has watched as Hollywood works through its relationship to the #MeToo movement and the issues of consent and sexual harassment and assault. It was all over the news cycle — it was also all over television. Established characters and stories were recontextualized; new storylines flowed from behind-closed-doors discussions. "We had to think about what that cultural moment was saying about our characters," Younger creator Darren Star told BuzzFeed News, "and it was saying a lot."
As Tarana Burke's #MeToo movement entered the mainstream lexicon and thousands of people told their own stories of abuse, Hollywood especially was forced to take a hard look at itself. Institutions fired or suspended actors, agents, and more; organizations like Time's Up were founded with the goal of putting an end to the horror; there was widespread suspense — and paranoia — over who might be accused of sexual misconduct next. Hollywood was shaken at every level. And all the while, its writers rooms set about distilling those feelings and translating them to the stories they were telling onscreen.
The writers for the fifth season of Younger started work in late October 2017, in the midst of the turmoil of the New York Times and the New Yorker's Weinstein exposés and the mainstream rise of #MeToo. As a result, they decided to use the first episode of the season to reshape how they approached their own characters.

Younger follows a fortysomething woman named Liza (Sutton Foster) who pretends to be in her twenties to land a job in publishing. The series is known for satirizing figures from the media and literary worlds. One of those characters is Edward L.L. Moore (Richard Masur), a riff on A Song of Ice and Fire author George R.R. Martin. Moore and his Crown of Kings series have long been cash cows for Empirical Press, the publishing house where Younger takes place. But — and it's important to note that this part is not directly based on Martin — from Moore's very first appearance on the series, he's tested boundaries in his interactions with women. He leers at Liza and pushes her to wear the revealing costume of Princess Pam Pam, one of Crown of Kings' main characters. It's made clear by Liza's bosses and Moore alike that she's expected to go along with his demands, lest he take his business elsewhere and cost the company a lot of money. The character was framed as comedic — if cringey — for most of the show's run. The writers decided to change that last October.

"It's a powerful boss supposedly having an affair with an assistant at an office, which just doesn't fly anymore."
"We had to really think about this character who we'd kind of been having fun with, and his lecherous behavior towards women in general," Star said. "We'd really been playing it for laughs, and not thinking about it." For Season 5, Younger's writers figured it was time to recontextualize the character.
So in the fifth season opener, titled "#LizaToo," the editors at Empirical have to decide what to do when an anonymous allegation of sexual harassment comes up against Moore. One young editor — Zane, played by Charles Michael Davis — insists the accusation is just a smear effort from a rival publishing house. Liza's boss, Charles (Peter Hermann), remembers the way that Moore has always treated Liza, and asks for her input before they move forward with publicizing his next book. "Do you want to say something, Liza? Could destroy the company, but we'll support you," says Diana (Miriam Shor), a marketing executive, holding out her hand in a faux show of solidarity. Liza looks to her, and then to Charles, and answers: "He's a flirty old man, but he never crossed the line, no."
The company moves forward with plans to announce Moore's newest book at Comic-Con, with all the women who formerly played Princess Pam Pam in attendance. But immediately before the presentation, Moore makes another offensive comment to Liza. When she speaks with the other Pam Pams present, they all chime in with their own experiences of inappropriate remarks and come-ons. She tells Charles, who announces during the presentation — while Moore is being lowered onto the stage from above — that Empirical has decided to postpone the publication of his new book until further notice. "I think that really speaks to a shift in the culture," Star said, "that we really had to take ourselves to task for how we approached a character like that."
Moore's actions weren't the only ones Younger had to rethink. Liza and Charles had been a will-they-won't-they romance since Season 1. "It's a powerful boss supposedly having an affair with an assistant at an office, which just doesn't fly anymore," Star said. "So we had to really think about that, and the ramifications of their relationship actually having an effect on the company." #MeToo didn't scare the writers out of the relationship, but it did make them confront the imbalance head-on. The writers introduced that conflict in "#LizaToo" alongside the Moore story, and it comes up again in the season's finale. When the potential public fallout of their relationship almost scares off an investor (Laura Benanti), Charles takes a demotion, removing himself as the public face of the company.
Star said that the decision to end the season with the ramifications of the assistant/boss relationship was one that came directly out of the writers room's conversations about #MeToo. "It really did dramatically affect [the show]," he said.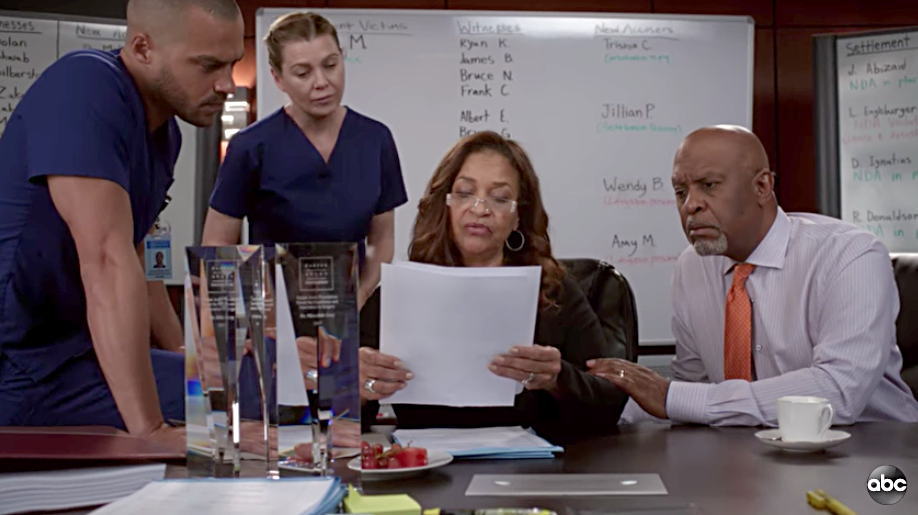 For years, the Harper Avery Foundation and the prestigious award they give out annually has loomed over every doctor on Grey's Anatomy. In Season 6, which aired during the 2009–2010 season, the show introduced Jackson Avery (Jesse Williams), the grandson of Harper Avery (Chelcie Ross) and a resident at the show's central hospital. The Avery family and the company they owned became a staple of the show — the foundation became a major shareholder of the hospital, and Catherine Avery (Debbie Allen), Jackson's mother and the acting head of the foundation, was made into a major character as well. In the first half of last season on Grey's Anatomy — Season 14 — Harper dies. Shortly after, Meredith Grey (Ellen Pompeo) wins the Harper Avery award — a major and emotional milestone for the character. Then, in the season's second half, the Grey's writers decided to blow the foundation to pieces.

Later in the season, Jackson learns that a woman consultant is barred from working with the hospital because of a mysterious agreement she signed with Harper. When Jackson asks Catherine about it, she claims it was just a "some dust-up over research" that had resulted in a lawsuit.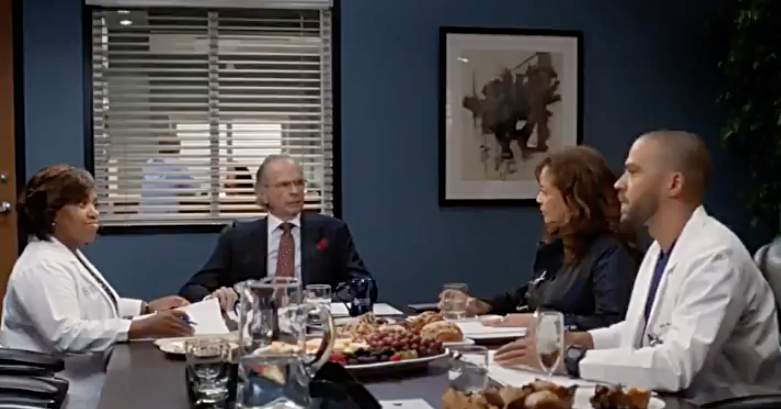 But Jackson finds out that the suit wasn't about research — it was about sexual harassment, and there were 13 women in total under nondisclosure agreements not to talk about what Harper did to them. The storyline was a cipher of the reporting and discussion around Weinstein's alleged abuses, translated to the world of a dishy medical drama: complicit executives enabling further abuse, entire companies threatened by the exposure of said abuse, and an industry forced to reckon with the actions of an abuser who also happened to be the man they'd all been vying for career validation from.
Jackson's mother Catherine was the one to organize the settlements on behalf of the foundation, hoping that the "financial hit" on Harper would be big enough that he'd stop the misconduct. Jackson grapples not only with the actions of his grandfather, but also with the fact that his mother covered it up and silenced over a dozen women. Catherine's role echoes real-life discussions not only around members of the Weinstein Company board, but also about women like Georgina Chapman, Camille Cosby, and Julie Chen, who have been accused of being complicit in their husbands' crimes — and the latter two of whom have stood by their husbands even after their alleged abuses were outed.
"30 years ago, getting harassed at work, getting groped, wasn't something we could protest."
Catherine, for her part, delivered a stirring monologue about her past decisions to pay off the women. "30 years ago, getting harassed at work, getting groped, wasn't something we could protest," Catherine told her son. "It was something we had to take with our morning coffee. It was part of the job. If we made a noise, if we fussed, we were told we were overreacting. And more often than not we lost the job and our reputation along with it. I was not then who I am now. I didn't have the voice that I have now. I had choices. I could stand there and let your grandfather fire those women and drag them through the mud, or I could make sure they got some money, a leg to stand on, a path to move forward on. I'm not ashamed of myself, Jackson, but I am ashamed of what your grandfather did. And I am so sorry that now you have to carry that burden along with me. And I'm sorry that that burden might just bring this family, this entire hospital, and all of his hospitals down."
Meredith returns her Harper Avery Award when she finds out about Harper's serial harassment. Catherine changes her name from Catherine Avery back to her maiden name, Fox. She also offers to publicly take the fall to save the company and the hospitals it runs, but Jackson won't let her ("There's no way a powerful black woman is going to take the fall for a rich old white man who couldn't keep his hands to himself."). Instead, they dissolve the Harper Avery Foundation and start a new one — the Catherine Fox Foundation — with a promise to "repay, retrain, and rehire every victim of Harper Avery's abuse." From the Grey's characters' point of view, it is a commitment to what Jackson hopes to be "comprehensive systemic change."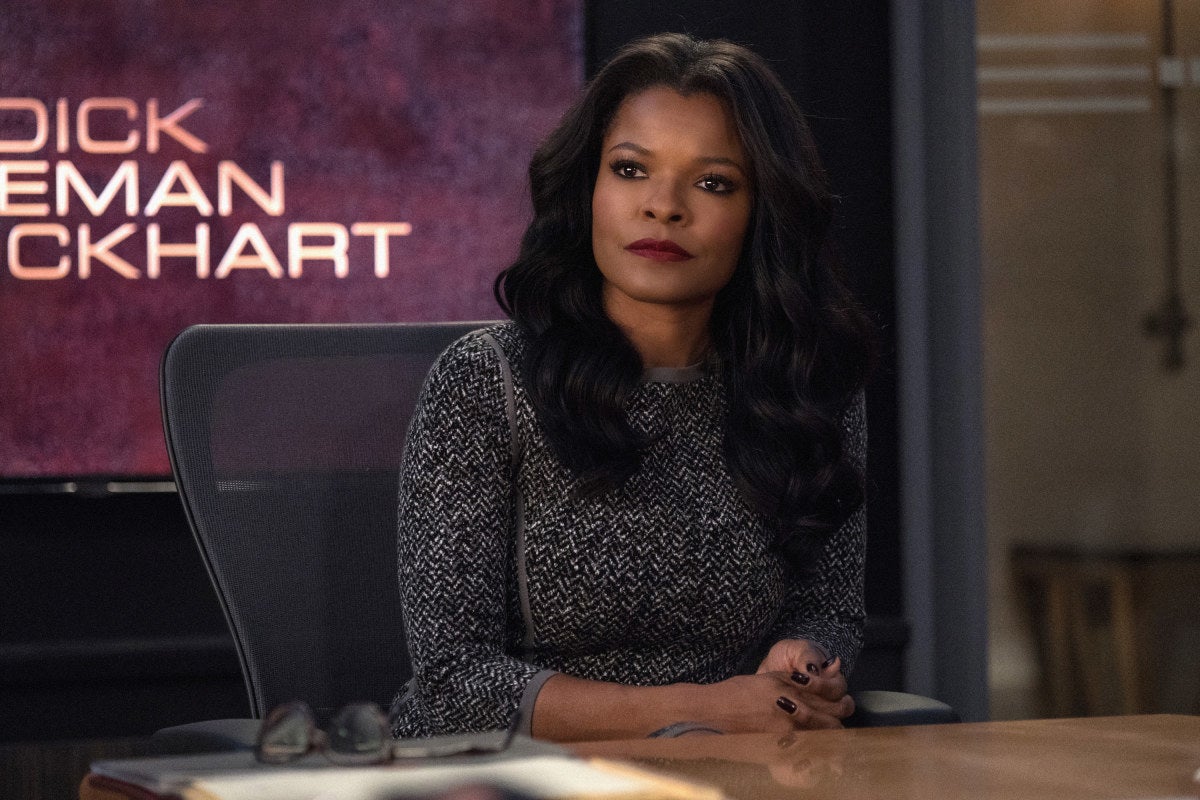 The Good Fight's second season had three episodes related to the #MeToo conversation. The first — "Day 422," in which the show's central lawyers represent a young woman who was coerced and sexually assaulted on a reality show — was based on an alleged Bachelor in Paradise incident from 2017, and was already plotted out before the Weinstein news broke. The second, "Day 436," came out of the writers room's desire to explore what it feels like when a character the audience loves and trusts is forced to confront his past behavior.

"So much of the problem with woke dramas is that it really is preaching to the choir," The Good Fight co-creator Robert King said. "So it always felt important to have our characters, without knowing it, be implicated in some way. Because there's drama there, and one of the real problems is that the problem is inside — the call is coming from inside the house."
"Day 436" follows lawyers Diane Lockhart (Christine Baranski) and Adrian Boseman (Delroy Lindo) as they advise on a case involving a TV network considering pulling the plug on a news story about a beloved Hollywood figure accused of sexual assault. According to King, that part of the episode was inspired by NBC's treatment of Ronan Farrow's reporting on Weinstein. "It was about how the press handled it internally," he said.
"It's better when everyone's facing their own issues."
But the writers were most interested in what it feels like when harassment conversations hit close to home. In "Day 436," Naomi (Keesha Sharp), the journalist fighting to get her reporting on the air, is revealed to have been a former student of Adrian's. She confronts him with her recollection of how he treated her during his time as a guest lecturer at her university, claiming he focused all his attention on students he flirted with. The main object of his affection — and academic focus — was Liz Reddick (Audra McDonald), another lawyer at the firm, whom he started dating immediately after the class and eventually married. It's heavily implied that Adrian's treatment of Naomi was a major factor in her decision to abandon a career in law. Adrian, for his part, doesn't even remember Naomi from back in the day, let alone any impropriety.
"We wanted to see how [these stories] would impact characters we've come to love throughout the two seasons," Michelle King, The Good Fight's other co-creator, said. "We like to show conversations between characters. It wasn't a black-and-white issue, there was plenty of gray there, and both Liz and Adrian are characters that hopefully you've come to respect and like, and they have very different recollections and very different impressions."
It was The Good Fight's "Day 478" episode that most actively debated #MeToo. It was a storyline that directly blended the "Shitty Media Men" List — a spreadsheet that gathered sexual misconduct allegations against men in media from anonymous sources — and the details present in a Babe.net story about Aziz Ansari that sparked heated debate about consent and coercion. The show used those elements to explore generation gaps in the #MeToo conversation, as presented through a lawsuit attempting to shut down a site called "Assholes to Avoid" shut down. Throughout the episode, employees at the firm have a variety of reactions both to the site and to allegations leveled by one woman saying that she was coerced into sex on a date.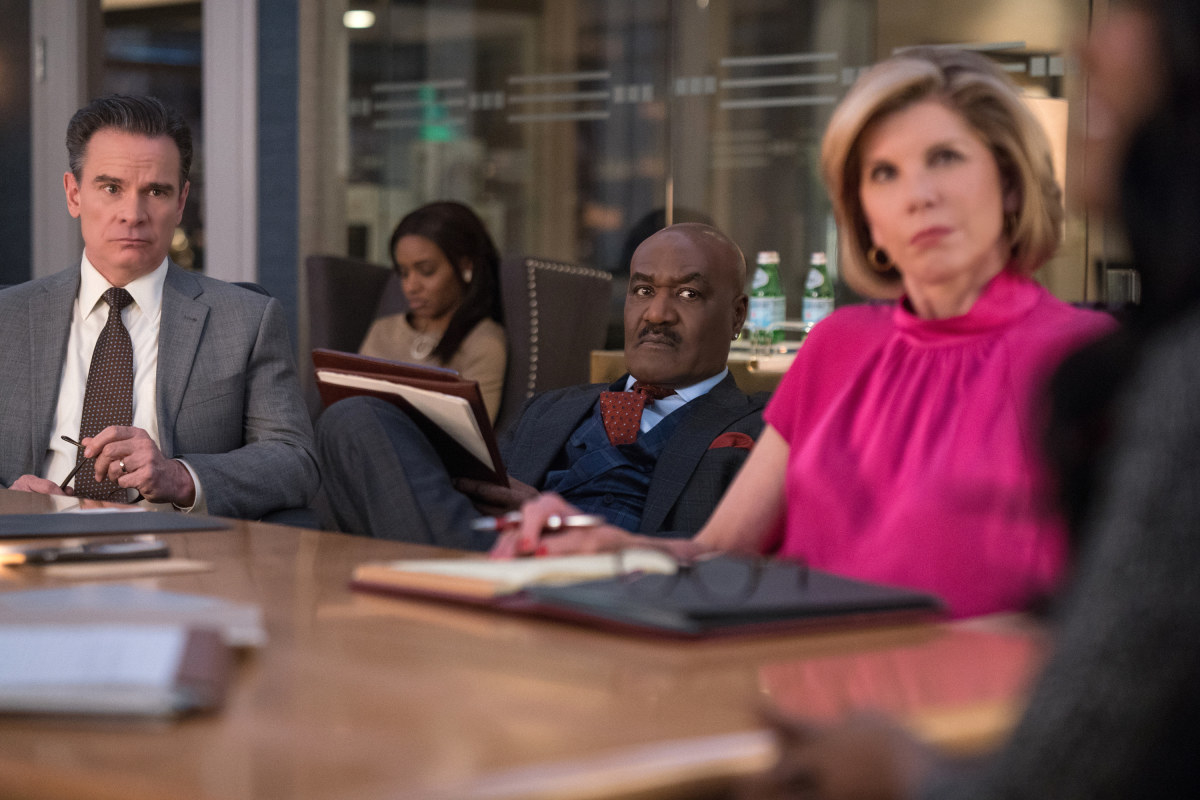 "What we liked was seeing the characters in the firm have different impressions of what happened," Michelle King said, "especially that there was a generational divide there, and that not all feminists would necessarily interpret it the same way."
"It's always more fun when the characters are angry at each other and fighting each other," Robert King said. "It's better when everyone's facing their own issues."
Gretchen (Zoe Winters), a young woman who started the "Assholes to Avoid" site, calls out Diane for her second-wave feminist viewpoints, which she claims are outdated. She states that it's time for younger women to take over the movement. In the episode, everyone debating consent and the feminist generational divide is exasperated, often to the point of dark comedy. Michelle King noted that the debate-heavy atmosphere of the episode also allowed the writers to lean into satire, which, as she put it, "can help us avoid earnestness, which is appealing."
They continued on in rough and weird cultural times by fulfilling one of the promises of television: to present the realities of our world through a sort of funhouse mirror.
The back-and-forth in this episode also included Adrian and Liz literally debating #MeToo. "Maybe #MeToo has gone too far," Adrian says. "I think good causes start out being good and end up becoming mobs." Liz responds with an incredulous face, then compares #MeToo to Black Lives Matter. "I don't understand," Adrian says. Liz continues: "Women join together, and all of a sudden men all over the world are worried about mobs, or witch hunts, but you don't have the same worry about Black Lives Matter ruining white people's reputations."
The Good Fight does not actually answer most of the questions it brings up around #MeToo or the cultural issues the Weinstein stories brought back to the surface. Neither did Grey's Anatomy, or Younger — or BoJack Horseman, or GLOW, for that matter, which also gave onscreen real estate to stories around cultures of harassment and forgiveness in their most recent seasons. Instead, they continued on in rough and weird cultural times by fulfilling one of the promises of television: to present the realities of our world through a sort of funhouse mirror, warped through genre, tone, and carefully constructed characters.
These portrayals aren't stopping anytime soon, either. In the pilot for the new CW reboot of Charmed, the reckoning takes a central role. A professor on a college campus has been sexually harassing and assaulting students, leaving one of them in a coma. One of the show's central sisters (Melonie Diaz) is a women's rights activist railing against the college administration's unwillingness to fire the professor. But Charmed is a show about magic, and so eventually its #MeToo story becomes one about literal demons — and the power of the women fighting them. According to coshowrunner Jessica O'Toole, it's a thematic thread the writers are intending to carry through the whole of this new series.
We haven't seen the end of stories spun out of #MeToo, just as we haven't seen the end of the real-world conversations that inspired them. As Hollywood and the world around it continue to be shaped by the ongoing threat and consequences of poorly behaved people, we will continue to see those stories played out in different shapes and shades on our TV screens. Our reflections will keep coming back at us, flattering or not, as the culture at large tries to make sense of the violent, the unjust, and the senseless. ●
CORRECTION
Miriam Shor's character on Younger, Diana Trout, is a marketing executive. An earlier version of this post misstated her job title.

A year after #MeToo became a household name, BuzzFeed News is bringing you stories about how far we've come, who's been left out, and where we go from here.

Read more here

.