Earlier this month, the New York Times and The New Yorker published stories detailing multiple allegations of sexual assault, sexual harassment, and rape against American film producer and studio executive Harvey Weinstein.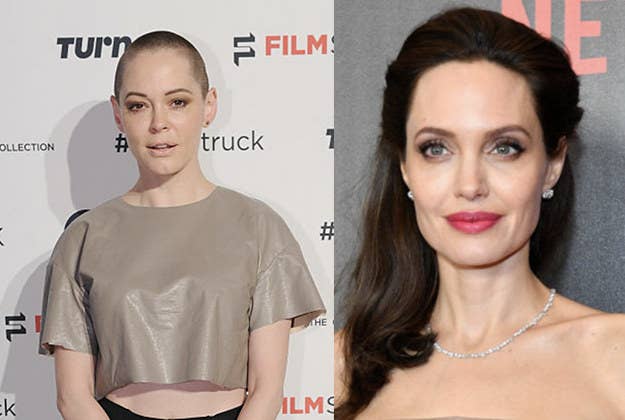 And while Hollywood was left in complete destruction in the wake of the Weinstein sexual assault row, women across the world have been sharing their stories of the harassment and assault they've faced with the status update "me too."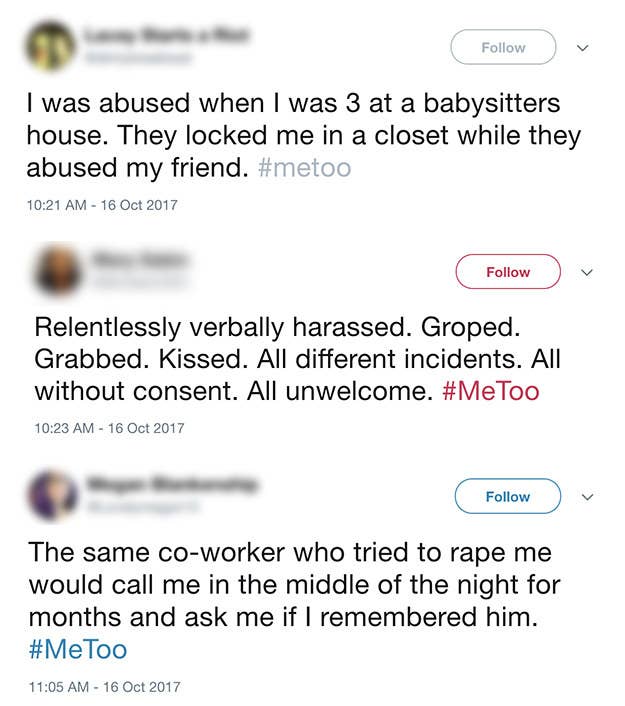 The hashtag first started gaining traction when Alyssa Milano, who had previously worked with McGowan on Charmed, tweeted it. She urged women to speak up to spread awareness about how huge a problem this actually is.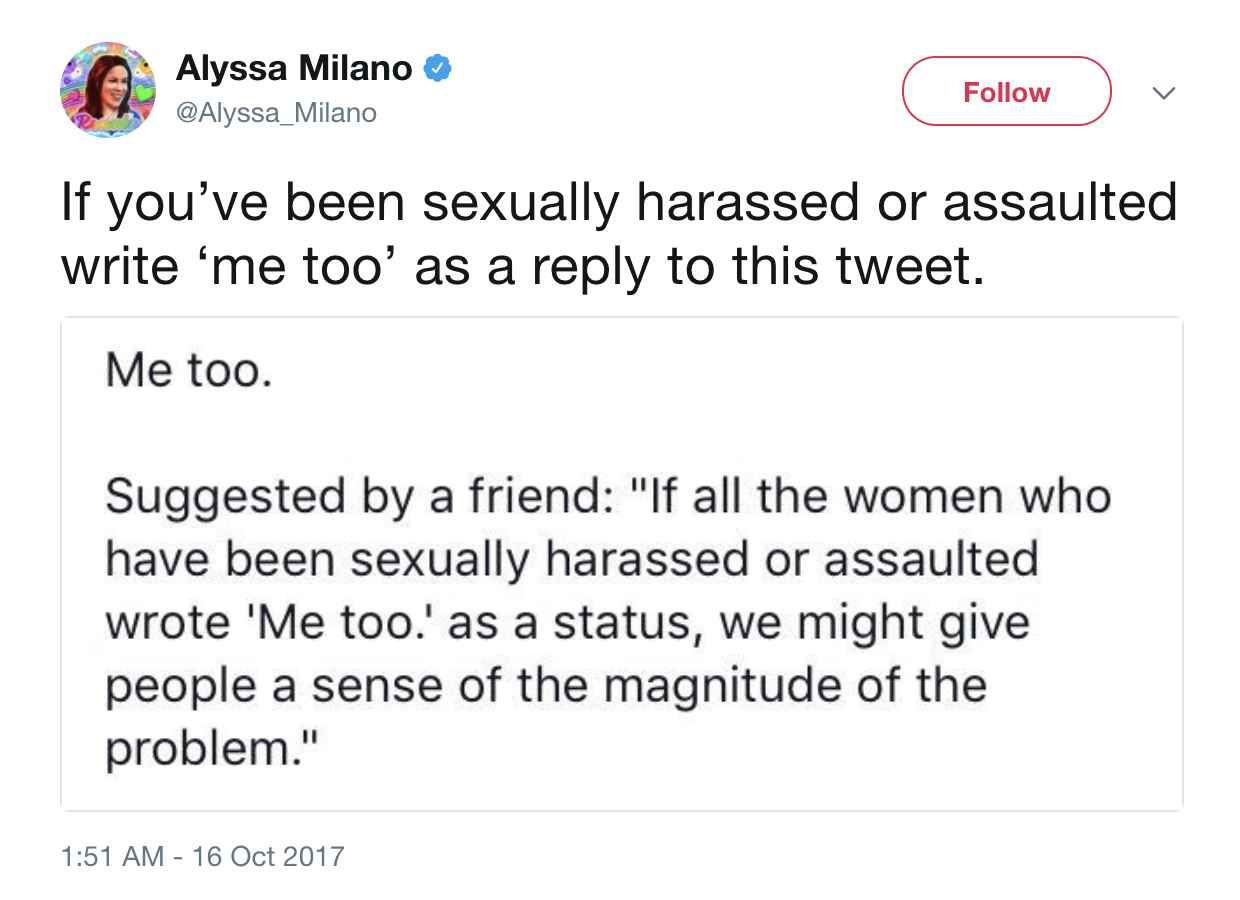 In a statement to BuzzFeed News, Milano said that she saw something similar being done on Facebook and thought it was a "powerful way to raise awareness of how prevalent sexual assault is and to shine a light on the cultural epidemic."
She said that by simply typing "#metoo," people could be included in the movement, even if they didn't want to share their stories that were too hard or personal.
Milano said that everyone who responded "wanted to stand in solidarity."
"When we hear cases of sexual abuse, harassment and assault play out in a public way, it gives us all extreme heartache but also, strength and fortitude," Milano's statement said. "Strength to share our stories and feel supported by women and men who can say 'me too'. And if through that gift of fundamental support we can highlight the rampant nature of sexism, sexual harassment and sexual abuse then maybe, just maybe, we can change the culture that has nurtured this behavior and...change it."
Calling the response "staggering," she said that nearly 44,000 people replied "me too" to her original tweet.
"It's usually the most organic, heartfelt, pure intentioned thoughts that go viral," Milano said.
In a matter of just a few hours, hundreds of responses flooded Facebook and Twitter, showcasing how in every corner of the world, sexual harassment is a problem that needs to be dealt with.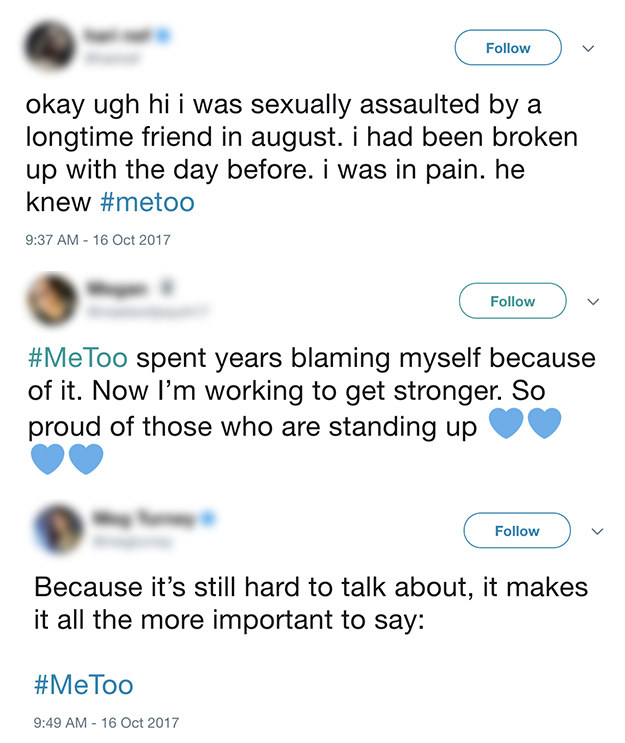 Celebrities have also been tweeting the phrase.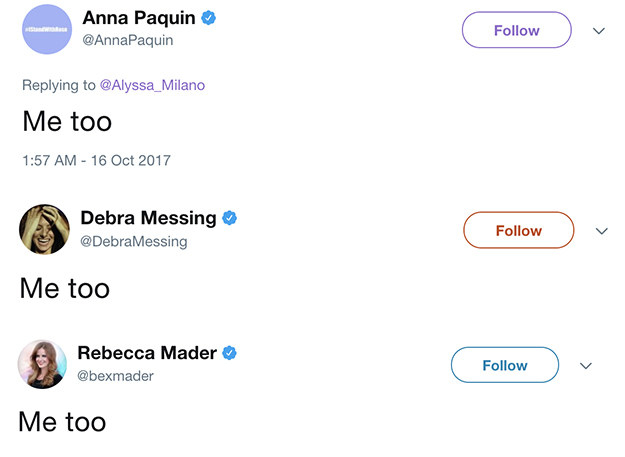 Some women are urging that men also learn from this hashtag.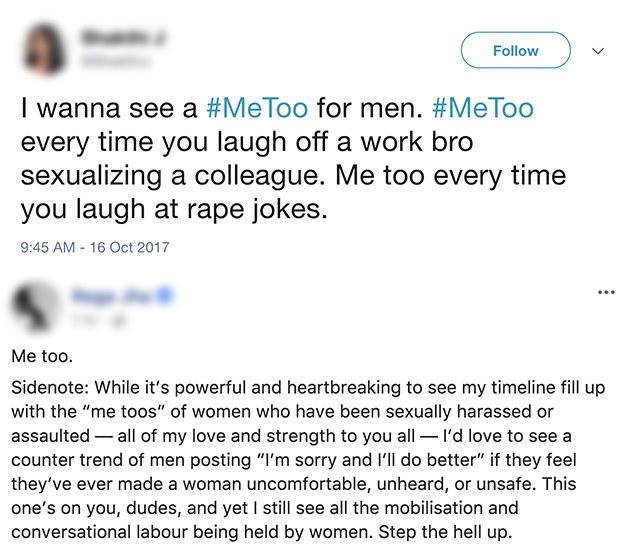 And people are starting to at least grasp how truly maddening the situation is for women everywhere.

Michelle Broder Van Dyke contributed to this report.
CORRECTION
The New York Times story was published on Oct. 5. An earlier version of this post misstated the date.