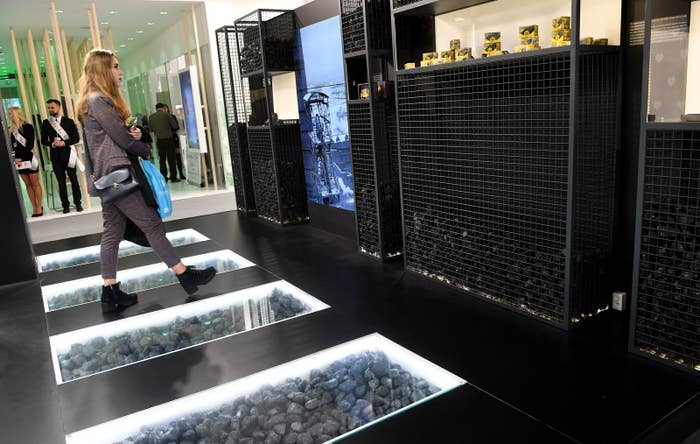 The Trump administration announced Thursday afternoon it is proposing to roll back another coal rule, one that limits how much carbon pollution new coal plants can emit.

"To put it into clear and simple terms, we're rescinding unfair burdens on America's energy providers and leveling the playing field so that new energy technologies can be part of America's future," Andrew Wheeler, Environmental Protection Agency's acting administrator, said at a press event.
This is largely a symbolic move by the EPA. That's because few, if any, plants have been built recently, and thus would be impacted by the original rule that took effect in 2015. And, as coal use continues to decline in the US, not many new plants are yet planned that could stand to benefit from the proposal to let them emit more greenhouse gases than before.
This is just the latest in a series of ways of the Trump government is trolling the global climate community meeting now in Poland to finalize the rules for the Paris agreement, climate experts and activists say.
Over the weekend, for example, G20 countries met in Argentina, and all of them — except the US — recommitted themselves to the goals of the Paris climate agreement.
"I think they are on a bit of a tear responding to the outcome of the G20 summit last weekend in Argentia, where once again Trump was isolated from the other 19 members in how to describe the Paris agreement," Alden Meyer, an international climate expert at the Union of Concerned Scientists, told BuzzFeed News. He added that the US efforts this week weren't new, but "more of the same anti-behavior the administration has been pursuing since Day 1."
On Monday, White House adviser Larry Kudlow said the administration wanted to cut short congressionally mandated subsidies for renewable energy and electric vehicles.
Then on Tuesday, President Trump tweeted that France's decision to rethink its new fuel tax amid violent protests signaled that the country thought the Paris agreement was "fatally flawed." Although the rollback of the tax hike is a blow to the country's climate agenda, it's not a sign of France abandoning the accord. French President Emmanuel Macron has been a vocal supporter of the climate agreement.
"There's always going to be bluster from this president. That's what he specializes in," Nathaniel Keohane, a senior vice president at the Environmental Defense Fund, told BuzzFeed News. "You have to look past the tweet. We have a president who is trolling the French president on Twitter."

And the US is planning even more. Its climate officials at the conference are planning a pro–fossil fuel event next week on the sidelines of the formal negotiations.
"It's difficult for me to say how much a difference it will make in the negotiating room," said Samantha Gross, a fellow in the Cross-Brookings Initiative on Energy and Climate, told BuzzFeed News.
Regardless, she added, "they are doing some unhelpful things around the edges."
The US coal announcement comes when coal is proving to be a flashpoint at the climate negotiations. The conference is deep in Poland's coal country, where the air is reportedly filled with smog from nearby power plants and there's coal on display in the meeting.
And it's coming on the heels of a new report that projects global greenhouse gas emissions will hit a record high in 2018. The US is among the countries that saw an uptick in emission this year.
"Coal use has not yet peaked worldwide," EPA's Wheeler said on Thursday. "Our proposal will encourage new investments in cleaner coal technologies, and by encouraging clean coal here in the US, we will be encouraging it worldwide."

The EPA's proposed rule would let new coal plants emit up to between 1,900 and 2,200 pounds of carbon dioxide per megawatt hour of energy, depending on the size and type of plant. The proposal will have to go through a public comment period.
Under the original rule, all new plants could emit only 1,400 pounds into the atmosphere. If a plant was producing over that limit, it would need to use technology that could somehow capture those extra emissions.

"It's not affecting any particular plants, and in the future we don't see new coal plants being competitive," Jay Duffy, an associate attorney at the environmental group Clean Air Task Force, told BuzzFeed News. Earlier this week, the Energy Information Administration reported that US coal consumption in 2018 is on track to be at its lowest level in nearly 40 years.
No new coal capacity went online in the US between 2016 and 2019, according to EIA spokesperson Jonathan Cogan, and only one small plant, with a capacity of 17 megawatts, is expected to come online by the end of 2019.