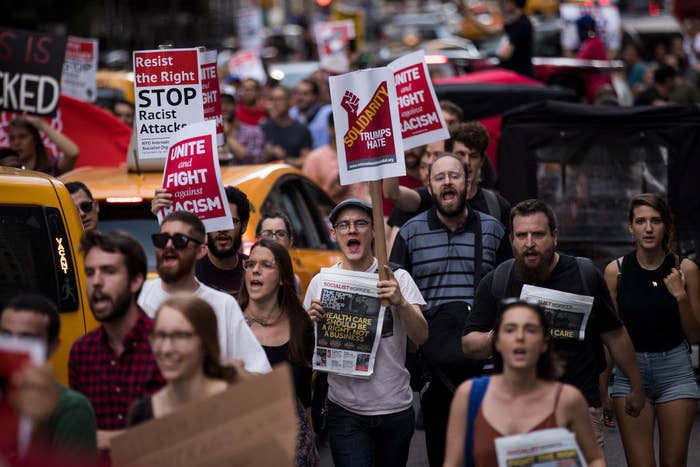 Eleven prominent CEOs and leaders have now resigned from President Donald Trump's manufacturing council. The departures this week prompted Trump to announce Wednesday that he had "disbanded" the group along with the Strategic and Policy Forum, another business advisory board.
Eight business executives, two labor leaders, and the head of a manufacturing business group said that they would step down from the American Manufacturing Council this week, following days of criticism over the president's failure to forcefully denounce the white supremacist groups that incited violence in Charlottesville, Virginia, over the weekend.
The move by business leaders to abandon Trump is a significant blow to the president, who holds business executives in high esteem and has often boasted of his ability to work and negotiate with prominent CEOs.
A cascade of resignations on Wednesday followed a press conference a day earlier in which Trump defended white supremacists and neo-Nazis, saying the anti-racist demonstrators who had showed up in Charlottesville to counter them shared some of the blame for the violence.

In resigning from the President's American Manufacturing Council on Wednesday, Johnson and Johnson CEO Alex Gorksy cited Trump's remarks from Tuesday. "The President's most recent statements equating those who are motivated by race-based hate with those who stand up against hatred is unacceptable and has changed our decision to participate," Gorksy said in a statement.
GE Chairman Jeff Immelt resigned from the council on Wednesday morning, saying in a statement "The President's statements yesterday were deeply troubling."
Campbell Soup CEO Denise Morrison also stepped down Wednesday, along with the CEO of 3M, Inge Thulin, and the CEO of United Technologies Greg Hayes.
"Racism and murder are unequivocally reprehensible and are not morally equivalent to anything else that happened in Charlottesville. I believe the President should have been – and still needs to be – unambiguous on that point," Morrison said in a statement.

Thulin said he had joined the council to "advocate for policies that align with our values and encourage even stronger investment and job growth. After careful consideration, I believe the initiative is no longer an effective vehicle for 3M to advance these goals."
Merck CEO Kenneth Frazier was the first to announce Monday morning that he was resigning from the president's council. "I feel a responsibility to take a stand against intolerance and extremism," said Frazier, one of the country's most prominent African-American business leaders. At the time, Trump had not explicitly condemned Nazi and white supremacist groups.
Trump finally gave a statement to that effect, saying, "Racism is evil." But by late Monday night, two more business leaders had resigned. Kevin Plank, the CEO of Under Armour, said he was stepping down in a statement posted to Twitter Monday night, and he was was joined soon after by Intel's CEO, Brian Krzanich.
"Under Armour engages in innovation and sport, not politics," Plank said in his statement, saying that Under Armour "remains resolute in our potential and ability to improve American manufacturing."
"I resigned to call attention to the serious harm our divided political climate is causing to critical issues, including the serious need to address the decline of American manufacturing," Krzanich said.

On Tuesday morning, Scott Paul, president of the Alliance for American Manufacturing said on Twitter, "I'm resigning from the Manufacturing Jobs Initiative because it's the right thing for me to do."
Tuesday evening, AFL-CIO's president Richard Trumka and its former deputy chief of staff Thea Lee announced their resignation. "We must resign on behalf of America's working people, who reject all notions of legitimacy of these bigoted groups," Trumka said in a statement, calling the council "yet another broken promise on the President's record." "It's clear that President Trump's Manufacturing Council was never an effective means for delivering real policy that lifts working families and his remarks today were the last straw."
Elon Musk had quit the council in June over Trump's announcement to withdraw the US from the Paris climate agreement. U.S. Steel said in an email to BuzzFeed News, "Former CEO Mario Longhi retired from U. S. Steel on June 30, 2017. Subsequently, he is no longer a member of the Manufacturing Jobs Initiative."
Trump had said on Twitter on Tuesday that there are many people who can take the place of the CEOs who dropped out of the council.
When BuzzFeed News reached out to more than 20 companies represented on the manufacturing council for comment on Monday, seven responded. Several other companies spoke out on social media.

Dow Chairman and CEO Andrew Liveris, who will also remain on the council, said in a statement, "I condemn the violence this weekend in Charlottesville, Virginia, and my thoughts and prayers are with those who lost loved ones and with the people of Virginia. In Dow there is no room for hatred, racism, or bigotry."

Dell, another member, said, "There's no change in Dell engaging with the Trump administration and governments around the world to share our perspective on policy issues that affect our company, our customers, and our employees."
International Paper said it "strongly condemns the violence that took place in Charlottesville over the weekend — there is no place for hatred, bigotry and racism in our society" and "through our participation on the Manufacturing Jobs Council, we will work to strengthen the social and economic fabric of communities across the country."
Nucor said it "rejects the hate, bigotry, and racism expressed at the demonstration." "We believe a strong manufacturing sector is the backbone of a strong economy, and we will continue to serve as a member of the White House Manufacturing Jobs Initiative," said a company statement.
Under Armor CEO Kevin Plank said earlier on Monday via the company's Twitter account, "There is no place for racism or discrimination in this world."
Here is Plank's later statement announcing his resignation.
Some CEOs outside of the council expressed support for Frazier's decision to resign, including Hewlett Packard Enterprise CEO Meg Whitman.
Unilever CEO Paul Polman commended Frazier's "strong leadership to stand up for the moral values that made this country what it is."
A smattering of executives in other corners of the business world also spoke out against bigotry. Google and Facebook, recently more outspoken about political issues, did not immediately respond to a request for comment. Oracle declined to comment.
Apple CEO Tim Cook said, "We must all stand against" white supremacy and racist violence.
PepsiCo CEO Indra Nooyi, who is a member of Trump's business advisory council, said on Twitter that "hate and intolerance are a betrayal of what we stand for as Americans."
Goldman Sachs CEO Lloyd Blankfein, who only started tweeting in June, quoted Lincoln.
Starbucks Executive Chairman Howard Schultz said in an emailed statement, "It is vital that our elected officials speak with one voice against racial bigotry — Hate has no home here in America."
UPDATE
This story has been updated to include the resignation of the leaders of Under Armour, Intel, the Alliance for American Manufacturing, and AFL-CIO, as well as Trump's response on Twitter.
CORRECTION
Thea Lee is an ALF-CIO representative. An earlier version of the story identified her as the group's deputy chief of staff, a position she recently left.