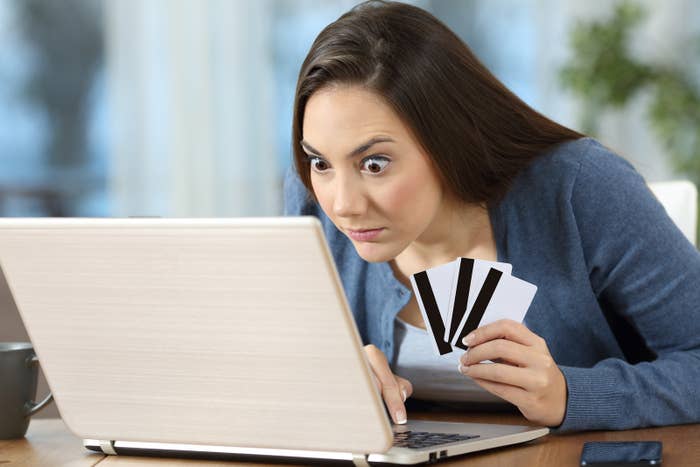 This year, as health care costs shot up, the housing affordability crisis worsened, and a million other garbage things happened, Americans' personal finances have also suffered. A new report from the personal finance website NerdWallet shows that many US households have sunk deeper into debt in 2018 because rising basic costs have led them to accrue more credit card debt and to delay payments on their already massive student loans.
"Debt in general is causing a lots of stress. One in nine people don't think they'll pay if off. People are really struggling," NerdWallet's credit card writer Kimberly Palmer told BuzzFeed News. "Incomes are growing, which is really a positive thing, but some costs are growing faster. It's hard for people to keep up with their costs and many turn to credit cards to cover that gap."
The researchers estimated that among households that have any kind of debt, they on average owed $135,768. The average mortgage holder owed $184,417 for their home; households with student debt on average owed $47,671; and the average household with an auto loan owed $28,033 for their car. We owe a lot of money.
"This makes it harder to save for certain goals and harder to feel financially secure," said Palmer. "It's stressful and something households would like to pay off."

The rule of thumb is to spend 50% of your take-home income on necessities (including housing), 30% on wants, and 20% on debt and savings. In reality, however, most people only save roughly 6% of their disposable income.
Among households with credit card debt, the average revolving balance (the amount carried month to month that isn't paid off) was $6,929, according to NerdWallet calculations using data from Experian. Nationwide, revolving credit card balances total $420.22 billion, up 5% from 2017 as the number of households carrying revolving credit card debt increased.

Then there are looming student loans: In the third quarter of 2018, 2.6 million student loans recipients had their federal student loans on forbearance — which puts payments on hold to avoid default, but doesn't stop interest from accumulating during that period (unlike student loan deferment, for which there is a set of requirements). NerdWallet found in a survey, however, that 66% of people didn't know that interest accrues during forbearance. And with the average loan on forbearance now at $43,538, not making payments for 12 months would add $2,199 of interest, assuming a 5.05% interest rate.
The other problem, said NerdWallet student debt writer Teddy Nykiel, is people are ashamed to discuss their student loans. This perpetuates a lack of understanding about how they work and how to deal with problems repaying them. "They're not likely to tell friends and family if they fall behind, even though so many people are dealing with the same problem."
People face these challenges as the cost of living increases. Health care costs have shot up 33% over the last decade, compared to a 17% increase in incomes. People on employer-sponsored health insurance on average contributed $7,674 to buy family coverage in 2018, plus $4,704 for out-of-pocket expenses for a family of four, according to the Milliman Medical Index report. Tuition and fees at public four-year colleges, even after adjusting for inflation, rose 35% over the last decade, according to the College Board. Even the price of small things, like restaurant meals, is rising, up 27% since 2008, according to NerdWallet's report.
On top of all this, the cost of borrowing money is going up. The average credit card interest rate is now 17.15%, compared to 14.96% three years ago, and the average 30-year fixed mortgage rate is 4.90% compared to 3.95% last December.
Money is tight, folks. But you're not completely powerless. Here are some small things you can do to save money and improve your financial health, even when times are tough.