It was around 5 a.m. when two strangers — a woman and a large man — entered Emilie Bachrach's bedroom and told her to get dressed and come with them. On her way out of the house, Bachrach found a letter from her mom on the dining room table. "It is going to kill me to let you go away to a special program," it read.
The strangers drove Bachrach, then 15, from her home in a Los Angeles suburb to a private boarding school in the California mountains, where she lived from August 2005 to March 2007. When she arrived, Bachrach said school staff strip-searched her, gave her a uniform, and told her she wasn't allowed to talk to anyone for the first week. None of the 40 other students could speak to or look at her, either. The girls at this place were like Bachrach — supposedly troubled teens who needed an intervention that their parents couldn't provide. The school promised to fix their problems using biblical principles in a tightly controlled environment.
Bachrach, alone and in a state of shock, managed to make a friend in Rosemary Donahue, then a 17-year-old student at the school. "She was the only friend I had there," Bachrach said. But the girls' closeness quickly drew the attention of staff, who disapproved. Bachrach and Donahue said they were ordered not to speak to each other, a rule called "no talk." If they so much as looked at each other, they'd lose points from the system the school uses to determine each student's eligibility for various privileges and eventual graduation. Donahue said staff told her the "no talk" rule was necessary because her bond with Bachrach was "preventing our progress in the program," but she believes it was because of the school's anti-gay prejudice and its efforts to crush same-sex relationships. "I didn't come out as queer for 10 years because of it," Donahue said.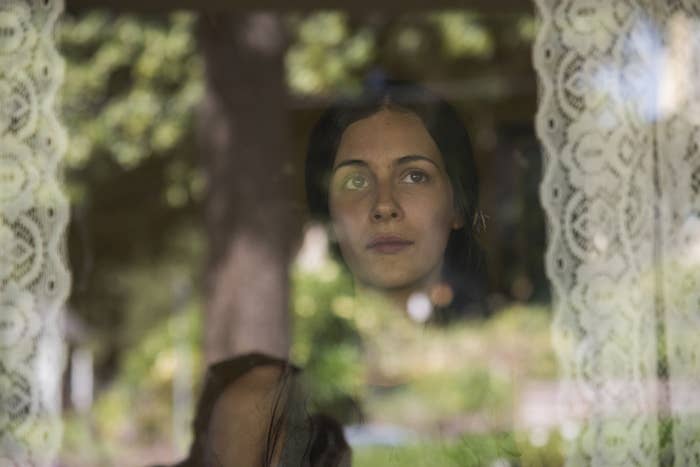 Multiple students who attended the River View Christian Academy, which used to be called the Julian Youth Academy, told BuzzFeed News that they were punished for saying they were gay or bisexual. Three said they were placed on "no touch," which meant they were forbidden from having any physical contact with anyone. One said she was told her "flesh would burn off my skin repeatedly for eternity in hell because I was gay." After being on "no touch" for eight months, she said she screamed the first couple of times someone hugged her after she'd returned home. Another had to run laps for telling someone she might be bisexual.
One said she was told her "flesh would burn off my skin repeatedly for eternity in hell because I was gay."
"Nothing about that seems even remotely OK," said Carroll Schroeder, executive director of the California Alliance of Child and Family Services, who has been a social worker, run residential treatment programs, and worked with at-risk youth. When he learned of the "no talk" and "no touch" punishments, Schroeder told BuzzFeed News, "There is no recognized therapeutic intervention that includes either of those two things." It's a form of control, he said, and "it's kind of mean."
But River View's rules, which former students and employees say have not changed much over the years, were not illegal. Even at a time of growing acceptance of LGBT individuals and a rejection of programs designed to change a child's sexual identity, schools like River View enjoy remarkable independence that lets them try controversial behavior-modification methods, which critics say can be damaging to kids of all sexual orientations.
"Whether they're straight, gay, it doesn't matter — these programs use the same methodologies on straight kids who are rebellious," said Jodi Hobbs, who runs Survivors of Institutional Abuse, a California-based advocacy group for people who've been enrolled in facilities for troubled teens. "And if we, as a society, choose to have them in operation, they must be regulated."
Two years ago, LGBT rights advocates in California propelled into law a bill that enhances state oversight of troubled teen facilities, which operate with no federal regulation. The law's backer, Ricardo Lara, a Democratic state senator, was motivated to propose legislation after meeting with a former River View student named Rebecca Lopez. She was 14 years old when she was sent to the boarding school in 2011.
Lopez, who identified as gay, said she was barred for months from physical contact with anyone at the academy. No hugging, no high five, no helping her if she tripped. "Literally no human touch," Lopez told BuzzFeed News. To this day, Lopez said she recoils if someone reaches out to touch her because she feels she's "doing something wrong."
Several years earlier, California had become the first state to ban conversion therapy by medical professionals for minors, but there was nothing in the law that stopped boarding schools from trying to "scare the gay away," as Lara put it.
"This was another attempt to skirt around the conversion therapy law," Lara told BuzzFeed News, referring to private facilities like River View.
River View is only one facility within a larger ecosystem of hundreds of boarding schools and camps nationwide that target troubled teens, which by some estimates serve between 10,000 and 14,000 young people per year. A 2007 Government Accountability Office report is still considered the best research on the industry; it found "thousands of allegations of abuse, some of which involved death," throughout the industry since 1990. The GAO placed blame on "ineffective management," the hiring of untrained staff, and "reckless or negligent operating practices."
Since 2012, 14 other states have followed California in outlawing conversion therapy of minors by medical professionals, but regulations remain patchy, often allowing facilities to enforce anti-gay rules under religious exemptions.
The bill that Lara shepherded into law in 2016 has no allowance for religious exemptions, but it's unclear how effective it will be.
"I think there need to be places for troubled teens, but they should have teachers and therapists and nurses and a nutrition program that makes sense."
The California law explicitly bans troubled teen facilities from measures that seek to change sexual orientation, including efforts to "eliminate or reduce sexual or romantic attractions or feelings toward individuals of the same sex." It set a Jan. 1, 2018, deadline for drafting licensing regulations for facilities covered by the law. It also set a July 1, 2018, deadline for these facilities to obtain licenses from the California Department of Social Services, and to submit documentation to the state showing that employees had been trained in LGBT sensitivity and other students' rights issues. But the state missed its own Jan. 1 deadline for coming up with licensing requirements, and it has yet to define River View in terms that are covered by the new law — as an "alternative boarding school," for instance.
That leaves River View in a state of limbo and able to dodge the new law, a situation that has prompted several former students and employees to speak up — some for the first time — about what they say is the need for change at River View and similar facilities. Donahue was motivated to talk after noticing current job ads for the academy advising that "[p]rior experience is not a requirement, but is considered." "I think there need to be places for troubled teens, but they should have teachers and therapists and nurses and a nutrition program that makes sense," Donahue said. "And this place has none of that."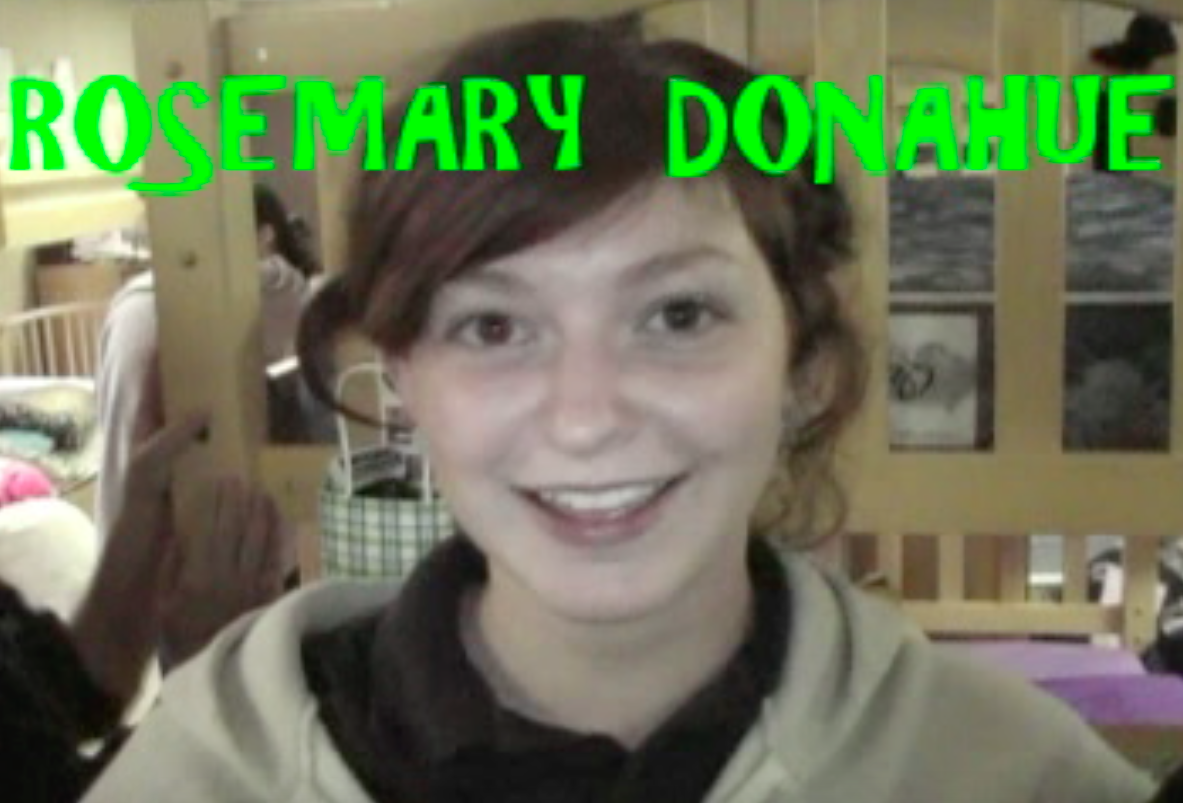 River View argues it's doing just fine — great, in fact — even though it has no licensed teachers, no nurses, and no licensed psychiatrists or therapists on staff, something the school's current medical manager confirmed in a phone interview. The medical manager, who has worked at River View since 2016 and asked that her name not be used, acknowledged that she has no medical training herself beyond basic first aid. Phil Ludwig, CEO of the school's parent nonprofit, Teen Rescue Inc., noted by email that River View has never been the subject of an "officially reported accusation of inappropriate conduct." Ludwig, a retired cop, started the school in 1993 and runs a connected nonprofit to assist sex trafficking victims. Many girls in River View suffer from depression, have experimented with drugs, and have run away from home, and Ludwig says the program can save their lives. "Our goal is to help redirect and encourage these children," he told BuzzFeed News. "We love these kids and would never do anything to put them in jeopardy, emotionally or physically."
However, court documents, state records, testimony before the California Senate, and interviews with 22 former students and staff who were at the academy throughout the past 20 years paint a different picture. Eight former students told BuzzFeed News that staff failed to report to authorities their claims of physical or sexual abuse by parents or other adults, which could be a violation of the state's "mandatory reporting" law. A woman who worked at the school in its early days, when it was known as the Julian Youth Academy, told BuzzFeed News that a student had told her she was raped. "I knew I had to report it," said the woman, who as a "house parent" held a supervisory role that included ensuring rules were followed. "But the staff members told me she was not raped and she was just manipulating me." K.W., who attended the academy when she was 16 in 2010 and 2011, said she told staff she'd been sexually abused by a relative and had knives hurled at her by her angry mother, but nothing was reported to authorities.
"Everything we said never left that mountain," K.W., who's now in nursing school, told BuzzFeed News.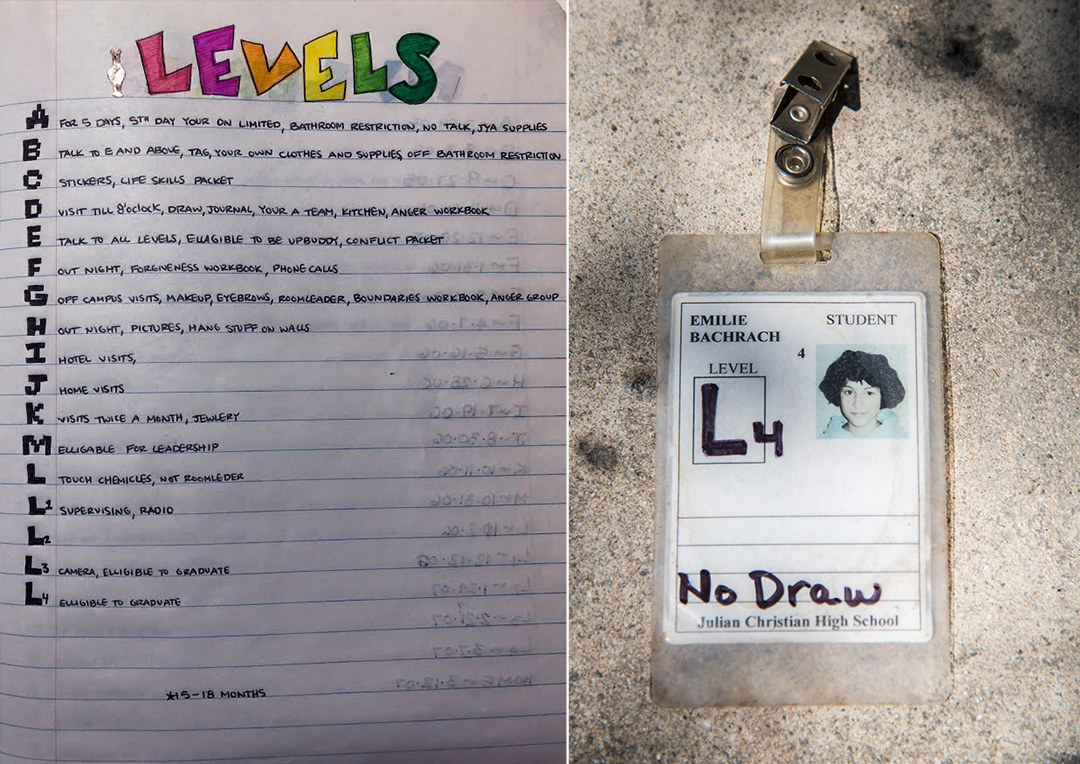 A woman who worked at the academy in 2016 told BuzzFeed News there was no training about what staff was expected to do if a student said they'd been sexually or physically abused. The current medical manager, though, said she knows of recent cases of abuse that have been reported to the proper authorities.
Girls who attempted suicide or harmed themselves were punished and not provided psychiatric care or therapy, according to two former students and two ex-employees. "We might have to take them to urgent care if it threatens their life," said Olivia Tantau, a former River View student who interned at the school this summer and who plans to begin working there in December. She confirmed that self-harming also is punishable. "If we do find out they've been self-harming, we treat the wound, and they receive discipline because that's against our policies," Tantau told BuzzFeed News.
"If we do find out they've been self-harming, we treat the wound, and they receive discipline because that's against our policies."
Four ex-students said the academy sometimes punished girls by limiting their diet to peanut butter sandwiches and water for days or weeks at a time. The faith-based institution's rigid rules around sexuality included barring sex outside of marriage. One woman who was pregnant while attending the academy said she did not receive prenatal care. Another who worked at the academy gave birth secretly while there and then killed the infant, saying she feared being fired if she had a baby, according to court documents. The woman is now serving an extended prison sentence for murder.
While the school takes a special interest in trying to quash same-sex relationships, several former students who did not identify as gay or bisexual said they were scarred by the no-talking and no-touching rules and by being cut off from the world for so many months during their teen years.
When Bachrach got out of the academy, she said, "I felt lost."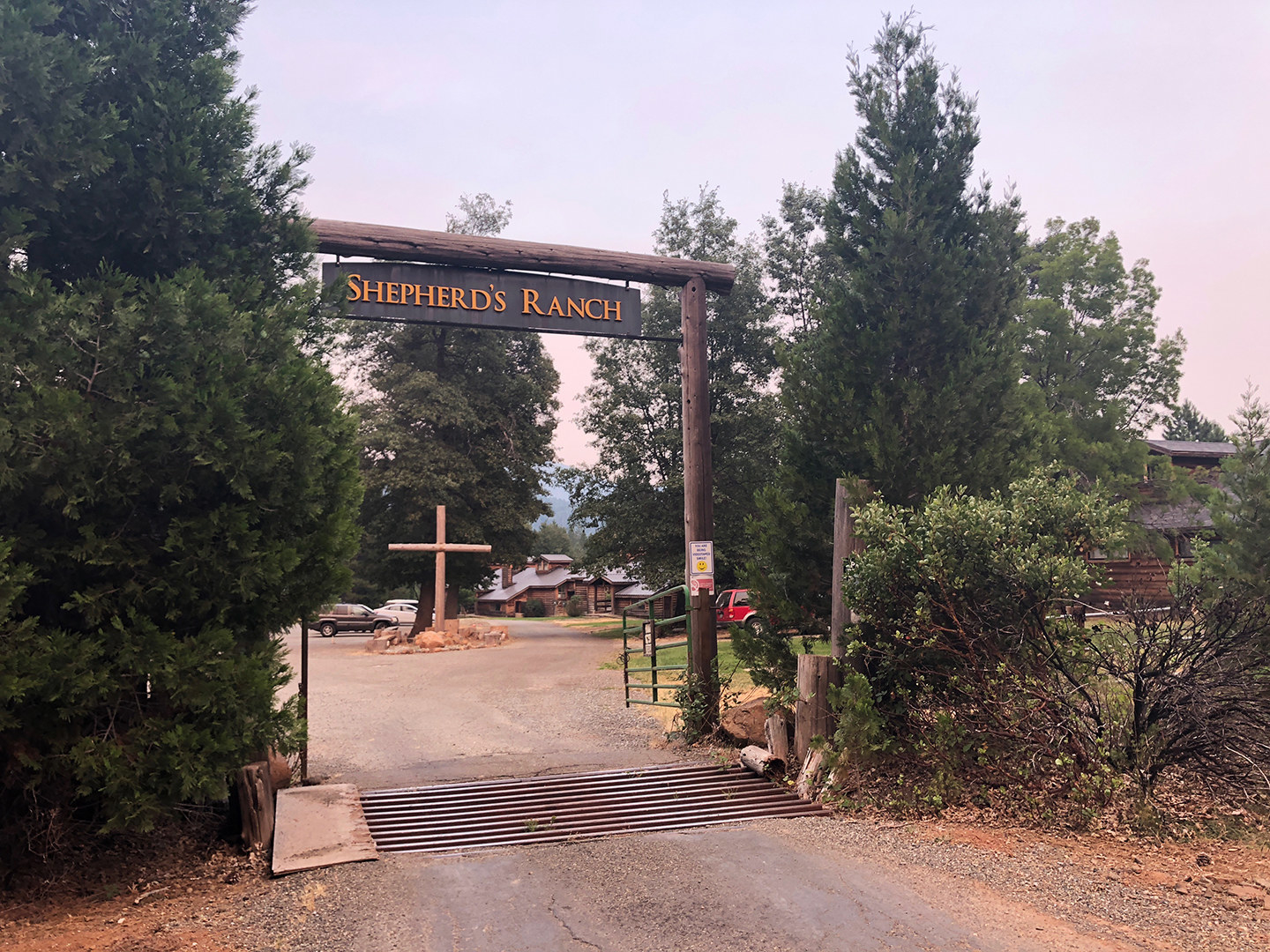 River View is isolated on a forested mountain outside the Northern California city of Redding. When I took the 45-minute drive from Redding to the campus in July, much of the trip was along a narrow, one-lane road, and the scent of pine and cedar trees and smoke from a wildfire perfumed the 110-degree air. The 250-acre campus consists of a series of cabins, with a running track, a large pond, and a volleyball court. A large cross greets people at the front gate, where a small sign warns visitors they are being video recorded. There is no cellphone signal.

The remote location helps with one key element of the program: shutting students off from the outside world.
"Even the slightest mention of anything not heterosexual was a punishable offense."
The rules are not written down, because they can be altered at a moment's notice, former students and employees said. Tantau said the foundation remains the same, but policies adjust as needed with different generations of kids. Staff decide when students are allowed to speak to their parents, and read and censor their incoming and outgoing letters, restrictions the new law is supposed to forbid. They don't get to read the news or even the weather report. Former students said the rules when they attended ranged from not talking about anything related to witchcraft or mysticism, including Harry Potter and gnomes, or PG-13 movies. There was also a ban on saying "just kidding," they said. After a student was there for a year or longer, they could take weekend trips home if they promised to stick to certain rules, like not watching MTV or VH1, not talking to friends, and not listening to music unless it was Christian or from before 1960. Former students said they were not allowed to complain to anyone — not even their parents — about their treatment, another thing the new law is supposed to ban, and girls were never allowed to discuss sex or their attraction to people of the same gender.
"Even the slightest mention of anything not heterosexual was a punishable offense," said Talin, who was sent there in 2010 when she was 16, and who asked that only her first name be used.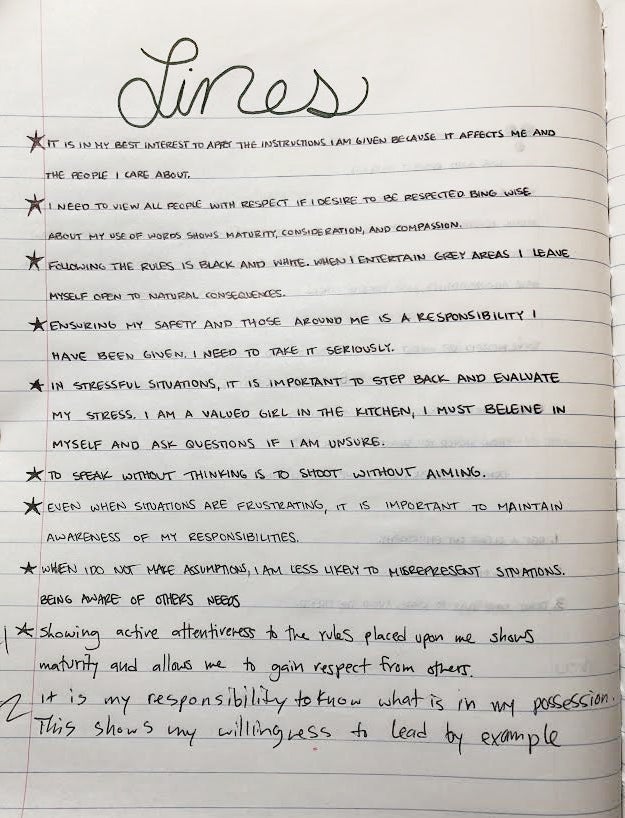 One night, Talin said, she mentioned to some of the other girls that she identified as bisexual. A few days later, Tiffany Morgan, the school director, called her into an office and told her she had to write 2,000 lines, a common punishment in which students have to write a sentence, phrase, or Bible verse hundreds or thousands of times in a notebook. Morgan declined to be interviewed.
"I had never seen anyone get more than 500 lines before," Talin said. "When she told me the reason, I was dumbfounded. I was being punished for my sexuality." She could only work on the lines during a few hours in the evening and was on "no talk" until the lines were done. "And after a little over a month, I was sobbing," Talin said. "I couldn't handle it anymore." The staff, Talin said, agreed to let her finish the punishment by running two miles without stopping instead of doing the rest of the lines.
Julia Morrison was sent to the school in 2011 when she was just shy of 14, and said she was ordered to write lines for communicating too much with a girl who was gay. Morrison said she refused to do the lines, so for two weeks staff fed her nothing but peanut butter sandwiches and water. "I begged them every day to feed me normal food, but they refused," she told BuzzFeed News.
The school "tries to break you and make you comply with the rules," Bachrach said. "It tries to make you tame, so you're easy to deal with."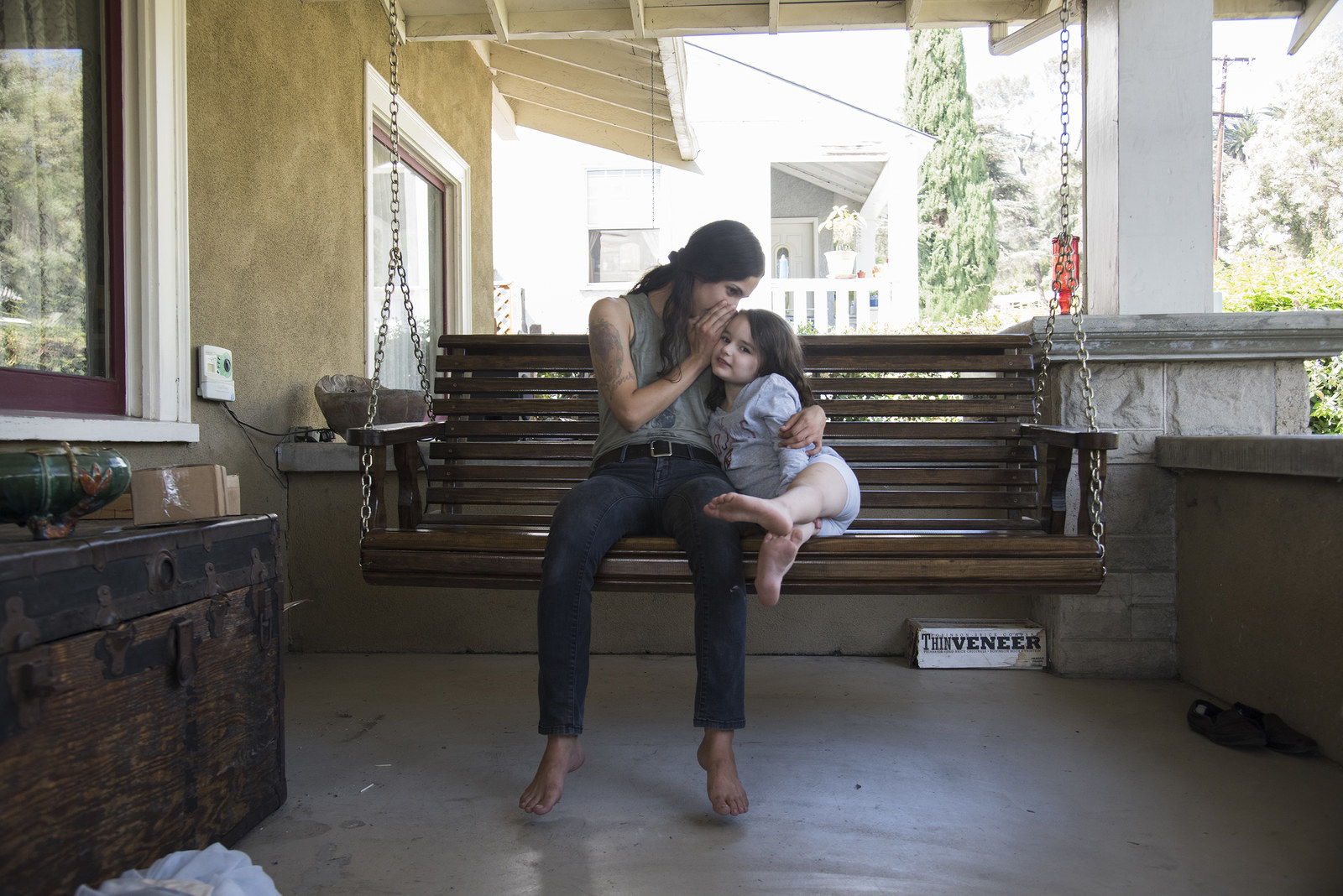 Two of the core rationales behind the rules are teaching students boundaries and accountability for their own actions, said Danielle, who was a house parent at the school for two years, in 2010 and 2011, and who confirmed there were no licensed counselors or therapists on staff. "It was so inspiring to me," Danielle told BuzzFeed News. "These youth don't even know the gold that they're getting." Tantau, who spent three years at River View from 2013 to 2016, said the rules taught her "maturity and leadership and just thoughtfulness in my everyday actions."
"These youth don't even know the gold that they're getting."
Morgan, a former River View student who has run operations on campus since 2010, and who several women, including some critics of River View, praised as a sympathetic figure, said on a radio show two years ago that the program is designed to constantly remind the girls "that you are making choices every single day, and those choices have positive or negative consequences, and we're here to give you positive or negative consequences, gently."
"You're the one who has to adjust," Morgan said.
The program works, Danielle said, because students are away from their parents, their family, their friends, and everything they've ever known. "They have to face who they are," she said. "I found it to be one of the most raw and authentic spaces because they couldn't escape."
Students are awarded points for following rules and docked points for infractions large and small. Asking to go to the bathroom too frequently can result in docked points. So can wetting yourself or forgetting to wear your name tag. The goal is to earn enough points to climb from Level A to Level L — usually an 18-month process — at which point River View lets a student graduate. Classmates are expected to report others who break the rules, and they face punishment if they don't. The cards, according to copies I saw, are small preprinted forms asking for date and time, names of witnesses, and priority level.
"It's a really bad moral dilemma," one former student said. "You save yourself by turning on the other girls." Another compared it to The Handmaid's Tale. "We were all spies on each other," she said.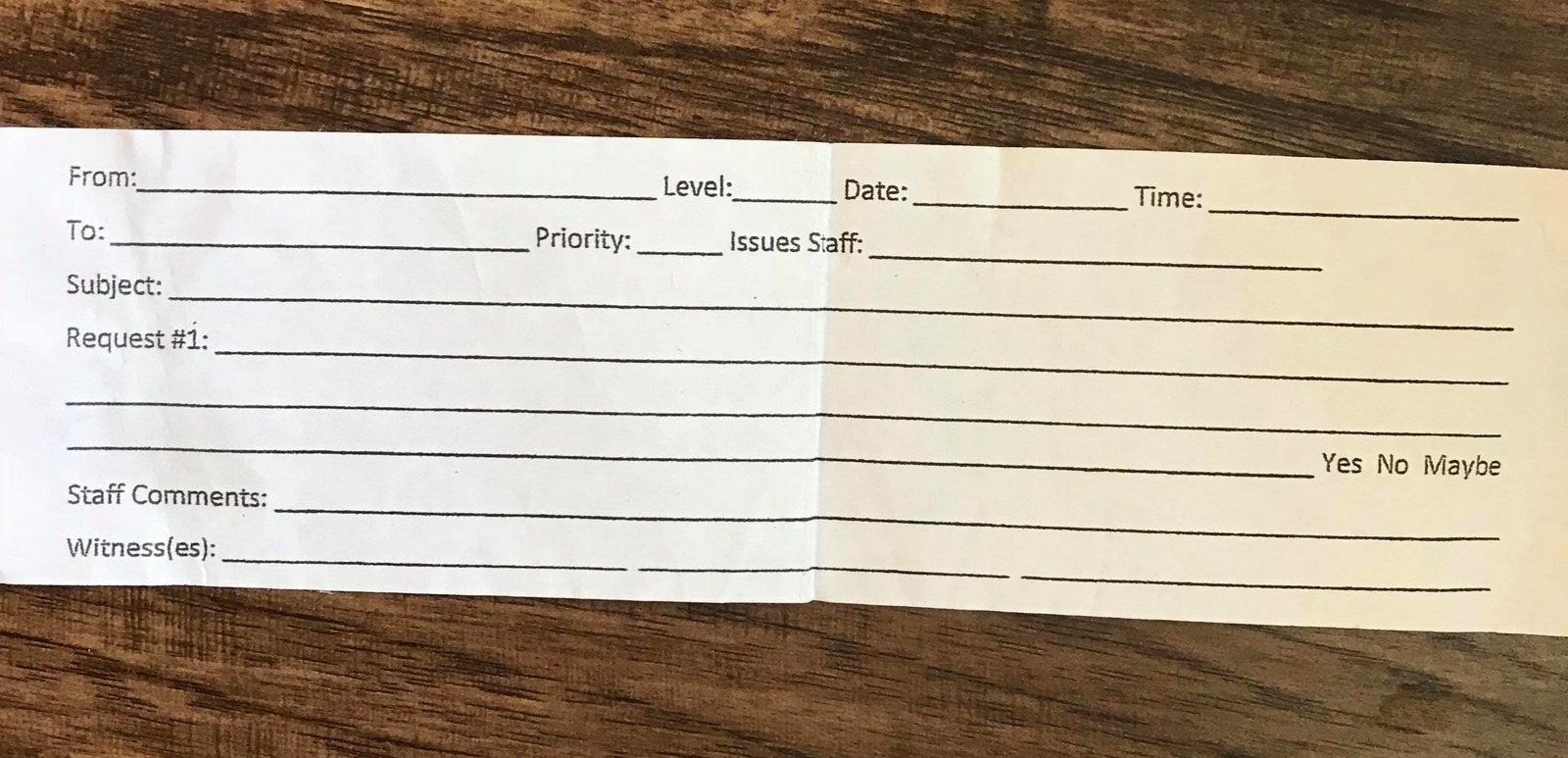 Parents enlist programs like River View to deal with kids like Bachrach, who are sneaking out, drinking, and whose grades are suffering. Students have also been sent to River View for becoming reclusive and playing video games too much. Three women said that they were sent to River View because their parents disapproved of their dating lives, either due to concerns of promiscuity or because they were attracted to girls.
Children in programs like River View usually haven't earned a criminal record, but according to a former staff member, the staff were trained to treat students with suspicion. "They told me these children were about to go to jail," the former staff member told BuzzFeed News. "They were deviant children, they did all these horrible things, and I should not trust them or believe anything they say, because they are master manipulators. That's what we were trained as staff." The academy's website reflects that, stating that "staff members must be able to be firm and aware of potential manipulation. These skills come with training and experience."
Students with mental health issues said they were punished for behavior related to their problems.
Maryjane Coleman, who was there from 2014 to 2016, said she lost 500 points when she cut her arms with the metal blade of a pencil sharpener in an attempt to kill herself. Then 15 years old, she walked out from the bathroom with blood dripping down her arms, and after about 10 minutes, Coleman said, staff took her to get bandaged. She was not taken to a doctor, did not get to speak to a psychiatrist or therapist, and staff didn't bring it up in the weeks after it happened, Coleman said. When I met with her in San Diego this year, I could see scars from the slashes. "I'm really glad it didn't work," Coleman said of her suicide attempt, "but they punished me for hurting myself instead of trying to help me."
Three other people, including Tantau and another former employee, confirmed that students who harmed themselves intentionally were subject to discipline.
M., who was at the school from 2012 to 2014, said that after being pulled off her anti-anxiety meds, she started scratching her arms to the point of breaking skin, so the staff punished her by restricting her diet to peanut butter sandwiches and water. Talin said she heard voices after being taken off her medication. She told staff about it, but Talin said they told her it was God talking to her and didn't take her to see a doctor until she had what she described as a breakdown three weeks later. Another student who was there at the same time as Talin corroborated her account.
Ludwig said on his radio show in 2016 that they will sometimes refer a child who threatens to harm themselves for a psychiatric evaluation, but hinted they tend to be skeptical of the teens. "Unfortunately, when you're doing a program like this with kids, we know what they really are doing and it's manipulation, but the laws don't back us up," Ludwig said.
Ludwig, a stocky blonde man with blue eyes, lives far from the campus, in a middle-class area of Lake Elsinore in Southern California. Teen Rescue's corporate address is a mailbox in a UPS store near his home. When I stopped by his house one afternoon in July to ask for an interview — since he does not have an office — Ludwig accused me of being "inappropriate" and of trying to place him "under the gun." Ludwig refused to be interviewed for this story, but he's spoken regularly about the academy on the radio, and he exchanged several emails with BuzzFeed News.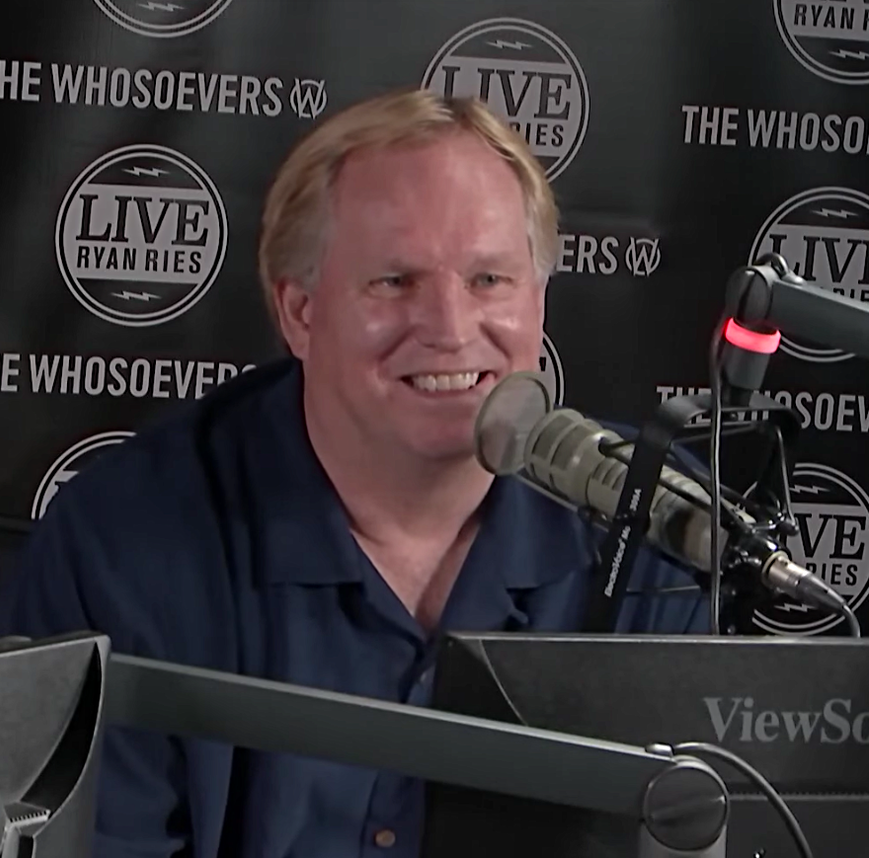 According to Teen Rescue's website, Ludwig grew up "in a very loving Christian home" and retired from the San Diego Police Department after five years, in 1985, due to injuries he suffered in a car crash. A combination of his religious upbringing and work background — Ludwig said he was involved in a sting operation involving human trafficking and often found himself offering informal counseling to troubled families — steered him into his current vocation. The idea of opening a private, Christian-based school appealed to Ludwig in large part because unlike group homes or rehab centers, it was not subject to state laws that required it to grant access to inspectors and to follow a specific curriculum. "And that's why I picked that," Ludwig said on his radio show in 2015, "so I could be faith-based and be uninterrupted in my pursuit of sharing the gospel with these kids." He wanted the freedom to be able to hire Christians, Ludwig said. "We don't want to have to bring in a Muslim teacher, we don't want to bring in someone who is not of our doctrine or conviction."
In California, private schools, as River View describes itself, must register with the education department, but there are no licensing requirements, accreditation is optional, and so too is teacher certification. The state's education department told BuzzFeed News it doesn't monitor or inspect private schools, and local school districts aren't required to either. Ludwig's academy doesn't take government funding, so it's not bound by federal regulations.
Ludwig's school opened in 1993 in the mountains of Southern California; he moved it to the current location after a wildfire destroyed the first facility. By 2000, he'd boasted of helping more than 5,000 families nationwide, either by enrolling their kids in his school or by referring them to other services. On a radio show in June, Ludwig said people often ask, "'Where do you get all this information?' I get it from the Bible. 'Really?' Yeah, the Bible is really practical."
When Teen Rescue started, it was a boom time in the troubled teen business, valued at the time to be a $50 billion industry. Facilities that deployed "tough love" to adolescents had grown from a wave of programs in the 1960s and '70s that were skeptical of mainstream psychiatry and pharmaceutical solutions. One of the most infamous of these was Synanon, which was founded in California as a drug rehab program but which dissolved into a violent cult.
Two years before Teen Rescue launched, a similar religious school for rebellious girls, Victory Christian Academy, closed down after California's social services department decided it was a boarding home using "behavior modification" and needed to be licensed. The owner then set up a similar school in Florida that was exempt from licensing requirements because of its religious status and used punishments similar to River View, like writing lines. But it also used more extreme measures, like holding girls down on the ground. The Florida school closed in 2013 following allegations of abuse.
No one knows how many troubled teen programs exist in the country, partly because there's little agreement on the definition of these facilities, and state regulations let many fly under the radar. In 22 states, private schools are not even required to register with the state, rendering them virtually invisible unless someone complains or something horrible happens. An Alabama facility operated without inspections for years until it was raided in 2015, leading to child abuse convictions against three of the people running it. Alabama then passed legislation to regulate troubled teen programs, requiring them to register with the state, but it removed from the legislation a prohibition on the programs discriminating on the basis of sexual orientation.
"Some of them I think have started with people with good intentions, but then they don't know what they're doing," said Bob Friedman, a clinical psychologist who has long studied the troubled teen industry, and who provided research to Congress a decade ago about it. "These are not easy programs to operate. The public needs to have oversight of the programs; otherwise it's very risky."
It's easy for troubled teen programs to exploit loopholes in the law, said Theresa Nguyen, a vice president at Mental Health America, a national advocacy group. The programs advertise that they can help get a teen off of drugs or stop them from acting out, but "if you don't market yourself as a residential treatment center, if you call yourself a school, you can get out-of-state regulation," Nguyen told BuzzFeed News.
Attempts in Congress to give the US Department of Health and Human Services oversight of these facilities have failed. A bill by George Miller, a long-serving Democrat from California, passed the House in 2008 and 2009, but the Senate declined to give it a vote both times. Since Miller retired in 2014, California Democrat Adam Schiff has kept the bill alive, but it has gotten little support from the GOP. The hesitation, according to people who have lobbied in favor of the bill, is that many Congress members believe regulation should be left to the states.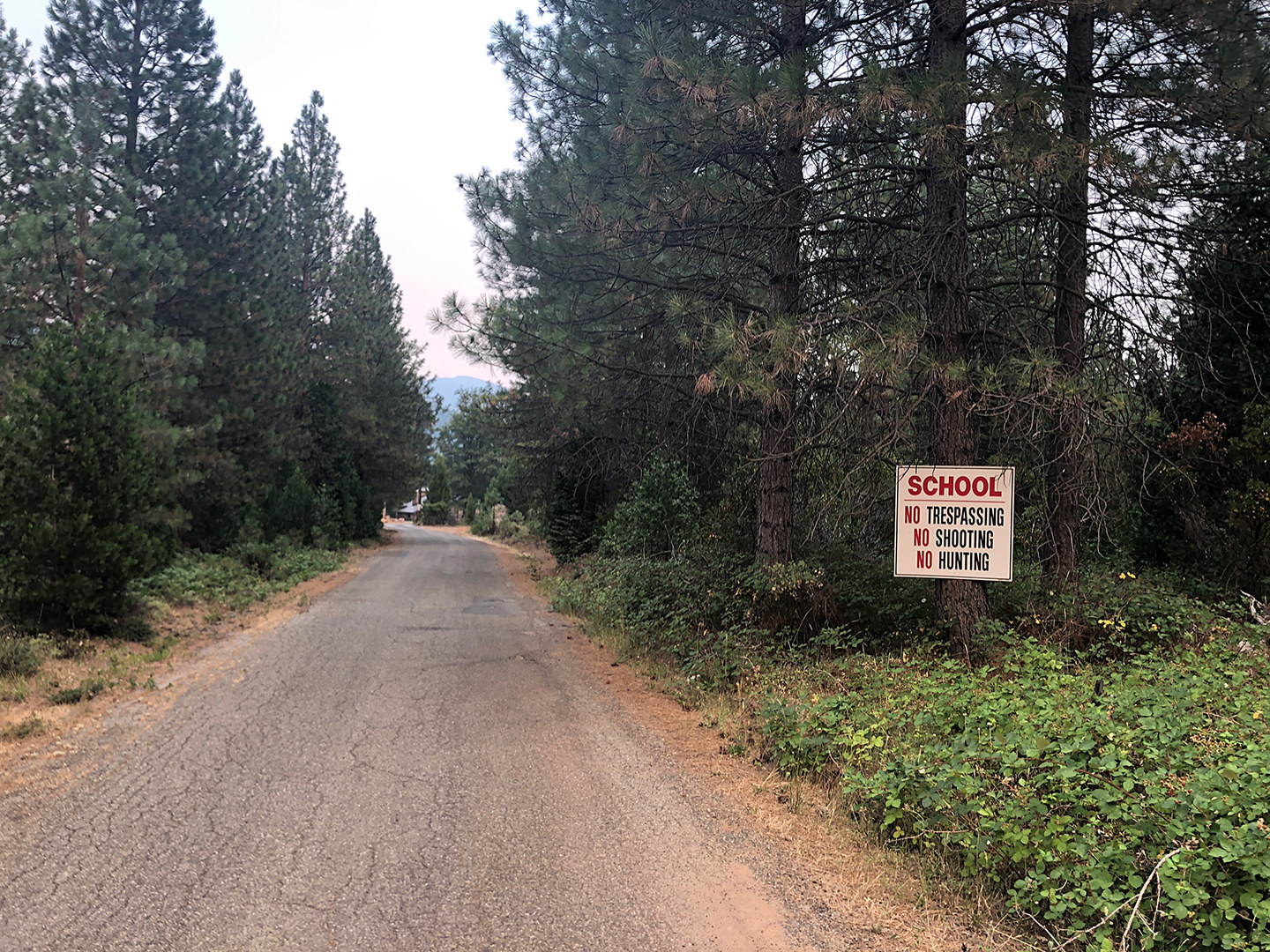 Parents often pay thousands of dollars to board their children for weeks or months at a time at these facilities in hopes of steering them away from trouble.

Most of Teen Rescue's $2 million in annual revenue comes from tuition for River View, according to tax filings. In 2016, $143,677 was spent on food and $111,365 on utilities. The bulk of the money is for salaries. Ludwig's fluctuates, but he took home $90,000 in 2016, while about $1 million was split among 65 employees, the school's highest number on record. The academy also tells the IRS that it has 50 "volunteers." (It's unclear if this refers to interns who get a $200 monthly stipend.) The organization has not publicly listed its tuition cost since 2010, when it advertised that it charged $52,000 for a 15-month stay, and $2,800 for each month after. A Christian media group's website recently advertised $73,400 for tuition at River View.
A program for disobedient boys was started at the campus in 2010, and the boys are kept separate from the girls. If the girls saw the boys, former students said, they were expected to look down and put their hoods up if they were wearing one of the hooded sweatshirts emblazoned with RVCA that the school gives students.
River View is a member of the Association of Christian Schools International, a nonprofit trade organization for Protestant schools. It advertises on its website that it is "fully-accredited," but it's unclear by whom. River View is not accredited by ACSI, and the organization "does not have any governance over member schools," Cecil Swetland, a regional director for the organization, told BuzzFeed News.
Ludwig previously said he was seeking accreditation through the Western Association of Schools and Colleges. But the school is not accredited by WASC either. A WASC representative told BuzzFeed News that the school applied for accreditation with them in 2011, but was denied. The representative said records did not explain why.
Education at River View is based on Christian-based homeschooling software from Liberty University and a company called Alpha Omega. Evolution was taught as something that shouldn't be believed, ex-students said.
Ludwig has said that some of his staff have master's degrees in education or counseling, though every woman interviewed for this story, and two former employees, say there weren't any credentialed teachers or licensed counselors on staff. When applying for a job at River View, one question on the job application is "Have you received Christ Jesus as your personal Savior?" and includes a statement of faith and a "spiritual insight" section.
Parents sign paperwork that allows staff to make some medical decisions, according to the current medical manager, but liability mainly remains on the parents. The medical manager told BuzzFeed News that she tends to take a better-safe-than-sorry approach when students complain of pain. "I don't want to ever risk not getting someone care," she said, "but I always run it through the parents as well, just to figure it out."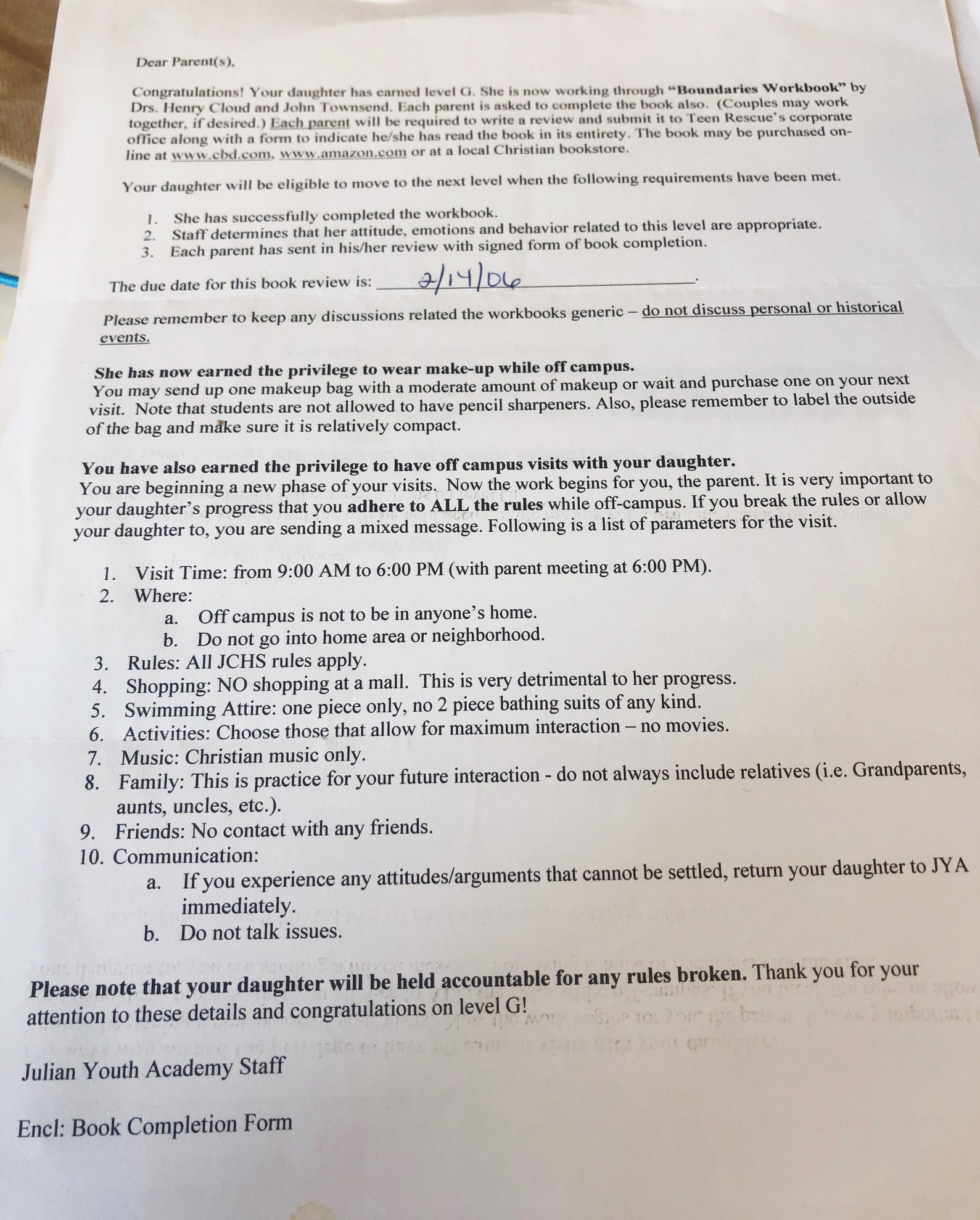 However, former students and staff said that in the past, school employees did not believe students who said they were ill. An ex-house parent told BuzzFeed News that she recalls staff accusing one girl who complained about pain near her abdomen of exaggerating, but when they eventually took her to the doctor, it turned out to be a ruptured ovarian cyst.
"When I was in the program, I had two grand mal seizures," said Cat Scanlan, who was there for a year and a half in 2001 and 2002. She was later diagnosed with epilepsy, but at the time, she said, she didn't know what was going on — just that she passed out and woke in pain. Staff accused her of throwing herself down the stairs and made her write lines, Scanlan said.
Cari was placed in the academy by her mom in 2001 when she was 15 and pregnant. Cari, who asked that her last name not be used to protect the privacy of her child, said the staff did not provide her with prenatal care, such as extra vitamins, and limited her to the same amount of food as the other students. "I remember going to bed crying because I was so hungry," Cari told BuzzFeed News. Cari also wasn't supposed to "act pregnant," she said, and got in trouble for getting morning sickness and for suddenly needing to pee.
"That's not God's love," her stepmother, Jessica, who visited Cari several times at the school, told BuzzFeed News. "What they were doing to these kids is trying to break them down mentally."
"What they were doing to these kids is trying to break them down mentally."
In an email, Ludwig echoed comments he made previously — suggesting that complaints about River View should be discounted because these former students aren't trustworthy. "If a teenager who was out of control at home comes to our school and resists the help and care offered, it stands to reason that they are still angry, out of control and hostile towards authority," Ludwig told BuzzFeed News.
Ludwig also claimed in an email that police, district attorneys, and agencies like the FBI, the US Department of Homeland Security, and California's Department of Social Services "have all been to our campus on regular occasions and found us to be an excellent environment for these students, well within the law and acting appropriately." But BuzzFeed News obtained an investigation report showing that California's social services department tried to visit the River View campus after a student was allegedly assaulted by an older teen at the school in March 2015, but that staff denied the department's agent access to the property or the kids. The social services department was concerned that River View was "operating an unlicensed group home," but the investigation was inconclusive, the report stated.
"That's when the state has to take a stand," Lara said. "At the end of the day, the health and safety of every child is the mandate for the government. When you cross that line, we are going to step in."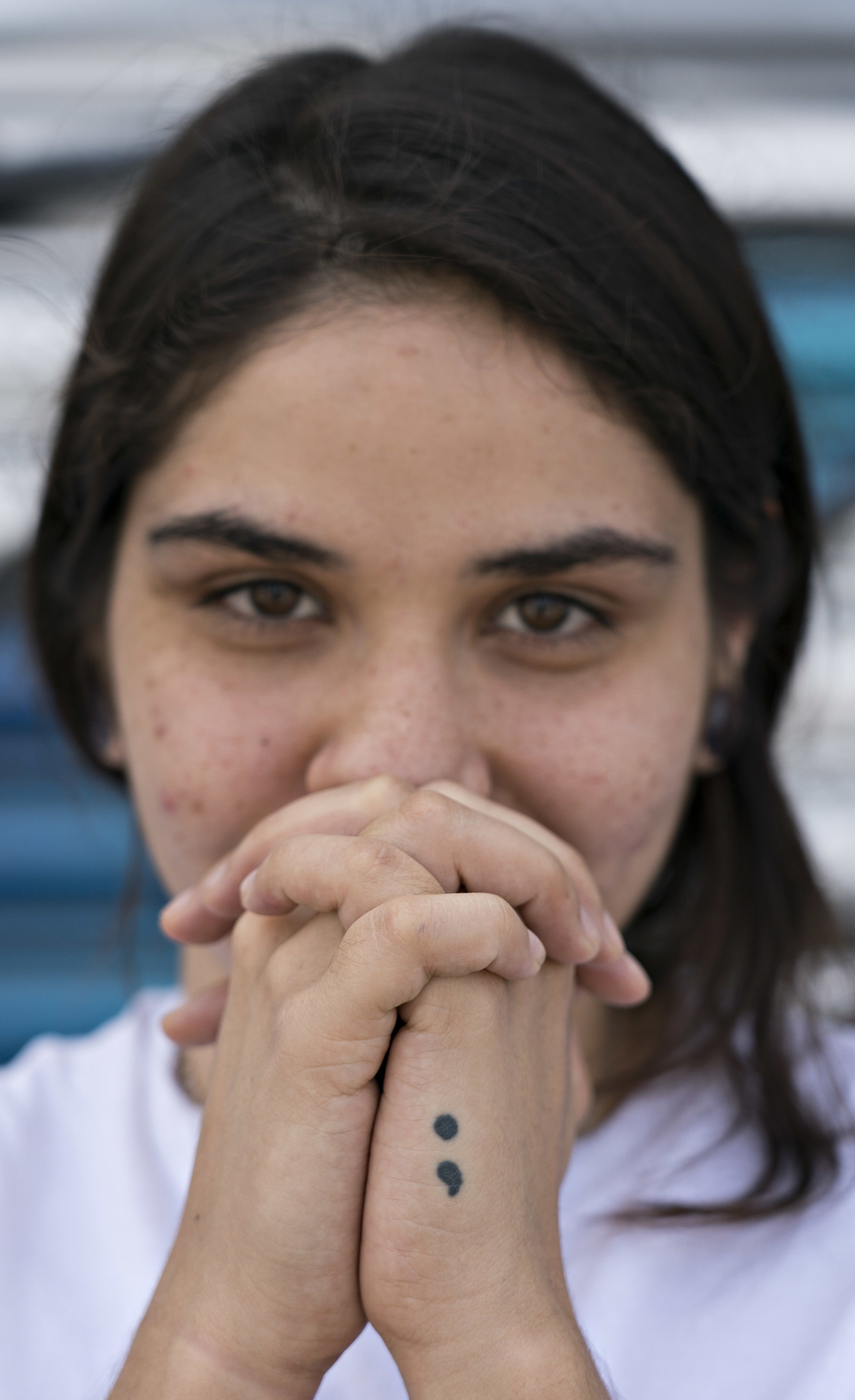 River View might have still been operating off the state's radar if not for an evening in 2014, when Aaron Fox, director of government relations for the Los Angeles LGBT Center, caught a TV documentary called Kidnapped for Christ. It told the story of a faith-based camp for troubled teens in the Dominican Republic, and the alleged abuse of gay teenagers there. Fox was startled at the end when a map popped up showing that similar facilities were located in California. How does this happen in California of all places? Fox thought.

"Nail shops had more regulation at that time than these behavior modification programs did," Fox told BuzzFeed News.
Fox connected with Survivors of Institutional Abuse, a group featured in the documentary. The group's founder was tapped into an online community of girls who had been at Ludwig's school. They included Lopez, who by then was living in LA. Fox introduced Lopez to Lara, who listened to her account of life at River View. Lara proposed his legislation in February 2015, after learning, among other things, that there was no state law requiring troubled teen facilities to open their doors to state inspections.

Ludwig denies practicing conversion therapy or putting teens at risk, but he's open about his belief that being gay is wrong. "I see this behavior, biblically, as no different than adultery or any other sexual sin," he said on the radio, and "as long as I'm upfront about what I believe and [the parents] still put them in our program, that's on them."
Lopez testified in support of Lara's bill before the state Senate, and spoke to news outlets. Like many students, she described being taken from her bedroom late one night by two strangers and ending up at River View as her mother sought to wrest her away from her girlfriend and her gay life. Six months into her stay, after hearing Lopez describe some of her experiences there, her mother decided to pull her daughter out of River View by sneaking her off campus in the backseat of her car, according to Lopez.
Ludwig denies practicing conversion therapy or putting teens at risk, but he's open about his belief that being gay is wrong.
Lara's legislation was signed into law by California Gov. Jerry Brown in 2016. But some former River View students said more needs to be done. Multiple ex-students said they were kicked out of their parents' homes shortly after returning. Some said they struggled with drug addiction after leaving the academy. Several said they had trouble returning to regular schools after River View.
"You are 100% unprepared to deal with real life," Talin said. "I didn't know how to form regular relationships." Friends had already moved on. "I started community college," she said. "It lasted a quarter and a half. I had no idea how to treat real school. I had no study skills."
The struggle to adjust isn't limited to ex-students who disavowed the school.
In November 2011, Teen Rescue employees discovered the decomposing body of a baby girl wrapped in a zebra blanket in the on-campus home of Jessica Bradford, a River View staffer who'd once been a student at the academy. Bradford, then 23, confessed to police that she'd secretly given birth on campus weeks earlier and had kept her pregnancy secret because employees were not allowed to have children out of wedlock. The baby died within a few days because she was never fed. Bradford was convicted of murder in June 2014 and sentenced to 25 years to life in prison.
Ludwig said nobody could have foreseen this, but Bradford's defense attorney argued that Bradford couldn't handle life after her time as a River View student. That's why she came back and started working and living on campus, said Jonathan Jordan, the lawyer, and that's why she was terrified of losing her job if her pregnancy was discovered. According to Jordan, Bradford was "conflicted between her maternal instincts versus that fucking school's doctrine." ●