More women have come forward to say that a onetime executive editor at DC Comics sexually harassed them, including two who say he inappropriately touched them even after several employees at the publishing giant had complained to company top brass about his behavior.

The new accusations against Eddie Berganza, 53, follow a BuzzFeed News story that detailed how the company failed to discipline him, and even promoted him to executive editor, after a 2010 complaint to human resources. Berganza eventually was demoted in 2012 following allegations that he had forcibly kissed a woman at a comic convention that year. DC Comics, a subsidiary of Warner Bros., fired him on Nov. 13 after the BuzzFeed News story appeared.
But now five more women have told BuzzFeed News about their own experiences with Berganza. One says he forcibly kissed her, something he'd previously been accused of doing to a different woman in the 2010 complaint, and to the other one in 2012. Others now coming forward allege inappropriate touching, and one says Berganza told her she was "too pretty" to be interesting. If DC Comics had acted earlier to rein Berganza in, the women say, they might have been spared harassment and felt more comfortable pursuing careers at major comic publishers.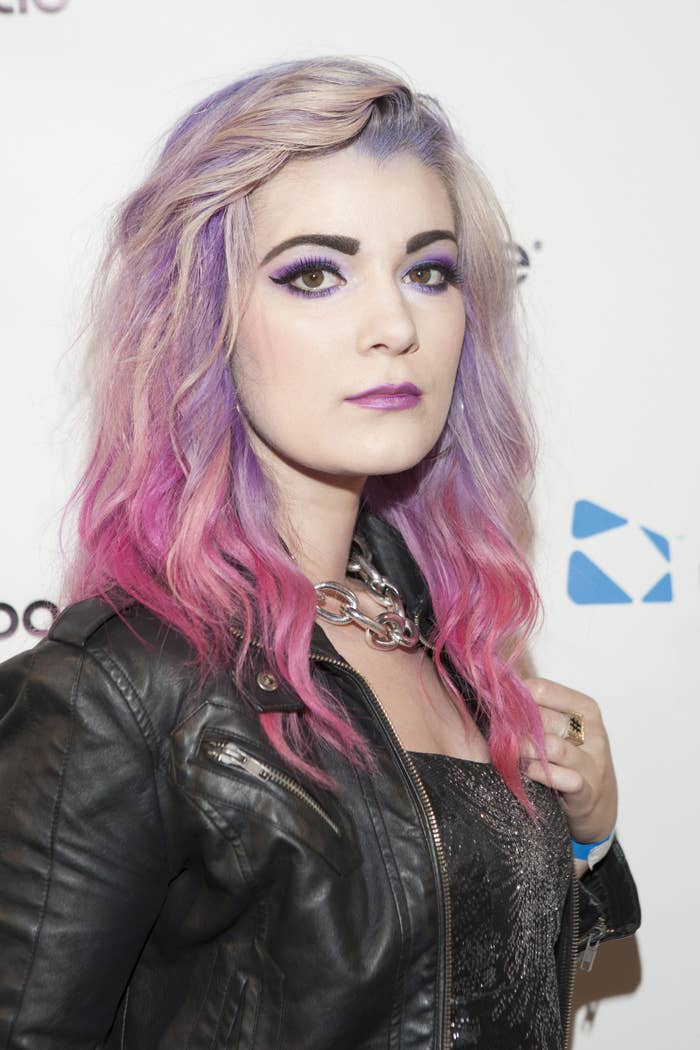 They include Molly McIsaac, who told BuzzFeed News that, in 2011, Berganza insinuated that if she slept with him he could get her a job. "It made me so uncomfortable that it was implied that I had to sleep with someone to get a job, that I would legit never write for DC unless I had sex with Eddie," McIsaac said. "It was very obvious."
The first time McIsaac says she can recall Berganza overstepping boundaries was when he started rubbing her feet in his lap in the lobby of a hotel at the San Diego Comic-Con in July 2011.
McIsaac was 22 at the time and had been working for a couple of years at comic conventions, taking photographs and reporting on them for industry websites. While chatting with Berganza in the hotel lobby, she said, she commented that her feet hurt from being on them all day. Berganza, then the executive editor of DC Comics, insisted over McIsaac's protests that he massage them and took off her shoes and put her feet in his lap, she said. As he rubbed them, she said, he peppered her with comments complimenting her legs and buttocks. Later that evening, as convention-goers got drinks at the hotel bar, McIsaac said that Berganza kept touching her hip and butt and saying he could get her a job at DC.
"And I got so excited," McIsaac told BuzzFeed News. Then, she said, Berganza invited her to his hotel room to discuss it further over whiskey. She declined, but wrote Berganza afterward about possibly writing for DC, in an email reviewed by BuzzFeed News. Berganza responded two months later and said he could not bring on any new talent at the moment, but hoped to "remedy that." A year later, McIsaac said, she saw Berganza again at the same hotel, and he came up and rubbed his groin against her butt.
By then, people had complained about Berganza's behavior for years, including to DC Comics managers. A complaint in 2010 to DC Comics' human resources department included allegations of forcible kissing and attempted groping. But Berganza continued to thrive at DC, and at the time of his firing, he was overseeing Dark Nights: Metal, one of DC's best-selling comics.
None of the five women who've talked to BuzzFeed News since Berganza's firing took part in the 2010 complaint or ever told DC about their experiences. All said they feared repercussions if they complained about Berganza, a powerful and lauded man in the comics world.
In the aftermath of Berganza's firing, people have begun taking stock of why DC kept him on for so long. Several from inside the company have said on social media that their superiors dropped the ball. Yet these new stories illustrate a culture, both inside DC and throughout the industry, where women were afraid of the consequences of coming forward and tried to bury their anger and move on.
"There are many good people I know there, but something is wrong with the corporate culture," said Amy Chu, a freelance comic writer who has written for DC and who said she tried to avoid working with Berganza. "An organizational culture has developed that makes it really hard to do the right thing."
"Both from the fan side and the creator side, it was a disgusting boys' club."
It's not a culture limited to DC Comics, said McIsaac, who says that, as a journalist covering the comics industry, she has dealt with sexist comments and threats of rape and death from readers, including some who have confronted her in person at conventions.
"Both from the fan side and the creator side, it was a disgusting boys' club," McIsaac said.
DC Comics says it has taken every allegation against Berganza it was aware of seriously and investigated them, and it has been reviewing and refining its policies for dealing with sexual harassment. Starting about a year and a half ago, the company facilitated focus groups with employees to discuss sexual harassment problems, expanded employee training, and held a town hall so staff could ask top executives about the issue. The company has also given employees an avenue for providing anonymous tips and feedback and created an Employee Culture Committee to address harassment issues.
Berganza did not respond to a request for comment.
Multiple women told BuzzFeed News that they were warned to stay away from Berganza, but that meant avoiding the man who could make their careers in the comics world, which operates in a lot of informal settings. Getting drinks after work or at the end of the day at a comic convention is typical, and it's these out-of-office meetups where writers often cement bonds that lead to the best assignments.
And according to one former DC employee, Berganza was "the guy everyone wanted to hang out with. All the dudes worshipped him, especially if you were a comic book nerd. Even among the dudes I knew who were nice, sweet, upstanding guys, he was the nerd king."
He concluded the message with: "Big kiss. Hope you're warm. Had a naughty dream about you. Tee hee."
"If you wanted to climb the ladder, you had to socialize, drink, and network, even after you were in the door," said another former DC employee. "The people that [tended] to become friendly with the people making decisions," and Berganza, this employee said, "[were] friendly, funny, and very, very social."
One woman who was hired on the business side of DC Comics in 2006 recalled that one evening, after drinking with other DC staffers at McGee's, a bar in New York City, several employees, including Berganza, came back to her place. Once at her apartment, Berganza kept touching the woman's arms and legs, she said, even though she was 22 and Berganza was a "forty-something married dad." After that night, Berganza would lurk around her office "in a really uncomfortable way" on a near-daily basis, she said. Her boss asked her if anything was wrong when she started keeping her office door shut, she said, but she was "too terrified and embarrassed" to say anything. She didn't want to cause any problems.
Jami Bernard was leaving her gig as film critic at the New York Daily News in the mid-2000s and considering getting into writing comics. Already the author of 10 books, Bernard had ideas for graphic novels and started talking to Berganza about writing a multi-issue Lois Lane story. But Berganza began to make some unusual comments to Bernard. In one email Berganza wrote her, providing feedback on a proposal for a script, he concluded the message with: "Big kiss. Hope you're warm. Had a naughty dream about you. Tee hee."
Having lived through workplace sexism when she was a young reporter in the '80s, which she wanted to use as inspiration for her Lois Lane storyline, Bernard tried to brush it off. She also didn't want to call him out, Bernard told BuzzFeed News, because she thought "if I embarrass him or humiliate him he's not going to champion my work."
"I would sit there and let his voicemail play, and I'd think, I just can't deal with him."
Bernard got a five-page Lois Lane story published in January 2006, and did work as a script doctor for some Superman comics. She kept meeting with Berganza about the Lois Lane series, which he said was a sure bet. But twice during those meetings, Bernard said, Berganza forcibly kissed her — once during dinner at a restaurant in March 2006, and again that May when they walked outside one afternoon. She described both incidents as aggressive and abrupt — not sexual or flirtatious. With nothing officially booked on the Lois Lane front, Bernard stopped returning Berganza's calls.
"I would sit there and let his voicemail play, and I'd think, I just can't deal with him," Bernard told BuzzFeed News. "Eventually he stopped calling."
Two friends of Bernard's told BuzzFeed News that they recalled her meeting with Berganza several times in preparation for a proposed Lois Lane series. One remembers Bernard describing Berganza forcibly kissing her in 2006. The other, a cartoonist, said he wasn't surprised to hear that Berganza had remained at DC despite repeated allegations of misconduct, because of men who would rather protect their own than admit there was a problem.
Bernard now runs her own business as a media consultant, but "for years," she said, "I felt bad about myself — why didn't I pursue that opportunity? Why did I walk away? What did I do that turned him on so much?" It was only after reading the BuzzFeed News account of other women sharing similar experiences with Berganza that Bernard realized his behavior was not her fault.
"I had hoped that writing Lois Lane comics would be a possible entry to a new career," Bernard said. "But Eddie Berganza was the sole gatekeeper to that path, and I could not bring myself to work with him."
One woman said she met Berganza in 2014 at New York Comic Con. She was trying to break into the industry then, and a friend who worked at DC at the time offered to introduce her to editors around the convention. When she was introduced to Berganza, she said, she asked if she could send him her resume, and he said yes.
He said, "You're far too pretty to be this interesting."
"He didn't do anything handsy or anything like that," she said. "But he made a comment that forever stuck with me — forever pissed me off. He said, 'You're far too pretty to be this interesting.'" Today, this woman works at a different comics publisher.
McIsaac said Berganza made "gross and weird comments" about her as well, such as that "it makes sense you would have nice legs with an ass like that." She described them as "the sort of things women laugh off in the moment but remember later and are like, 'Why did I tolerate that?'"
Long before BuzzFeed News reported on Berganza's alleged misconduct, an online search of his name quickly brought up blog and social media posts tying him to sexual harassment. Author Marjorie Liu tweeted recently that she "explicitly told DC editorial that I wouldn't write for them because of Berganza." The company would try to reassure her that she wouldn't have "to deal with him directly," she added on Twitter. (She declined an interview request.)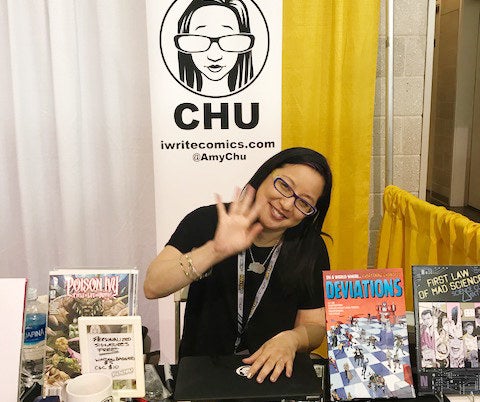 In mid-2015, Amy Chu was assigned to write a story for Poison Ivy, the Batman villain known for killing her enemies with a toxic kiss and controlling men with a scent. Chu signed on expecting Mark Doyle, the editor in charge of Batman comics who she respected greatly, to oversee the project. She was upset to learn that Berganza was assigned to be her editor. It was her first book at DC Comics, so Chu didn't think she had the clout to object to Berganza.
"I never felt like I was in a position where I could say anything to anybody," Chu told BuzzFeed News.
A year earlier, Chu said, she had not aggressively pursued an opportunity to write for Wonder Woman because it would've involved working under Berganza.
With the Poison Ivy story, Chu found a way to convey her anger about Berganza. She altered a character who gets killed by Ivy, Winston, from being a hapless nerd to a workplace creep. "It was very easy to channel my frustrations into the script," Chu said.
As infamous as Berganza's reputation may have been, it was unknown to a young artist named Maya Nord, who started going to Canadian comic conventions several years ago with dreams of working for DC Comics. At one of these conventions in 2011, she first met Berganza and gave him a sketch she'd done of the character Harley Quinn. He complimented her work and suggested they follow up over email — it was all strictly professional, Nord said. She gave Berganza her email address, but never heard from him.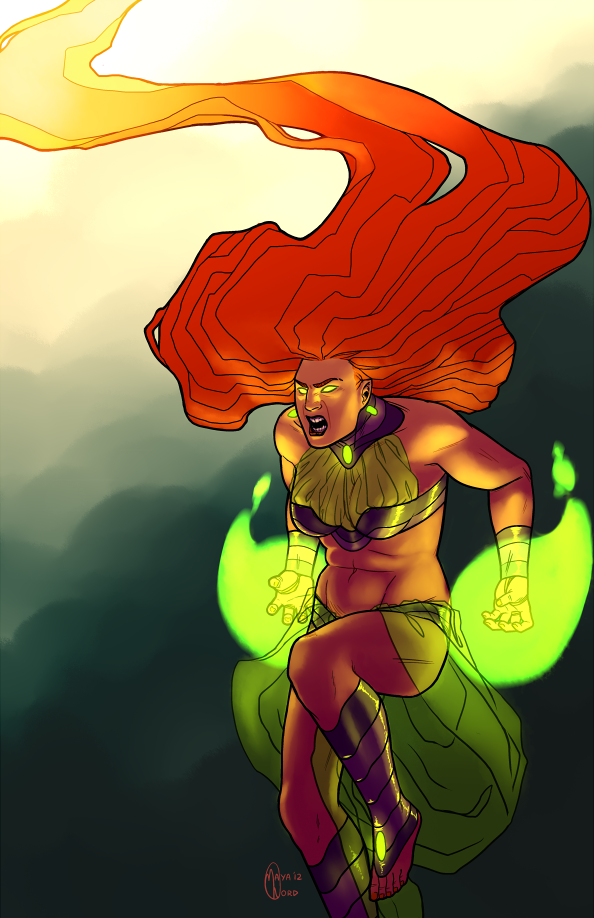 Nord saw Berganza again at a New Year's Eve party ringing in 2012 in Toronto. The party was thrown by someone in the Toronto comics community and well attended by others in the industry, including Berganza and people who worked with him, Nord said.
She recalled Berganza showing up after midnight with a date, who eventually passed out. Nord said that as she checked on his date and tried to get her to drink water, Berganza began "getting handsy," including massaging Nord's neck and at one point pulling her into his lap.
"This is 2012 and everybody knows about Eddie except for me," she said. "I felt gross about it afterward." Part of the reason Nord didn't forcibly stop Berganza was because he might have a say in getting her hired to work for DC, she said. But afterward, she was also horribly embarrassed — if she ended up working for Berganza, she worried, people at the party would think it was only "because I allowed him to grope me." She feared that would spread throughout the comics industry, tarnishing her name as she tried to make one for herself.
Nord emailed Berganza after the party anyway, holding on to her dream of becoming a DC artist. It worked. He sent her a test script and asked her to send samples of her work. She replied with 12 images of female characters she'd drawn. Many of the characters were more muscular and curvy than stereotypical comic book heroines, but in a way that Nord felt reflected their super strength. In response, Berganza sent back a criticism: "Some of the ladies are a little thick."
After that, Nord said, she didn't want to work for DC anymore.