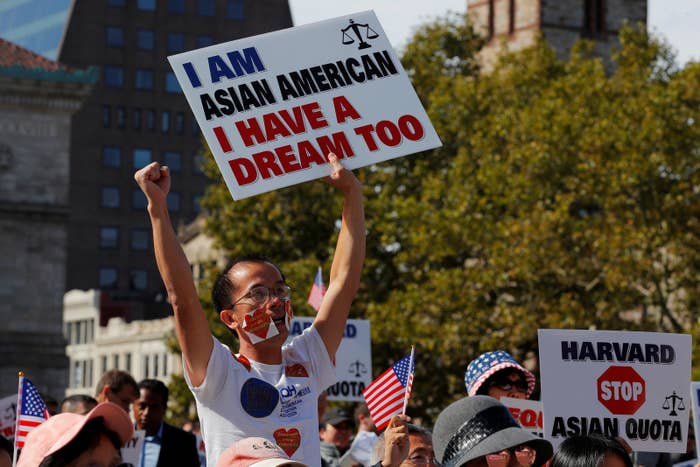 Sally Chen, a Chinese American senior at Harvard College, was studying in a lounge on campus when a university employee approached her and told her to leave. "Tourists aren't allowed here," Chen recalled the employee telling her. "This is a space for students only."
"I don't think I even processed what was happening," Chen said in a Boston federal court Monday. "I pulled out my ID and I said, 'I go here.'" The Harvard employee was "unfazed," Chen said, and insisted in a room full of studying students that Chen must leave the building. Chen grabbed her stuff and left, she said, and walked out feeling "perpetually foreign."
"In that moment, I was wondering what did I wear that day, what did I do with my hair, why was it that someone ... believed that I didn't belong there," Chen said. "What was it about me and why did that happen. And I think that feeling of, as well, being very troubled, but I and other Asian American students use that space. I am a US citizen. I was born here."
Chen recounted the experience during testimony at a trial over a lawsuit against Harvard brought by Students for Fair Admissions, or SFFA, a group arguing that the Ivy League university discriminates against Asian Americans in its undergraduate admissions process. Evidence presented in the trial so far has shown that if Harvard admitted solely on academics, there would be more Asian Americans admitted than white applicants. But Asian Americans tend to score lower on an opaque factor called the "Personal" rating, which is determined through a blend of subjective reviews by admissions officers.
For a moment, it seemed Chen was, to an extent, matching SFFA's argument that Harvard employees have biases against Asian Americans. The experience of being kicked out of a campus building, Chen said, "made me feel like I didn't belong there." But Chen believes one way to address it is through education, such as an Asian- and Pacific-American studies program, or perhaps a full department for ethnic studies. What she doesn't want to see is the end of using race when considering applicants to Harvard.
"I think dismantling the race-conscious admissions policy would really rob students of that critical part of education where you learn from and with people who are different from you and have different experiences from you," Chen said.
Regardless of who wins at the trial, both sides are expected to appeal, and many believe the case will ultimately end up at the Supreme Court within a few years.

Because SFFA is backed by conservative activist Edward Blum, many view the lawsuit as another attempt to end affirmative action in college admissions. Blum backed the last case that reached the Supreme Court in 2016, Fisher v. University of Texas.

The Supreme Court has repeatedly upheld affirmative action, so long as there are no quotas, and race is only one of many factors considered. But the high court is now believed to be more hostile to race-conscious admissions policies with a more conservative makeup.
Many of the previous tests of affirmative action have relied on the idea that underqualified students of color take the place of high-achieving white kids. SFFA's suit is the first major consideration of the argument that Asian American students are the ones being mistreated in college admissions.
In the third week of the trial, students and alumni of color began testifying in favor of using race in admissions. Many echoed the feelings of Catherine Ho, a Harvard student who stated in a court filing the "Harvard administration has not done enough to foster inclusion," and she was "frustrated" by data showing that Asian Americans tended to be scored lower on the "Personal" rating by admissions officers. But, she stated, any implicit bias by admissions officers against Asian Americans "does not stem from the consideration of race in admissions." On the stand in court this week, Ho said that Harvard would "without a doubt" change for the worse if it did not consider race in admissions.
The low scores of Asian American applicants on Harvard's "Personal" rating was flagged in a 1983 article coauthored by Margaret Chin, who was then a Harvard undergrad. SFFA cited the article as evidence that Harvard has long discriminated against Asian Americans. But in court, Chin, representing a group called Coalition for a Diverse Harvard, said she was "shocked" to find her work used to bolster SFFA's argument. "The ultimate recommendation was to ensure and keep affirmative action and to make sure Asian Americans were included in these race-conscious admissions," Chin said.
Harvard graduate Sarah Cole, who is black, said adopting race-blind admissions would signal that Harvard is "disinterested in us." Thang Q. Diep, a Vietnamese immigrant and Harvard senior, said in court there is concern among Asian Americans that the university might be discriminating against them. But he told the Chronicle of Higher Education that he wasn't convinced that was SFFA's concern. "There is definitely an ulterior motive," Diep said.
Diep also recounted how in one class, for the first time since he started going to school in America, a professor — who happened to be Vietnamese — pronounced his name correctly. That shows "how validating it is to have people who can understand your experiences," he said, "even if it comes down to understanding like pronouncing your name correctly."
Some of the Asian American students who testified further argued that the consideration of race in the admissions process benefited them. Chen said she didn't think she'd be at Harvard if she wasn't able to write about being from a working-class immigrant family.
"There was no way in which flat numbers and a résumé could have gotten across how much of a whole person that I am," Chen said.