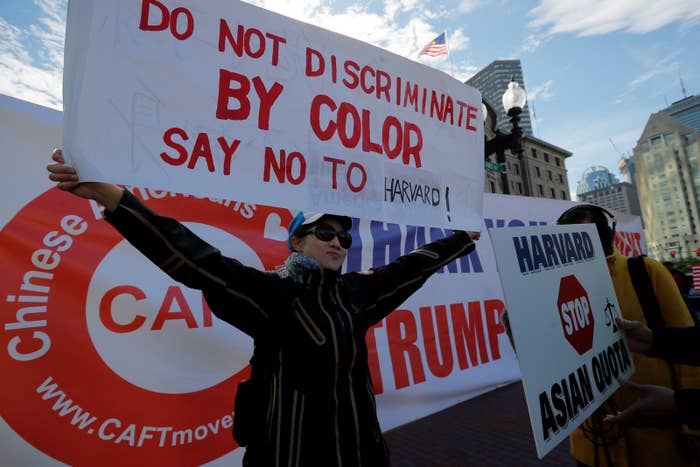 BOSTON — An internal report prepared for Harvard administrators in 2012 showed the university's preferential treatment of athletes and the children of donors and alumni predominately benefited white students, to the detriment of Asian Americans.
It was worth it, argued William Fitzsimmons, the longtime dean of admissions for Harvard, which is by far the richest university in the country. The money Harvard receives from these donors has allowed the university to expand its financial aid and recruit more low income and minority students, Fitzsimmons said in his fourth day of testimony Thursday, in a trial over a lawsuit filed by a group called Students for Fair Admissions, or SFFA.
"It is important for the long-term strength of the institution to have the resources we need," said Fitzsimmons, who attended Harvard in the 1960s and has worked in the admissions office since 1972. "I certainly wouldn't have been able to go to Harvard without a scholarship," he later added.
The trial in a Boston federal court that began this week is part of a new chapter in the decadeslong battle over affirmative action. However, the case turns an old argument that affirmative action results in reverse discrimination against whites, to a question of whether a pursuit of a diverse student body using these policies pushes out Asian Americans. The case, which is widely expected to end up at the Supreme Court in the next few years, is peeling back many of the uncomfortable trade-offs made in pursuit of what Harvard wants to see in each freshman class.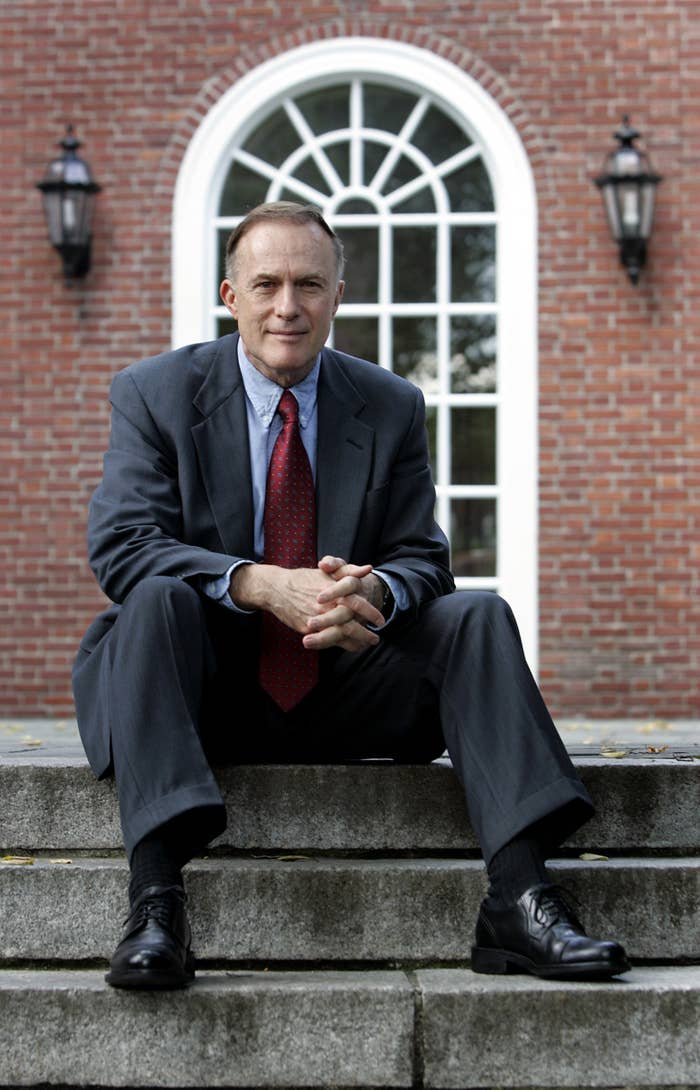 Harvard has argued their admissions process is virtually the same as it was 30 years ago, when the US Department of Education investigated it and cleared the university of doing anything illegal. The feds concluded in 1990 that while preferences for legacies and athletes "overwhelmingly benefits white applicants," and has "an adverse affect on Asian Americans, we determined that they were long standing and legitimate, and not a pretext of discrimination." An internal Harvard report in 2013 mirrored the government's finding, noting that because of the preference for legacies and athletes, "there are demographic groups that have negative effects."
SFFA's lawsuit argues that Harvard's admissions practices are biased against Asian American applicants, and much of the time that the group's lawyers spent questioning Fitzsimmons was focused on data drawn from reports prepared by Harvard's Office of Institutional Research.
Internal research concluded that if Harvard admitted solely on academics, the freshman class would be 43% Asian, 38% white, 0.67% black, and 2% Hispanic. But if Harvard did not take demographics into account, the percentage of black and Hispanic students would shrink from 10% and 9%, respectively, to just 2% and 4% — something SFFA's lawyers skipped right over.
Fitzsimmons at one point reflected on his time as an undergrad at Harvard 50 years ago: Men outnumbered women 4-to-1, he hardly saw any people of color on campus, and only a quarter of students received financial aid, he recalled. Today, 55% of the undergraduates take financial aid, he said in court, and Asian Americans comprised 22% of this year's freshman class, up from around 5% in the 1980s when Fitzsimmons became dean. (Asian Americans are not separated out in the data based on whether their heritage is from countries that are closer to Europe or those that are in Pacific.)
The "astonishingly diverse" student body today "changed Harvard for the better," Fitzsimmons said, making sure to name-drop Harvard alumni like Yo-Yo Ma and Angela Lee Duckworth.
On Wednesday, Fitzsimmons was questioned about how applicants end up on the "Dean's Interest List," which includes individuals he wants to keep track of as they move through the admissions process. He confirmed it included the children of alumni and donors, who were scored based on how important their connection was to Harvard. Being a legacy made an applicant roughly five times more likely to get accepted to Harvard, according to materials shown in court.
Redacted emails displayed at trial offered a glimpse at how this works. In one 2013 message, the Harvard Kennedy School dean wrote to Fitzsimmons, "Once again you have done wonders. I am simply thrilled about the folks you were able to admit," and noted that one donor "has already committed to a building." In another redacted email, a Harvard official wrote to Fitzsimmons that an applicant's grandfather, a 1939 graduate, gave millions of dollars over the years, but "Going forward I don't see a significant opportunity for further major gifts." That person was scored a 2, though being scored a 1 would've been better for the applicant's chances.
Harvard's argument thus far appears to be that its admissions process is so complicated, includes so many factors, and involves numerous steps involving upward of 100 people signing off on every single admit, that there is little room for bias against Asians to rear its head.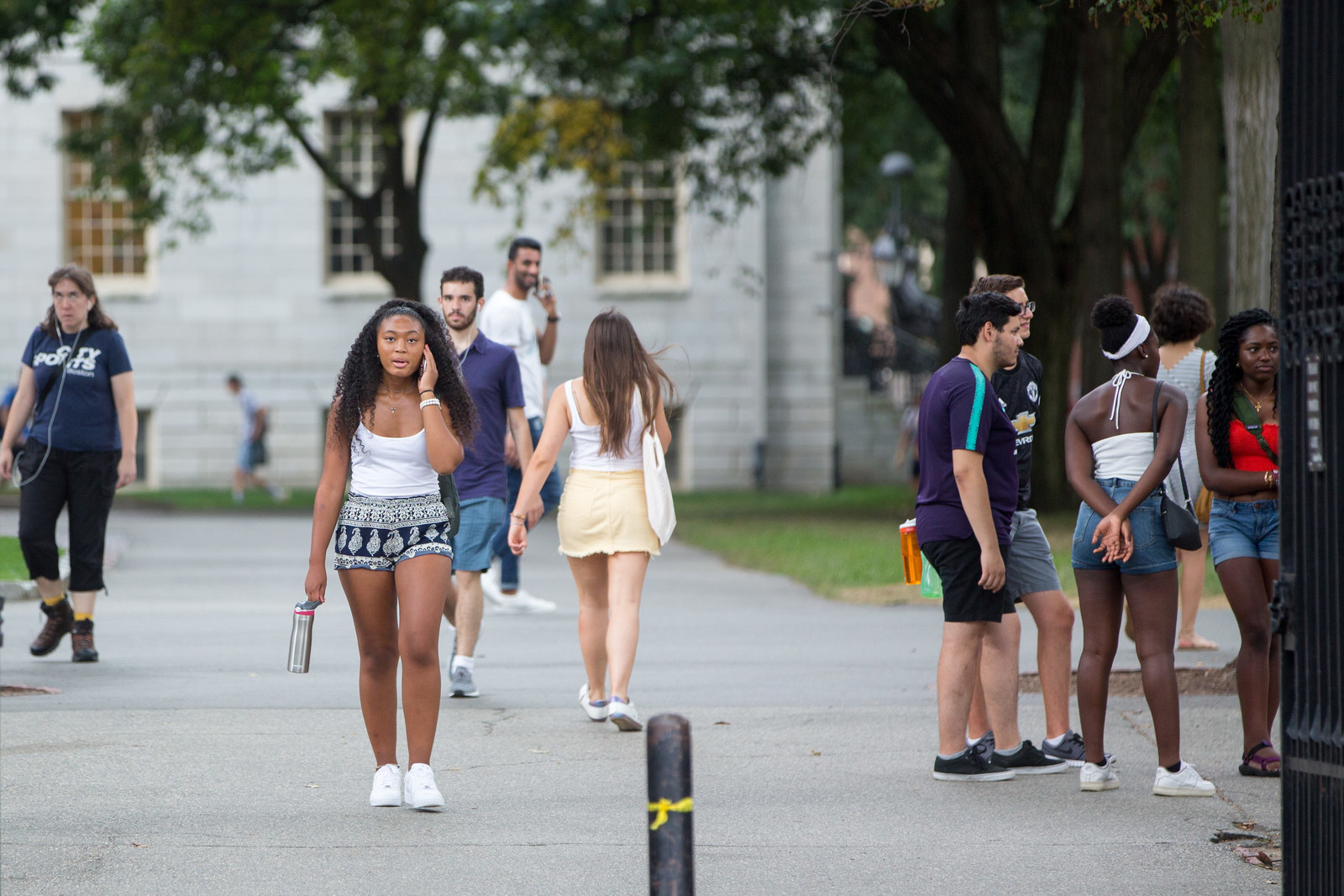 Harvard has 40 admissions officers, who review around 40,000 applications each year. They offer admission to roughly 2,000 applicants, each one voted on and approved by a committee of dozens. Fitzsimmons testified Thursday that he's never heard racial bias among the committee members in the past three decades.
Every prospective admit is scored in a number of categories, including one labeled "personal," in which Asian American applicants tend to score lower. The personal rating reflects subjective parts of the application process, like alumni interviews and teacher and guidance counselor recommendations, and is not supposed to include race.
The 2012 internal report discussed at trial showed that Asian Americans tended to do much better than white applicants on SAT scores and academics, but noticeably worse on the personal rating. That report also concluded that a high personal rating was the biggest factor that predicted whether an applicant was admitted, even more so than being a legacy or athlete.
However, Fitzsimmons repeatedly cautioned that no one factor is going to gain someone acceptance to the university, and every year they get 8,000 applicants with a perfect high school GPA. "Harvard was never simply about looking at someone's test and grades alone," he said.
SFFA's lawsuit is backed by Edward Blum, a conservative activist who championed the failed challenge to the University of Texas at Austin's affirmative action policy. The Trump administration filed a statement in court siding with SFFA in the suit. The Justice Department is probing Harvard's admissions practices, and the US Department of Education is separately investigating whether Yale's undergraduate admissions policies discriminate against Asian Americans.
Affirmative action in college admissions has repeatedly survived Supreme Court scrutiny, including as recently as 2016. Higher education institutions typically argue that a diverse student body helps underrepresented minorities, and benefits white kids by exposing them to different cultures. As long as race is only one of multiple factors used to admit someone, courts generally say that's fine by them.
But the last high court ruling upholding affirmative action was a narrow 4–3 vote. That majority opinion was written by Anthony Kennedy, who has now been replaced by Brett Kavanaugh, who worked against affirmative action as part of the George W. Bush administration.
The case is being heard only by a federal judge, not a jury, as it is a bench trial. US District Judge Allison Burroughs will not have to issue a ruling right away and is expected to deliver one early next year. Both sides are expected to appeal if they lose.
In the final questions during cross-examination by William Lee, a lawyer representing Harvard, Fitzsimmons reminded the judge that Harvard does not use quotas on any kind of demographic, something that would not pass legal muster.