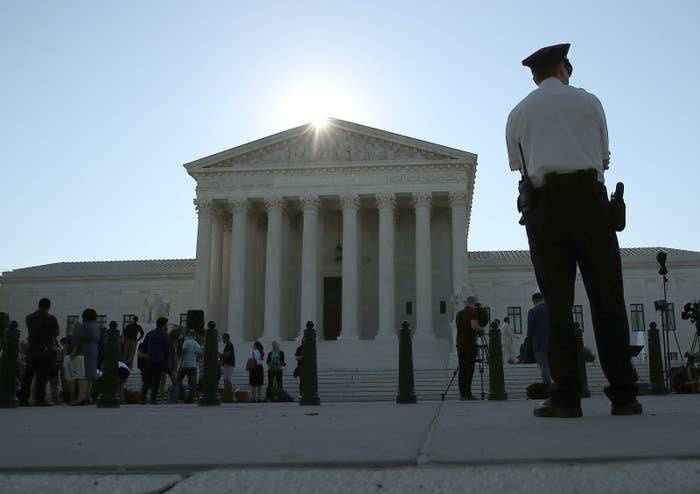 WASHINGTON — The Supreme Court upheld the University of Texas at Austin's race-conscious admissions program on Thursday in a closely divided decision.
Justice Anthony Kennedy wrote the 4–3 majority decision for the court.
In upholding the affirmative action plan at UT Austin, he wrote: "Considerable deference is owed to a university in defining those intangible characteristics, like
student body diversity, that are central to its identity and educational mission." He added, however, that there are limits to that, writing that "it remains an enduring challenge to our Nation's education system to reconcile the pursuit of diversity with the constitutional promise of equal treatment and dignity."
While noting throughout his decision the limits of the decision in terms of how it applies to other affirmative action policies, Kennedy also noted in his conclusion that Thursday's decision does not mean the policy at UT Austin is allowable indefinitely:
The Court's affirmance of the University's admissions policy today does not necessarily mean the University may rely on that same policy without refinement. It is the University's ongoing obligation to engage in constant
deliberation and continued reflection regarding its admis­sions policies.
Justice Samuel Alito wrote a lengthy opinion strongly dissenting from the court's decision, in which he was joined by Chief Justice John Roberts and Justice Clarence Thomas. Notably, Alito read an extensive part of his dissent from the bench — a practice reserved for cases in which a justice feels particularly strongly about their view.
"When UT decided to adopt its race-conscious plan, it had every reason to know that its plan would have to satisfy strict scrutiny and that this meant that it would be its burden to show that the plan was narrowly tailored to serve compelling interests," Alito wrote. "UT has failed to make that showing."
Thomas also wrote his own dissenting opinion, reiterating his view that "a State's use of race in higher education admissions decisions is categorically prohibited by the Equal Protection Clause."
Justice Elena Kagan did not participate in consideration of the case because she had been involved in the Obama administration's consideration of the case when she served as solicitor general.
UT Austin uses a so-called "Top Ten" plan for three-quarters of its admissions, granting entry to any student in the state who ranks within the top 10% of their high school class. The university admits the remaining quarter through a "holistic review" process that includes race among several other factors considered for admission.
Abigail Fisher, a white student denied admission to the school in 2008, had sued over the university's use of race in admissions. The case initially was heard by the justices in 2012, leading to a 2013 decision sending the case back to lower courts for further review in applying the strict scrutiny standard that courts are to use when considering challenges to government policies that distinguish based on race.
When the 5th Circuit Court of Appeals again upheld the policy, Fisher sought and was granted a second review of her case by the Supreme Court. When the court heard arguments in the case this past December, it appeared that the justices — particularly Kennedy — could end up with another ruling that avoided a final decision in the case and sent it back down to the lower courts for, this time around, further factual development.
On Thursday, however, the court instead decided to end the case, with Kennedy joining his more liberal colleagues in upholding the policy.
"Under the circumstances of this case," he wrote, "a remand would do nothing more than prolong a suit that has al­ ready persisted for eight years and cost the parties on both sides significant resources. Petitioner long since has graduated from another college, and the University's policy—and the data on which it first was based—may have evolved or changed in material ways."
Alito, in his dissenting opinion, criticized Kennedy and the majority on this point, writing, "I have no greater desire than the majority to see the case drag on."
Nonetheless, he wrote, "[I]f the majority is determined to give UT yet another chance, we should reverse and send this case back to the District Court" for the evidentiary development that Kennedy had suggested at oral arguments that he was potentially interested in seeing.