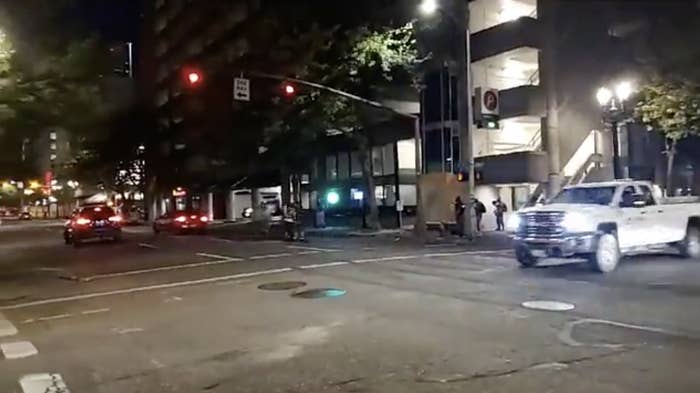 The mayor of Portland called on President Donald Trump to condemn violence after one person was shot and killed in the city's downtown following clashes between a caravan of Trump supporters and anti-racism protesters Saturday night.
"This would be a really good time for all of us to stand together to lock arms to denounce the violence," Ted Wheeler said during a press conference Sunday afternoon as Trump posted a series of tweets calling him a "dummy" and a "fool."
"Let's work together," Wheeler said. "Wouldn't that be a message? Donald Trump and Ted Wheeler working together to help this country move forward. Why don't we try that for a change?"
There is no suspect in custody. Portland Police Chief Chuck Lovell said during the press conference that he could not yet release the victim's name and that at the time he couldn't say whether the shooting was politically motivated.
Trump retweeted a supporter who identified the victim, but BuzzFeed News has not confirmed the identity of the person who was killed.

Saturday night's shooting is the second shooting in less than a week involving militias or Trump supporters responding to the nationwide protests against systemic racism and police brutality that have been going on for months. The shooting in Portland came days after Trump hosted a Republican National Convention filled with fearmongering about the protests.
Hundreds of Trump supporters organized in a nearby mall and rode in a vehicle caravan though the area, facing off with protesters.

"As vehicles inched along streets on both sides of the Willamette River, pedestrians and vehicle occupants periodically exchanged words. At times fights broke out; there were some minor collisions. Portland police responded to scenes of fights, disturbances and collisions throughout downtown and made some arrests," the Portland Police Bureau said in a statement.

As the caravan rode through downtown, the Trump supporters fired paintball pellets and bear spray at the protesters. Protesters tossed objects at the Trump supporters, according to the AP and New York Times, which had reporters at the scene.

The caravan cleared out of downtown by about 8:30 p.m. local time, police said.
Sixteen minutes later, police responded after nearby officers heard gunshots and found a man lying in the street, shot in the chest. Medical units determined he was dead.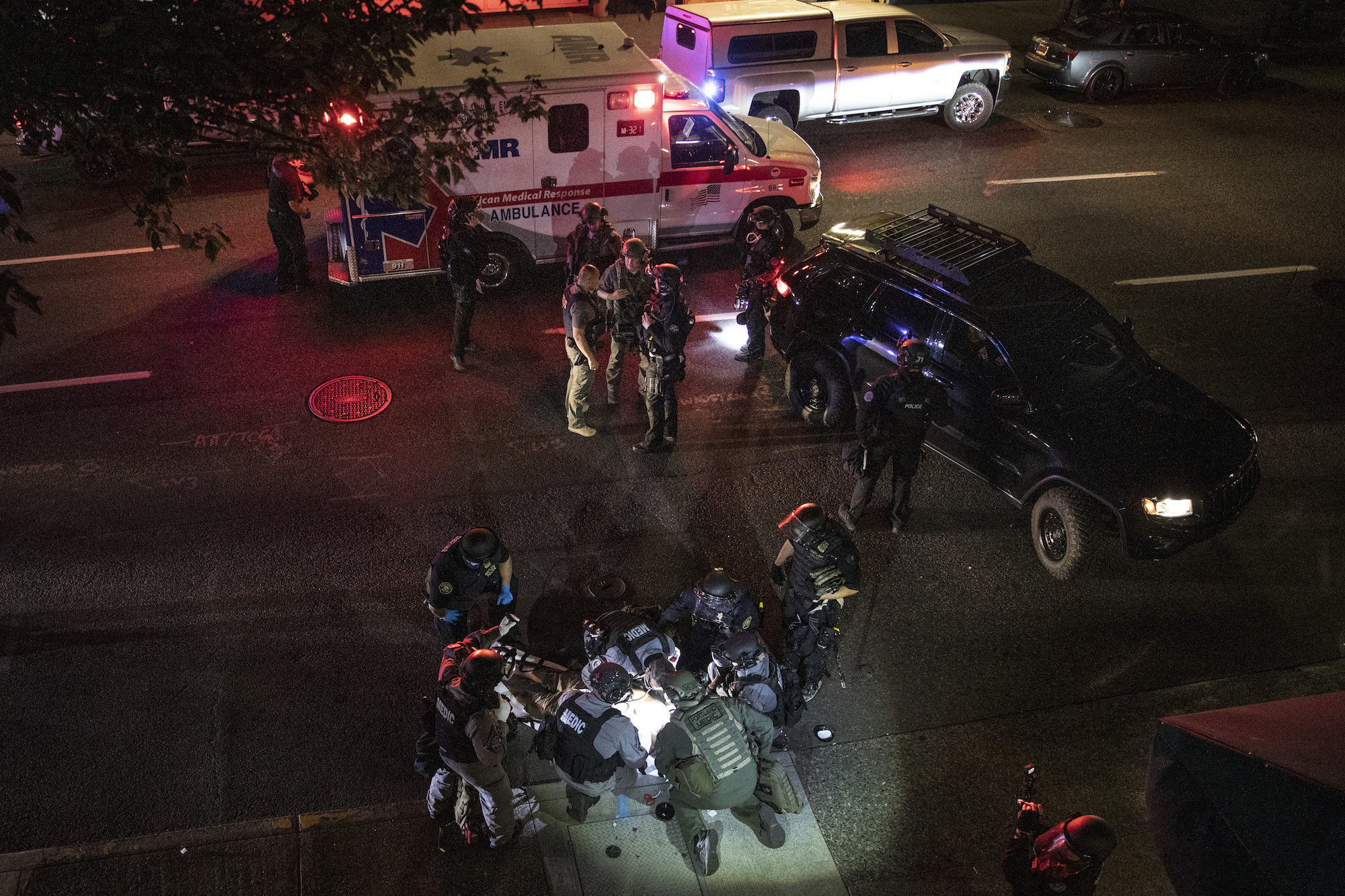 Groups of people continued fighting in the streets for the next two hours, according to the police account.

An AP freelance photographer at the scene told the wire service that the man who was shot was wearing a hat with the name Patriot Prayer, which is a far-right group that generally supports Trump and opposes protesters who call for an end to police brutality. People on social media also said he was wearing a "thin blue line" patch on his shorts, which indicates support for "Blue Lives Matter," a counter to Black Lives Matter that supports police.
A live video on Facebook that appeared to capture the shooting showed several people walking around outside a parking garage. Yelling can be heard before two gunshots are fired and people run away from the area. The man who appeared to have been shot is seen walking a few steps before collapsing in the street.
Justin Dunlap, who filmed the video, told BuzzFeed News he was walking to the Multnomah County Justice Center, where anti-racism protesters have been demonstrating for months, when he witnessed the shooting.
"There was a bunch of yelling and then I heard, 'Do you want to go?' or 'Do you want to do this?' ... and then the mace came out and then the gunshots," Dunlap said by phone Sunday morning, adding that the man who was shot sprayed the mace-like substance, which looks like a green cloud in the video.
Dunlap said two men, a man in a white shirt and another man in all black, were sprayed but he couldn't see who fired the gun.
"I've watched it a hundred times and I can't tell where the gunshots came from," he said.
Throughout the hourlong news briefing Sunday, Portland officials advised that information being shared on social media about the shooting was not based on facts and urged people not to jump to conclusions about what happened.
"A human being lost their life last night and it's critical that everyone refrain from conjecture," Lovell said.
Wheeler urged anyone seeking retribution for the shooting to stay away from the city, saying that not only were the facts surrounding the incident not yet clear but that more violence was not the answer.
"You of course have a constitutional right to be here, but we're asking you to stay away and work with us … to deescalate this situation," he said. "One death is one death too many. Join me in denouncing all violence."
Trump, in a torrent of tweets and retweets on Sunday morning, called the caravan members "great patriots" and called protesters "disgraceful anarchists" — continuing to polarize people around the nation instead of trying to bring people together. He continued to call for the National Guard to be called into Portland.
Trump was not nearly as vocal about the shooting last week in Kenosha, Wisconsin, when a teenager who has attended a rally of his opened fire, killing two and injuring another.
Trump on Sunday morning retweeted scores of far-right figures who are known to spread bad or self-serving information. One post that was deleted called Wheeler, the mayor of Portland, a "useless fucking idiot," and Trump retweeted with the comment, "tone down the language, but TRUE!"
Later on, as Wheeler spoke, Trump tweeted, "The only way you will stop the violence in the high crime Democrat run cities is through strength!"
"The people of Portland, like all other cities & parts of our great Country, want Law & Order," the president said. "The Radical Left Democrat Mayors, like the dummy running Portland, or the guy right now in his basement unwilling to lead or even speak out against crime, will never be able to do it!"
Wheeler slammed Trump for attacking Democratic mayors "and the very institutions of democracy" that the nation was built on, criticizing him for inciting violence throughout his time in office.
"Do you seriously wonder, Mr. President, why this is the first time in decades that America has seen this level of violence?" Wheeler said. "It's you who have created the hate and the division. It's you who have not found a way to say the names of Black people killed by police officers ... and it's you who claimed that white supremacists are great people."
In a statement released Sunday afternoon, former vice president Joe Biden offered his condolences to the victim's family and criticized Trump for "fanning the flames of hate and division" and "using the politics of fear to whip up his supporters."
"The deadly violence we saw overnight in Portland is unacceptable," Biden said. "I condemn this violence unequivocally. I condemn violence of every kind by anyone, whether on the left or the right. And I challenge Donald Trump to do the same."
Dunlap, a theater lighting designer from Vancouver, Washington, who has been documenting the protests in Portland on his Facebook since mid-July, called the shooting "horrible."

"The loss of life is tragic in any aspect," he said. "I've been under pepper ball fire, baton rounds fired right over my head, teargas launched at my feet and I would take all of that a thousand times over the way last night ended."

Dunlap said he feared what the reaction to the shooting will be in the streets in the next week.
"This is not going to go well," he said.