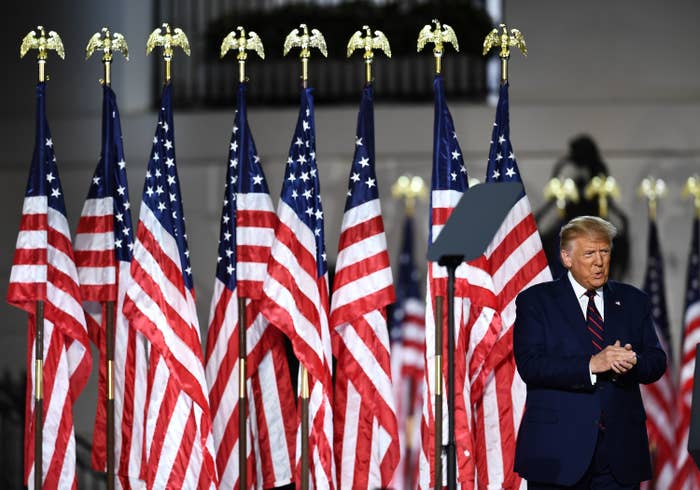 WASHINGTON — Donald Trump said America was a mess in 2016 and four years later, running for reelection as president, he has the same message: America is a mess.
In his speech accepting the Republican presidential nomination on the final night of the party's convention Thursday, Trump described a country that, while overcoming some challenges, is still facing chaos and "mayhem" across its major cities. Republicans who spoke before Trump, both on Thursday night and in the days before, described "mobs" taking over cities and censoring Americans' speech and law enforcement officers in constant danger. It's the very thing Trump pledged to rid the country of four years ago when he accepted the Republican presidential nomination in Cleveland, promising the restoration of "law and order."
"Nobody knows the system better than me," he said then of America's "rigged" politics, "which is why I alone can fix it."

And yet, four years later, much remains unfixed, according to Trump and most of the speakers during this week's Republican National Convention.

"There is violence and danger in the streets of many Democrat-run cities throughout America," the president said Thursday night on the White House's South Lawn.
His acceptance speech featured some of the self-celebration more typical of a case for reelection, from the pre-pandemic economy to his efforts against terrorism. But gloom still spilled into his remarks, and gloom was the centerpiece of the speeches from many of the Republicans who spoke before him this week. Faced with a Democratic opponent in Joe Biden who's edging him out in polls and a global pandemic, Trump, in his 2020 acceptance speech, frequently returned to the warnings from 2016, placing blame for increased violence in American cities at the feet of local leaders and political opponents, and absolving his own government.
The speakers at the Republican convention over the past four nights have also created several contradictory realities. In this one, Trump, in power for the past four years, is the ultimate protector of the American people and even "western civilization" as a whole. Meanwhile, Republicans say, Trump, in power for nearly the past four years, is presiding over a nation in darkness and chaos, scourged by "mobs," "mass chaos," and "anti-law enforcement bias."
In effect, Trump and other speakers this week said, America's cities have descended into violence during Trump's presidency, and only another four years of Trump as president can prevent things from getting worse.
"If the radical left takes power, they will apply their disastrous policies to every city, town, and suburb in America," Trump said.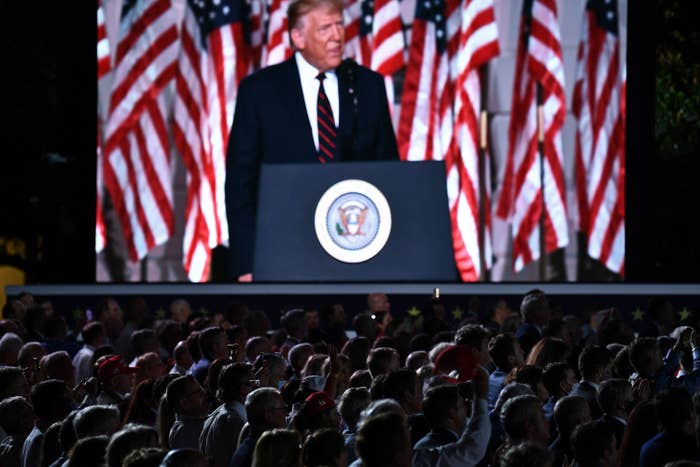 Even after Trump's declaration at his January 2017 inauguration that "this American carnage stops right here," Republicans this week have warned that the nation is actually in imminent peril.
The final night of the convention was dedicated in part to honoring law enforcement, and speakers presented a grim outlook if voters don't give the president another chance at fixing things.
"Like cops across this country, we are staring down the barrel of a public safety disaster," Pat Lynch, the president of the New York City Police Benevolent Association, said in a prerecorded message. The police union endorsed the president earlier this month — a first, Lynch said, in nearly four decades.
Trump has the NYPD's back, in Lynch's telling, but the "radical left" that is functionally running New York City's streets has a message: "Police officers are the enemy."
"It has never been harder to be a police officer in this country," Lynch said.
Trump himself in 2016 promised that police would not find themselves in that position if he was elected president.
"I have a message to every last person threatening the peace on our streets and the safety of our police," Trump said at the last Republican convention. "When I take the oath of office next year, I will restore law and order to our country. Believe me, Believe me."
Rudy Giuliani, the former mayor of New York City and a longtime Trump ally, described a country in his Thursday night speech that still lacks "law and order." He said the "continuous riots in American cities" give a "good view" of what America's future would be under Joe Biden.
"It is clear that a vote for Biden and the Democrats creates the risk that you will bring this lawlessness to your city, to your town, to your suburb," he said.
"Look at what's happening in American cities," Republican Rep. Jim Jordan said during Monday's program. "Cities all run by Democrats: crime, violence, and mob rule."
The wife of David Dorn, a slain retired officer in St. Louis, Missouri, gave a graphic account of her husband's death, allegedly at the hands of looters of a pawn shop.
"Violence and destruction are not legitimate forms of protest," she said. "They do not safeguard Black lives. They only destroy them. President Trump understands this, has offered federal help to restore order in our communities. In a time when police departments are short on resources and manpower, we need that help. We should accept that help. We must heal before we can effect change, but we cannot heal amid devastation and chaos."
Rarely were the underlying forces of this year's protests mentioned. George Floyd, who was killed by a police officer in a video seen the world over, is the reason for much of that rage — against systemic racism, against law enforcement officials killing or maiming Black people. Trump alluded to "rioting, looting, arson, and violence" in Kenosha, Wisconsin, in his speech, but did not say the cause: Jacob Blake, a Black man, being shot seven times in the back by a white officer on Sunday night.
Many RNC speakers sought to reframe the current nationwide anger against systemic racial justice and police brutality into a violent visual of "burning cities" and "vengeful mobs" overrunning the streets.
"Riots and rage" rule the streets, former US ambassador to the UN Nikki Haley said earlier in the week. California, Donald Trump Jr.'s girlfriend Kimberly Guilfoyle said, has become "a land of discarded heroin needles in parks, riots in streets, and blackouts in homes." The very notion of "freedom," a Republican congressional candidate said, "is at stake."
No speaker illustrated the dire view of America clearer than Mark and Patricia McCloskey, the litigious St. Louis couple who were charged with unlawful use of a weapon after they were filmed pointing guns at Black Lives Matter protesters who marched past their home.
The McCloskeys employed the frequent RNC dog whistle of "mobs" descending on "quiet neighborhoods" and peaceful communities descending into "chaos and violence," as they fear-mongered about suburbs being abolished.

"What you saw happened to us could just as easily happen to any of you who are watching from quiet neighborhoods around our country," Patricia McCloskey warned.
In a statement Biden released hours before Trump's Thursday speech, the former vice president noted that "every example of violence [Trump] decries has happened on his watch."
"Instead of looking to calm the waters, he adds fuel to every fire," Biden said in the statement. "Violence isn't a problem in his eyes — it's a political strategy. And the more of it, the better for him."
"There is no place for violence, looting, or burning," Biden added. "None. Zero."
In the end, Trump accepted the Republican nomination on Thursday after depicting a country still overwrought with chaos. And he did so while ending with a promise almost identical to the one he made at the end of his first acceptance speech in 2016.
"And on Nov. 3, we will make America safer, we will make America stronger, we will make America prouder, and we will make America greater than ever before!"
Henry J. Gomez contributed additional reporting for this story.