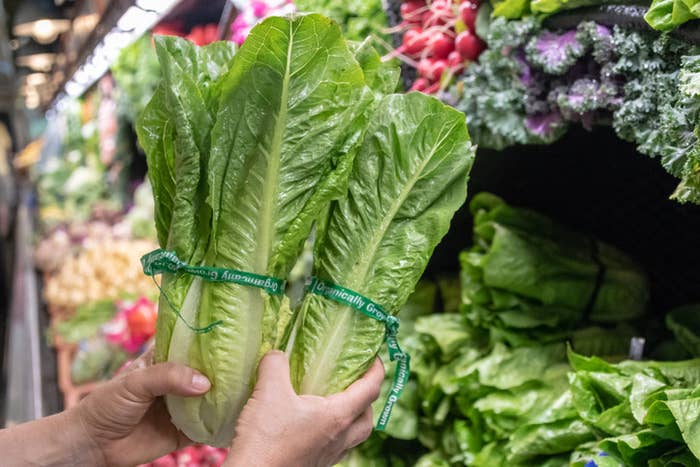 Romaine lettuce is currently not safe to eat because it may be contaminated with E. coli, a dangerous type of bacteria.
The CDC issued a warning on Tuesday that people have been getting sick — sometimes seriously — from eating romaine lettuce contaminated with a dangerous type of E. coli.
So far, 32 people in 11 states have gotten sick, and of those, 13 have been hospitalized. An additional 18 cases have been seen in two provinces in Canada.
No one has died during the outbreak, according to the CDC, but five people died in a similar, larger outbreak of E. coli linked to romaine lettuce earlier this year.
The type of E. coli in the current outbreaks is known as E. coli O157:H7 and is particularly hazardous because it can produce a toxin that causes severe, sometimes bloody, diarrhea and a condition called hemolytic uremic syndrome, which can lead to kidney failure. Other symptoms of E. coli infection can include vomiting and severe stomach cramps.
One person in the current outbreak has developed hemolytic uremic syndrome, which causes symptoms like fever, decreased urination, fatigue, and unusual bruising and bleeding.
"Consumers who have any type of romaine lettuce in their home should not eat it and should throw it away, even if some of it was eaten and no one has gotten sick," the CDC said in an alert.
The warning includes every type of romaine, including precut lettuce and salad mixes such as baby romaine, spring mix, and Caesar salad, the CDC said. Whole heads of lettuce and hearts of romaine are also potentially a problem.
If you're not sure if a salad mix contains romaine lettuce, you should throw it away just in case. And restaurants and other food outlets should not serve romaine to customers, the agency said.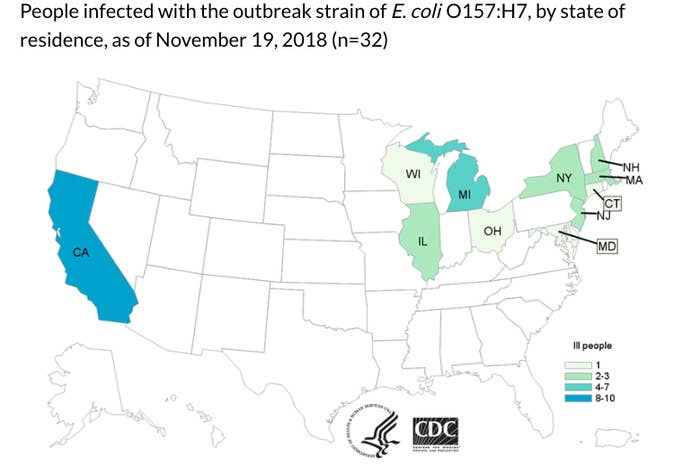 This outbreak is unrelated to the large one that happened earlier this year, the CDC said. By the time that outbreak linked to E. coli–contaminated romaine was declared to be over in June, five people had died and 210 people had gotten sick in 36 states.
The bacteria's source was hard to trace and stumped officials for months. Eventually, it was traced to contaminated water used on farms in the growing region of Yuma, Arizona, but was never isolated to a single grower, processor, or distributor.
E. coli is naturally present in the digestive tracts of animals like cattle and poultry, and some strains are relatively harmless, while others like O157:H7 are much more dangerous. Fecal material from infected animals can contaminate lettuce via soil or water, or during the harvest and processing of leafy greens.
In the current outbreak, patients have ranged in age from 7 to 84, and got sick between Oct. 8–31. Because it can take two to three weeks to report cases to the CDC after someone gets sick, there may be additional cases, officials said.