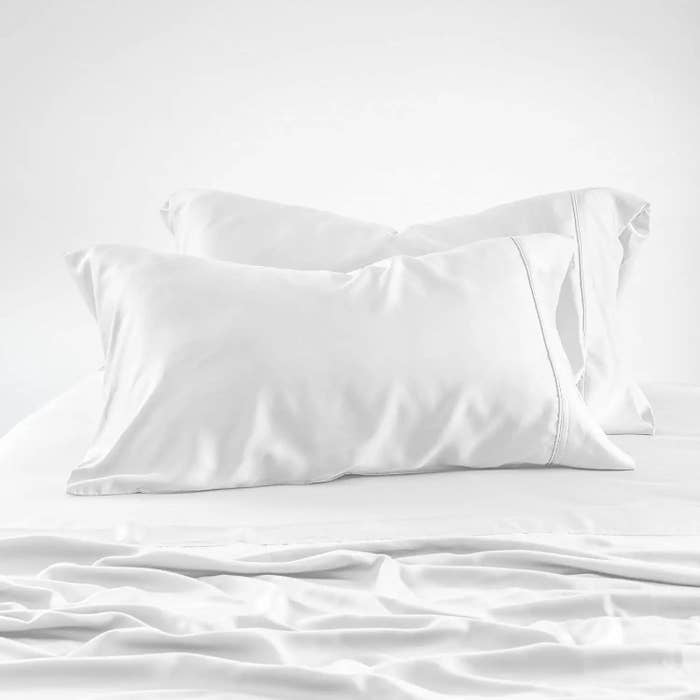 BuzzFeed may collect a share of sales or other compensation from the links on this page if you decide to shop from them. All products were independently selected by our editors, and the prices were accurate and items in stock at the time of publication.

Most of us are familiar with the basic rules of skin care, like always washing your makeup off before bed, incorporating a retinol in your routine and staying diligent with SPF. One thing that is often overlooked is how you sleep and, more specifically, what you are sleeping on.

The fabric of your pillowcase plays a role in the premature formation of wrinkles and overall skin health.
"Silk pillowcases are better for your skin," Dr. Michael Jacobs, medical technology director at Cortina and a clinical associate professor of dermatology at Weill Cornell Medical College, previously told HuffPost. "There's less friction between your skin and the pillow, which reduces the negative effect that it can have on your skin."
Joie Tavernise, a medical esthetician and founder of JTAV Clinical Skincare, explained that because silk bedding is softer than cotton, it won't tug or pull at the skin as you move around during sleep and the skin remains flat as opposed to bunching and forming those sleep lines you get after a really good nap.
"Silk also absorbs less moisture than cotton or microfiber, so it won't suck the hydration or night products from your skin overnight," Tavernise added.
(A note about care: Silk may sound intimidating or expensive to clean, but unless otherwise noted, these pillowcases can either be tossed in with your laundry on a delicate cycle or hand-washed.)
Shop a list of 100% silk and natural silk alternative pillowcases below.
Tafts: An organic 22-momme silk pillowcase and matching eye mask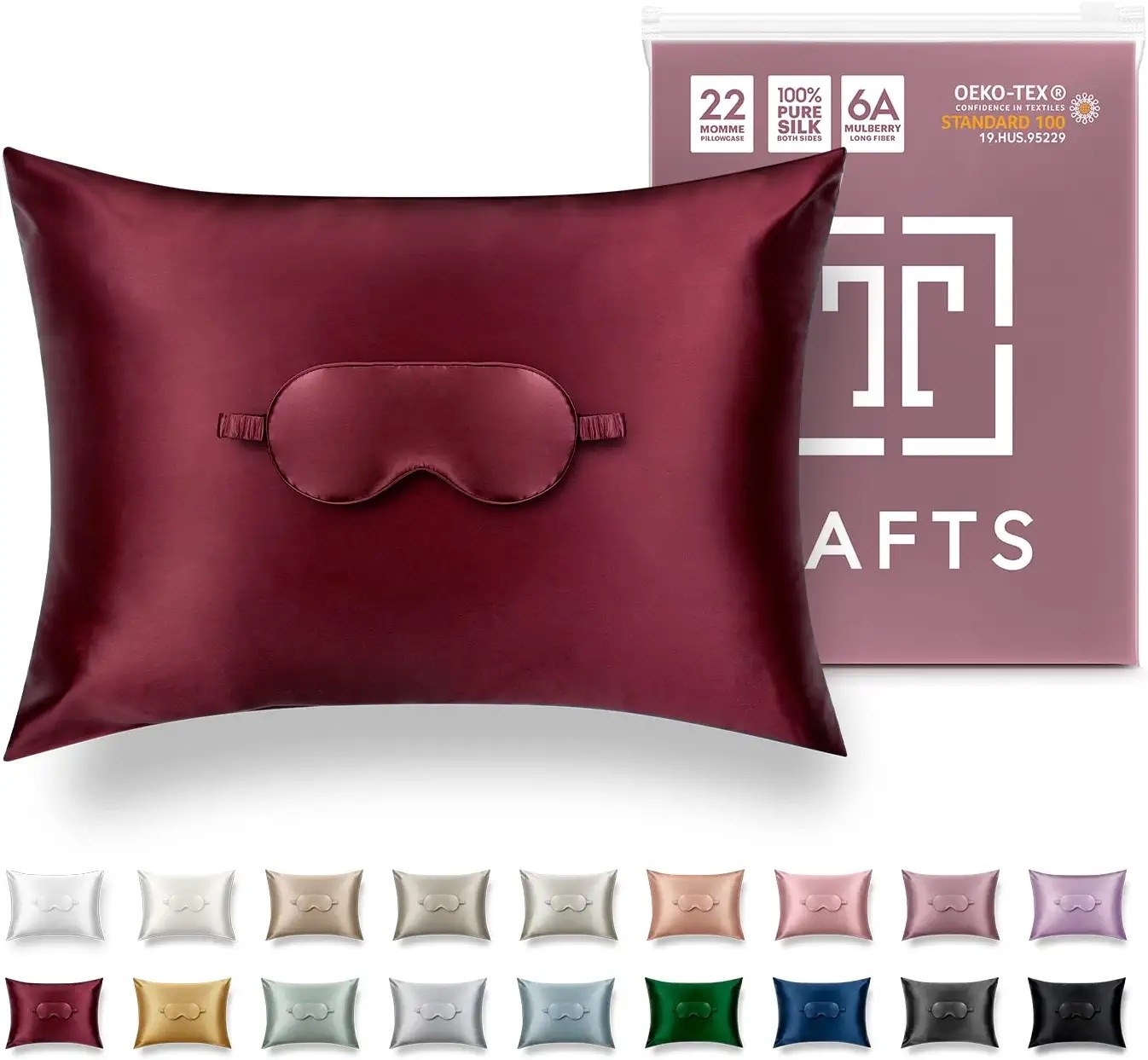 "Using a silk sleeping eye mask can significantly reduce the formation of wrinkles by protecting the most delicate part of your skin around your eyes," said dermatologist Michael Jacobs.

This zippered-closure 22-momme pillowcase comes with matching double-sided sleep mask made from the same organic Mulberry silk. The American Sleep Association recommends searching for a 100% Mulberry silk sheet with a rating of 15 momme or above. The higher the momme, the stronger and more durable the weave.

The set is available in 17 color options.
Brooklinen: A skin-friendly Mulberry silk pillowcase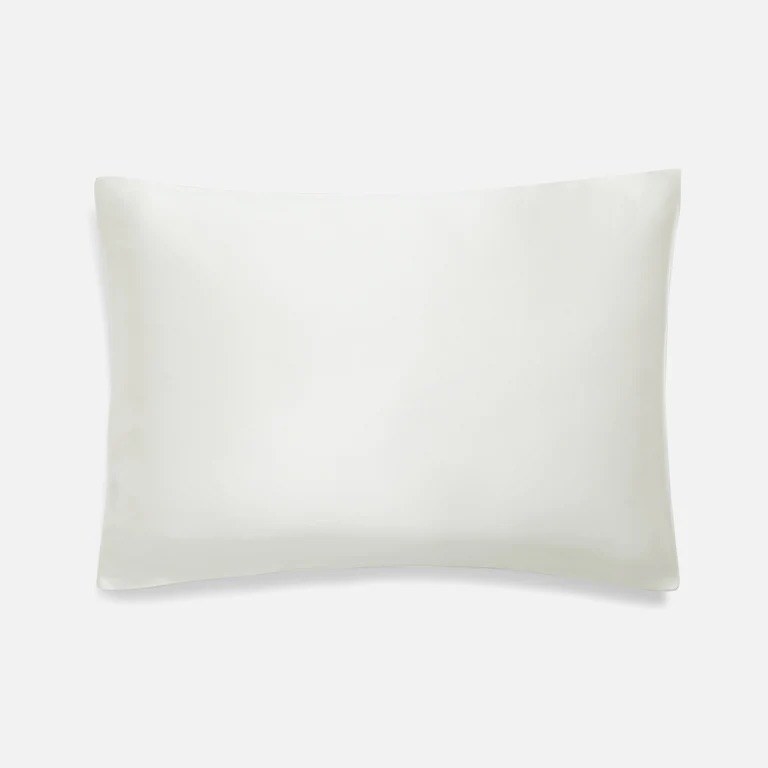 This 100% Mulberry silk envelope-closure pillowcase from Brooklinen comes in a variety of patterns and colors, and due to the anti-friction nature of silk, it can protect hair and skin from damage. It's also machine-washable when using cold water and pH-neutral laundry detergent.

Fishers Finery: A set of two high-momme 6A-grade silk cases
This luxurious pair of 100% 6A-grade Mulberry silk cases has a momme of 30, which means a tighter weave and higher density of silk. They feature a slightly oversized fit with an envelope closure and are available in four color options.

Zima Silk: A popular 19-momme case at a reasonable price point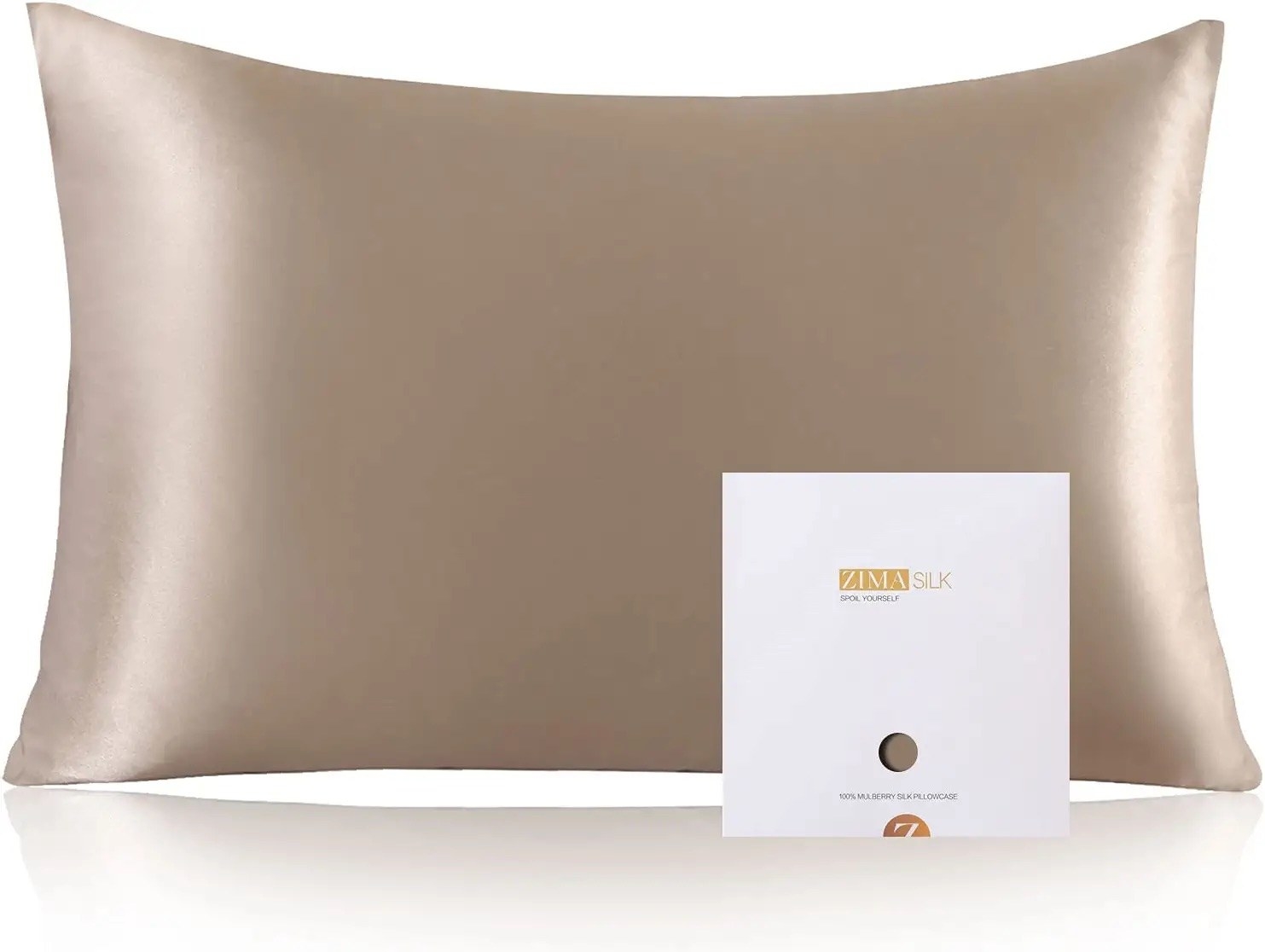 This 100% Mulberry silk pillowcase by Zima Silk has close to 29,000 five-star-ratings on Amazon, is resistant to fading and has a zippered closure. It's available in six sizes, including for body pillows and throws, and is offered in 34 different colors and patterns.

Jimoo: A natural silk pillowcase that has been highly rated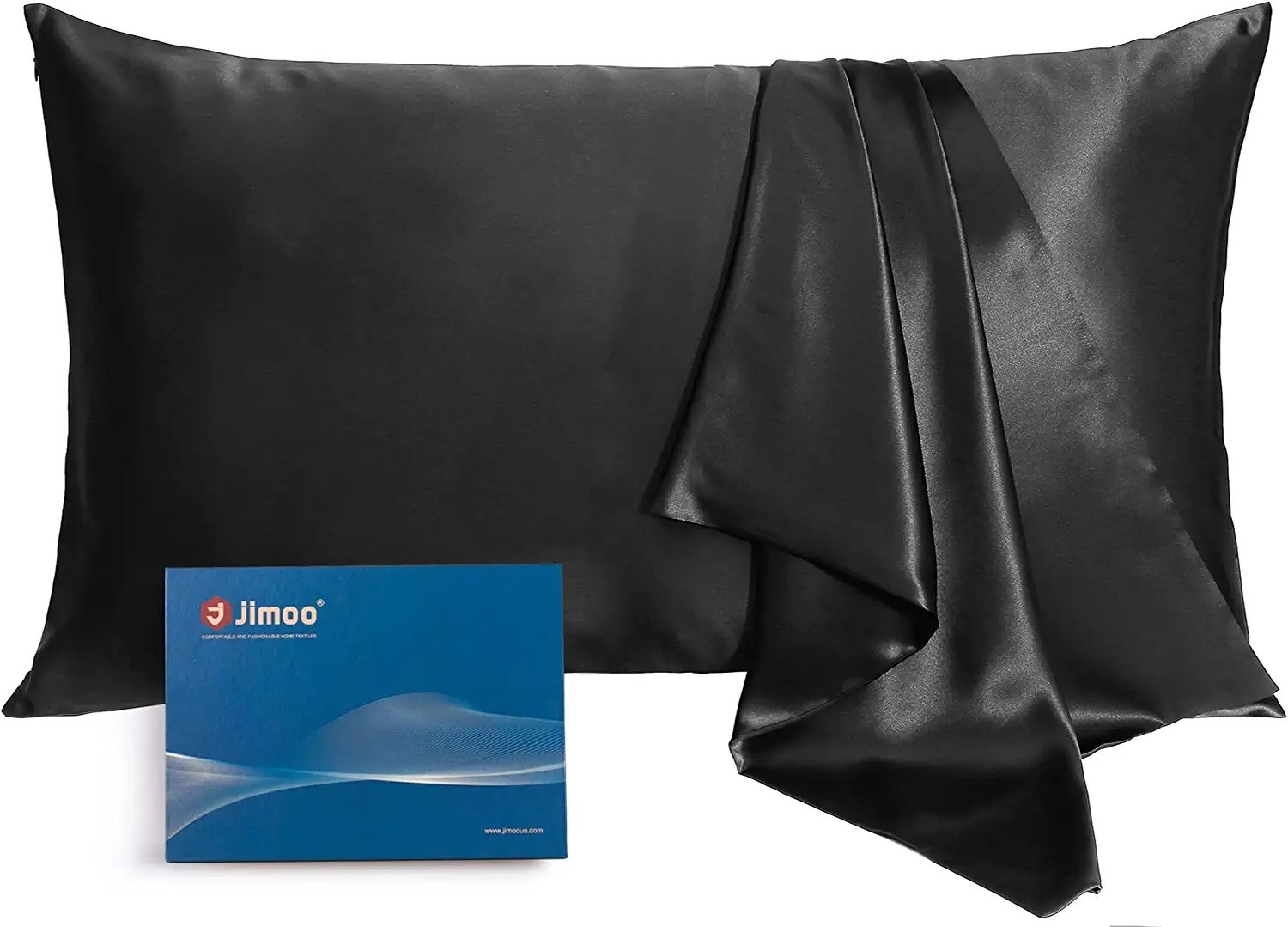 Made with 100% mulberry silk spun by domesticated silkworms, this pillowcase has a momme of 22 and it's available in three sizes and 20 colors including lavender, midnight blue, champagne and saffron yellow. It also has a discrete zippered closure to keep the case in place all night long.

Eucalypso: An Oeko-Tex certified set of eucalyptus pillowcases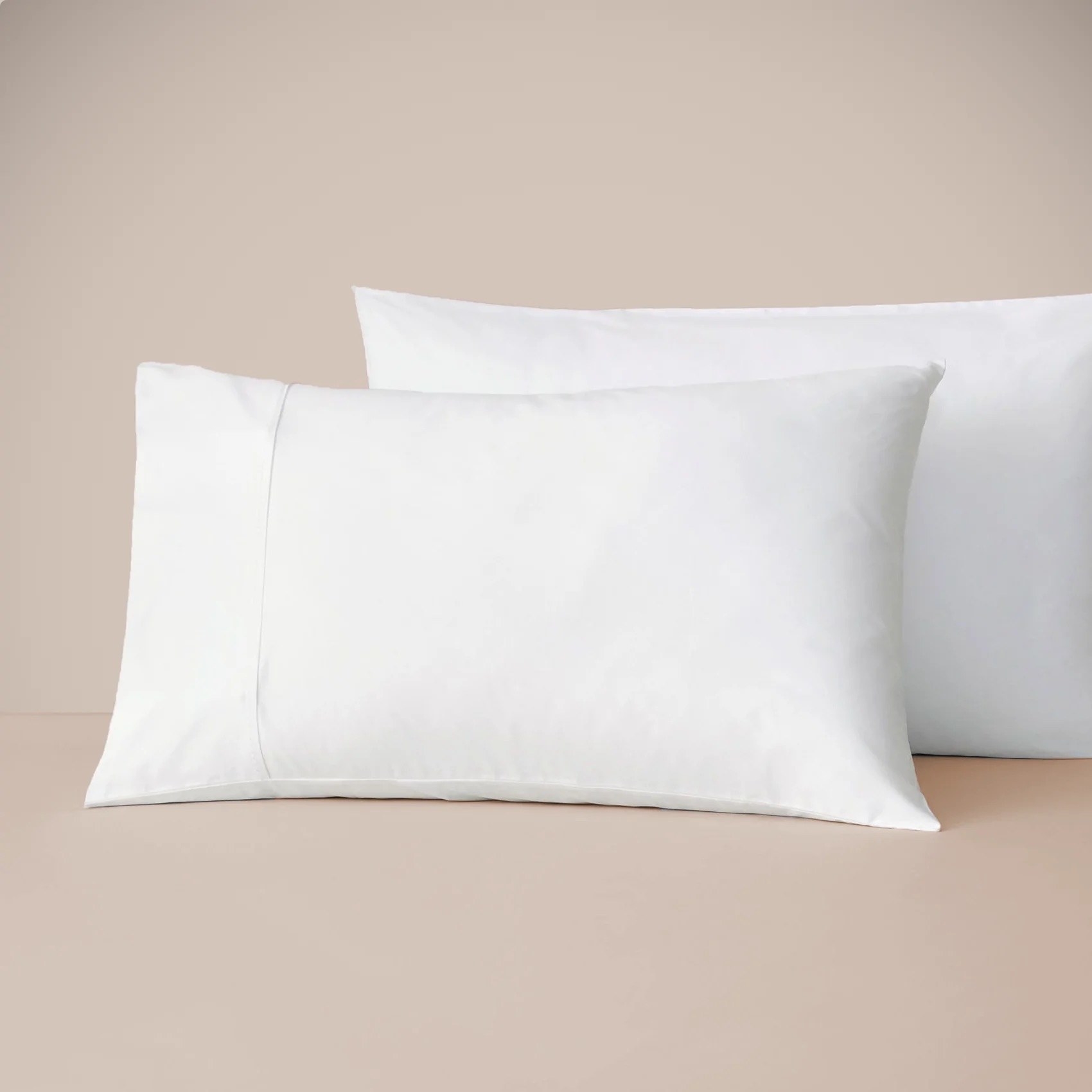 These silky hypoallergenic and antibacterial silk alternative sheets are made using 100% premium lyocell fibers from eucalyptus that effectively mimic the temperature-regulating quality of silk. This sustainably processed material is three times more breathable than cotton and has moisture-wicking abilities to help keep the body cool while also being great for sensitive or acne-prone skin. These cases by Eucalypso are available in two sizes and seven colors including rust, spring green and light gray.

Thnxsilk: An affordable Mulberry silk case with lyocell backing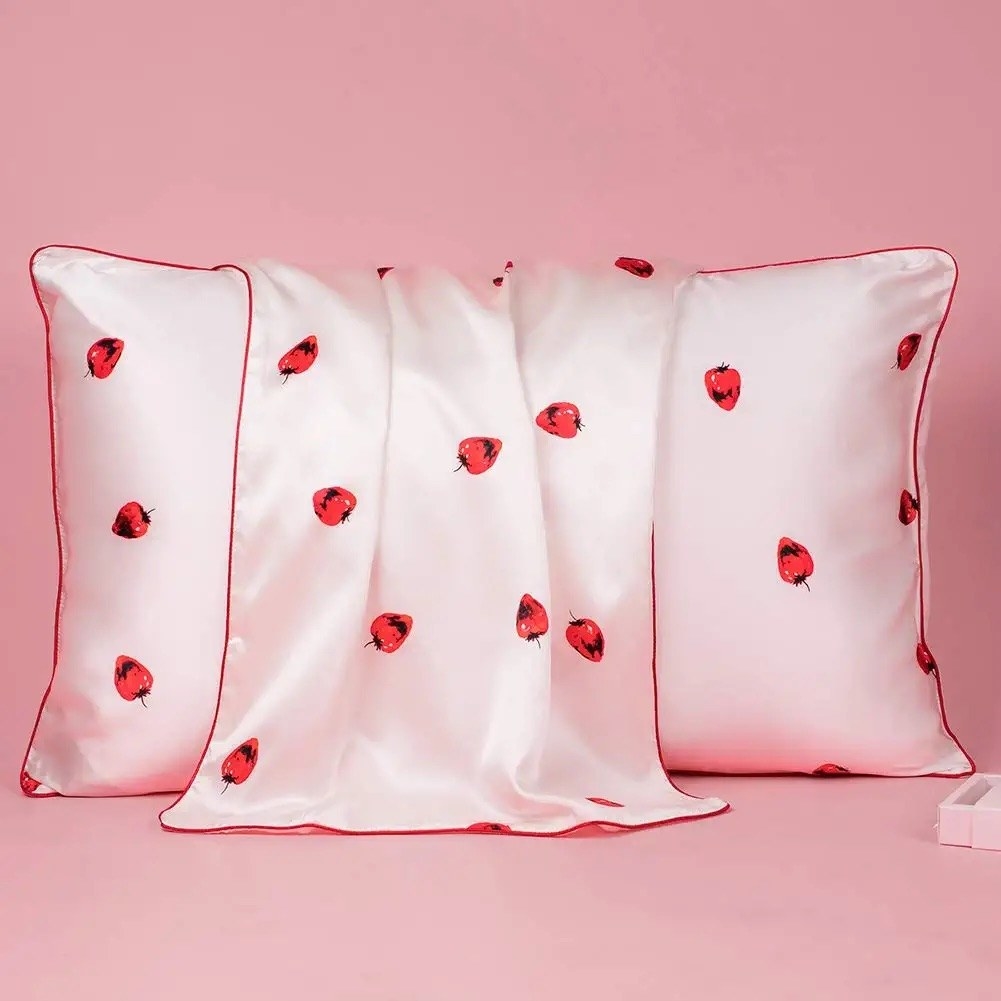 This machine washable pillowcase by Thnxsilk features a fun strawberry print with red piping and is made with 100% 19-momme silk on one side and lyocell on the other. Lyocell is a highly breathable fabric and cooling fabric with similar properties to silk and both materials have been Oeko-Tex certified. This pillowcase is available in three sizes.

Celestial Silk: A luxurious Mulberry silk charmeuse pillowcase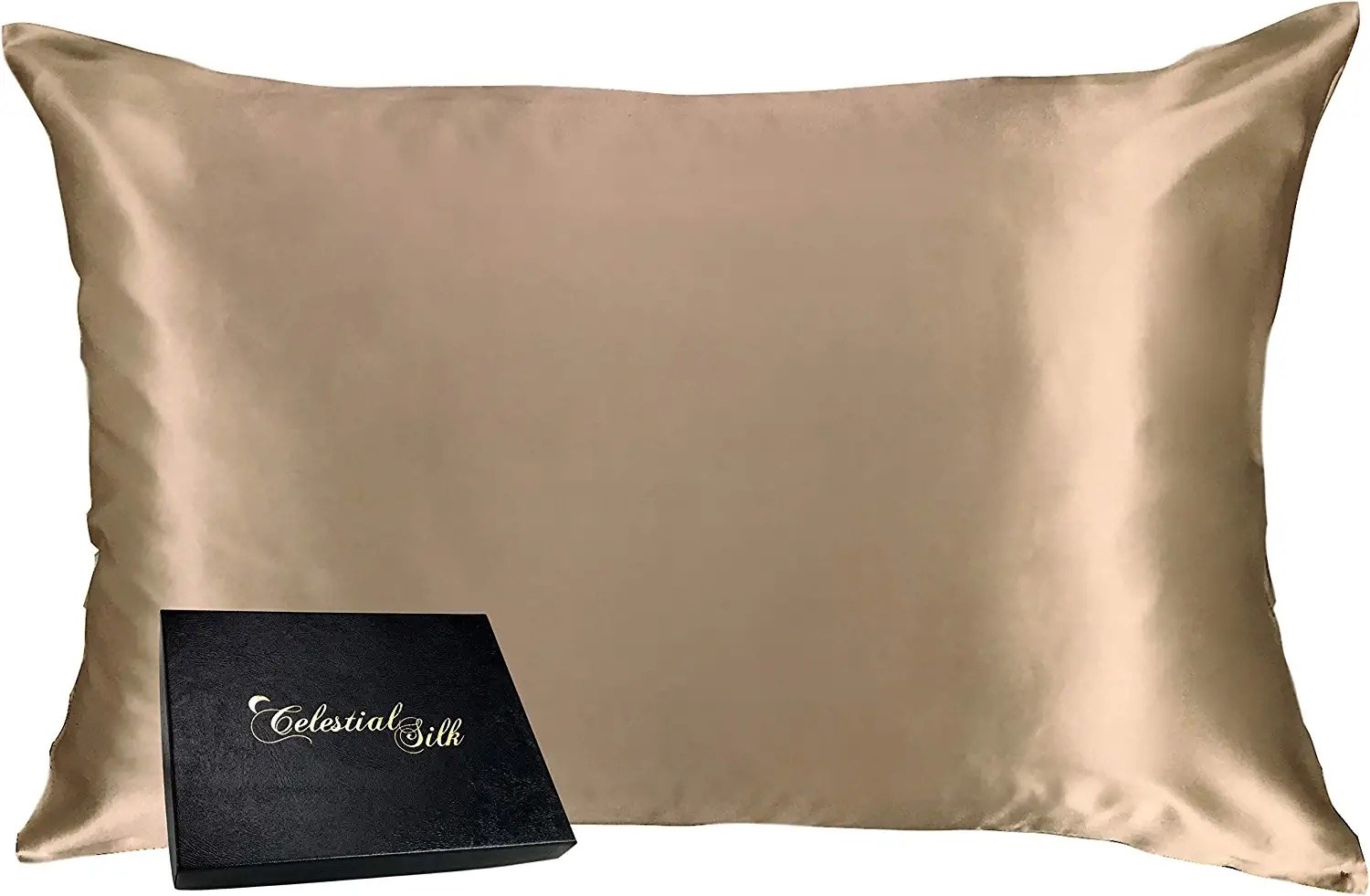 This case is made using a supple charmeuse weave that helps skin feel moisturized and hair frizz-free. It has a momme of 22 and a hidden side zipper to keep it in place while you sleep. It's available in three sizes and 26 colors like taupe, cream, coral and sea-foam green.

Ettitude: A pair of cooling and sustainable CleanBamboo sateen cases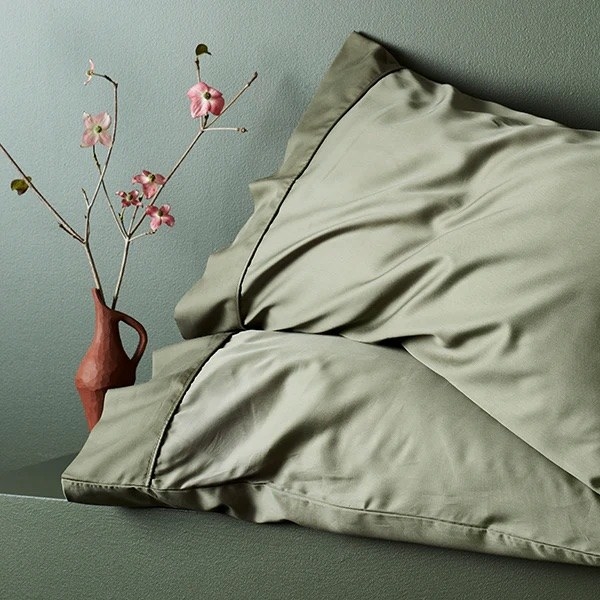 Ettitude's signature sateen sheets are sustainably crafted using cleanly sourced bamboo lyocell which is cooling, soft and breathable, just like silk. The similar weave structure is also hypoallergenic and can be machine washed just like cotton or flannel sheets. The set is available in 12 colors such as moss, sage and sky blue and is also Oeko-Tex certified.

Olive + Crate: A natural and cooling vegan silk pillowcase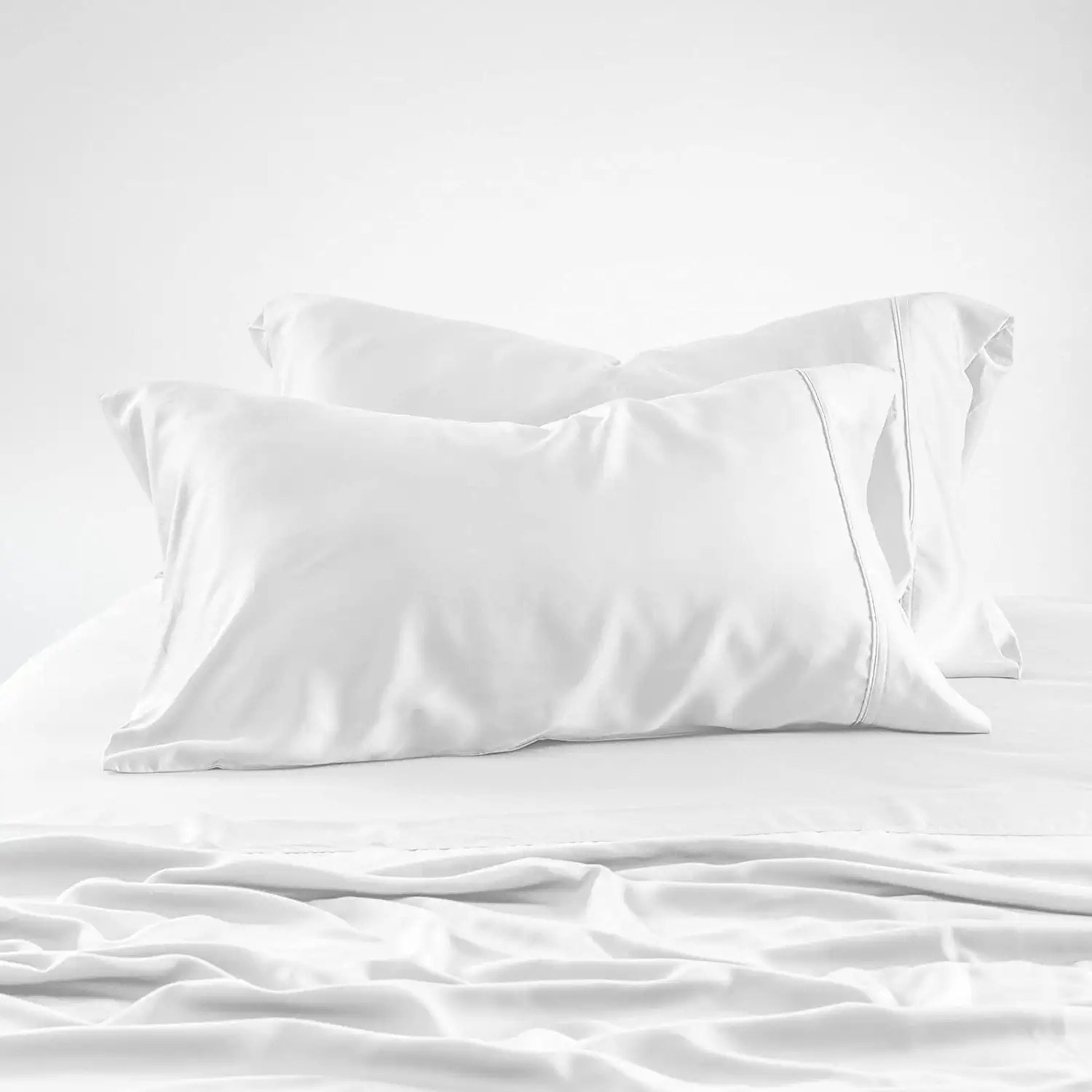 For a vegan silk sheet alternative not made from silk worms, you can try the naturally cooling properties of these pillowcases made from Tencel fiber, a soft and sustainably sourced fabric that mimics the same breathable and temperature-regulating qualities of silk. The sateen weave of these sheets is highly absorbent, making them a good option for sweaty sleepers. They're also anti-bacterial and anti-allergenic, easy to wash and wrinkle resistant.

This article originally appeared on HuffPost. ●