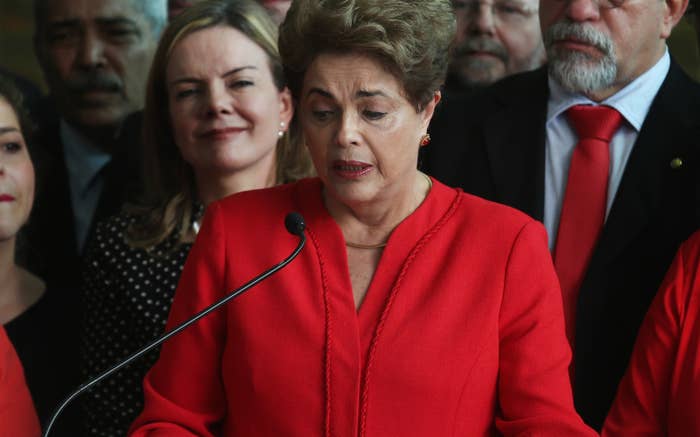 The Brazilian Senate voted 61-20 Wednesday to remove President Dilma Rousseff from office, bringing an end to months-long political turmoil spurred by a corruption scandal.
The current vice president, Michel Temer, officially assumed the role as president at 4 p.m. local time.
But a second vote today leaned in favor of Rousseff, the nation's first female president. The senate decided 42-36 that she will be able to retain her political rights for the next eight years.
Rousseff has been accused of misappropriating money from national banks to fund social programs without public knowledge. Additionally, her entire political party, the Workers' Party, has been at the center of a multibillion-dollar scandal involving Petrobras, a state-run oil company.
Congress voted on May 12 to send Rousseff to trial. She was immediately suspended from office, and Vice President Michel Temer took her place while she awaited her days in court. Massive nationwide protests ensued.
The ousted president said in an address following the votes that she had been the victim of a parliamentary coup that dropped her from office after having been elected by 54 million Brazilians.
Several women clad in red — the official color of the Workers' Party — surrounded Rousseff while she spoke.
"The coup is misogynist. The coup is homophobic. The coup is racist," she said over her supporters' chants of "Fora Temer," which translates to "Out with Temer."
She concluded her speech with lines from a poem by Russian Soviet poet Vladimir Mayakovsky: "We are not happy, of course, but what reason to we have to be sad? The sea of history is turbulent."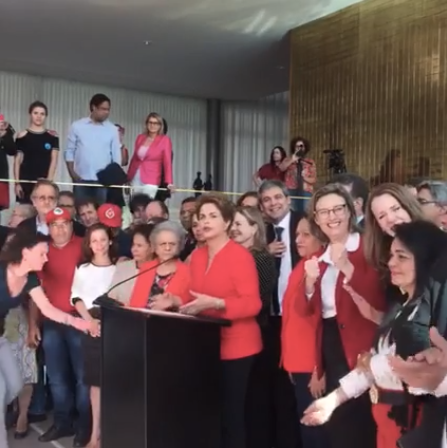 Acting President Michel Temer's swearing in ceremony, by noticeable contrast, was filled almost exclusively with white men in dark suits.
Several members of Temer's party face corruption charges. He was found guilty of exceeding campaign finance limits for the Brazilian Democratic Movement Party, the group with which he aligns himself.
As a result, Brazilian courts barred Temer from running for president when his term expires on Dec. 31, 2018.
Rousseff's impeachment trial began on Aug. 23, and was filled with drama and name-calling among senators.
Rousseff testified in court on Aug. 29, saying, "I am not fighting for my term in office, nor out of vanity or for power's sake. I am fighting for democracy."
On the final day of her impeachment trial, Brazilian Chief Justice Ricardo Lewandowski decided that votes for Rousseff's impeachment and those to withdraw her political rights for eight years would be counted separately.
Then senators, both for and two against Rousseff's impeachment, took the floor.
Senator Ana Amélia, who supports impeachment, said that the trial was proving to the world that there was no coup d'état in Brazil, but rather they were exercising a constitutional process.
Rousseff supporter Lindbergh Farias called the trial "a farse," and said "there wasn't a crime committed by Dilma."
Farias added that even though the impeachment trial will end today, "it will last along decades in history."
Vanessa Grazziotin countered Amélia's point, and appealed to others to vote against Rousseff's impeachment.
"It's not an impeachment trial, but a coup," Grazziotin said. "This Senate is condemning an innocent woman. Let's make justice, voting no."
Read BuzzFeed News' coverage here: