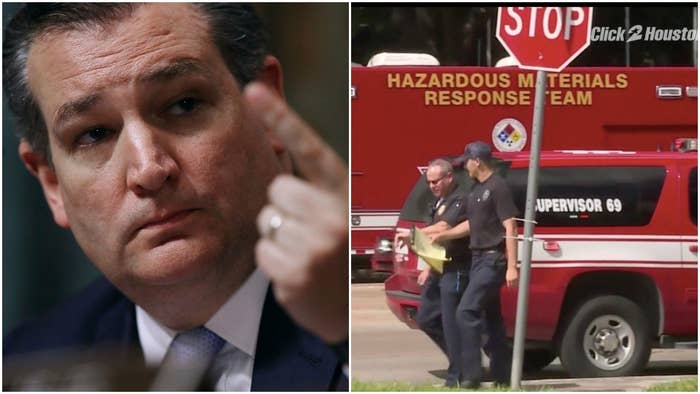 Two people were hospitalized after a white powdery substance was mailed to Sen. Ted Cruz's campaign office in Houston on Tuesday, authorities said.
The ninth floor of the Phoenix Tower — where Cruz's campaign office is located — was evacuated as the Houston Fire Department's (HFD) HazMat team investigated the substance.
HFD said the substance was not hazardous and the evacuation order was lifted.
The FBI, which is investigating the incident, said that "a suspicious package containing white powder" was mailed to an office at 3200 Southwest Freeway.

"Upon opening the package, two employees felt ill" and were transported to the hospital, the FBI said. The agency did not provide further details on their condition.
The bureau's Houston office tweeted Tuesday evening that lab results indicated no hazardous materials were discovered at the location.
Cruz's spokesperson, Catherine Frazier, confirmed to BuzzFeed News that a letter addressed to the senator's campaign contained the white powdery substance.
She said that the campaign staff was fine, and the two people who were hospitalized were not campaign staff members. Frazier did not comment on the contents of the letter.
Around the time of the incident, Cruz was scheduled to chair a hearing on "Threats to Religious Liberty Around the World" for the Senate Judiciary's Subcommittee on the Constitution.
On Tuesday, the FBI was also investigating multiple packages believed to contain the deadly chemical ricin and that were addressed President Donald Trump and defense officials at the Pentagon. The suspicious packages were intercepted before reaching their intended recipients.