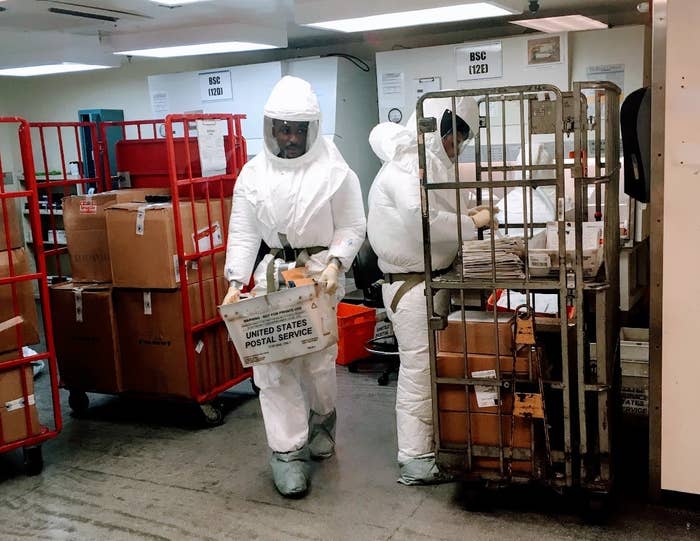 Multiple envelopes suspected of containing the poison ricin were mailed to top US officials, including President Donald Trump, but were intercepted by authorities before reaching their intended recipients.

The US Secret Service confirmed an envelope addressed to Trump was intercepted on Monday.
"The envelope was not received at the White House nor did it ever enter the White House," the agency said in a statement.
The Pentagon confirmed that it too had intercepted two envelopes believed to be carrying the potentially lethal substance.
Those letters were addressed to Secretary of Defense James Mattis and the chief of naval operations, Adm. John Richardson, CNN reported, citing unnamed officials.
"On Monday, the Pentagon Force Protection Agency detected a suspicious substance during mail screening at the Pentagon's remote screening facility," Col. Rob Manning said in a statement. "The envelopes were taken by the FBI this morning for future analysis."

On Tuesday, the US Secret Service said it was working with law enforcement partners to investigate the letter that was meant for Trump.
"All threats directed towards the President, or any Secret Service protectee, are treated seriously and fully investigated," a spokesperson said in a statement.
The ricin-laced letters were not the first to be sent to the White House and sitting presidents.
Two people were convicted of sending letters with the poison on two separate occasions to former president Barack Obama.
In 2013, Shannon Guess Richardson, an actor who made an appearance as a zombie on The Walking Dead, was arrested for sending ricin-laced letters to Obama and former New York mayor Michael Bloomberg.
James Everett Dutschke was convicted in 2014 and sentenced to 25 years in prison after sending letters with the poison to Obama, Mississippi Sen. Roger Wicker, and a Mississippi judge.
Ricin-laced letters were also sent to the George W. Bush White House in 2003, along with a threat not to impose trucking regulations.