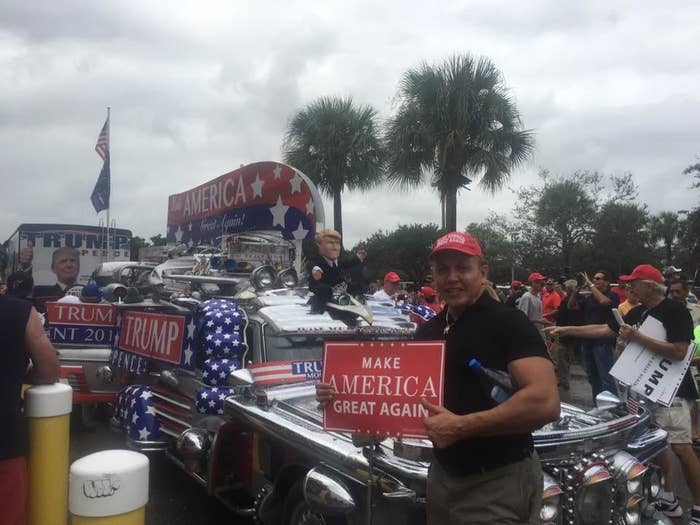 Authorities arrested a suspect in Florida on Friday in connection with the series of pipe bomb packages addressed to several prominent Democrats and critics of President Donald Trump this week.
The suspect was identified as Cesar Altieri Sayoc, a 56-year-old man living in Florida, authorities said. Sayoc was arrested at an auto parts store in Plantation, Florida.
At least 13 explosive devices were sent over the week, in an act that officials called terrorism.
The intended targets included Democratic megadonor George Soros; former secretary of state Hillary Clinton; former president Barack Obama; former CIA director John Brennan and former national intelligence director James Clapper via CNN's New York office; former attorney general Eric Holder; US Rep. Maxine Waters' Washington, DC, and California offices; actor Robert De Niro; former vice president Joe Biden; US Sen. Cory Booker; and US Sen. Kamala Harris.
Sayoc was charged with five federal crimes including interstate transportation of an explosive, illegal mailing of explosives, threats against former presidents and certain other persons, threatening interstate communications, and assaulting current and former federal officers. He faces up to 48 years in prison if convicted, according to a spokesperson for the Department of Justice.
"We will not tolerate such lawlessness, especially not political violence," Attorney General Jeff Sessions said Friday.

Also related to the investigation, authorities in Florida confiscated a white van covered in pro-Trump stickers on Friday. There were several different pro-Trump images on the van including ones of the GOP logo, Trump, Vice President Mike Pence, and another sticker that read "CNN SUCKS."
FBI Director Chris Wray would not address Sayoc's background or his motives.
The 13 improvised explosive devices consisted of roughly six inches of PVC pipe, a small clock, a battery, wiring, and potential explosives and material that are set off by heat, shock, or friction. Certain packages included photographs of the targeted recipients marked with a red "X," according to the criminal complaint.
"These were not hoax devices," Wray said.
The FBI uncovered Sayoc's latent fingerprint from one of the envelopes containing a pipe bomb that was sent to Waters. Wray said that there was also "possible DNA connection" between samples collected from the pieces of two pipe bombs and a sample previously collected from Sayoc in connection with an earlier arrest in Florida.
Sayoc is a Trump supporter who frequently attended pro-Trump events and rallies, according to his social media posts. He relentlessly attacked Trump's opponents on social media — many of whom were intended recipients of the pipe bombs — with racist language and vicious threats. He is a registered Republican in Florida who voted in the 2016 election, according to online records.
Many of Sayoc's social media posts contained misspellings that were consistent with the pipe bomb packages, including the misspelled names of Clinton and Schultz, the criminal complaint stated.
Photos on Facebook and Twitter accounts that appeared to belong to Sayoc showed him at pro-Trump events in 2016, wearing a Make American Great Again hat, holding MAGA signs, and posting MAGA memes.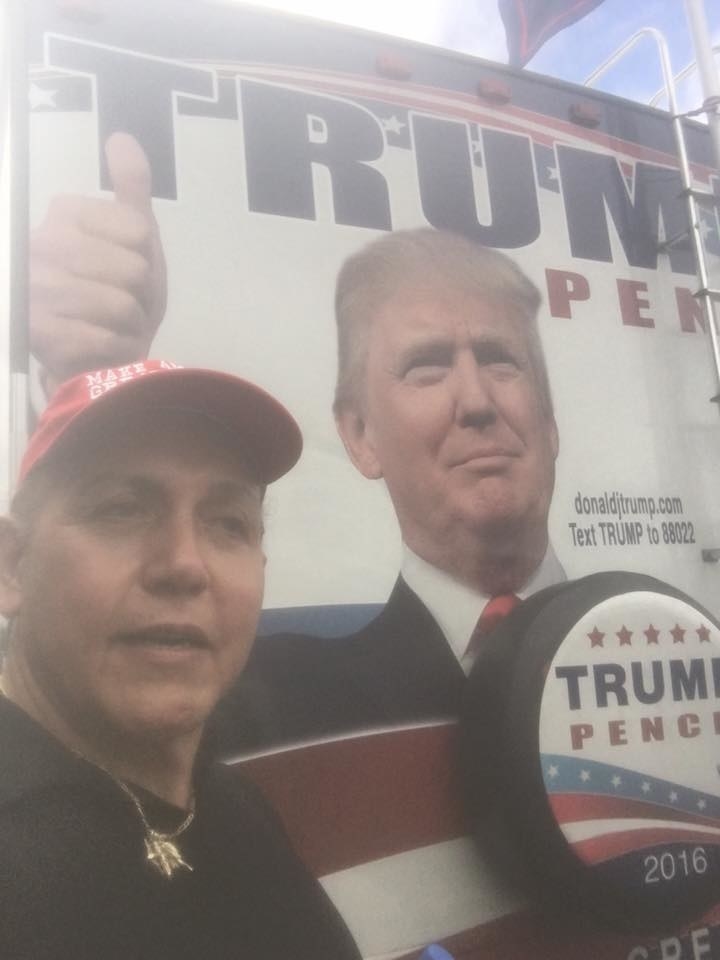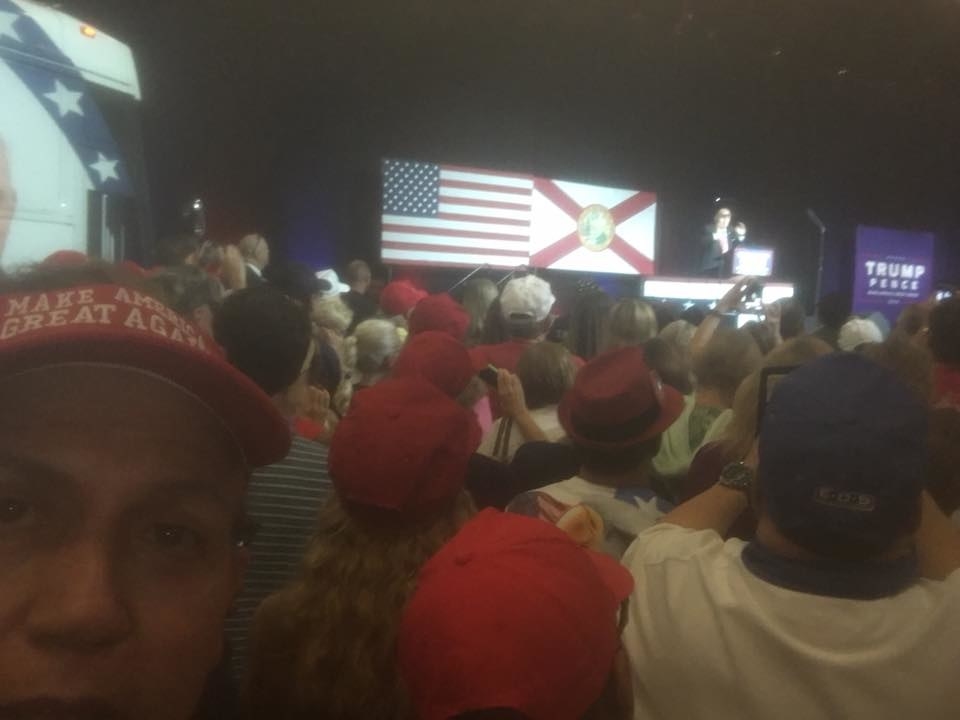 He also appeared to be at Trump's inauguration in January.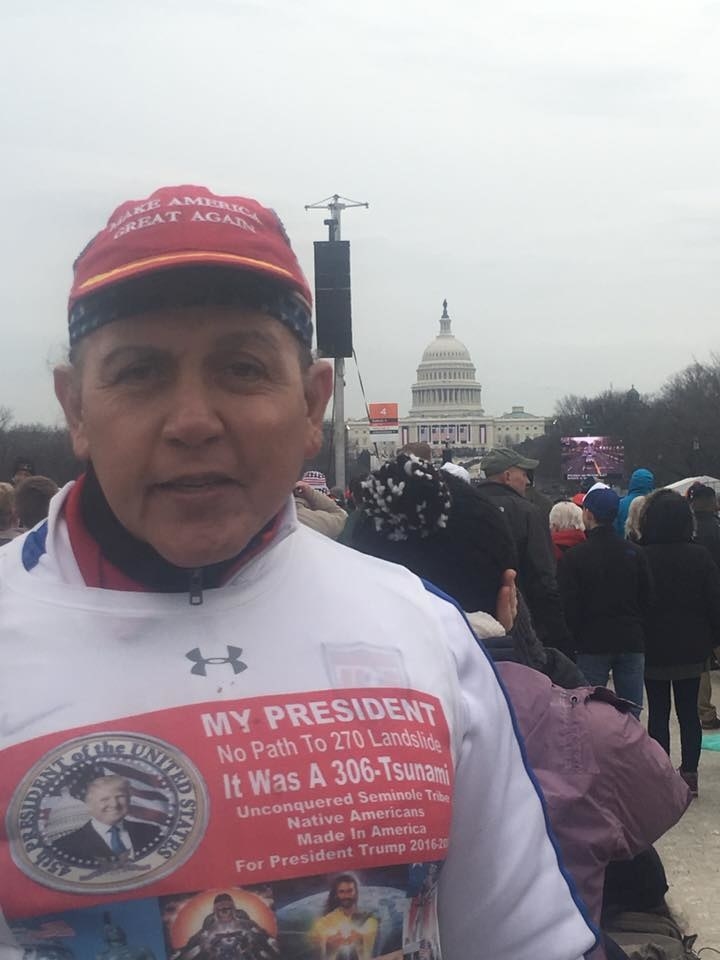 He also posted a video of him at an event where Trump was speaking on stage.
In one post in September 2016, Sayoc celebrated false conspiracy theories about Hillary Clinton's reported decline in health, saying she was "headed to graveyard" and that "America will celebrate" her death. One of the pipe bomb packages was addressed to Clinton's New York home and was intercepted by the Secret Service before it could be delivered.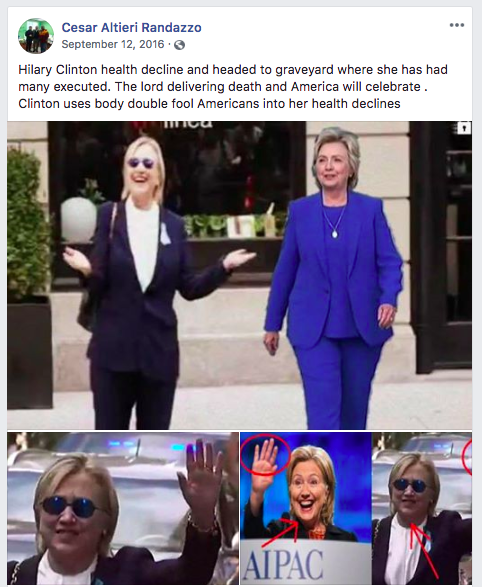 In a June 2016 Facebook post, he said, "Clinton will be killed."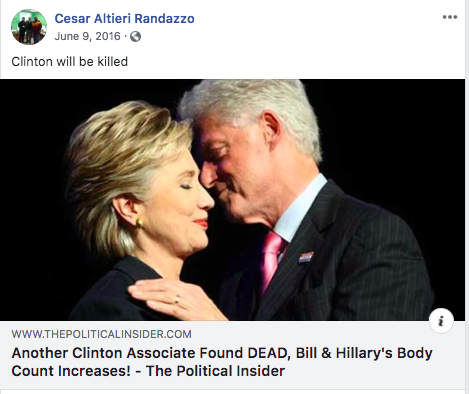 Sayoc repeatedly referred to Obama, Waters, and Holder — all targeted recipients of the pipe bombs — as "nigers" in several Facebook posts dating back to 2011. He also referred to several prominent black Americans, including Rev. Al Sharpton and Oprah, as "nigers" in Facebook posts.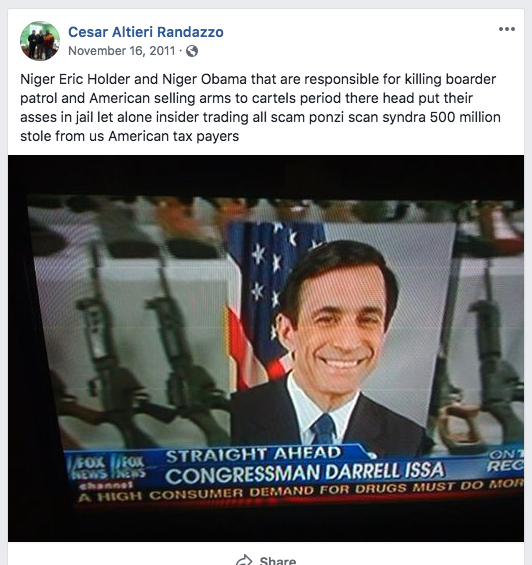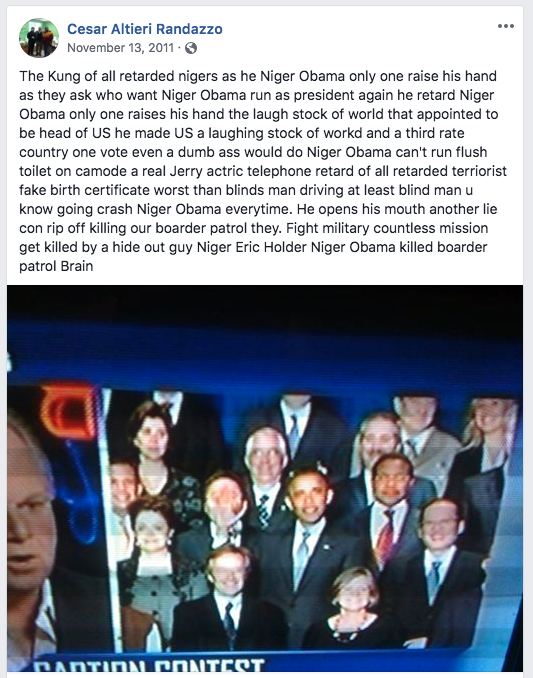 In one 2016 post, Sayoc called Obama a "Muslim terrorist" — a false conspiracy theory about the former president — who "needs to be executed."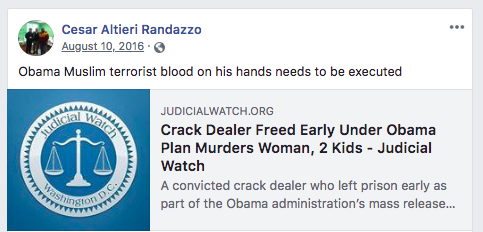 Sayoc also uploaded photos of himself holding signs that said "CNN Sucks" and describing the network as "fake news and dishonest media" — echoing Trump's own words about CNN. Two pipe bomb packages — intended for Brennan and Clapper — had CNN's New York office address on them.

In a tweet, Sayoc posted photos of CNN anchor Don Lemon with a picture of a building on fire, referring to the CNN building.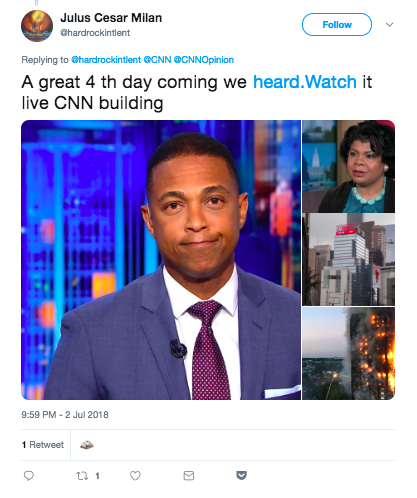 In September, Sayoc tweeted a threat at Biden, calling him a "piece slim trash" and saying, "Hug your loved son, Niece, wife, family real close everytime U walk out your home."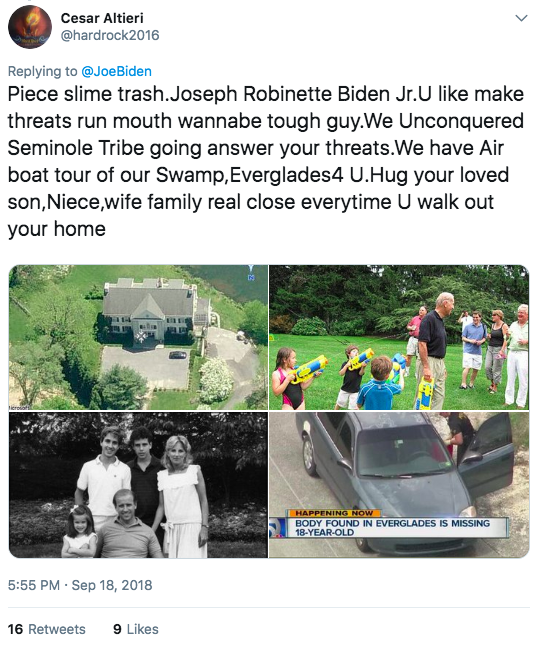 Sayoc often referred to himself as a member of the Seminole Tribe in his social media posts. However, in a statement on Friday, the Seminole Tribe of Florida said they could "find no evidence" that Sayoc is — or was at any point— a member or employee of the Seminole Tribe or of Seminole Gaming or Hard Rock International.
Sayoc also appeared to refer to former Democratic National Committee chair Debbie Wasserman Schultz in a post saying, "Wauserman your disgrace to so fla." Schultz's Florida office was listed as the return address on many of the pipe bomb packages as an obvious ruse.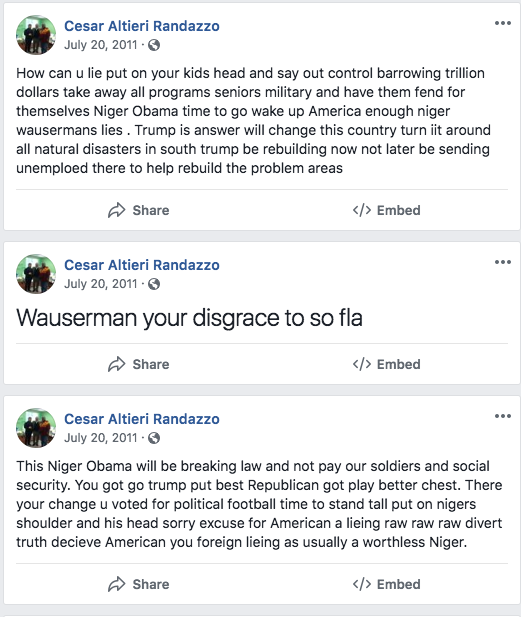 In an April tweet, Sayoc tweeted a threat at Booker, saying, "Your end will come soon."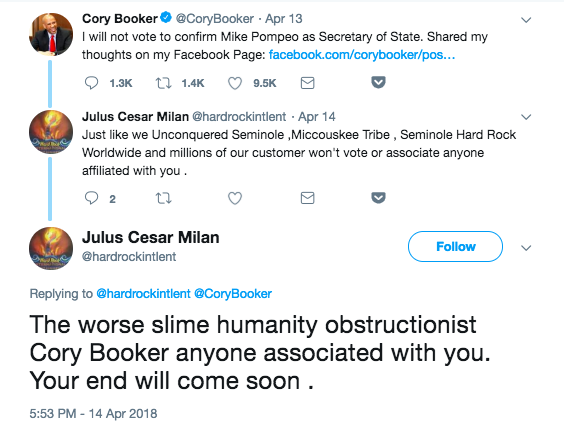 On Oct. 22 — the day that a pipe bomb was found in the mailbox of Soros's New York home — a Twitter account that appeared to belong to Sayoc tweeted a photo of Soros with the caption, "The world is waking up to the horrors of George Soros."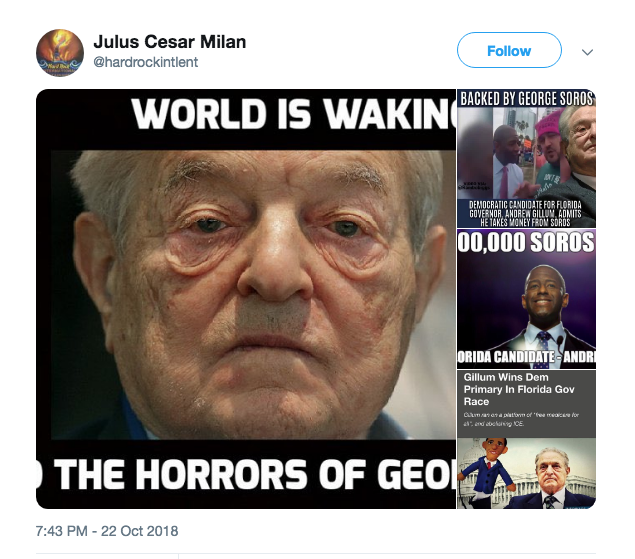 Two days after authorities discovered the pipe bomb package to Soros, Sayoc tweeted memes critical of him, Obama, and Florida's Democratic nominee for governor, Andrew Gillum, according to the criminal complaint.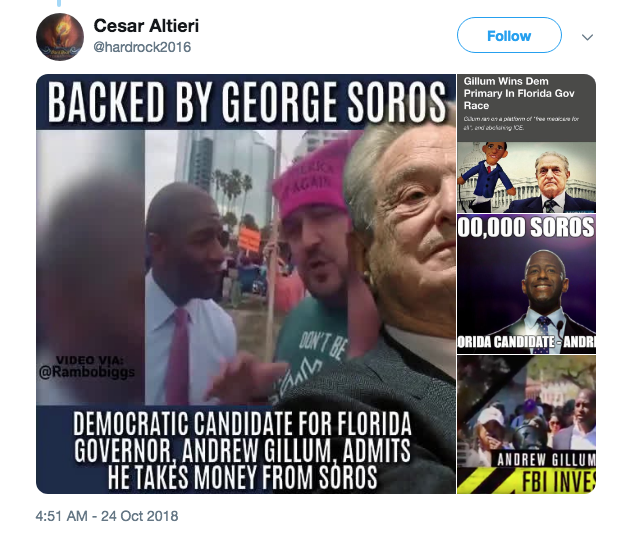 In August, Sayoc tweeted a far-right false conspiracy theory that said Parkland High School shooting survivor David Hogg was a "paid George Soros actor."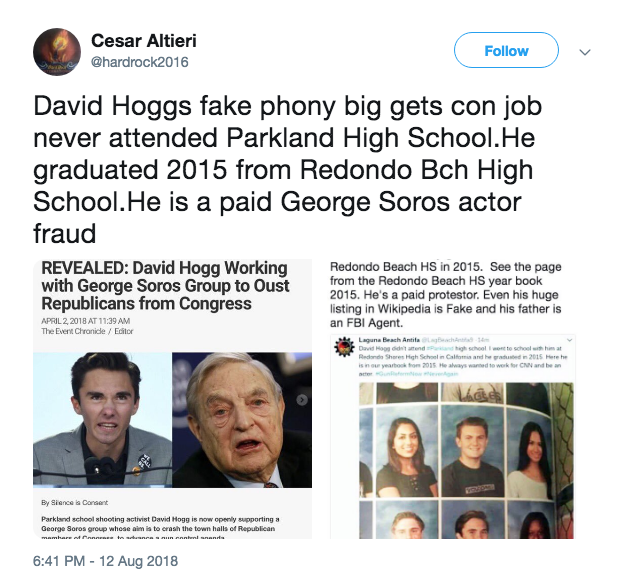 Sayoc described himself as a promoter, booking agent for live entertainment, owner, and choreographer in his Linkedin and social media profiles.

Sayoc performed across the country as a stripper in the 1990s, his former employer and event promoter Tony Valentine told the Washington Examiner.
"He would show up and do an individual act and leave," Valentine said. "He was dancing for a guy out in Oklahoma too."
Valentine described Sayoc as "a big muscle head" whose dream was to be a professional wrestler.
"He really couldn't find his niche in life, and I guess he found it now," Valentine told the Examiner.

But reached by BuzzFeed News, Valentine disavowed Sayoc.
"I got nothing to do with this fucking weirdo," he said. "They caught this stupid motherfucker."

Sayoc's cousin told NBC News that he had worked in strip clubs as a dancer and a bouncer and that he used to take steroids.
"He's always been a little bit of a loose cannon," the cousin, who did not want to be identified, said. "He's always been a lost soul. Too many steroids in his day. That stuff will melt your brain."
Sayoc faced a felony charge of threatening to throw a bomb in 2002 after he allegedly called a representative at the Florida Power and Light Co. and threatened to blow up the utility company's building, according to Miami-Dade County court records.
During the phone call, Sayoc allegedly stated, "It would be worse than September 11th," and threatened "that something would happen to the according to the FPL representative if they cut his electricity," according to the documents.
He entered a plea of guilty and was sentenced to one year of probation as part of a plea bargain.
Sayoc also faced a charge of petty theft in 2014 and a charge of petty larceny and theft in 1992, Miami-Dade court records show.
In Broward County, he faced a charge of grand theft in the third degree in 1991, charges of possession of an unlawful driver's license and criminal use of personal identification information in 2004, and charges of grand theft in the third degree and battery in 2013, according to online court records.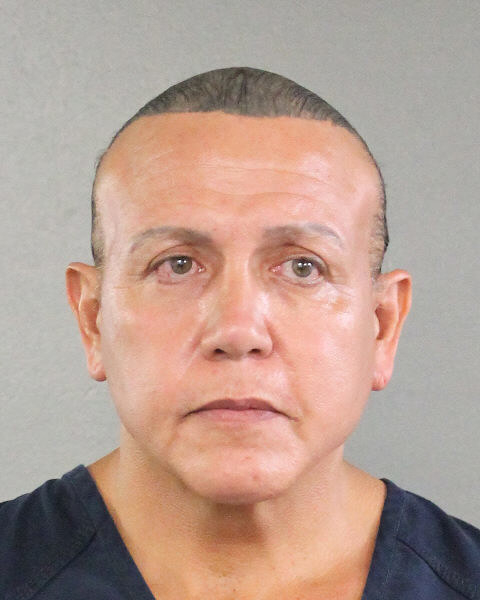 In June 2012, Sayoc filed for Chapter 7 bankruptcy in federal court in Florida, listing just over $21,000 in liabilities. At the time, he reported living with his mother in Aventura, Florida, and owning few assets. The court documents listed him as having worked as a store manager for a company called Hassanco Investments in Hollywood, Florida. He checked off that he was unmarried. The case was closed several months later.
The devices he allegedly sent were in manila envelopes with six American flag stamps. Authorities focused much of their investigation in Florida.
None of the devices exploded and no one was hurt. The pipe bombs were devised out of a six-inch PVC pipe filled with shards of broken glass. Some had a digital clock timer taped to the pipe.
President Trump at first disavowed the pipe bombs as political violence, but later blamed the media for hostility in the country. On Friday, he implicitly endorsed right-wing conspiracy theorists, suggesting without evidence, that the explosive packages being sent to high-profile Democrats were part of a plot to harm Republicans in the upcoming midterm elections.
Stephanie K. Baer contributed reporting.