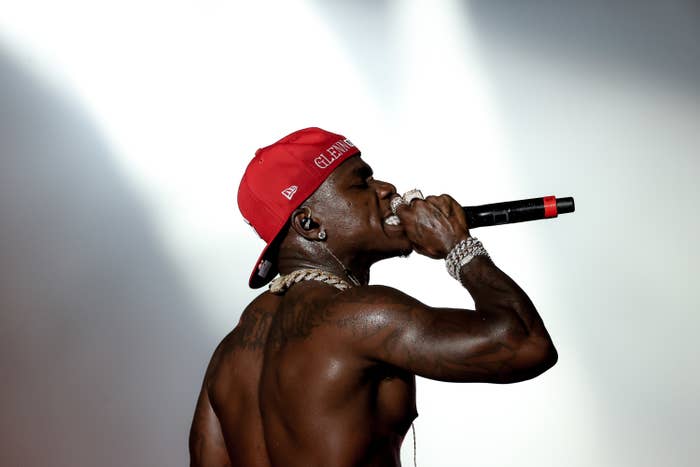 DaBaby was dropped from two more music festival lineups on Monday for his anti-gay comments at a previous performance and on social media last weekend.

A day after Chicago's Lollapalooza festival canceled the rapper's performance, the Governors Ball in New York and Day N Vegas in Nevada both removed him from their lineups.
In a tweet Monday, the Governors Ball said it "does not and will not tolerate hate or discrimination of any kind."
The statement added, "We welcome and celebrate the diverse communities that make New York City the greatest city in the world."
The three-day festival, which begins on Sept. 24, tweeted its lineup that did not include DaBaby.
A few hours later, Day N Vegas announced on Instagram that DaBaby will no longer be appearing at the three-day festival in November. He was replaced by rapper Roddy Ricch.
The 29-year-old rapper's comments about gay men and HIV/AIDS at a Miami concert last weekend prompted a wave of backlash and was widely condemned by celebrities.
"If you didn't show up today with HIV, AIDS, any of them deadly sexually transmitted diseases that'll make you die in two, three weeks, put your cellphone light up," DaBaby told the crowd at the Rolling Loud Festival.
He also said, "Fellas, if you ain't suck a nigga dick in the parking lot, put your cellphone light up. Keep it fucking real."
In a series of Instagram stories, the rapper took his anti-gay diatribe further.
"My gay fans, they take care of themselves. They ain't got no nasty gay niggas, see what I'm saying? They ain't no junkies on the street."
After being called out by fans and celebrities, DaBaby apologized for his "insensitive" comments and said that anybody who had been affected by HIV/AIDS had the "right to be upset."
Dua Lipa, who featured DaBaby on her song "Levitating," said she was "horrified" by his comments and didn't "recognize this as the person [she] worked with."
Elton John tweeted that DaBaby's comments "fuels stigma and discrimination and is the opposite of what our world needs to fight the AIDS epidemic."