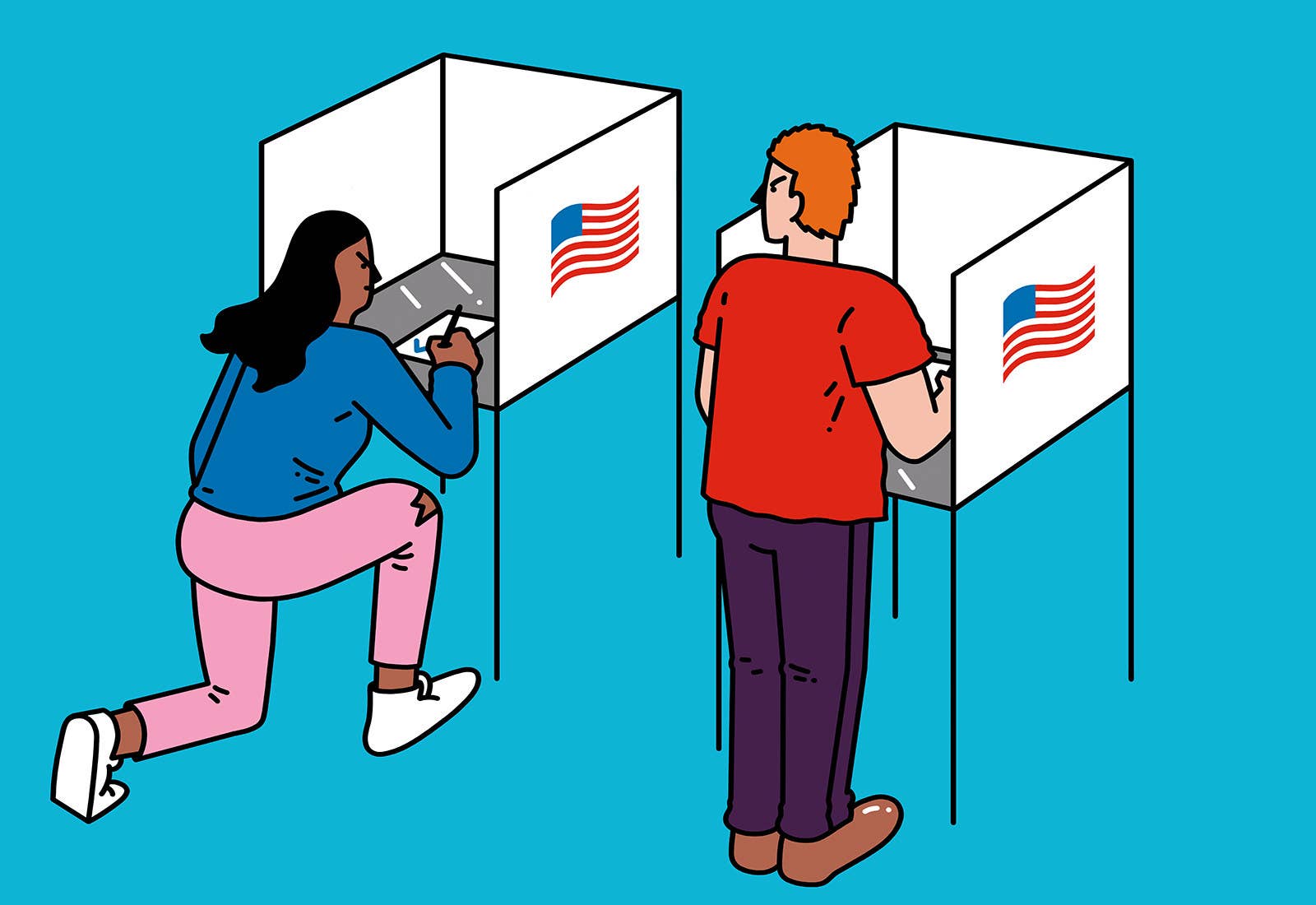 When Beto O'Rourke, the rising Democratic star in Texas, told an audience last month that there was "nothing more American" than football players kneeling during the national anthem to protest police brutality, a video of his remarks quickly went viral. Progressives, including a number of celebrities, swooned.
But the same words were used days later by his opponent, Sen. Ted Cruz, in a web video — featuring a veteran who lost both his legs, and the ability to stand, in Vietnam — that suggested the Democrat was unpatriotic and out of step with Texas voters.
"In November, where will you stand?" the narrator asks in closing, with a shot of the American flag, and Cruz's campaign logo floating in the sky.
Cruz's isn't the only Republican campaign eager to see the NFL kick off this week. Republican strategists and campaign staff tell BuzzFeed News that they see opportunities for candidates to make the NFL protests a political liability for Democrats defending seats in states President Donald Trump won in 2016.
"I can't imagine there is a single voter who will cast a ballot exclusively on the issue of NFL kneeling, but it's a powerful tool against liberals who are trying to make cultural inroads into a conservative electorate," said Josh Holmes, a Republican strategist close to Senate Majority Leader Mitch McConnell.
"It reaffirms conservative skepticism about whether a liberal candidate sees the world the same way as they do. Unfortunately for a lot of Senate Democrats, this is a demographic they need to compete with in order to hold these red states in November."
NFL owners unanimously voted on a new policy this summer to ban players from kneeling while giving them the option to stay in their locker rooms for the anthem. The policy is on hold, pending talks between the players union and the owners, and the uncertainty has done nothing to tamp down the outrage Trump has been stoking for nearly a year.
The president has continued his criticism of football players in tweets and at rallies — keeping the issue in the national spotlight and giving Republican candidates a chance to force red-state Democrats to make a tough choice: alienate some of the Trump voters they are chasing, or risk angering the liberal base energizing and financing their campaigns. (Democrats argue that the Trump voters they are targeting care more about health care and the economy and what elected officials can do to help them.)
Often lost in all of the political recriminations is the purpose of the protests: to call attention to social and racial injustice. Colin Kaepernick brought the issue to the fore in 2016, when he began kneeling for the anthem as a quarterback with the San Francisco 49ers. The symbolic gesture, which other NFL players have rallied around, provoked outrage among those who conflated it with a protest against American values. Many believe Kaepernick's advocacy cost him a spot on an NFL roster in 2017, and he remains out of the league. This week, though, Nike — a major NFL sponsor — revealed Kaepernick as the face of a new ad campaign built around his cause and the athletic apparel company's iconic tagline: "Believe in something. Even if it means sacrificing everything. Just do it."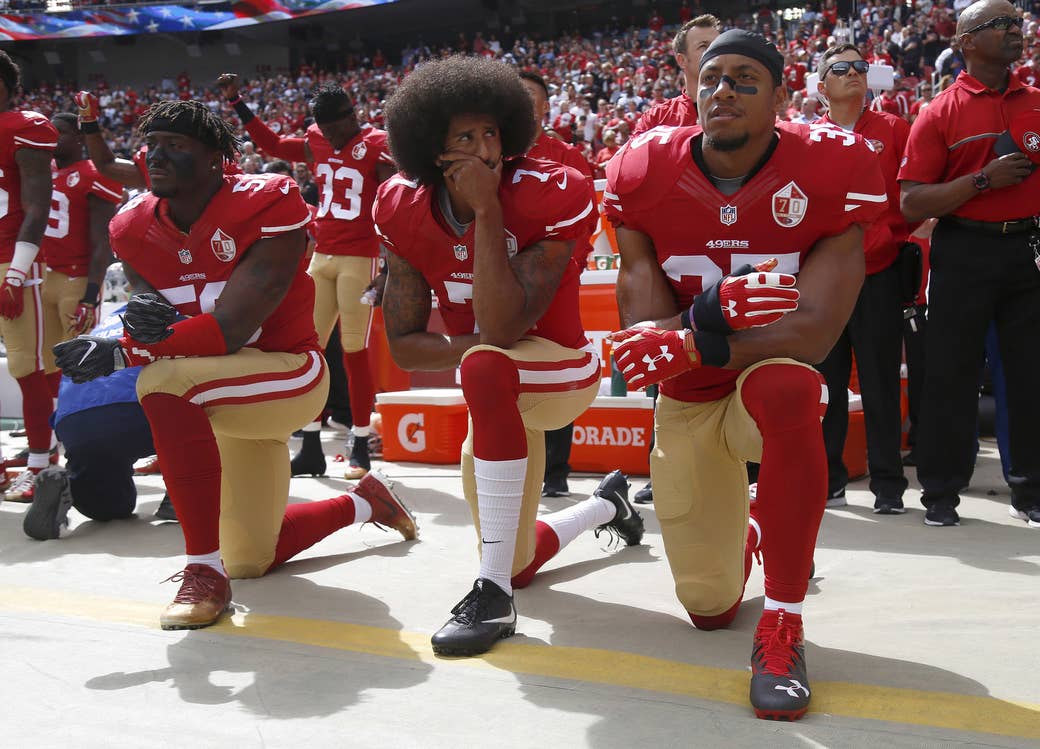 The president, in response to the ad, said Wednesday morning that Nike was "getting absolutely killed with anger and boycotts" and that the NFL is now "hard to watch."
Polling on the protests shows a huge racial and partisan divide, with a majority of Democrats and black voters saying it is appropriate for players to kneel, and a majority of Republicans and white voters saying it is inappropriate. And overall, public opinion is in line with the president's views, with polls showing more Americans supporting the NFL's on-hold policy than opposing it.

"The Trump base doesn't just include movement conservatives; it also includes a lot of disenchanted independents who previously voted for Obama, and those are the people in middle America that Democrats need if they're going to compete in 2018 and beyond," said Andy Surabian, a Republican strategist and former Trump White House official. "This kneeling stuff plays well in the DC, New York, and Hollywood echo chamber — and that's about it."
Surabian also said that the NFL issue is "emblematic of the culture war" that's going to play out not just in 2018, but also in 2020 as Democrats gear up to take on Trump's "America First" messaging. "When Democrats win national elections, they do it by running candidates who wrap themselves in the flag, like Clinton did in '92 and Obama did in 2008, not by running candidates who disrespect the flag," he said.
Kevin Madden, a Republican strategist who has worked for Mitt Romney and John Boehner, said he sees the anthem debate feeding off a social media environment that "helps provide a sharper partisan edge to the discussion" and produces much more vitriol.
"The potency of the anthem issue highlights how politics and political battles are increasingly waged over issues that have little to do with policy or legislation," Madden said. "Instead, they become a clash of cultural worldviews. The anthem debate is one example, just like the firestorm over Roseanne Barr's comments and firing were another. Political audiences weren't motivated to action based on some bill or an up-or-down vote in Congress, but instead on the question, 'Where do you stand?'"
"So candidates use these debates to signal where they stand or what cultural values they share with voters," Madden added. "Are you with me or against me? Campaigns will try to frame a race through this type of binary choice in order to provide clarity and motivation for their base voters."
Trump first elevated the issue last fall while campaigning in Alabama for then-senator Luther Strange, saying, "Wouldn't you love to see one of these NFL owners, when somebody disrespects our flag, to say, 'Get that son of a bitch off the field right now. Out. He's fired. Fired!'" Trump also amplified his stance on Twitter. And days later, his allies at the nonprofit America First Policies made digital ads urging fans to "Turn off the NFL" and #TakeAStandNotAKnee.
Other Republicans quickly rallied around the cause. And Vice President Mike Pence, with Trump's blessing, left an Indianapolis Colts–49ers game after players knelt during the anthem.
The issue has already factored into this year's primaries: In Tennessee, gubernatorial hopeful Diane Black and Rep. Marsha Blackburn, now a Senate candidate, both produced pro-anthem ads to coincide with the Super Bowl. (Black lost her primary; Blackburn won hers.) And Brian Kemp, who with Trump's support staged an upset in the Georgia gubernatorial primary, closed with an ad emphasizing that "I stand for our national anthem."
The protests haven't yet surfaced in many general election ads, as candidates look to court more independent-minded voters. But candidates are talking about the protests in ways that fit in with their campaign messaging.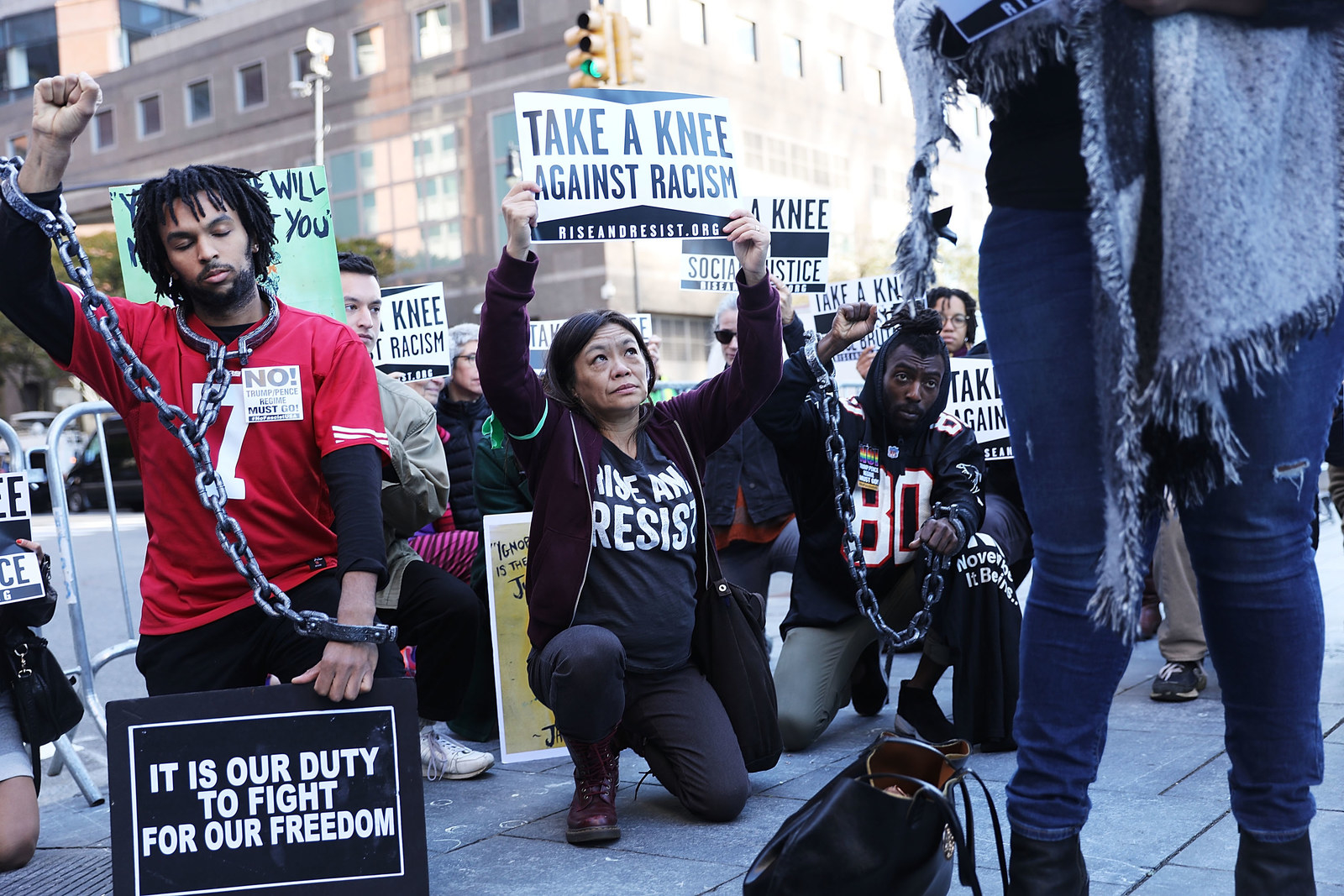 That could wind up being true for Missouri Attorney General Josh Hawley, who is hoping to unseat Democratic Sen. Claire McCaskill. Brad Todd, Hawley's campaign consultant, declined to say if the anthem and NFL protests will be used in Hawley's paid advertising this fall, but said it could be particularly handy in speeches where Hawley frames his fight as heartland values voters versus coastal elites. His campaign has tried to portray McCaskill as more in touch with the elites.
Todd said talking about the NFL also gives Hawley a chance to show how he took on big institutions as attorney general. "He has quite a bit of a populist streak in terms of the healthy skepticism of large institutions, and so he would see this issue in that way," he said.
Trump has only escalated his rhetoric on the protests in recent months. He makes at least a passing reference to the protests at nearly all of his rallies across the country — always equating the demonstrations with disrespect for the flag and troops.
The president raised the protests twice in a speech last month at an Ohio Republican Party fundraising dinner, at one point railing against CBS and ESPN, two NFL partners that have announced they won't televise the anthem. (Broadcasting the anthem live and in its entirety before every game has not been a standard practice for networks.)
"CBS and ESPN: How do we like that?" Trump asked the Ohio audience, which booed loudly.
"What the hell is the NFL doing?" Trump continued. "Do they not have a clue? It's hurt them badly, too, and it's continuing. They think they're doing something smart by not broadcasting the national anthem? So that's CBS and ESPN, folks. Enjoy your television."
So far, most Democrats in tough races have avoided the topic, and those in leadership positions have dodged. "I love the national anthem," House Minority Leader Nancy Pelosi responded earlier this summer when asked about the new NFL policy. "I love the flag. And I love the First Amendment, and I'll just leave it at that."
O'Rourke was one of the only Democrats in a competitive race to address the issue and side with progressives.
Chris Wilson, a Republican pollster who works for Cruz and other Senate candidates, said Trump's use of the bully pulpit over the NFL has encouraged others to champion it. Wilson noted, though, that in Texas, it was the Democrat who started the debate.
"It wasn't Cruz who brought it up first; it was Beto O'Rourke — and then it brought out a murderers' row of Hollywood celebrities," said Wilson, noting that the viral clip earned O'Rourke an invitation to The Ellen DeGeneres Show.
Wilson said the anthem issue could be "huge" in states such as Texas, Florida, and others "where you have a high level of patriotism and inborn respect for the flag."
"The thing about the flag and national anthem and the NFL is it's a motivational issue for Republican voters," Wilson added. "It's a swing issue. Something like this, when voters see two candidates so diametrically opposed, it matters. It can help motivate a voter who might otherwise stay home." ●