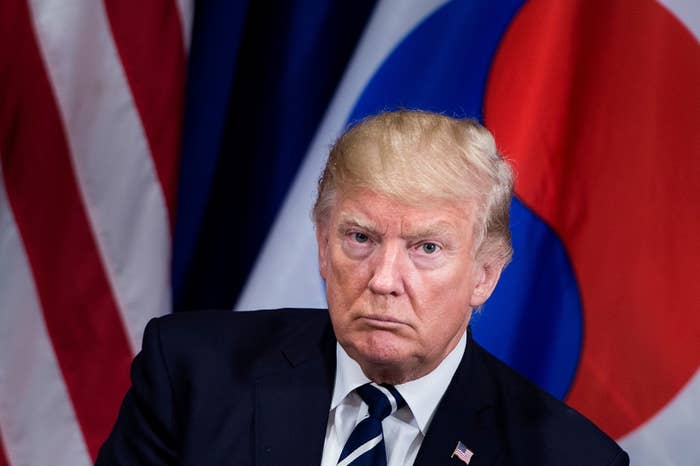 A political group with close ties to President Donald Trump is amplifying his attack on professional athletes who kneel during the national anthem as a form of protest.
"Turn off the NFL," reads a digital ad produced by the nonprofit America First Policies, which planned to begin spreading the message on social media Sunday afternoon.
The ad includes a photo with Trump, hand over his heart, and a #TakeAStandNotAKnee hashtag. It follows Trump's recent remarks, first delivered during a Friday night speech in Alabama, aimed at football players who have protested police brutality and other causes.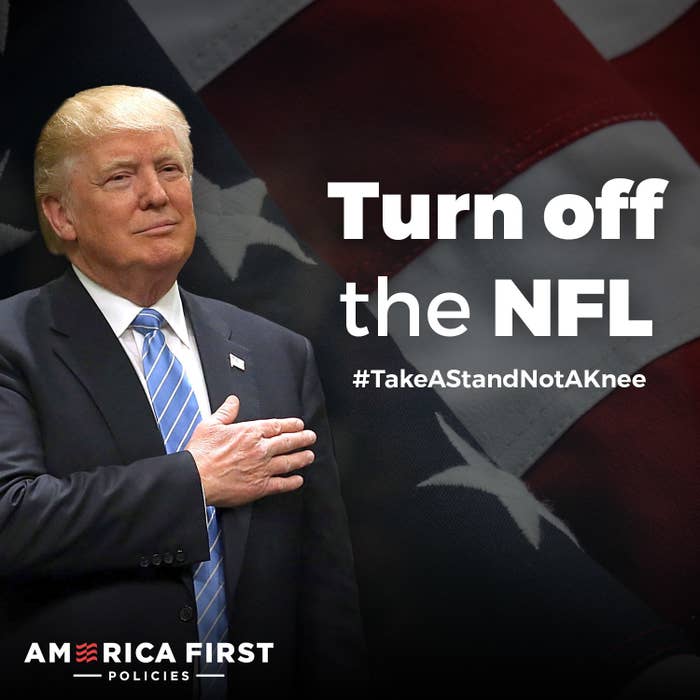 While campaigning for Luther Strange, who is locked in a tough Republican primary to keep the Alabama Senate seat he was appointed to earlier this year, Trump asked those in the audience if they would "love to see one of these NFL owners, when somebody disrespects our flag, to say, 'get that son of a bitch off the field right now.'" He added that such players should be fired.
Trump continued the attack over the weekend on Twitter.
"If a player wants the privilege of making millions of dollars in the NFL, or other leagues, he or she should not be allowed to disrespect … our Great American Flag (or Country) and should stand for the National Anthem," Trump posted in a series of tweets. "If not, YOU'RE FIRED. Find something else to do!"
NFL team owners and players reacted strongly and disapprovingly to Trump's push. "Divisive comments like these demonstrate an unfortunate lack of respect for the NFL, our great game and all of our players, and a failure to understand the overwhelming force for good our clubs and players represent in our communities," NFL Commissioner Roger Goodell said Saturday.
A draft of a Facebook version of the ad shared with BuzzFeed News included the text: "Rather than watch the NFL disrespect our country … turn on something that honors the great men and women who make sacrifices to protect our freedom and what our Great American Flag stands for. Thank you to our great Veterans!"
America First Policies has typically backed Trump by supporting his policy agenda or his preferred candidates. The group recently spent money to boost Strange in Alabama.