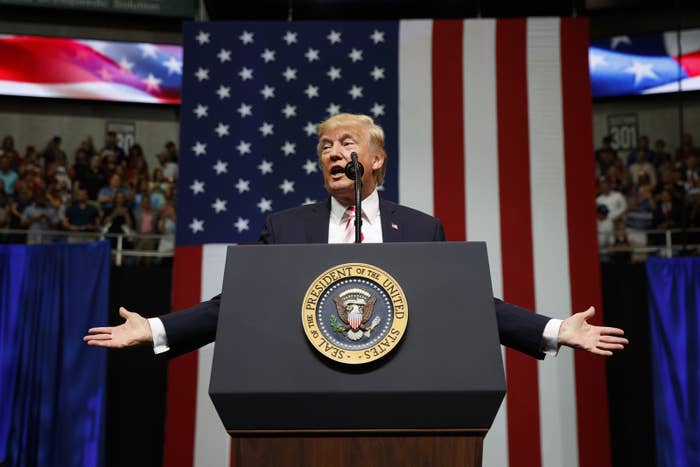 President Trump said on Friday that NFL team owners should fire football players who refuse to stand for the national anthem, an apparent reference to Colin Kaepernick's protests last year in which he kneeled during the American flag ceremony.
Trump made the comments while speaking to a crowd in Huntsville, Alabama, in support of Sen. Luther Strange, a Republican facing a primary election on Tuesday.
Midway through the rally, Trump asked the crowd if they'd "love to see one of these NFL owners, when somebody disrespects our flag, to say, 'get that son of a bitch off the field right now.'"
"He's fired," Trump continued as the crowd cheered. "He's fired."
The president said an NFL owner would become "the most popular person, for a week, they'll be the most popular person in this country" after firing a player who refused to stand for the anthem. And while "we have freedom of choice," Trump noted, it's "still totally disrespectful."
Kaepernick is currently a free agent, but the CEO of his former team, the 49ers, released a statement in support of its players and called the president's comments "callous and offensive."
"Our players have exercised their rights as United States citizens in order to spark conversation and action to address social injustice," 49ers CEO Jed York said.
NFL Commission Roger Goodell also released a statement Saturday criticizing Trump's words as "divisive."
"Divisive comments like these demonstrate an unfortunate lack of respect for the NFL, our great game and all of our players, and a failure to understand the overwhelming force for good our clubs and players represent in our communities," said Goodell.
As NFL players and NFL teams spoke out against the president's comments, Trump dug his heels in on Saturday afternoon, tweeting that athletes playing in professional leagues should be fired if they "disrespect" the flag and country by not standing for the anthem.
"Find something else to do!" he wrote.

Trump also took direct aim at Goodell, saying the NFL commissioner was "trying to justify the total disrespect certain players show to the country" and insisting he make players stand for the anthem.
Even usually cautious team owners came out on Saturday to criticize the president's comments, calling them divisive and offensive.
One of the more surprising statements came Sunday morning from Patriots chairman and CEO Robert Kraft, who said he was "deeply disappointed" by the president's comments. Kraft has called Trump "a very good friend of mine" in the past and gave him a commemorative Super Bowl ring after the team's visit to the White House in August.
"It's unfortunate that the President decided to use his immense platform to make divisive and offensive statements about our players and the NFL," Packers President Mark Murphy said in a statement.
The owner of the Miami Dolphins, Stephen Ross, called the players who kneeled during the anthem, "smart young men of character."
"We all can benefit from learning, listening, and respecting each other," he said in a statement Saturday.
Atlanta Falcons owner Arthur M. Blank also weighed in, stating that, "Creating division or demonizing viewpoints that are different than our own accomplishes nothing positive and undermines our collective ability to achieve the ideals of our democracy."
On Saturday morning, the head of the NFL Player's Association, DeMaurice Smith, tweeted a statement in support of Kaepernick and other players' constitutional rights, declaring: "We no longer can afford to stick to sports."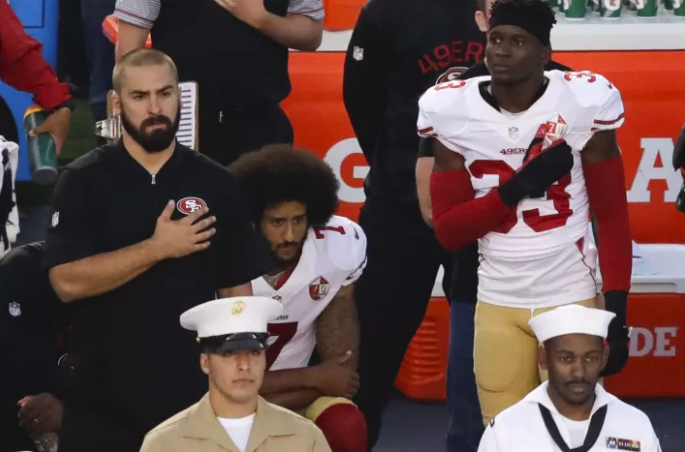 "I am not going to stand up to show pride in a flag for a country that oppresses black people and people of color," Kaepernick, who is now a free agent, said at the time.
Soon after the protests began, the 49ers said their players had a right to exercise freedom of expression. Numerous other athletes followed Kaepernick's example and also protested during the national anthem.
Trump's comments about firing players were repeatedly met with cheers from the crowd, and after the rally his supporters expressed enthusiasm for the idea.

"I support that," Dee Reed, a Trump supporter who attended the rally, told BuzzFeed News. "I think they should, I think there ought to be repercussions for that."
Referring to Trump's suggestion that fans leave the games, he added that "tickets are a little bit expensive to walk out, but I definitely support what he's saying."
Another rally attendee, Dewayne McDougal, also supported Trump's suggestion, saying, "a lot of men died for our flag. And when you kneel for the flag, that's disrespectful."
"If I owned a football team, they kneeled, they would be gone," McDougal said. "There wouldn't be no doubt. And there wouldn't be no union to stop me."
McDougal, a Crimson Tide fan, said he stopped watching NFL football games about two years ago because of exactly what Trump was talking about: "It started getting political. You start taking the game out of something, then you don't have football."
In addition to suggesting that players like Kaepernick should be fired, Trump said Friday that professional football is being ruined because players are penalized if "they hit too hard."
The damage caused by high intensity impacts in football has become a focus of attention in recent years after some players have been found to suffer from brain trauma. On Thursday, a lawsuit alleged that Aaron Hernandez, the former NFL player who killed himself in prison after being convicted of murder, suffered from a degenerative brain disease known as CTE that can result from repeated concussions.
Trump didn't mention CTE, but did lament the changing state of the NFL Friday.
"They are ruining the game, right?" Trump said. "They're ruining the game."