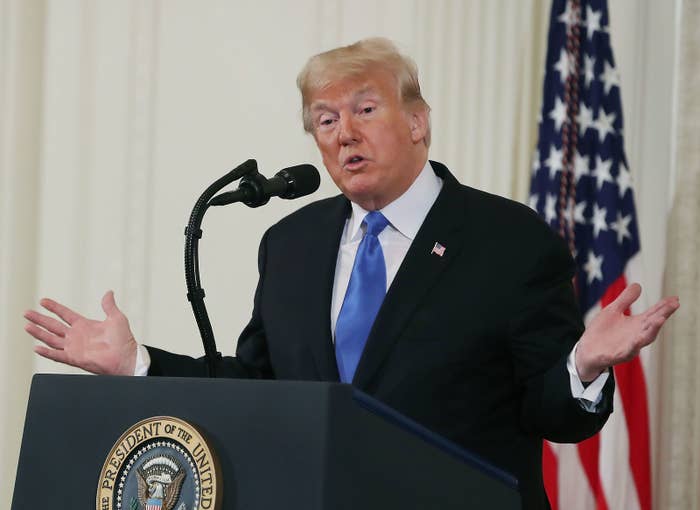 President Donald Trump threw his support behind an effort to soften sentences for some crimes on Wednesday, despite likely roadblocks ahead from members of his own party.
The endorsement is a sharp change for Trump, who has consistently campaigned on a racialized "law and order" message and until recently had one of the most prominent opponents of sentencing changes as his attorney general.
Trump opened his speech at the Republican National Convention in Cleveland in 2016, for example, by portraying himself as the tough-on-crime nominee. "I have a message for all of you: The crime and violence that today afflicts our nation will soon come to an end. Beginning on January 20th, 2017, safety will be restored," he said while accepting the party's nomination.
And just earlier this year, he talked about the death penalty for drug dealers. "If we don't get tough on the drug dealers, we are wasting our time," Trump said in March at an event in New Hampshire. "And that toughness includes the death penalty."

The bipartisan effort to overhaul some sentencing laws, which has been long championed by Trump's son-in-law Jared Kushner, could be the president's last major legislative policy push under a Republican majority in Congress. But it's not expected to face an easy passage, with Republican leadership already pointing out that there are too many must-pass bills lawmakers have to deal with before the end of the year.
In announcing the proposal, Trump insisted that it had "tremendous support at every level." He also said it includes "reasonable sentencing reform" and will "reduce crime while giving our fellow citizens a chance at redemption."
"So if something happens and they make a mistake, they get a second chance at life," he said at an event at the White House with lawmakers and advocates by his side.
Trump's support for the proposal comes days after he ousted his former attorney general, Jeff Sessions, who opposed any changes to sentencing laws when he was in the Senate.

The proposal is still being finalized and is expected to add lowering mandatory sentencing minimums related to certain types of felonies, among other provisions, to a House-passed prison reform bill. It's the product of years of bipartisan talks between lawmakers and advocates that were spearheaded in the Trump administration by Kushner, amid continued reluctance from the "law and order" faction of the Republican Party.
Kushner — whose father was in prison for two years for tax evasion, witness tampering, and illegal campaign contributions — made changing the criminal justice system his domestic policy priority this year, especially as his Office of American Innovation in the White House struggled. Kushner in recent months has led roundtables at the White House on the subject with advocates in an effort to get buy-in from the president. He also hired one of those advocates, Brooke Rollins, formerly of the Texas Public Policy Foundation, in February to work at the White House and invited Republican and Democratic lawmakers over to his home for dinner to talk about prison reform.
Trump's support for the measure marks a steady transition for him on the issue, said Mark Holden, vice president and general counsel of Koch Industries, who has worked on criminal justice reform with both the Obama and Trump administrations and attended some of the roundtables organized by Kushner.
Holden said Trump was listening intently during those sessions and was especially moved when at one of those White House events, an attendee equated Americans with a record with the "forgotten men and women" whom Trump campaigned on. "You could tell that really resonated with him," Holden said, adding that learning about Alice Johnson, whose sentence Trump commuted, also played a role in the president understanding the sentencing laws around drug offenses, along with hearing from red-state governors who have made reforms on the state level.
"Experiences like that have changed his views and his mind on these things," Holden said.
A key endorsement of the effort from the Fraternal Order of Police also ultimately played a role in Trump's thinking. During the White House event Wednesday, Trump noted the backing from law enforcement groups, saying it "ensures that this legislation remains tough on crime."

The president has also famously discussed criminal justice reform at the White House with Kim Kardashian and Kanye West on separate occasions. Kardashian West met with Trump in the Oval Office earlier this year specifically on behalf of Johnson, who had been in prison on a life sentence for a nonviolent drug offense.
Although there has been bipartisan support on the issue in the Senate for years, proponents from both parties are still ironing out the final points, and it's unclear if there is enough support from Republicans. In a press conference Wednesday, Senate Majority Leader Mitch McConnell, who has been reluctant to take up the issue because of strong divisions among his Republican caucus, laid out the process that still needs to happen for the proposal to come to a vote.
"First, we kind of need a final agreement," McConnell told reporters.
"Then we would take a whip count, see where we stand, and then weigh it at that point against the other things that absolutely have to be accomplished. One of which is how we are going to fund the government, the other is the farm bill. So we don't have a whole lot of time left, but the first step is to actually finalize what proponents are actually for."
There are only a few weeks left for Congress to consider the final agreement before breaking for the year, and then returning with a new Congress with Democrats in control of the House. Trump, however, seemed optimistic.
"I'll be waiting with a pen," he said. "It's the right thing to do."