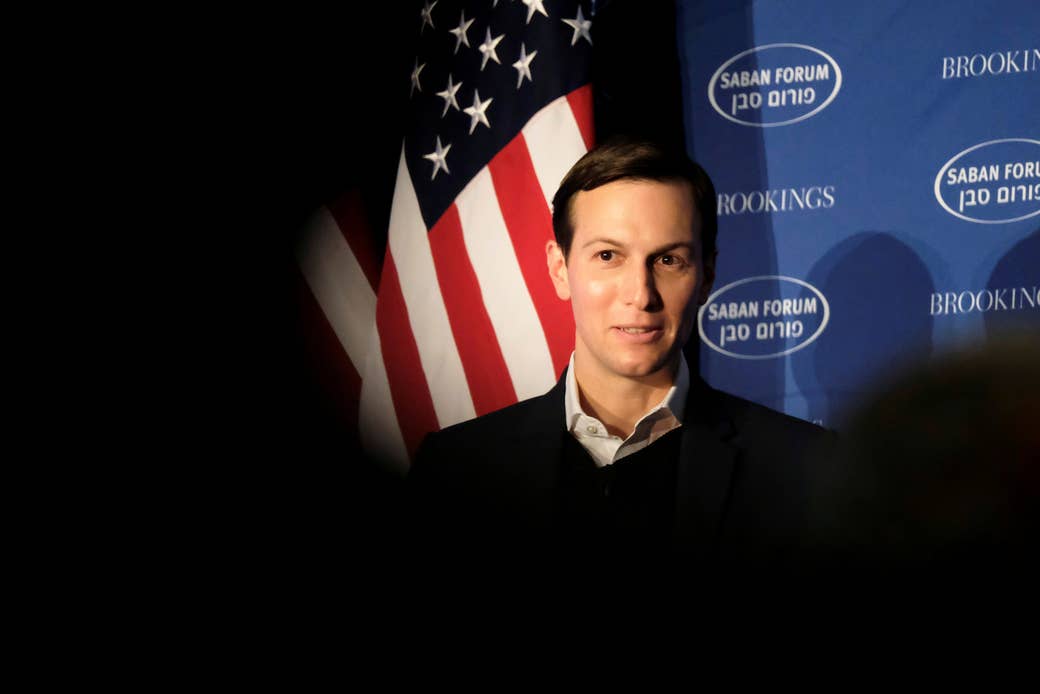 Jared Kushner's ambitious plan to make American government more efficient is set to enter its second year with no significant accomplishments, a diminished staff, and an uncertain future — all as the presidential son-in-law's own power weakens in the administration.

President Donald Trump first announced the creation of the Office of American Innovation helmed by Kushner a year ago this month with a bold mission of modernizing the government's technology while working on a wide array of the president's campaign promises, including helping veterans and fighting the opioid crisis, with its "SWAT team of strategic consultants," according to a front-page Washington Post story on its formation. But on that same day, it was also revealed that Kushner would be testifying before the Senate Intelligence Committee as part of the investigation into Russian meddling in the 2016 election.
As the office now approaches its first anniversary, Kushner has become even more entangled in the Russia investigation and is increasingly seen as a polarizing and scandal-plagued figure within the administration. He has lost his top-level security clearance, and faces questions over mixing government and private business. Now his future in the White House — along with his pet project's — is unclear.
It's also unclear, for some, what Kushner's office has gotten done. Over a dozen people inside or close to the White House who spoke with BuzzFeed News said they had no real idea what the Office of American Innovation was there for and couldn't point to any major policy wins.
Kushner's allies acknowledge they have yet to report any flashy accomplishments, but say those are not the types of achievements the office is designed for. The office has stayed out of the administration's major policy fights — tax reform and repealing Obamacare — because they believe their work, is meant to be long-term, "multi-year or even multi-administration," and largely nonpartisan.
The office's small group of White House aides have been working on nitty-gritty projects within the bowels of bureaucracy — increasingly under the radar to avoid getting dragged into the administration's usual turbulence.
The staffers broke down the overly broad and vague goals that Kushner was mocked for inside and outside the White House, including reforming the Veterans Affairs department and creating a "workforce for the future," into lists of tasks that are much more in the weeds but fall within the portfolio. The office's priorities and the status of each are detailed in neat handwriting on a big whiteboard staff routinely update.
"Lots of what I call singles and doubles," a senior administration official said of the office's work so far.
The biggest projects that've been launched and checked off that list in the past year include switching the Veterans Affairs department's aging electronic health records system with the same one used by the Department of Defense; a detailed report on modernizing the government's technology; and a new effort announced this month to make it easier for patients to access their medical records.
"Lots of what I call singles and doubles," a senior administration official said of the work so far. "No home runs that are just going to transform the government. But we're setting up the preconditions for success, and a lot of this is now going to be built into the infrastructure of the government to drive change across."
But the already small office, which has about five or six people, some of whom also have other White House responsibilities, is already losing key staff. Chris Liddell, the former chief financial officer at Microsoft who had been working on several of the office's key projects, is a top contender to replace Gary Cohn as the president's top economic adviser. Liddell's partner at the office, Reed Cordish, a close personal friend of Kushner's, already left the office this month and was replaced by a former political aide from Texas, Brooke Rollins. Another staffer, Josh Raffel, who served as the spokesperson for the office, will be leaving the White House in the coming weeks. And the status of Kushner and his wife, Ivanka Trump, and how long they will remain in Washington, DC, is also unclear.
Although officials argue that the work of the office is devoid of politics and focused on long-term solutions, it's very existence was the direct result of the Trump team's seemingly daily power struggles.
When Trump was sworn in in early 2017, a core group of his top advisers sought to build an internal think tank led by then–chief strategist Steve Bannon and Kushner, who started out on good terms early on. Both of them — along with their closest allies — would all gather together first in Bannon's office and later in the Roosevelt Room to map out long-term policy ideas. The group, which came to be known as the Strategic Innovation Group, or SIG, ultimately drew attention from chief of staff Reince Priebus, who at the time was paranoid about losing power in the West Wing and started sending his own allies to the gatherings.
The mixing of what would soon become warring factions within the White House didn't last long. Those involved had very different policy views and priorities, especially on how involved the administration should be with the private sector — an area that Kushner thought was key. Ultimately, what was left of SIG was soon led by just Kushner.
The policy institute as it was initially envisioned was dead really before it was fully established. But Kushner's half of the venture was soon resuscitated and rebranded into the Office of American Innovation, which had the president's blessing and which Kushner no longer had to argue with Bannon or Priebus over.
It hasn't exactly been smooth sailing from then on.
After the first half of last year, the office had to adapt its approach and operate more behind the scenes to keep up its partnerships with the private sector. Kushner's original plan was to get CEOs and business leaders involved with policy-making. The president's son-in-law thought of himself as the bridge between the administration and private sector and wanted to form several councils and taskforces that would tackle different industries and issues, according to sources briefed.
But he was also part of he same administration that was routinely associated with controversial remarks that turned off many in the private sector who were concerned about protecting their brands.
"The Office of American Innovation will bring a creative and strategic approach to many critical issues and intractable problems that affect Americans' quality of life," Kushner said in statement last year. "We have an opportunity to identify and implement solutions by combining internal resources with the private sector's innovation and creativity, enabling the Federal Government to better serve Americans."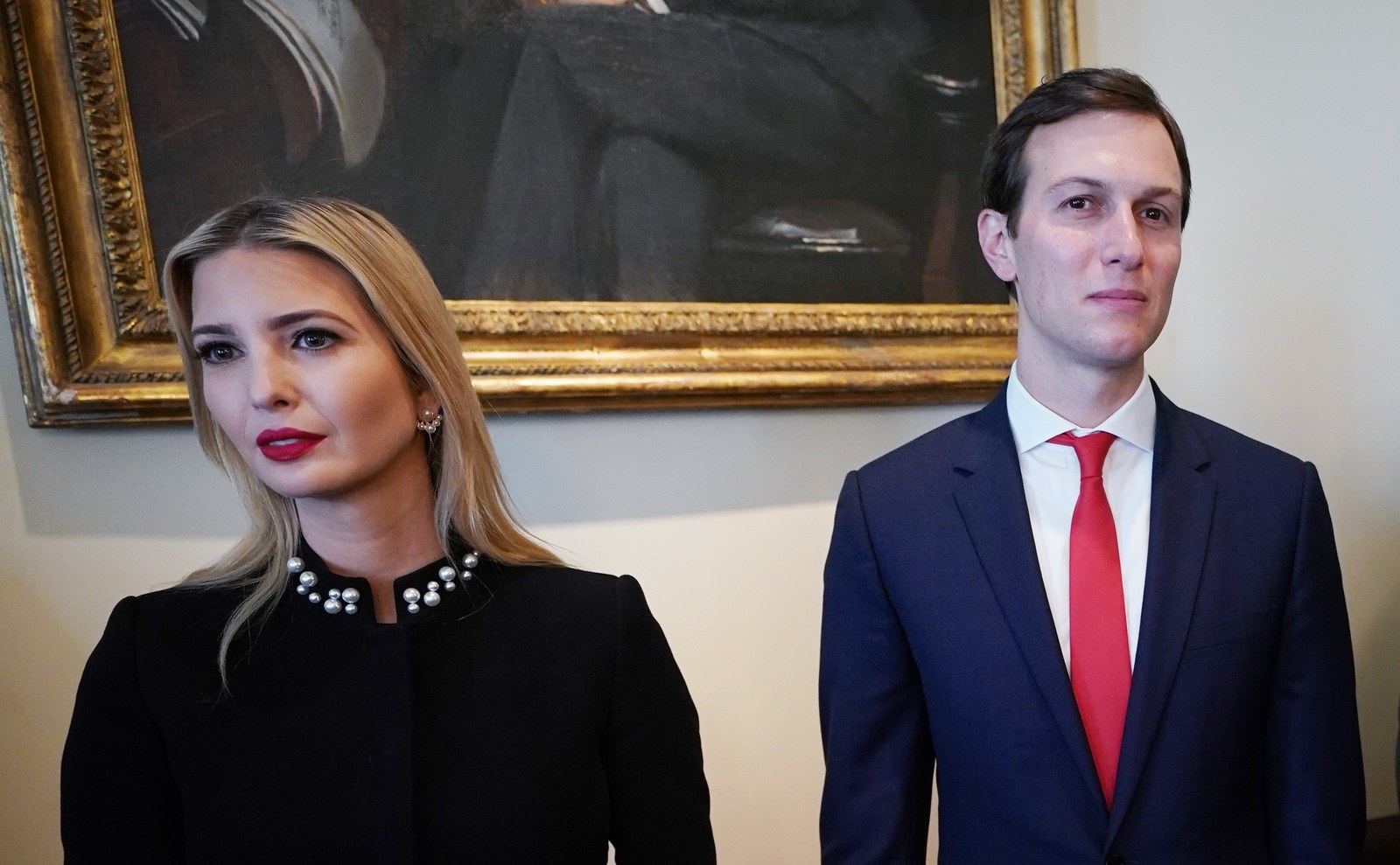 Kushner's idea, according to a source, was to allow business leaders to offer up ideas for policies and take the ones that were "actionable" and add them to the administration's agenda. A White House statement announcing the creation of the office said it would establish "task forces to focus on initiatives such as modernizing Government services and information technology, improving services to veterans, creating transformational infrastructure projects, implementing regulatory and process reforms, creating manufacturing jobs, addressing the drug and opioid epidemic, and developing 'workforce of the future' programs."
But last August, when the president suggested "both sides" were to blame for white nationalist violence in Charlottesville, Virginia, the few existing councils that included business leaders quickly evaporated — and so did plans for creating more. And major public events with top CEOs, like the technology summit that was attended by Apple CEO Tim Cook, Microsoft CEO Satya Nadella, and Amazon CEO Jeff Bezos, were no longer organized by the office.
The relationships between business leaders and the office, however, have not ended, according to officials. The meetings are now no longer publicized, don't include any photo-ops, and are about more specific policy themes. For example, the office held seven listening sessions with various stakeholders within the health care industry before announcing an effort in Las Vegas this month focusing on patient's medical records.
And trade associations that have major companies among their members are still actively involved. The Business Roundtable, an influential group that has top CEOs as members, has been working with the office on highlighting the importance of apprenticeships and retraining adults. Another one of those groups, the Internet Association, which counts big-name companies like Twitter, Google, Amazon, and Lyft as its members, has also been working with Kushner and his team behind the scenes.
Michael Beckerman, president and CEO of the Internet Association, described Kushner's office as "constructive partners," adding that working with the administration does not mean that they support everything that the administration does or what the president says. "Part of it is having the expectation that you're never going to have blanket support or opposition," Beckerman said.
Beckerman's group, and many others, have been particularly focused on the office's efforts to modernize the government's technology.
Although it's a top priority, sources involved in those efforts told BuzzFeed News that they view their progress as irrespective of Kushner's office. The work is being carried out by mostly civil servants and not political appointees and has not been shaped or changed by Trump's aides. A senior administration official also acknowledged that their assessment of the government's IT needs is largely the same as the Obama administration's, but argued the Office of American Innovation has more of an implementation plan and momentum behind its efforts.
Kushner gets a weekly update on the progress on modernizing the government's IT. He once had a near-limitless portfolio as a top adviser to the president. But now, after losing his top-level security clearance, there's a clear ceiling on how much he can do in the White House, wedding him even more closely to his innovation office.
These days he's not working on all projects the office is involved in, but he remains most interested in the technology-related tasks and prison reform, which was not originally part of the office's purview.
Prison reform first became a major part of the office's mission last summer, when Vice President Mike Pence met with billionaire Charles Koch and his team. The Trump administration and the network of groups founded by Koch have not always seen eye-to-eye, but on criminal justice reform, they see some potential to work together. Marc Short, the White House legislative director and former Pence aide who used to work for the Koch network, was also in the meeting and agreed to connect Koch officials with Kushner.
"The next day, we got a call from Jared's team," said Mark Holden, chairman of Freedom Partners, the umbrella organization backed by the Koch brothers and their affiliated donors. "That was the start."
The call led to meetings at the White House and more conversations over the phone, Holden said. "(Kushner) was very passionate about this issue because his dad was in prison," Holden said. "He said this was the issue he cared most about."
"There's a real sincerity behind his desire to help people who have been caught up in the criminal justice system."
It's also an issue with broad public support and one of Kushner's few uncontroversial priorities. And unlike other parts of Kushner's portfolio, like landing a Middle East peace deal, it doesn't involve security clearances and foreign contacts.
Initial discussions about criminal justice reform have since shifted more specifically to helping people in prison become better prepared for life once they reenter society. Kushner and his team have been able to get the president and Attorney General Jeff Sessions, who opposed bipartisan criminal justice reform efforts when he was in the Senate, on board with a narrower approach. Trump even mentioned the issue during this State of the Union speech.
Kushner has spent time on Capitol Hill in recent months and invited Republican and Democratic lawmakers over to his house for dinner to talk about prison reform. One of those Democrats, Rhode Island Sen. Sheldon Whitehouse, said he's offered Kushner advice on the role he can play in getting some sort of legislation on the topic through Congress.
"I've told Mr. Kushner, the real test will be whether he can help to align the factions within the Trump administration to see good legislation through," Whitehouse said.
But for all his efforts on prison reform, an issue that has support inside and outside the White House, Kushner has yet to get meaningful legislative or executive action on the issue, other than the creation of a panel this month dedicated to the topic.
In January, Kushner and Trump led a roundtable with advocates on prison reform — a significant step for the administration in highlighting prison reform as a priority.
"Very important," Trump said during the discussion. "Very big topic. It's become a very big topic, especially, I think, over the last 12 months or so. We've been focused on it very strongly."
About two hours after the meeting ended, the Washington Post posted a story detailing how the president had called Haiti, El Salvador, and African nations "shithole countries."
For the next several weeks, and as Kushner's security clearance came into question, prison reform and the Office of American Innovation went back to being no longer a very big topic.
CORRECTION
The white nationalist violence in Charlottesville, Virginia took place last August. A previous version of this story misstated when it occurred.