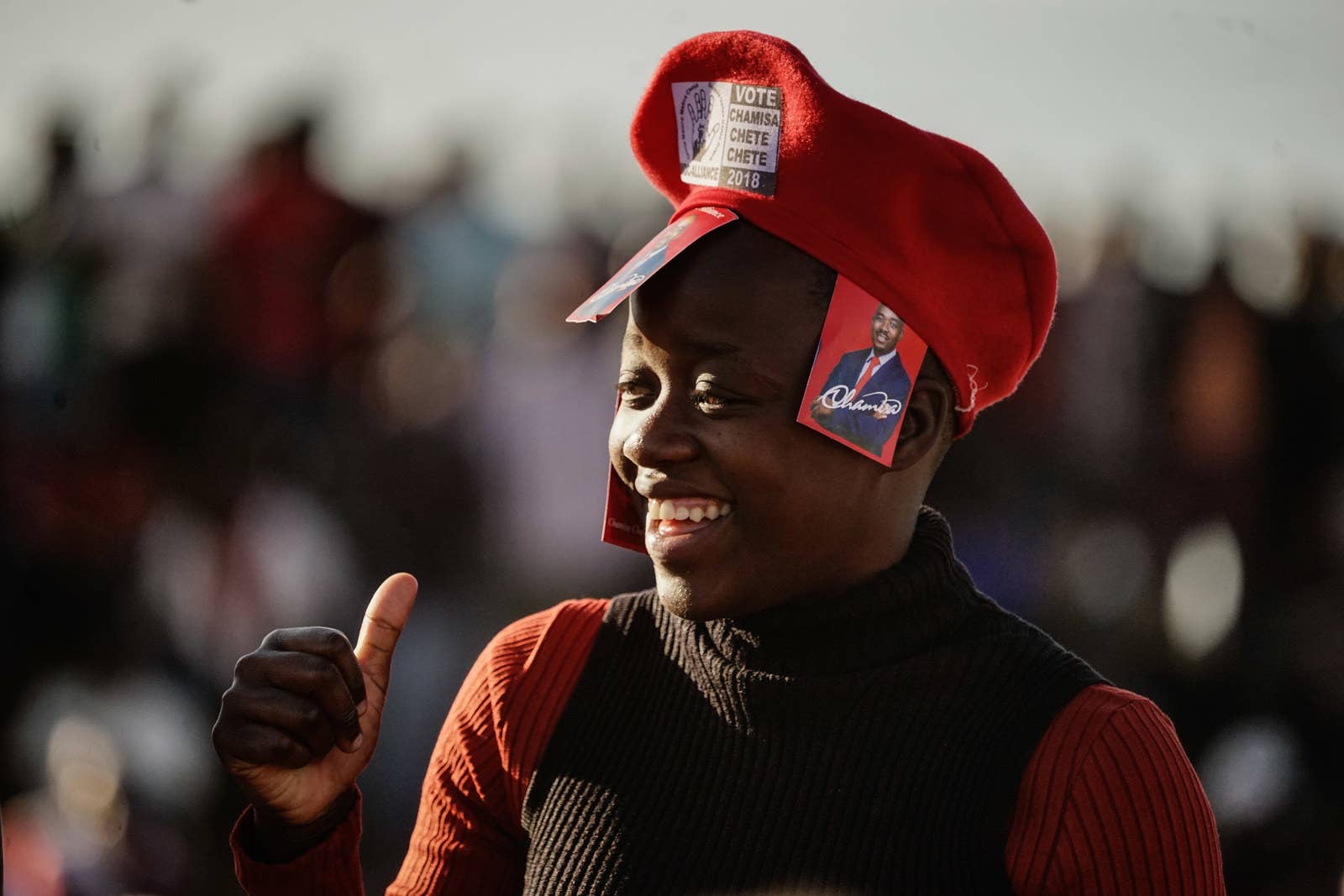 HARARE, Zimbabwe — A few minutes past 6:45 a.m. on a cold July morning in the Zimbabwean capital of Harare, a small group of people wearing bright yellow signs marched into the middle of a busy intersection and began directing traffic. Calling themselves "human billboards," the posters strapped to their shoulders boasted the name of a local candidate running in Monday's historic election, a 32-year-old attorney and activist turned politician named Fadzayi Mahere.
Mahere joined the roadside campaign shortly after her team, her warm smile standing in sharp contrast to the biting cold. As people drove past, she waved and danced the kind of two-step people do to keep warm. Many gave chirpy honks of support as they sped down the road; some leaned out of their windows to greet her personally.
"Good morning, thank you so much," Mahere would say, sometimes offering a similar greeting in Shona, one of the main languages spoken in Zimbabwe. But the most crucial line of her bid that day was clear.
"Don't forget to vote on Monday!"
Zimbabwe, a southern African country of just over 16 million people, is two days away from one of the most pivotal moments in its history. The nation's longtime ruler, former president Robert Mugabe, ran the country for 37 years — the entire span of its independence from the United Kingdom — as a dictatorial regime known for its violent oppression and ailing economy that people are still recovering from. On Nov. 23 last year, Mugabe was forced out of office in an unprecedented military takeover, and the man who led what many call the "soft coup" — Emmerson Mnangagwa — became president. He is now considered the frontrunner in Zimbabwe's first open elections. And for the first time ever, Mugabe will watch a it all take place in his country without participating.
The mood in Zimbabwe as Election Day approaches has been part bated-breath anticipation, part cautious optimism, depending on whom you ask. While many have enjoyed being able to shout about politics in the street without getting abducted by the police, others aren't totally convinced that the bad days are really over. July 30 will, many hope, start a new chapter in Zimbabwe's history — and women like Mahere are taking an active role in helping write it.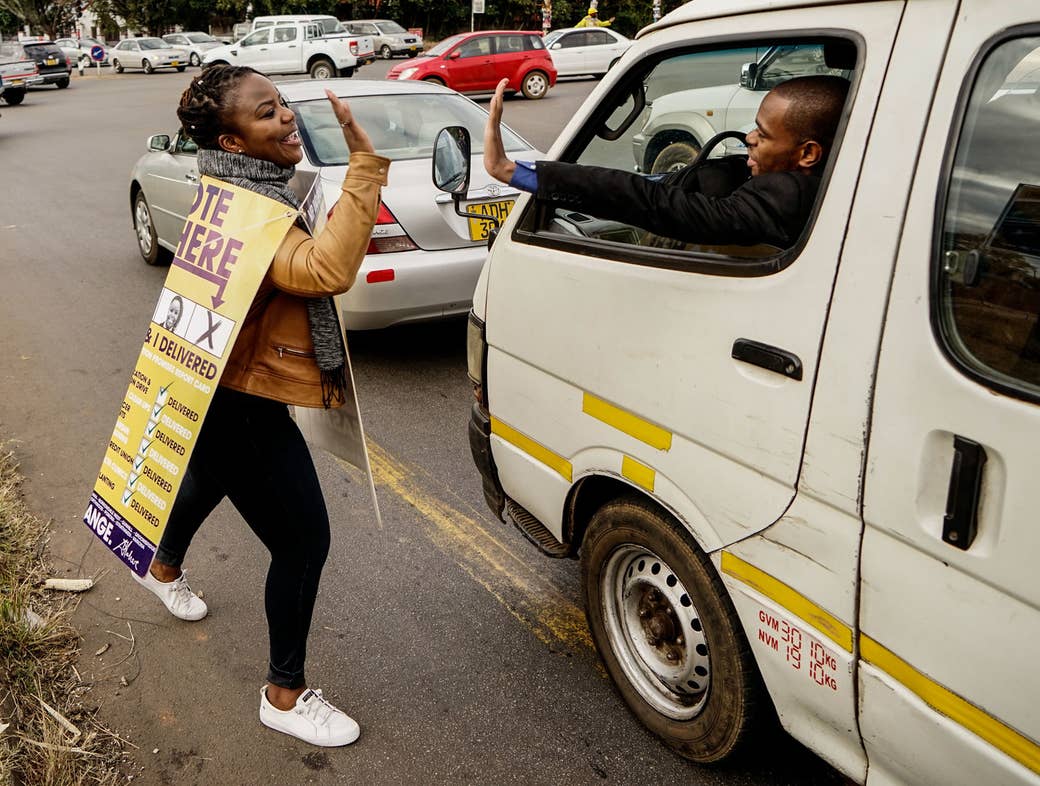 Despite this being her first time running for office, Mahere is no stranger to the political ring. An attorney by profession, Mahere is also an experienced and well-known activist in Zimbabwe. Two years ago, Mahere joined the #ThisFlag movement and immediately began taking on the oppressive and brutal policies of Mugabe and his party, the Zimbabwe African National Union–Patriotic Front (ZANU-PF). She was invited into the movement by Kuda Musasiwa, a marketing specialist and founding member of the activist-led organization.
She's running in the ethnically and economically diverse neighborhood of Mount Pleasant, a suburban area of Harare where black, white, and Indian Zimbabweans live next door to each other. The domestic workers and gardeners who live with their employers are also registered to vote in the district. Mahere has law degrees from the University of Zimbabwe and Cambridge, and a résumé that includes a position in the Office of the Prosecutor at the International Criminal Court in the Hague, and, currently, appearances in Zimbabwe courts. Running a campaign in a neighborhood like Mount Pleasant means she's had to become an expert in code-switching, learning how to connect with people from multiple facets of life, if she's to have any shot at winning. Norma Musasiwa, a close friend and member of her campaign team, told BuzzFeed News that Mahere learned to improve her Shona and swapped out her pricey weave for natural locs in order to connect with her constituency.
"So we thought: Why not try to participate in the political process and actually, you know, make changes from within as young, independent candidates?"
Her efforts were apparent at the human billboard event. She switched fluidly between addressing voters in a British-tinged English and in the local language, always in a voice that suggested she was smiling, even when you couldn't see her. Norma, who is married to Kuda, said that for someone who's most comfortable alone on the couch with a good book and cup of coffee, Mahere had to step out of her shell if she wanted to win a seat in parliament.
Kuda said Mahere's decision to run for MP came about over a coffee date with friends she'd met through #ThisFlag just over a year ago, long before Mugabe stepped down.
They'd been talking about how to transition out of social movements, which had begun to feel stagnant; they could hardly stage a protest without getting arrested or harassed by police.
"So we thought: Why not try to participate in the political process and actually, you know, make changes from within as young, independent candidates?" he said.
Given Mahere's legal background and the 118,000 Twitter followers she has gained due to her activist work, she was the clear choice among them to stand as a candidate. And Kuda said everyone was in agreement that her campaign would represent more than just their own beliefs.
"I think the idea was to try and use Fadzayi as a 'talisman project,' to see if she could be the one who inspires a bigger generation of independents to come out," he said. On June 29, 2017, she formally announced her candidacy to become a member of parliament.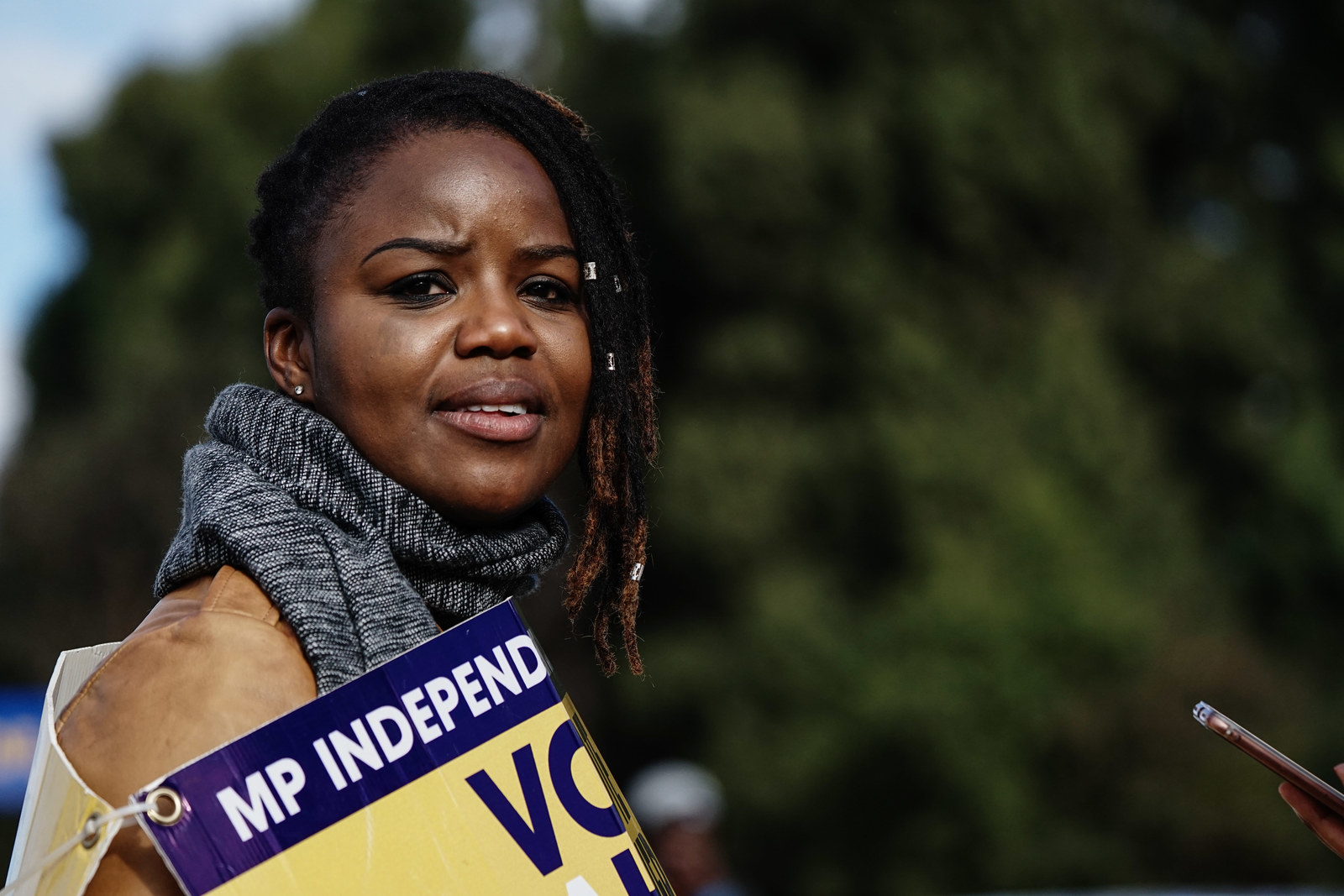 That a young, independent candidate can run a grassroots campaign for a seat in parliament and garner such a large following would have been unheard of even during the last election in 2013, which was widely seen as fixed, as all elections have been since Mugabe became president in 1980. Mahere's presence illustrates just how much the political landscape has changed since Mugabe's resignation. Her campaign team told BuzzFeed News that even though they always hoped she'd win, it started to feel like it wasn't such a crazy idea after Mugabe was forced aside.
In the old days, votes were won through bribes; Mugabe was known to woo voters with T-shirts and food on the campaign trail to guarantee their support. Mahere wants to do away with all that. Instead, she's hosted soccer tournaments, set up a microfinancing program for women in her constituency, and held community cleanups.
"The old-school way was, 'I will give you soap. I will give you rice,'" said Norma. "Fadzayi's way is, 'I will give you a way to get soap consistently so that even when I'm not there, you will be able to wash yourself.'"
"She's given it her all, and we have no intention of — we don't even call it losing, we say it's winning or learning."
Norma said that regardless of the election results, she knows that Mahere will long be seen as an example of what a clean campaign looks like in Zimbabwe.
"She's given it her all, and we have no intention of— we don't even call it losing, we say it's winning or learning," she said. "If on the day of elections, you see people weeping, it's because so much went into this."
Mahere and her team have invested thousands of their own dollars into the project and are all working for free. As activists, they are all used to getting a lot done on a small budget and rallying volunteers for support. Unlike many political candidates, Mahere is not being backed by rich businessmen with ulterior motives. Nobody in her group seems interested in turning their politics into a career, and they aren't doing it for the money.
But Mahere emphasized that, despite her core team's dedication, they would not have been able to accomplish any of their goals without the support of hundreds of volunteers, most of whom are women.
"Young women support women, gogos [a Shona term of endearment for older women] support women," she said. "They've have been fantastic on the campaign trail. Some of my biggest cheerleaders, my volunteers, are women."
The discrimination and violence facing women in politics, as candidates or simply election officials, has become an increasingly hot topic in the weeks leading up to the July 30 vote. The issue isn't new, but some Zimbabweans have begun to address their awful experiences by talking openly about the sexism they face.
One woman, Priscilla Misihairabwi-Mushonga, was accused of killing her husband, an accusation that reportedly sent her spiraling into depression. Another, Thokozani Khupe, was called a prostitute, then later physically beaten and nearly set on fire after she questioned the transition of power within her party, the Movement for Democratic Change (MDC), after the death of well-known opposition leader Morgan Tsvangirai. (Nelson Chamisa, who is running for president, succeeded him.)
Their concerns were echoed by the Elders, a group of distinguished global political leaders who include former UN secretary general Kofi Annan and Mary Robinson, who served as the first woman president of Ireland. During their visit to Harare last week to share their observations ahead of the elections, they called out the sexism and misogyny they'd observed.
Robinson commented on how shocked the Elders were to learn that commissioners of the Zimbabwe Electoral Commission were so afraid of intimidation and violence that they refused to travel anywhere alone.
The commissioners, she said, had been "vilified on social media, and even threatened. This is not acceptable at all."
Mahere acknowledged the widespread sexism, and joked about how frequently she gets asked about her marital status but not her 10-page manifesto. But she is insistent that she can't focus solely on being a woman while campaigning.
"The challenges that women face in the political space are exactly the same challenges they face in the professional space," she said, pausing to hug someone from her campaign team. She said that "identity politics can be dangerous," and that she preferred to run as a candidate who happens to be a woman rather than a women's candidate. Her approach resembles that of Hillary Clinton's when she ran against Barack Obama in 2008. Not so ironically, Mahere is a huge fan of the former secretary of state, according to her friends. One of her campaign signs even references Clinton's famous "I'm With Her" slogan by highlighting the "her" in Mahere's last name.
Mahere pointed out that Zimbabwe's constitution is actually quite progressive when it comes to women. The issue is that not enough people know their rights within it.
"I think the women's agenda has slowed down significantly, and so there is really a need to pick that up again and to keep the movement going," she said.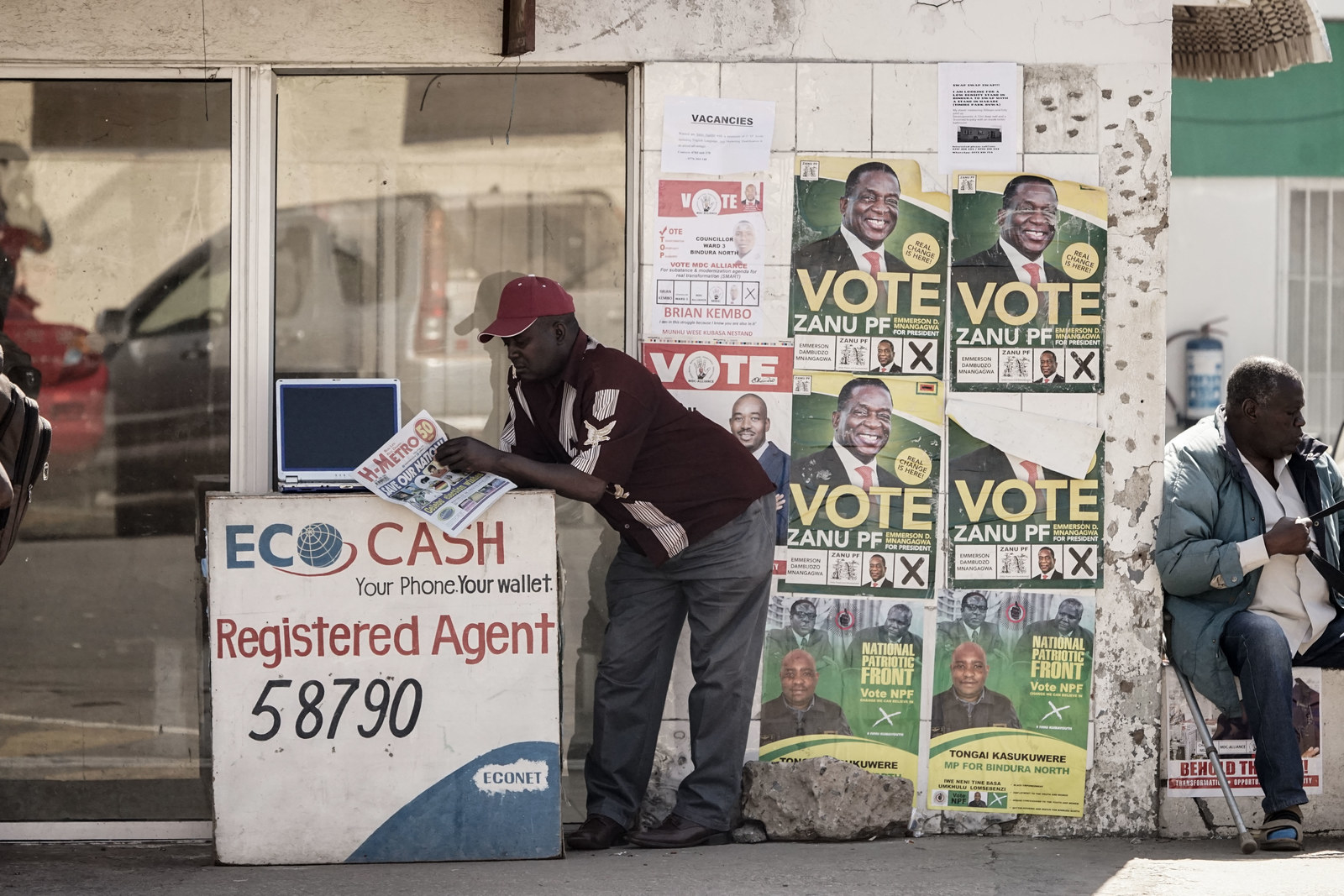 But the race attracting by far the most attention and controversy in Zimbabwe is at the presidential level. Mnangagwa, Mugabe's former intelligence chief who used to be nicknamed "the Crocodile," is now trying to shed the skin of his predecessor's regime and forge his own path. He faces off against Chamisa, a politician 35 years younger than him, whose own lies and sexist comments on the campaign trail have cast doubt on his ability to lead a country at such a crucial time during the post-Mugabe era.
Mnangagwa came to power three days after the military takeover that led to Mugabe's ousting. Commonly called "ED" by Zimbabweans, Mnangagwa had worked closely with Mugabe for decades. Even though their relationship soured near the end — Mugabe fired Mnangagwa as his vice president weeks before he himself was forced out — Mnangagwa's close affiliation with the 93-year-old former dictator earned him a healthy dose of skepticism when he took office. Many Zimbabweans remain concerned he is simply an extension of the oppressive Mugabe regime.
But even some of his staunchest critics told BuzzFeed News they have sensed some positive changes in the country in the eight months that he's held office.
Norma, the activist working on Mahere's campaign, said that she's found the military more progressive than Mugabe's police and that there's been a "shocking level of engagement from the government." Courts are actually approving protest permits, and when people take to the streets these days, they are not met with water cannons or tear gas.
"There are more freedoms and rights respected now than I've ever had in my life," said the 26-year-old. "It's almost taken the fun out of protesting."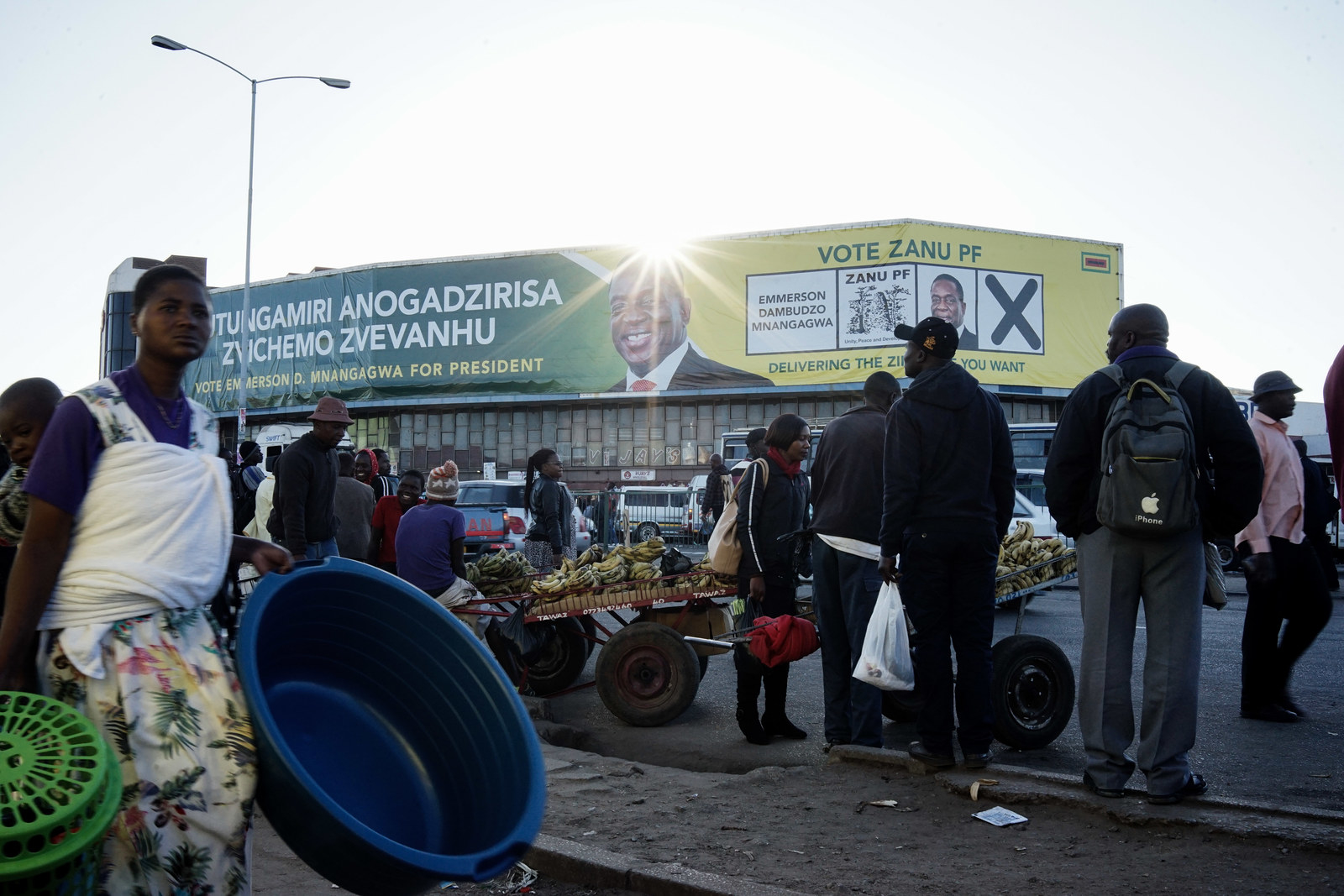 But she maintained that, economically, Mnangagwa still has a long way to go before earning her respect. In 2000, when Mugabe took back land from white farmers — a populist move at the time and a response to the prejudiced division of land as a result of minority rule during the Colonial period — the commercial agricultural industry collapsed, causing the cost of food to soar and millions of Zimbabweans to starve. There have been small improvements since, but Norma said there's still a lot of work to be done.
"We couldn't afford bread before, and we still can't now, but at least we can see it on the shelves," she said. "It's a different kind of hunger."
Despite the small gains by Mnangagwa, local observer groups have expressed their concerns that ZANU-PF has engaged in illegal campaign strategies that threaten the possibility of a fair and open election.
During a press conference held by the Election Situation Room, several watchdog organizations released a joint statement on their preelection assessments. Some of their concerns were specifically about ZANU-PF's tactics, from surveillance and intimidation to the use of state funds.
"We couldn't afford bread before, and we still can't now, but at least we can see it on the shelves."
"Many citizens have received campaign messages on their phones with specific details of their constituency and their wards from ZANU-PF," one observer said during the press conference. "This has caused citizens to wonder how one party had access to accurate personal information on their registration and has increased fears and feelings of intimidation."
Another observer group noted that they'd received reports that government resources had been secretly reallocated specifically to ZANU-PF, "such as government vehicles being used for campaigning, government officials speaking at campaign events, and candidates campaigning at government events."
This, they said, "unleveled the playing field and is further compounded by the fact that ZANU-PF is able to outspend all other parties substantially, and state media coverage is overwhelmingly biased towards them."
Despite all the questions surrounding ZANU-PF's campaign tactics, the opposition party still faces an uphill battle. Chamisa was just 2 years old when Zimbabwe gained independence from the United Kingdom and Mugabe became prime minister in 1980. He quickly rose through the political ranks of the MDC and became an MP, then a cabinet minister in a coalition government with the ZANU-PF, and eventually part of the leadership of the party. In February, Tsvangirai, longtime MDC president and Mugabe critic, appointed Chamisa as acting president of the party while he underwent treatment for colon cancer. He died a week later, and the MDC National Council hastily confirmed Chamisa as acting president for the next year, a move heavily criticized by the other leaders as a show of disrespect to Tsvangirai, who hadn't been buried yet.
Aside from his questionable rise to leader of his party, Chamisa has also made offensive and outright false statements that garnered sharp criticism during his campaign. At a rally in January, he proudly announced that he had met US President Donald Trump, whom he said agreed to donate $15 billion to Zimbabwe if Chamisa became president. The US government quickly dismissed the claim as false.
On another occasion, he said that he would "give" his 18-year-old sister to Mnangagwa if the current president won 5% of votes in the elections. Chamisa later said that he was joking, but not before people called him out for the sexist comment.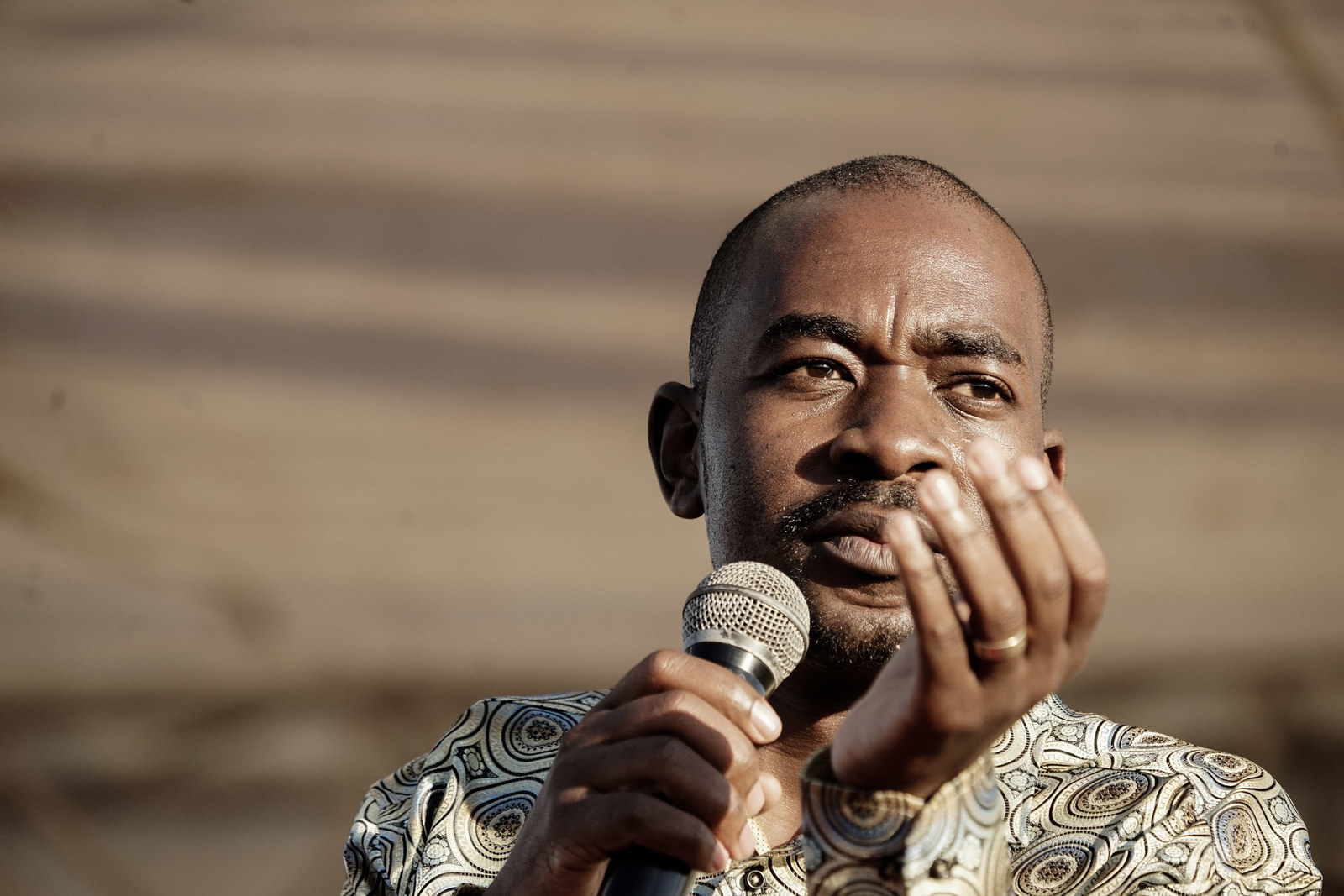 The rivalry between Mnangagwa and Chamisa has left many Zimbabweans feeling caught between two far-from-perfect possibilities for their democratic future.
Esther, a 34-year-old mother of three from the Harare neighborhood of Chitungwiza, sells donuts and sews bedspreads for a living. (She asked that her last name be withheld out of concern for her safety.) Due to the poverty she was facing at home, Esther moved to Port Elizabeth in South Africa in order to earn enough money to support her children, a common move for millions of Zimbabweans in similar circumstances. Last December, she moved back to Zimbabwe, partly because she felt hopeful that Mugabe's resignation would open up job opportunities for her.
Sitting on a park bench in downtown Harare's Africa Unity Square, she said she still hasn't found work.
"Things are tough," she said. "There's no money, no jobs. It's still easier to get work in South Africa."
Esther can't afford to go home to her village (where she's registered) to vote there, but even if she could, she's not convinced it would change anything. "I think it's the same to vote or not to vote," she said, but when BuzzFeed News asked her what changes she hopes the next president brings to the country, she voiced a long list of complaints.
"We have this issue of street kids," she said, referring to homeless children who often approach cars caught in traffic for money or food. "Make a home for them. Orphans aren't able to go to school, and in high-density areas [like mine], the city is not delivering water or electricity."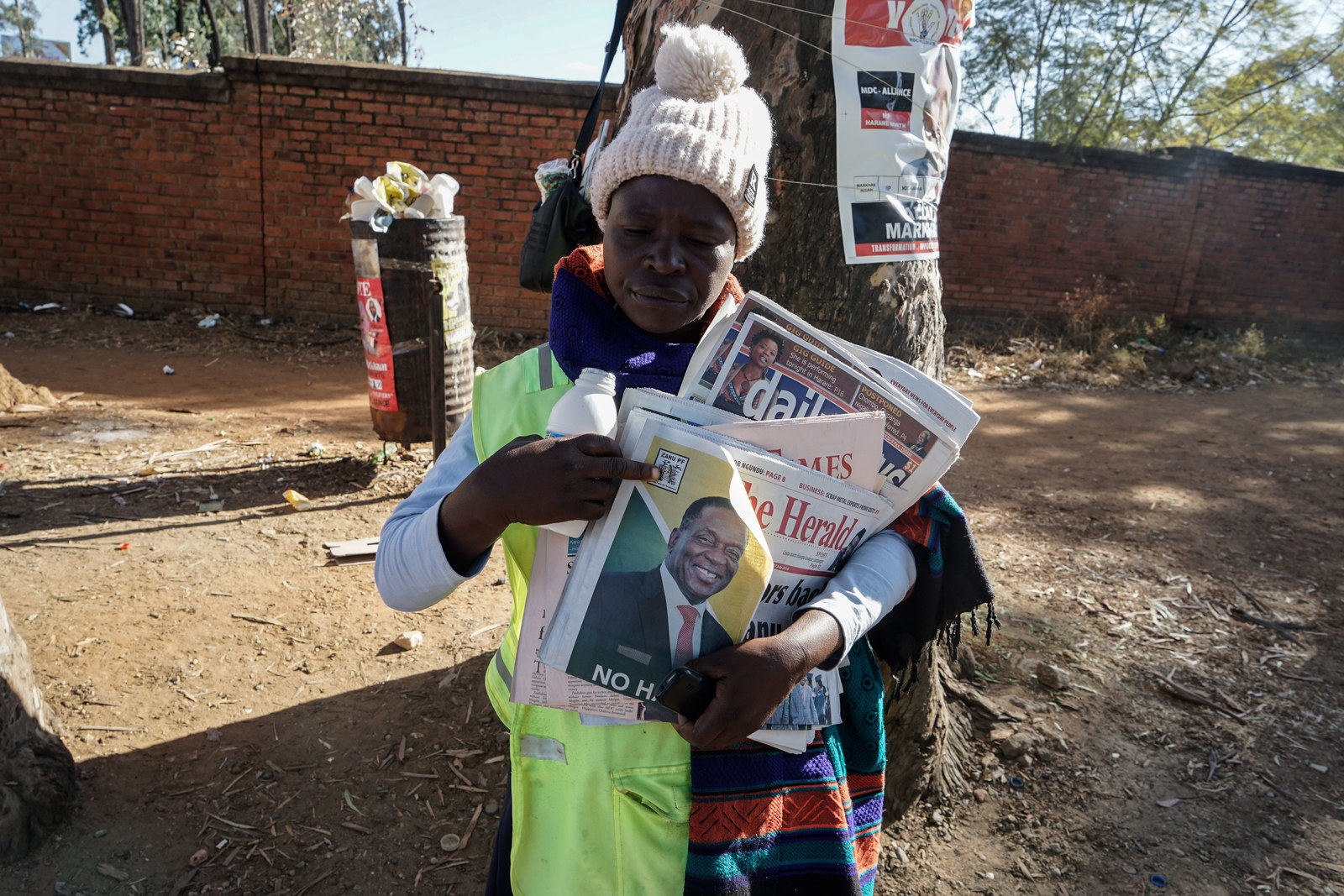 Lovemore, a car importer in his mid-fifties, is registered to vote, but was hesitant to tell BuzzFeed News which candidate he planned to vote for. Many Zimbabweans are still fearful of openly discussing politics, a hangover from the violent tactics Mugabe often used to intimidate opposition voices. Like Esther, he asked that only his first name be used.
Of President Mnangagwa, Lovemore said he thought Zimbabweans "need to give him a chance. Five years [the presidential term length] is not far away. If he doesn't deliver, we can quickly remove him."
At the same time, Lovemore said he "didn't blame" Chamisa for rejecting the status quo and running for president, and even seemed to celebrate the fact that Zimbabweans' democracy was open enough for him to do that.
Ultimately, Lovemore said he supports any candidate who guarantees the brightest future for the next generation. He has three sons, two of whom are in college, and he wants them to be able to graduate and enter the job market.
"They need to see how good this country can be," he said.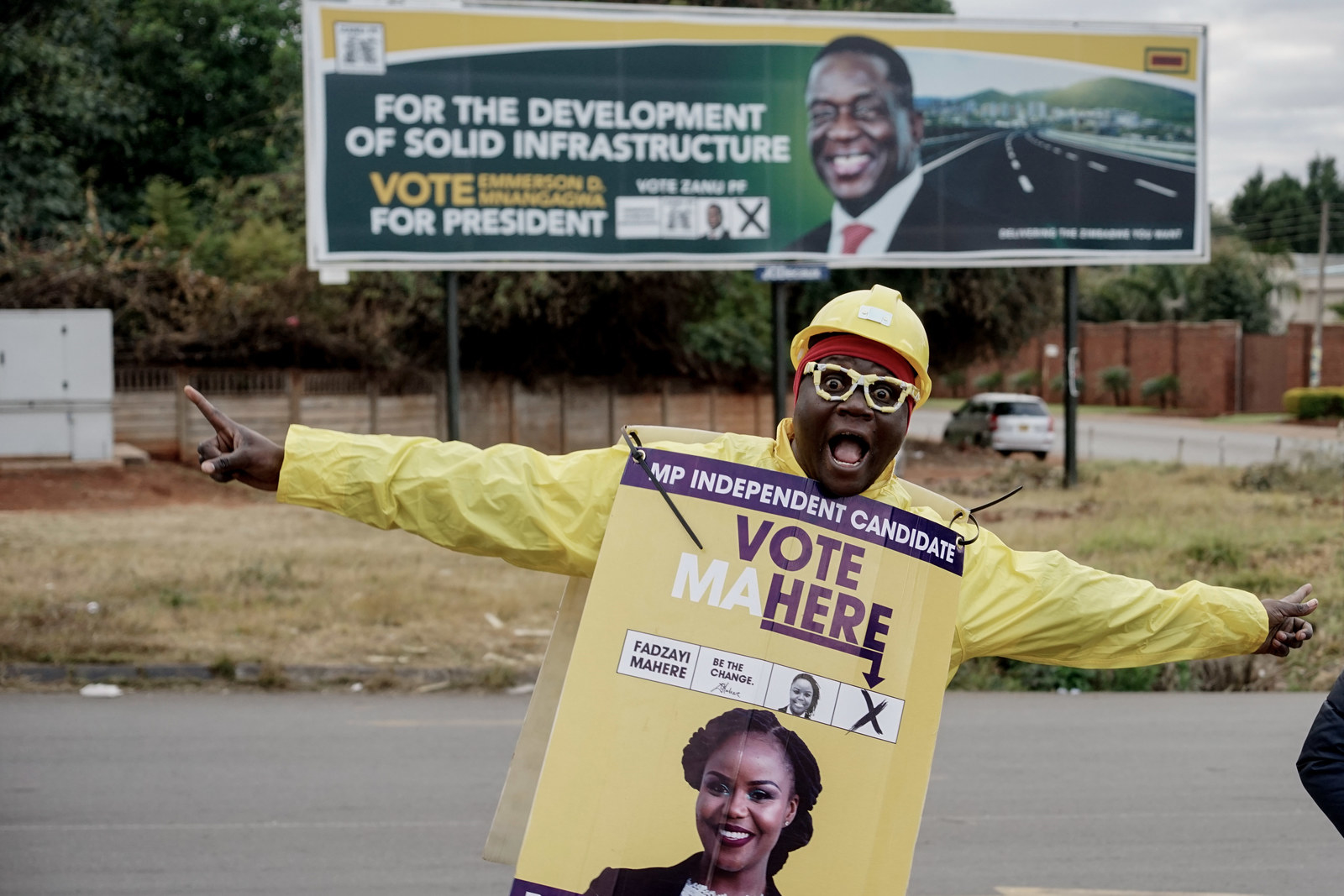 Mahere's human billboard event ended at 8:15 a.m. sharp. It had to — everyone on her campaign, including herself, still works full-time jobs and had to rush to their respective offices. Early on in her run, Mahere said she'd spend her weekdays in court, and campaign on the weekends.
"I've had to change that in the final days of the campaign doing a lot more campaign work, but I still take on legal work because the law is really my first love and my practice is still prolific, so I'm still going," she said, adding that recently she's had to turn away some legal work to focus on her goal of becoming an MP.
When it comes to elections, Mahere said she will refuse to accept anything less than absolute transparency. To her, that's the only way forward in a post-Mugabe era.
"We don't want a democracy that's been watered down. We don't want a just-good-enough election. We want the full, full buffet," she said. "We deserve it. This country's got all the ingredients it takes to succeed. It just needs strong leadership. We should never allow ourselves to get to a place where we've got a strongman at the top and the poor have no power."
She then quickly said goodbye to the last members of her team as they all got into their cars, and just like that, she was zooming down the street in her white SUV. She had three court cases to prepare for the following day. ●