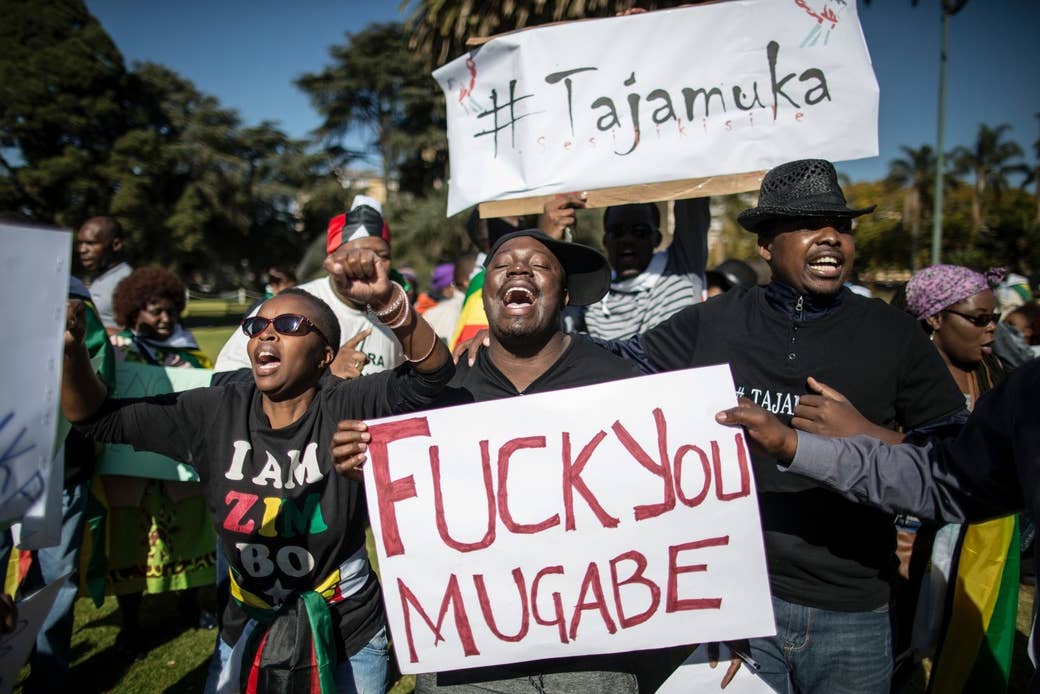 Shortly after stepping off a government jet in Harare at the end of last month, Zimbabwe's President Robert Mugabe spoke to a crowd of cheering supporters at the airport. It was a warm welcome for the aging dictator, but one that belied serious discontent bubbling against his 36-year-long rule.
For the past four months, Zimbabwe has seen weekly rallies over stalled electoral reforms and a plunging economy blamed on his administration. The protests grew bigger after a video posted by a pastor using #ThisFlag went viral. The hashtag symbolized how citizens felt their country's potential had been stunted, inspiring thousands of Zimbabweans to take to the streets of Harare carrying their flags in the country's biggest protest in nearly two decades.
As police and demonstrators continued to clash with one another in the center of the capital, Mugabe dismissed the protests, using his long-running favorite set piece to explain the public anger: He blamed hostile Western countries, including the United States, for "sponsoring" the uprisings.
"They are thinking that what happened in the Arab Spring is going to happen in this country," Mugabe said, in his address that was broadcast on state television. "But we tell them that it is not going to happen here."
This time, though, dissent has increasingly come from within Mugabe's inner circle. Many veterans who fought for the country's independence have broken ranks with the strongman for the first time, accusing him of abandoning the values of the liberation struggle. Marred by deflation, unemployment, and a shortage of currency, the government has hinted it will cut thousands of state jobs and shut down its diplomatic missions abroad. On Thursday, the country's finance minister said the government may not be able to pay salaries of its civil servants.
Although Zimbabwe's government has a long history of violently crushing dissent, this year, for the first time since the food riots in 2008, Zimbabweans are daring to speak out en masse. As a result, Mugabe is facing one of the biggest challenges to his rule since taking the helm of the southern African nation following its independence in 1980 — and he is responding in a pattern activists say is now wearily familiar.
The government's crackdown is so pervasive that the pastor who became a lightning rod for public outrage decided to pre-record a video, anticipating his abduction. Evan Mawarire, 39, whose video fueled the #ThisFlag movement, has since fled the country fearing for his life. Amid shocking reports of police abuse against civilians, the country's police have claimed that activists plan to "declare a full war in Zimbabwe." Mugabe has banned all protests until Sept. 16, even though the country's high court has ruled it unconstitutional.
At 92, Mugabe is the world's oldest head of state and one of the longest-serving presidents. A teetotaler, cricket fanatic, and a veteran political operator, he is known for dishing up one-liners that swing between searing indictment and unintentional satire.

After rising to power as a hero of the war for independence — Mugabe played a key role in helping end the brutal white-minority rule in Rhodesia — he invested heavily in health care and education, giving Zimbabwe one of the highest literacy rates in the continent at the time. But his autocratic streak quickly became apparent: In a government crackdown against the opposition throughout the 1980s, more than 20,000 civilians were killed. In the run-up to 2008 elections, hundreds of opposition supporters were beaten and killed. Political rivals have periodically died in suspicious car crashes.
Even if he makes it back from the latest political brink, as he has done repeatedly in the past, Mugabe's deteriorating health has left many fearing a succession crisis.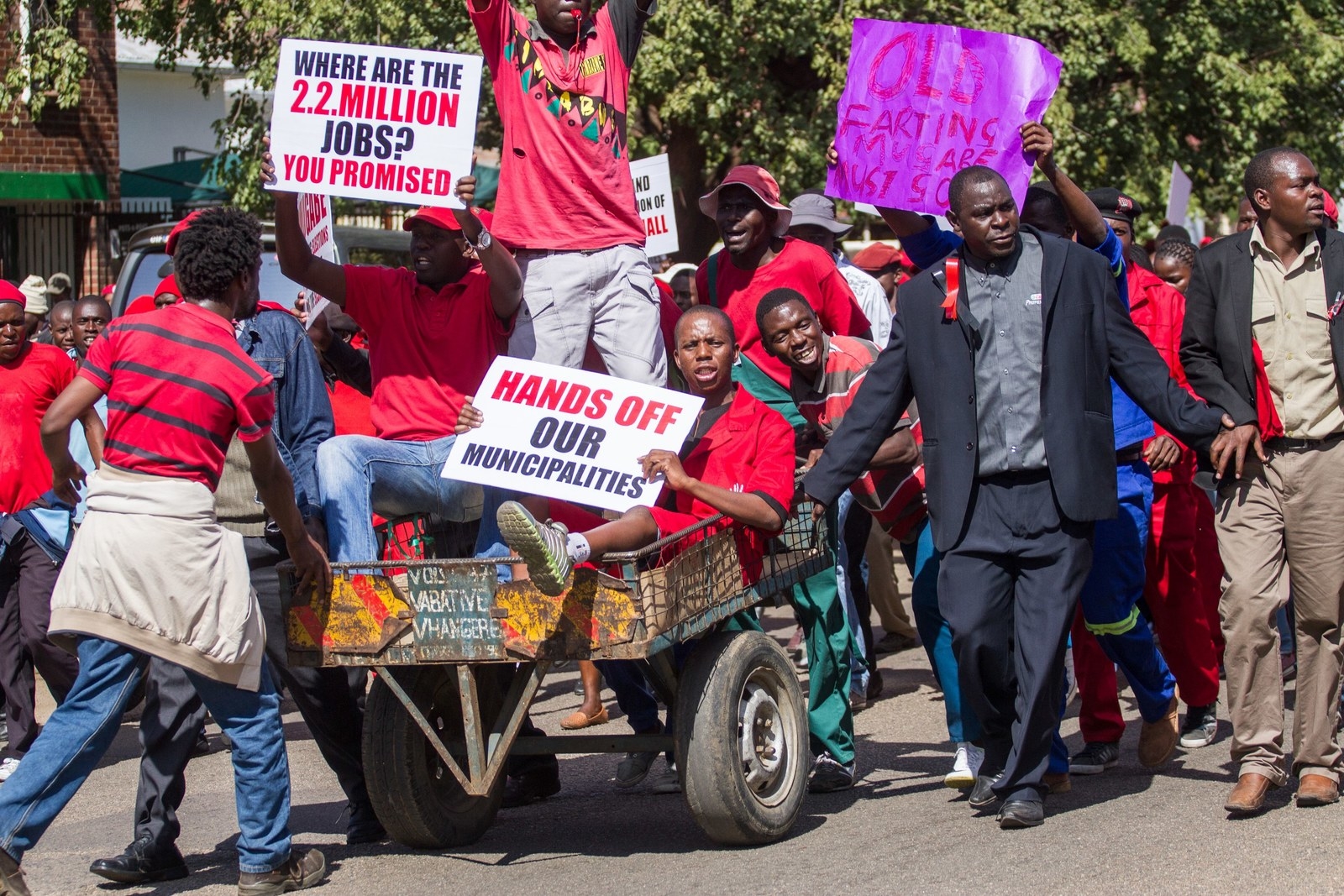 Jenni Williams, a 55-year-old grandmother, had made plans this week to organize demonstrations in a groundswell of opposition in Bulawayo, the second-largest city in the country with over half a million people. She had prepared a list of rules for the protesters to abide by, which included strict adherence to nonviolence, including no throwing stones at the police.

By Wednesday, Williams, who works as a coordinator for the rights group Women of Zimbabwe Arise, was not surprised to hear that all protests had been banned in the city. Hundreds of police were deployed on the streets earlier this week — in a statement, the government said activists had planned, among other things, to shut down the airport, organize mass jailbreaks, blow up state-owned buses and ambulances, and "shut down all major shops until government changes."
Williams was quick to respond when asked what she and others planned to do next. "[We] do not pay any attention to illegal demands … therefore such a ban must be challenged in constitutional court, or ignored and treated with the contempt it deserves," she said.
For many protesters, including Williams, these demonstrations have become more than about Mugabe. Thousands of children have been thrown out of classes as the new term starts, a sign of families caught in the downward economic spiral, struggling to afford exorbitant fees. In recent months, unemployed university graduates voiced their discontent by taking to sweeping the city's streets while wearing their academic gowns.
"Our [movement] has ceased being an anti-Mugabe protest; we are demanding such things as free education, which is guaranteed in our constitution," Williams said.
Bulawayo was once Zimbabwe's industrial heartland, which drew thousands of laborers from neighboring countries. But now factories here have turned into shells, as crumbling infrastructure has led to crippling water and power outages. The city's decline mirrors the wider trend in Zimbabwe, where labour unions say as many as 90% of Zimbabweans are without jobs. The government ditched the inflation-hit Zimbabwean dollar in 2009; the currency had become so worthless that it paid a flat rate of $5 for accounts holding up to 175 quadrillion Zimbabwe dollars.
"I keep coming here even if I know business is low. It's better than sitting at home," said Moses Sibanda, a vendor at the sprawling vegetable market in downtown Bulawayo, which offers hundreds of unemployed people — often professionals — their sole chance for an income. "We are also fed up, but we will let them beat each up other in the capital," he added, expressing little interest in participating in the protests.
Meanwhile, Harare has turned into the raging vortex of a crumbling regime.
Mugabe insists Zimbabweans still want him in power because they voted for him in the last election in 2013. Claims of widespread vote-rigging and violence accompanied the polls but were largely ignored.
As protests continue, fierce internal jockeying within the ruling Zanu-PF party is starting to spill over into the public. For the first time, 18 opposition parties have come together to demand electoral reforms, including allowing political parties to inspect the voter registration list. In previous elections, Zanu-PF has been accused of inflating its votes using "ghost voters."
"All of the worst-case scenario variables are there," Michael Mthunzi, an independent Zimbabwean academic, told BuzzFeed News in a phone interview from neighboring South Africa. "Africa has a long history of a president who leaves his crisis-ridden country only to hear that the military has taken over. Perhaps Zimbabwe is not ripe for such a takeover, but there are many worrying continental precedents," he said.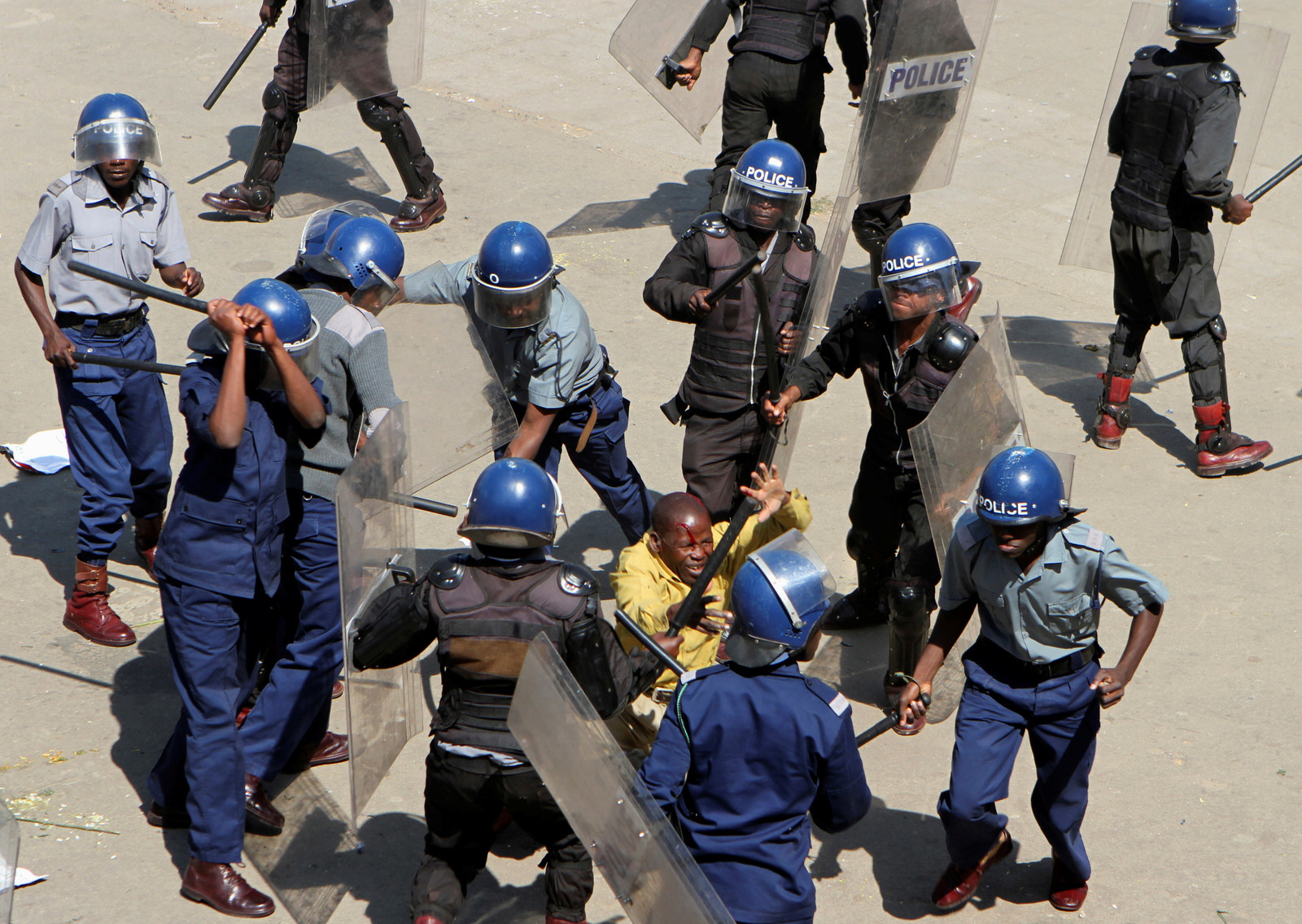 In May, opposition legislator James Maridadi said he planned to launch a motion, for the first time in the Parliament, to impeach the president on corruption charges. "I have put together a comprehensive case that any sensible Zimbabwean including Mugabe himself will agree with me that he is no longer fit to run the country," Maradadi told BuzzFeed News in a telephone interview from Harare.
Lovemore Matuke, the chief whip in the Zanu-PF dominated parliament said Maridadi was "daydreaming." The ruling party, he told The Herald, "ceased to be a political party a long time ago" and "is now a culture."
Having lost the support of his older allies, Mugabe's party has been increasingly reliant on supporters from its youth associations. Moses Chibanda, a student activist under the Zimbabwe Congress of Students Union, which has close ties to the ruling party, is one of them.
"It's all bluster," Chibanda told BuzzFeed News. "The educated people claiming Mugabe must go were educated by the same man they want to overthrow. Isn't that ironic?"
Still, some of Mugabe's staunchest supporters say they are no longer with him.
In Filabusi, a rural outpost about 60 miles south of Bulawayo, hunger is stalking families and cattle alike, as a devastating drought has dried up its lush agricultural plains. Farmers here say they're frustrated with waiting for proposed government aid to reach them.
"Look, I was Zanu-PF, we supported Mugabe, but I would be mad to vote for him now," Ndumiso Buzuzi, a former headmaster at the local school, said. Villagers that had gathered around nodded in agreement.
Those who have been closely watching Mugabe's reign say that the lack of an obvious successor — his scandal-prone wife, Grace Mugabe, whom he has groomed, is deeply unpopular — might be what finally lights the tinderbox.
Mugabe has shown visible signs of poor health and aging — he has been pictured dozing inside the parliament, or struggling while taking the stairs during international summits. His inner circle remain tight-lipped about his deteriorating health even as rumors of his death have increasingly gripped the nation.
Earlier this week, Mugabe dismissed concerns about his health in a typical fashion. "Yes, I was dead. It's true, I was dead," he said, following a trip from Dubai where he previously received medical treatment. "I resurrected as I always do."
Marko Phiri contributed reporting from Bulawayo.