Someone Was Using the Newtown Shootings To Get Twitter Followers
Yesterday at 2:27 p.m. –— just a few hours after the shooting in Connecticut was first reported — an account called @CTNewtown was created. The account's first tweet claimed it would donate money to Sandy Hook elementary and the victims for every retweet. UPDATE: The Twitter account was deleted on Saturday night, shortly after this post was published.
The account's first tweet has over 99,130 retweets.
There is no information at all about who created the account or how the money is being donated.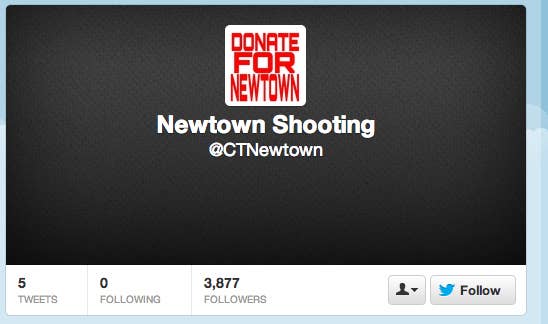 They have continued to tweet and brag about the number of retweets and the money supposedly raised.
Although questions have been raised, they have not addressed or discussed who it is that is "donating" this money.
The night of the shooting...
Michael van Poppel of @BreakingNews has called out the account as being fake.
And yet, just a few minutes ago, they tweeted a "warning" about another fake account.