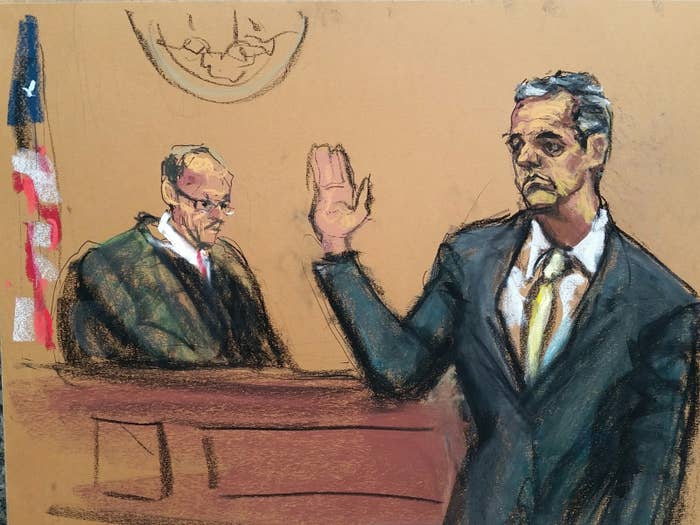 Michael Cohen, President Donald Trump's longtime personal lawyer, announced that he was pleading guilty to eight federal charges on Tuesday — including campaign finance-related counts and tax evasion and bank-related charges.
The hearing at federal court in Manhattan was the latest move in a series of developments that began with the revelation early this year that Cohen had set up a company in 2016 to pay hush money to an adult film star who claimed to have had a relationship with Trump more than a decade ago.
That payment, made to Stormy Daniels, was the basis of one charge of an excessive campaign contribution, to which Cohen pleaded guilty on Tuesday.
Cohen told the court that the $130,000 payment was made "in coordination with and at the direction of" a candidate for federal office, to keep the individual from disclosing the information, and for the "principal purpose of influencing the election." Cohen did not, as part of Tuesday's appearance, specifically name Trump.
US District Judge William H. Pauley III asked Cohen if he knew at the time that his action was illegal, to which Cohen replied, "Yes, your honor."

Of another campaign finance-related charge — causing an unlawful corporate contribution — Cohen said that, again "in coordination with and at the direction of a candidate for federal office," he "and the CEO of a media company" arranged for a $150,000 payment to be made to another woman, previously reported to be former Playboy model Karen McDougal, in order to prevent information that would have been "harmful to the candidate and campaign" from being publicly disclosed. This, again, was done, Cohen said, for the "principal purpose of influencing the election."
The other six counts to which Cohen pleaded guilty include five counts of tax evasion — related to unreported income from five tax years in the past decade — and one count of making false statements to a bank — relating, in part, to a home equity line of credit loan later used to pay Daniels.
Cohen's sentencing is set for Dec. 12, and bond was set at $500,000. Under the plea agreement signed by Cohen and his lawyer, Guy Petrillo, both prosecutors and Cohen are estimating somewhere in the neighborhood of four years in prison for Cohen, with prosecutors calculating a maximum of 63 months and Cohen calculating a minimum of 46 months.
Lanny Davis, a longtime lawyer for the Clintons, recently joined Cohen's legal team — as Cohen took on a much more adversarial approach to his longtime client, Trump.

"Michael Cohen took this step today so that his family can move on to the next chapter," Davis said in a statement on Tuesday evening. "This is Michael fulfilling his promise made on July 2nd to put his family and country first and tell the truth about Donald Trump. Today he stood up and testified under oath that Donald Trump directed him to commit a crime by making payments to two women for the principal purpose of influencing an election. If those payments were a crime for Michael Cohen, then why wouldn't they be a crime for Donald Trump?"
Rudy Giuliani, Trump's personal lawyer, issued a statement clearly conflicting with Davis's statement.
"There is no allegation of any wrongdoing against the President in the government's charges against Mr. Cohen," Giuliani said in the statement. "It is clear that, as the prosecutor noted, Mr. Cohen's actions reflect a pattern of lies and dishonesty over a significant period of time."
Cohen's initial lawyers had fought to protect materials the FBI seized April 9 in raids on Cohen's office and residences from disclosure. They also worked cooperatively with Trump's lawyers and lawyers from the Trump Organization to conduct the review.

Although ABC News reported in June that Cohen was likely to cooperate with federal prosecutors investigating his activities, the Wall Street Journal reported at that time that Cohen had not yet made a decision on whether to cooperate.
It was not immediately clear whether Cohen has agreed to cooperate with federal prosecutors — regarding potential charges against other people investigated as part of the Cohen investigation or on other matters altogether, including potentially special counsel Robert Mueller's investigation. Cohen's possible cooperation has been a focus of intense speculation — a move that could upend the White House, given his long-standing relationship with Trump.
While the criminal investigation into Cohen is being run out of New York, Cohen's cooperation also could — depending on the breadth of his knowledge — change the landscape for special counsel Robert Mueller's investigation into Russia's efforts to influence the 2016 presidential election.
The April 9 raids of Cohen's properties were seen by many as a shocking development in the investigations into Trump associates, given Cohen's role as an attorney and the fact that his office was one of the properties searched.
That evening, Trump lashed out at the searches, calling it a "disgraceful situation" and referring to the investigations against him and his associates as a "witch hunt" and "an attack on our country [and] what we all stand for."
The next morning, Trump took aim at the searches on Twitter.
Following that, Cohen sought to keep prosecutors from looking at some of those records, asking US District Judge Kimba Wood to bar prosecutors from seeing any documents that he claims are privileged.

Wood appointed a special master — former federal judge Barbara Jones — to oversee Cohen, Trump, and the Trump Organization's claims of privilege. Ultimately, a very small percentage of the documents seized were recommended by Jones to be treated as privileged.
In addition to the charges in New York, Cohen faces two civil lawsuits filed in California by Daniels.
The first is seeking to toss out a 2016 hush agreement that she signed to keep quiet about her alleged relationship with Trump. Cohen had signed the agreement on behalf of a company — Essential Consultants — that he set up to facilitate the $130,000 payment to Daniels, whose legal name is Stephanie Clifford. That lawsuit is on hold currently — the result of a request from Cohen and Trump's lawyers to do so due to the ongoing criminal investigation in New York.
Cohen also faces a lawsuit from Daniels based on communications he had with Daniels' lawyer at the time, Keith Davidson, and a related lawsuit from Davidson, who is suing Cohen for alleged tapes that Cohen made of their conversations about the matter.
Brent Blakely represents Cohen in both of Daniels' cases.
It is Cohen's connection to that payment, and his further activities through Essential Consultants, that appears to have played a role in the start of Mueller's investigation into Cohen's activities.
After setting up Essential Consultants in October 2016 in connection with the Daniels matter, Cohen continued using the company for his nascent consulting effort. Four companies — Columbus Nova, Novartis Investments SARL, AT&T, and Korea Aerospace Industries — have acknowledged paying Cohen for consulting work.
Two of them, Novartis and AT&T, confirmed to BuzzFeed News that they were contacted in late 2016 by the special counsel's office. Later, after the April 9 raids led to Cohen's challenge, the Manhattan prosecutors with the US Attorney's Office acknowledged that the case began as a referral from the special counsel's office but had proceeded independently since then. The Wall Street Journal reported on June 14 that federal prosecutors in Manhattan had since contacted those two companies as well.