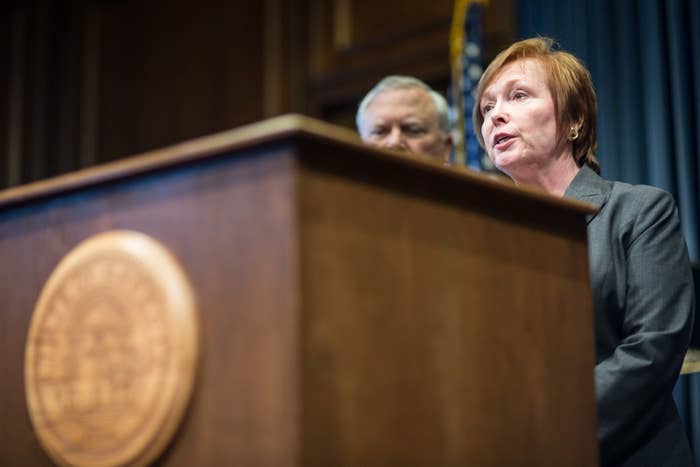 The director of the Centers for Disease Control and Prevention is denying a report that the Trump administration had forbidden the nation's top public health agency from using seven words, including "science-based," in budget discussions.

Scientists, doctors, and other health and medical professionals showed disbelief and anger after the Washington Post reported late Friday that CDC staff were prohibited from using the words "vulnerable," "entitlement," "diversity," "transgender," "fetus," "evidence-based," and "science-based" in documents being prepared for next year's budget.
The CDC did not return a request for comment on Friday. But after the story went viral, the agency's director Brenda Fitzgerald pushed back against the story, starting with a series of tweets on Sunday.
"There are no banned, prohibited or forbidden words at the CDC — period," she said in a statement sent to BuzzFeed News on Monday.
Without citing the Post's story specifically, she referred to "confusion" coming out of a CDC budget meeting.
"I understand that confusion arose from a staff-level discussion at a routine meeting about how to present CDC's budget," Fitzgerald added. "It was never intended as overall guidance for how we describe and conduct CDC's work."
The Post reported that the list of banned terms arose from a 90-minute meeting held Thursday with senior CDC officials who oversee the budget, and that no explanation for the changes was given.
The next day, the Post also reported, citing an unnamed official, that a second agency under the Department of Health and Human Services had received similar guidance to avoid using "entitlement," "diversity," and "vulnerable," along with some terms related to the Affordable Care Act.
But Fitzgerald tweeted on Sunday: "The assertion that HHS has 'banned words' is a complete mischaracterization of discussions regarding the budget formulation process. HHS will continue to use the best scientific evidence available to improve the health of all Americans."
An unnamed Health and Human Services official also told the health news website Stat that it wasn't accurate to say that CDC staff was prohibited from using the seven words. What had happened, Stat reported Sunday, was that budget analysts were told that some words might be more useful in winning support from Congress for the CDC's budget.
The original report alarmed many scientists, clinicians, and researchers who have been concerned about what they see as the Trump administration's nonscientific policies, such as the rapid rollback of environmental and climate regulations and the Environmental Protection Agency's overhauling of its scientific advisory boards.
Peter Hotez, dean of the National School of Tropical Medicine at Baylor College of Medicine in Texas, told BuzzFeed News on Friday that the report of the banned seven words sounded like "Stalin-esque-like censorship."
"You need to use whatever language you need to describe the problem," he said. "If you try to censor language, all you do is risk putting people in jeopardy because you're not describing their health problems."
CORRECTION
Peter Hotez works at Baylor College of Medicine. An earlier version of this story misstated the name of his institution.