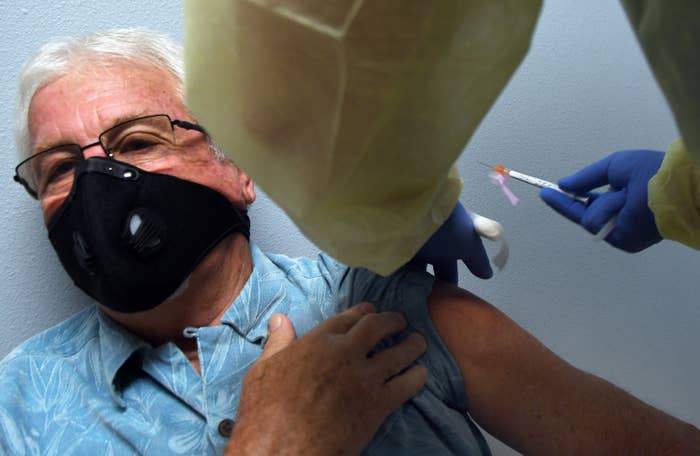 The journalists at BuzzFeed News are proud to bring you trustworthy and relevant reporting about the coronavirus. To help keep this news free, become a member and sign up for our newsletter, Incoming.

The FDA authorized the United States' second coronavirus vaccine on Friday, extending an additional lifeline during a pandemic that is killing thousands of Americans every day.
For the second week in a row, the agency gave the green light to a highly effective vaccine based on cutting-edge genetic technology, this one made by the biotech company Moderna. The decision was widely expected, following an FDA advisory panel's nearly unanimous show of support for it on Thursday.
"With the availability of two vaccines now for the prevention of COVID-19, the FDA has taken another crucial step in the fight against this global pandemic that is causing vast numbers of hospitalizations and deaths in the United States each day," FDA Commissioner Stephen Hahn said in a statement.
With the agency's "emergency use authorization," which requires less data than a full approval, nearly 6 million doses will be shipped out across the country next week, federal officials have said.
The FDA said Friday that the authorization will allow the vaccine to be used for individuals 18 and over.
Moderna plans to send out 20 million doses by the end of this month and another 80 million doses by the first quarter of 2021. Following a deal announced last week, the Trump administration has secured an additional 100 million doses of the vaccine to be delivered by June of next year.
The two-dose vaccine has much in common with — and even key advantages compared to — Pfizer and BioNTech's vaccine, which was authorized last week. That vaccine started being administered this week to healthcare workers and people in nursing homes, the groups of vulnerable people whom the CDC recommended giving first priority.
The fervent hope is that together, the two vaccines can slow the spread of a virus that has killed more than 300,000 Americans and stretched intensive care units to their breaking points.

Moderna co-developed the vaccine with scientists at the National Institutes of Health. "I am proud of what the Moderna team has achieved in collaboration with our partners," said Moderna CEO Stéphane Bancel in a statement. "We remain focused on scaling up manufacturing to help us protect as many people as we can from this terrible disease."
Anthony Fauci, director of the National Institute of Allergy and Infectious Diseases, noted that this teamwork was built on years of collaborative research on vaccines for other coronaviruses. "It is my hope that all Americans will protect themselves by getting vaccinated when the vaccine becomes available to them," he said. "That is how our country will begin to heal and move forward."
Moderna's vaccine is a two-shot regimen, to be given 28 days apart, and is 94.1% effective at preventing COVID cases — a rate considered stunningly high by many scientists.

That figure is based on late-stage clinical trial data in which symptomatic infections developed in 185 people who received a placebo shot, compared with just 11 who got vaccinated. That rate was similar across age groups, genders, racial and ethnic groups, and people with conditions that can heighten the severity of COVID-19.
Moderna and Pfizer's vaccines are the first two authorized vaccines to be based on messenger RNA, or mRNA, following more than three decades of research efforts to harness the genetic material for medical purposes. The genetic technology enabled work on the vaccines to begin in January, when scientists got access to a copy of the virus's genome.
To create and send to market two vaccines within a single year is a "remarkable achievement," James Hildreth, a professor of medicine at Meharry Medical College, said at Thursday's advisory panel meeting.
Moderna's vaccine looks superior to Pfizer's in some key areas, however: It may be better at preventing severe cases and has easier cold storage and packaging that may make it more accessible in rural parts of the country.
But challenges remain: Unlike the pharmaceutical giant Pfizer, which has many manufacturing facilities and a strong track record for mass production, upstart Moderna has never brought a vaccine to market before.
Because Moderna's research was so heavily funded by Operation Warp Speed, unlike Pfizer's, federal officials also have much more insight into their production projections, OWS chief Moncef Slaoui has said.
In the US, the prescribing information for Moderna's vaccine — as with Pfizer's — says that it should be avoided by people with a history of severe allergies to any component of the vaccine.
On Friday evening, Peter Marks, director of the FDA's Center for Biologics Evaluation and Research, said that one ingredient in both vaccines, polyethylene glycol, can be associated with allergic reactions in general. But he stressed that was for now a matter of speculation and that the agency would be closely watching the rollout of the Moderna vaccine. "We don't know that for a fact," he said. "We just don't know at this point."
As of Friday evening, the FDA was aware of "roughly about five" allergic reactions in possible connection with the Pfizer vaccine in different states, including Alaska, according to Marks. But "it's difficult to talk about them with any kind of good certainty until we have more information about them," he said.