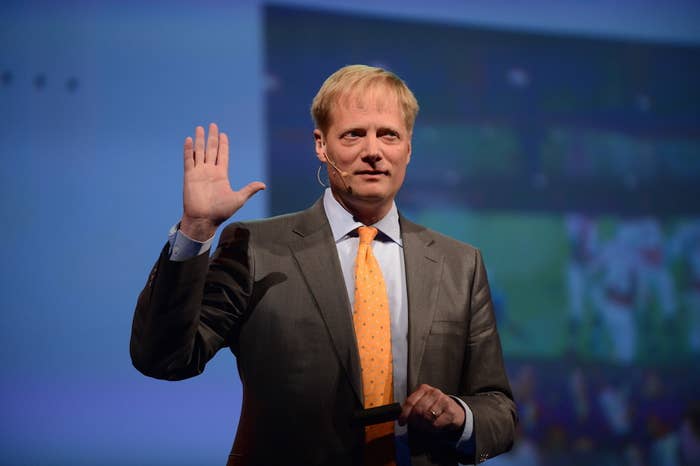 Brian Wansink, the Cornell University eating-behavior scientist under fire for scientific misconduct allegations, will resign at the end of the academic year.
Cornell University has been investigating his research since November. In a statement, the university told BuzzFeed News that Wansink was found to have "committed academic misconduct in his research and scholarship, including misreporting of research data, problematic statistical techniques, failure to properly document and preserve research results, and inappropriate authorship."

The news came a day after six of Wansink's papers were retracted, giving him a total of 13 retractions.
Wansink's last day will be June 30, 2019. He has been at Cornell for 14 years. He has been removed from all teaching and research, and will "be obligated to spend his time cooperating with the university in its ongoing review of his prior research," according to Provost Michael I. Kotlikoff.
Wansink told BuzzFeed News, "I have been tremendously honored and blessed to be a Cornell professor and especially to be the first John S. Dyson Professor of Marketing at the Charles H. Dyson School of Applied Economics and Management."
On Friday, Wansink sought to clarify Cornell's statement. In regards to the aforementioned "problematic statistical techniques," for instance, he said that he has at times made "some typos, transposition errors, and some statistical mistakes," but that "with only one debatable exception," none have changed the "substantive conclusions" of the studies. As for the finding of misreported research data, he said that in two papers, he mistakenly reported the wrong ages for preschool children, but that other studies on the same topic have shown the same results for all ages.
"The interpretation of these four acts of misconduct can be debated, and I did so for a year without the success I expected," he wrote. "There was no fraud, no intentional misreporting, no plagiarism, or no misappropriation."
Under his leadership, the Food and Brand Lab produced studies that reinforced a theme: Simple environmental cues can help people lose weight and eat healthier, without the need for rigorous dieting and intense exercise. It was a theme that earned him coverage everywhere from Good Morning America to O, the Oprah Magazine, to the New York Times. He once led the USDA committee on dietary guidelines. He oversees a $22 million federally funded program to promote "smarter lunchrooms" in nearly 30,000 schools.

But for years, the Food and Brand Lab massaged shoddy data into published, peer-reviewed studies in a brazen ploy for media coverage, as BuzzFeed News has reported.
To date, Wansink has retracted 13 papers (including one twice). He's also corrected 15 papers, according to Retraction Watch's database.
Many of the Food and Brand Lab's headline-friendly results have come under fire after outside researchers began noticing inconsistencies and errors in papers in late 2016. Cornell initially cleared him of scientific misconduct after reviewing some of his work in April 2017, but reopened an investigation in November 2017 after more of those papers got retracted, corrected, and questioned.
Tim van der Zee, one of the outside graduate students who has spent much of the last two years reviewing Wansink's work, said that he was pleased to learn of the investigation's conclusions.
"This is aligned with what our public investigations have already shown," he wrote. "I hope that Cornell and journals that have published his research will continue to investigate his articles and retract them when appropriate."

In a statement shared by Wansink, Cornell Trustee Emeritus John Dyson, whose family endowed Wansink's chair, said that Cornell's investigation "found no fraud, no
theft, no plagiarism, and no sexual misconduct or Title IX issues." But a Cornell spokesperson said that the university's statement about the investigation's findings "reflects the actual findings in this matter." Dyson could not be immediately reached for comment.
UPDATE
This story has been updated to include Brian Wansink's response to Cornell's statement about its investigation.