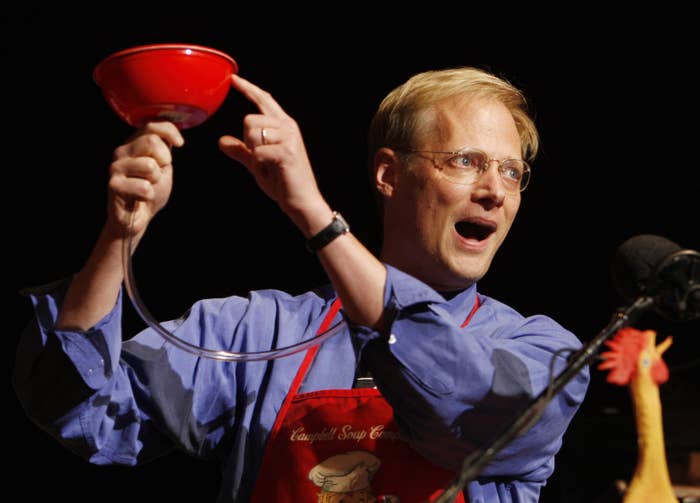 Six studies by Brian Wansink, the Cornell University eating-behavior researcher under fire for scientific misconduct allegations, have been retracted from a suite of scientific journals, bringing Wansink's total retractions to 13.
The studies, which were published in three JAMA journals between 2005 and 2014, all reinforced a common theme in research out of Wansink's Food and Brand Lab: Simple environmental cues can nudge people into eating healthier and losing weight. One of the studies, for example, reported that people served themselves more food and ate more when given large serving bowls versus small ones. Another found that TV viewers snack more when watching an action movie compared to a talk show.
Under Wansink's leadership, the Food and Brand Lab for years massaged shoddy data into published, peer-reviewed studies in a brazen ploy for media coverage, as BuzzFeed News has reported.
In the spring, JAMA issued "expressions of concern" for the six now-retracted articles, saying that it wanted to "alert the scientific community to the ongoing concerns about the validity of these publications" and that it had asked Cornell to independently verify the studies' findings.
But Cornell was unable to do so, according to the retraction notices posted Wednesday. "We regret that, because we do not have access to the original data, we cannot assure you that the results of the studies are valid," the university told the journals.
To Wansink, the retractions came as "quite a surprise."
He said that independent analyses of his and his coauthors' data sets had confirmed their published findings, but they had not kept the original paper surveys and coding sheets used for the studies over the last 25 years. "That is, once we combined all the data into spreadsheets, we tossed the pencil and paper versions," Wansink wrote in an email Thursday. "That might be why they said they couldn't reproduce these from scratch."
He added, "[I'm] very proud of all of these papers, and I'm confident they will be replicated by other groups."
In response to outside researchers first raising questions about Wansink's research, Cornell declared in April 2017 that it had found no research misconduct in some of his work. But in November, after more of Wansink's papers were corrected, retracted, and questioned, Cornell opened an investigation.

The status of that investigation is unclear. In a statement to BuzzFeed News, John Carberry, a Cornell spokesperson, said, "Cornell University has conducted a comprehensive review of allegations of academic misconduct raised in relation to the work of Professor Wansink." The university will issue a statement about its outcome soon, he said.
To date, Wansink has retracted 13 papers (including one retracted twice) and corrected 15, according to Retraction Watch's database.
Wansink is still teaching at Cornell. And in a May blog post, he implied that he would be publishing more research soon, writing: "If you think you might be wasting too much food at home, we're publishing some new discoveries this summer that might help."
UPDATE
This story has been updated with a statement from Cornell University.
UPDATE
This story has been updated with remarks from Brian Wansink.