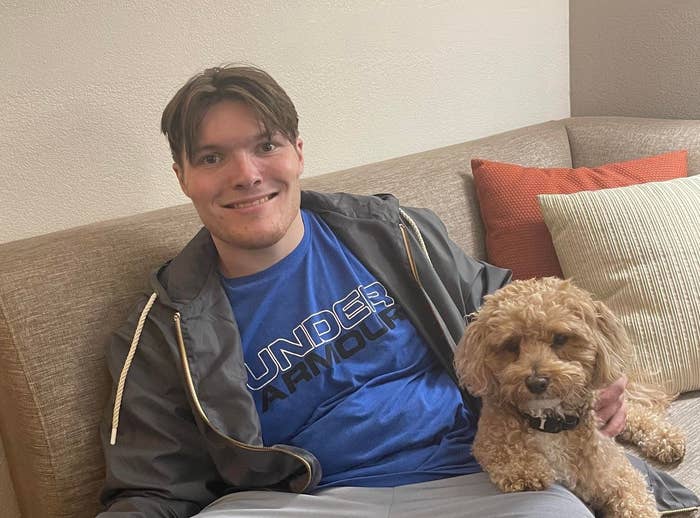 Two adults and three teenagers are facing charges after 19-year-old Trenton Lehrkamp was left at a Georgia hospital barely breathing and covered in urine and spray paint last month in a case that sparked outrage in the local community.
On Monday morning, the adults, James C. Strother, 46, and Lauren C. Strother, 57, surrendered and were booked at the Glynn County Detention Center on misdemeanor charges of maintaining a disorderly house and contributing to the delinquency or dependency of a minor, Glynn County interim Police Chief O'Neal Jackson said. Edward Rooker Hobby, 17, who is considered an adult under Georgia law, was booked on a misdemeanor battery charge, but Jackson said his arrest stemmed from a separate incident involving a different victim that was associated with the investigation into what happened to Lehrkamp.
Prosecutors have also filed misdemeanor charges against two juveniles. One juvenile was charged with simple battery and criminal trespass, and the other was charged with possession and use of drug-related objects. Keith Higgins, district attorney for the Brunswick Judicial Circuit, said the juvenile who is facing the battery charge "committed certain acts" after Lehrkamp had become intoxicated after voluntarily drinking alcohol. The drug charge against the other juvenile came about as the result of evidence that was discovered while investigators were serving a search warrant at the Strothers' residence in St. Simons Island.
The officials said they could not release the names of the juveniles due to state law and that the teens cannot be tried as adults for the crimes they're accused of.
"This is an incident that could have been avoided if parents are a little bit more attentive to what's going on in their house, being mindful that teens can get their hands on alcohol and some folks do use illegal narcotics," Jackson said during a news conference. "I'm glad for the community's sake that we were able to make an arrest in this case."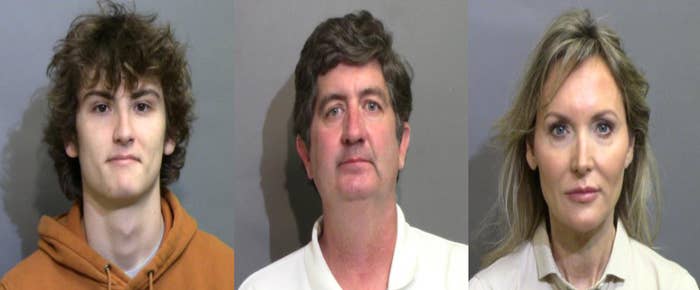 Jackson declined to provide any details about the incident for which Hobby is facing charges. Hobby and the Strothers were released from custody on Monday after posting bond, according to the detention center. The Strothers could not be immediately reached. Hobby's mother did not respond to BuzzFeed News' request for comment.
All three face a maximum sentence of 12 months in prison and a $1,000 fine, Higgins said. He declined to comment on the possible punishment for the juveniles if they are convicted, saying that was up to the juvenile court.
The charges come nearly a month after three teens dropped Lehrkamp off at the emergency room at the Southeast Georgia Health System in Brunswick. At the time, Lehrkamp was breathing just "six times per minute," according to a police report about the March 21 incident, and his blood alcohol level was 0.464. After providing their names and phone numbers to the hospital, the teens left as Lehrkamp was rushed to the ICU and placed on a ventilator.
Soon after, disturbing images allegedly showing teens abusing Lehrkamp at the Strothers' house in St. Simons began circulating on social media, causing anger in the community and the proliferation of rumors about what had happened. But for weeks, no one was arrested, raising suspicions among some people in the community that the teens involved were getting special treatment. Community members pointed to a list of names allegedly linked to the incident, which included the son of the Strothers (the family owns and operates a longtime hardware store and lumber yard on the island). But on Monday, officials said much of the outrage was based on misinformation that in part hampered investigators' ability to get to the bottom of the case.
"To get to the truth, an investigation must be thorough and leave no stone left unturned," Higgins said. "The length of time that the investigation has taken has been in large part due to all of the misinformation that has been put out on social media in particular and the need to address it."
Higgins again dispelled several rumors that police already refuted, including that Lehramp was autistic and that he had been defecated on. He also corrected several assumptions about a photo showing four boys standing over Lehrkamp — who was passed out in a chair with his face covered, an orange substance on his clothes, and a sluglike object on his lap — and a video of a boy spraying a water hose at his head.
Higgins said the object seen on Lehrkamp's lap in the photo was actually a plastic dinosaur toy that was discovered while officials later carried out a search warrant at the house. He also said Lehrkamp "consented to be washed off" with the water hose after engaging in "an egg fight" with a group of high school students at the same house in St. Simons on March 17.
"He was not tortured," Higgins said.
The night that Lehrkamp ended up at the hospital, he had "voluntarily drank alcohol until he blacked out," the district attorney said.
"No one poured alcohol down his throat or forced him to drink," Higgins said. "No one pushed a funnel down his throat. No one urinated on him."
He added that water had been dumped on the 19-year-old before he arrived at the emergency room on March 21, noting that "the physiological response of a human being who has drank alcohol to the point that it is a toxin in their system will either sweat profusely, vomit, and urinate."
"No one poured acid down his throat, no one beat him, no one choked him, no one tortured him," Higgins said.
But while Lehrkamp was intoxicated, the juvenile facing the simple battery charge "committed certain acts," the district attorney said.
He went on to say that it was Hobby, the 17-year-old who is facing a misdemeanor battery charge in connection with a separate incident, who ultimately drove Lehrkamp to the hospital, saying that he and the two juveniles who went with him probably saved Lehrkamp's life.
Jackson said officials are continuing to investigate, though he did not say whether additional arrests were possible at this point. When asked by reporters about the impact of the misinformation in this case on others who were alleged to be involved, Jackson said it's been "quite damaging" to the families' reputations, noting that at one point the child of a Glenn County police officer was wrongly linked to the case.
"It's heartbreaking that stuff like that happens, but with the instantaneous use of social media … it's hard to pull it back once it's out there," Jackson said. "The public believes what they're going to believe, and it hurt. It hurts a lot."