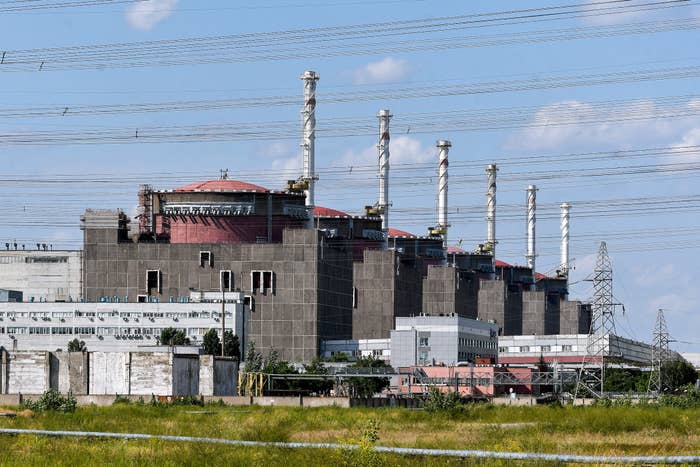 Russian forces attacked and subsequently seized control of a massive nuclear power plant in Ukraine early Friday. A fire at the site — caused by a projectile — was extinguished, amid warnings from officials that it could lead to drastic consequences.
Ukraine's State Nuclear Regulatory Inspectorate said that Russian forces had taken control of the Zaporizhzhia Nuclear Power Plant but that it was still being operated by its regular staff. The agency said that Russian shelling at the facility caused the fire which was later put out by Ukrainian State Emergency Service units.
In a statement, the International Atomic Energy Agency said that the safety systems of the plant's six reactors had not been affected and there was no release of radioactive material. Two people were reported injured, the agency said, but did not provide further details.
Located in the southern Ukrainian city of Enerhodar, the Zaporizhzhia facility is the largest power plant in all of Europe, according to Ukraine interior minister adviser Anton Gerashchenko, who described the area as the country's "capital" of energy workers. Videos on social media showed projectiles striking the facility as the fire raged.

IAEA Director General Rafael Mario Grossi said he remained "extremely concerned" about the situation at the plant and the overnight attack by Russia.
"Firing shells in the area of a nuclear power plant violates the fundamental principle that the physical integrity of nuclear facilities must be maintained and kept safe at all time," Grossi said.
Hours after the attack began, a spokesperson for the plant said the facility had not sustained critical damage, although its power-generating ability had been compromised. The IAEA also tweeted that the fire at the nuclear power plant "has not affected 'essential' equipment, plant personnel taking mitigatory actions."

US Department of Energy Secretary Jennifer Granholm tweeted that the plant's reactors "are protected by robust containment structures and reactors are being safely shut down."
Ed Lyman, director of nuclear power safety at the Union of Concerned Scientists in Washington, DC, said that despite reports of the Ukrainian plant being stable, the attack was "too close for comfort."
In an interview earlier this week, Lyman suggested that the big fear for all of Ukraine's active nuclear plants was that fighting knocked out their cooling and staffing, allowing situations similar to the 2011 Fukushima Daiichi nuclear power plant disaster to occur. In that event, a loss of cooling caused partial nuclear meltdowns in reactors, venting of radiation, and a 19-mile radius evacuation.
Ukrainian officials had been urging Russian troops to stay away from the Zaporizhzhia plant, warning that shelling the power station could result in a nuclear disaster.
"If it blows up, it will be 10 times larger than Chornobyl!" Ukraine's foreign affairs minister, Dmytro Kuleba, tweeted, referencing the 1986 disaster at the Chornobyl (often transliterated from Russian as "Chernobyl") atomic power station in Ukraine. When a reactor at that plant exploded, more than 30 people were killed and the spread of radioactive material contributed to many more deaths and illnesses. Over 350,000 people were eventually evacuated from contaminated areas in the years following the disaster.
Officials said firefighters were initially unable to access the site, but, as of Friday morning local time, fire brigades had gained entry, according to Oleksandr Starukh, head of the Zaporizhia Regional State Administration.
"The entire Europe is at risk of a repeat of the nuclear catastrophe," tweeted Mykhailo Podoliyak, one of President Volodymyr Zelensky's advisers. "Russians must stop fire!"

For more than a week, Russian forces have been attacking Ukraine by air, land, and sea, launching missiles over major cities, including in residential areas, and threatening the lives of millions. More than a million Ukrainians have fled the country, while those who remained have sought safety in bomb shelters and subway systems or taken up arms to help defend their country.

Before Friday's attack in Enerhodar, Russia had already seized control of the now-decommissioned Chornobyl power plant.

According to the United Nations, at least 331 Ukrainian civilians, including 19 children, have been killed and hundreds more have been injured as a result of shelling and airstrikes since Russia launched its full-scale invasion last week. The actual death toll, however, is likely "much higher," the UN said Friday.
— Jason Wells and Dan Vergano contributed reporting.